How Much Does it Cost to Start a Crowdfunding Business?
Online crowdfunding is somewhat a mysterious industry because it's relatively new and the regulations are constantly developing. And yet, there are over 880 crowdfunding platforms in Europe and 1,600+ platforms in the US.
Entrepreneurs and companies are seeking ways to enter the crowdfunding business, and the first question they are interested in is how much does it cost to start a crowdfunding business? What are the crowdfunding software costs and operational expenses?
What you will learn in this post:
How much does it cost to start a crowdfunding business?
Between May and June, we've conducted a survey among the crowdfunding platforms to learn about their offering types, funding to start the business, target audience, crowdfunding software prices and more.
According to our report, 43% of platforms are self-funded, 25% are funded by angel investors, and 4% are VC-funded.
It's also interesting to know that 57% of the platforms are custom-made (in-house) while 22% are running using white-label crowdfunding software. Finally, 21% of platforms are custom-built but outsourced.
On average, companies spend at least 89,000 EUR to build a crowdfunding platform.
35% claimed to have spent over €200,000, 26% spent €101,000 – 200,000 and 7% – €10,000 or less.
While the range may be extremely broad, the average amount seems legit. According to the European Financial Conduct Authority's cost benefit analysis:
"We received 15 responses to our CBA (cost benefit analysis) question. Of these, a small number agreed with our CBA, while most said we had under-estimated costs to platforms. Two platforms said we had underestimated the costs (for discretionary platforms) by 3 to 5 factors. Taking this into account, the impact on total cost estimates is an increase from £24,485 to an upper bound of £122,425"
The crowdfunding software costs range depending on the solution (white-label or custom), business type and requirements, country of operations and other factors. One thing is clear – starting a business is just the first step, however, running the business is a whole new level. 
By the way, we are currently conducting a survey. Check it out and take part!

How much does it cost to run a crowdfunding business?
The expenses of running a crowdfunding business will be different depending on the country, regulatory requirements, software and third-party integrations.
Costs of launching a regulated crowdfunding platform
In 2013-2017, FCA required loan-based crowdfunding platforms to have a minimum of £20,000 of the reserve capital to protect investors. And since 2017, the amount has grown to £50,000.
The new regulations propose the following structure – platforms need to have higher of:

Fixed minimum: £50,000 – for platforms that are in the regulatory sandbox
Variable volume-based measure – for platforms that are fully authorised:

0.3% of the volume of loaned funds up to £50m
0.2% of the volume of loaned funds above £50m up to £500m and
0.1% of the volume of loaned funds above £500m
The price of adding new duties or hiring new personnel
In the EU, for example, there are requirements to have appointed staff members like risk manager, internal audit manager, data processor officer, accountant, and others. In 2018, FCA estimated "the one-off cost of allocating responsibility for the risk management framework to an approved senior manager to be around £3,710 and the ongoing cost as between £140 and £450."
Apparently, anytime the regulator makes changes and requires new or existing staff members to be responsible for particular duties, you'll have to pay a fee for the approval of new functions.
Crowdfunding software costs
As for the crowdfunding software, there are two models: subscription-based and perpetual license.
The costs for the subscription may vary from £50 to £3,000+ per month. These numbers are taken from different white-label software providers in the industry and vary greatly in the offering types, functionality and features they provide.
As said previously, for the perpetual license with customizations, you may expect to spend around 89,000 EUR or higher. In case of the custom software, it will also require maintenance and support either regular or ad-hoc.
In addition to that, according to the FCA's CBA survey, one platform said the retention costs for a back-up service provider are in the region of £6k to £30k per annum. This may be an overhead and, as FCA claims, is not required.
Third-party costs
Let's not forget about the third-party services like payment processing, KYC/AML checks, hosting plans and other stuff like that.
Payment gateways, like MangoPay, for example, may charge you 1.8% + 0.18€ per pay-in transaction. And other fees may include KYB verification, dispute resolution, etc.
And as for the hosting provider, the prices usually start at around £40 per month for a decent hosting plan.
Table of expenses
In the table below, you can find a rough estimation of what it costs to start and operate a crowdfunding business.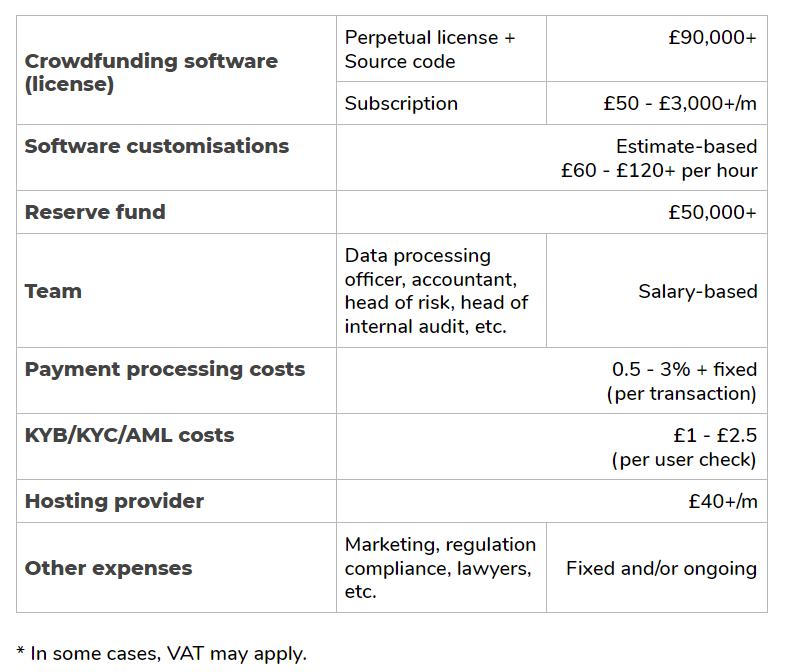 Keep in mind that the estimates in this article are very high-level and may not reflect your unique needs and requirements. The expenses can either be higher or lower.
As crowdfunding software providers and developers, we can guide you through the software related costs for your particular project. You may sign up for one of our discovery workshops and our team will create the required deliverables including detailed estimates, features and more.
Contact us to formalize your project's requirements.