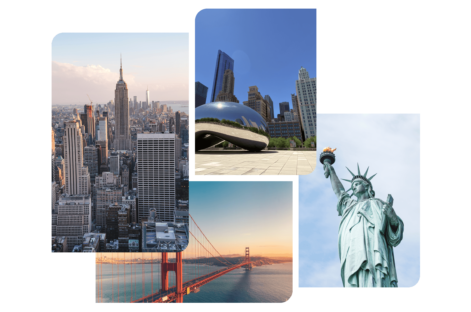 Automate your investment business in the USA
Launch a funding portal or broker-dealer platform under the Reg CF, Reg A/A+ or Reg D with LenderKit.
Request a demo
Build a USA regulations compliant crowdfunding platform
Title III Crowdfunding or Reg CF
Set up a crowdfunding portal for public fundraising of up to $5 million for non-accredited and accredited investors.
Reg A/A+ crowdfunding portal
Focus on Tier 1 or Tier 2 of the Regulation A and create a crowdfunding platform for real estate or startup investing.
Reg D private placement software
Empower your private investment management business and provide a unique platform for your clients.
Set up a Regulation Crowdfunding portal
Follow the SEC guide to register as a funding portal or broker-dealer while building your Regulation Crowdfunding platform with LenderKit.
You can start with a pre-built white-label crowdfunding solution and request customizations on demand to make your platform unique. We'll set up a debt or equity crowdfunding platform to help you automate fundraising, investment management, transactions and reporting.
Discuss Reg CF portal development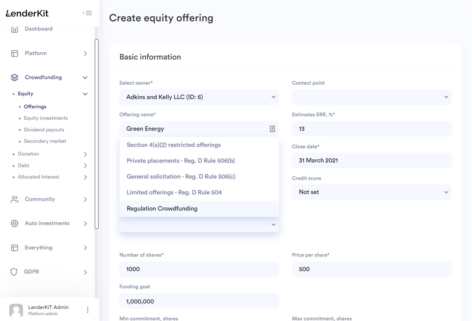 Create a Regulation A portal
Whether you focus on Regulation A Tier 1, Tier 2 or both, LenderKit provides an investment management software which can be tailored to the Reg A offering type requirements in your state of operations. 
Depending on the stage of your business and its goals such as pitching to the board of directors with a proof of concept or launching a full-scale platform with custom functionality, we can help you set a funding portal or broker-dealer platform.
Discuss Reg A portal development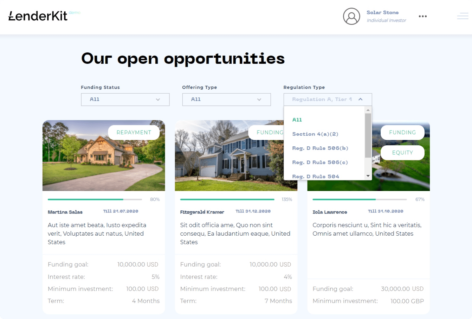 Launch a private fundraising platform
If you're looking to set up a fundraising platform for accredited investors under the Regulation D we can help with that. LenderKit fits both public and private fundraising and allows a capital raising company or the admin of the platform choose the offering type and regulation under which the fundraising is happening. 
The regulation selection allows to build transparency on your platform and facilitate filing and reporting requirements. 
Develop a private fundraising platform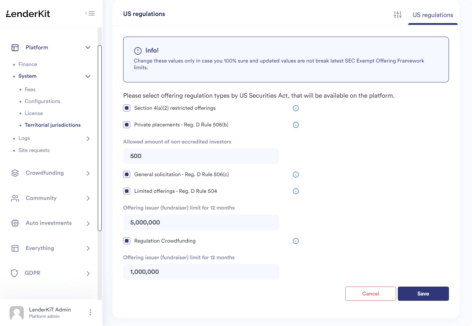 LenderKit software solutions
Why LenderKit fits the US crowdfunding market?
Ready to launch a crowdfunding platform in the USA?