Private Equity Software at Your Fingertips
LenderKit offers private equity software for investment firms that focus on real estate and startup fundraising. It's a comprehensive private placements solution designed to streamline the entire match-funding process from investor onboarding to campaign management.
By automating investment operations, you can boost overall private equity business performance, enabling swift pipeline movement and customer satisfaction.
Request a demo
Automate private fundraising
Digitize investment operations
Increase performance
Speed up soft launch or MVP
Close more private equity deals
Investment software for private equity firms and alternative funds
Manage investors and fundraisers on your private investment platform
Leverage LenderKit's comprehensive investor management capabilities, including individuals and organizations. Gather the required information for user verification and allows your clients to create robust user profiles that they can use to invest through the platform. 
Access insightful analytics, export any kind of information in the spreadsheet formats and make better business decisions to close more capital deals on a scale with the LenderKit private debt software or equity.
Explore the admin back office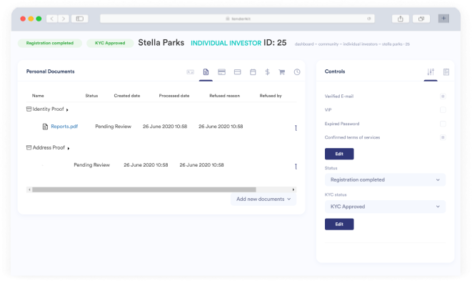 Create user roles to access and collaborate with your team
You can create advisor, investment manager, portfolio manager, lawyer or accountant roles and enable these user types to see only the information you want them to see.
The permissions module ensures that users in your organization get authorized access to sensitive and important data on your private placement platform.
Learn more about permissions module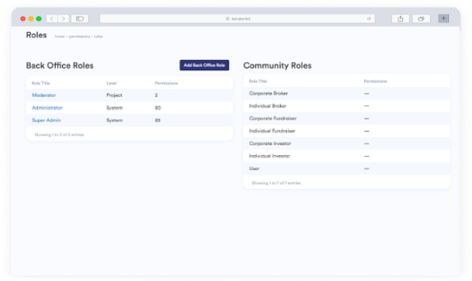 Enhance Liquidity with a Secondary Market
Offer secondary market liquidity on your private placements portal to introduce a new competitive advantage. By offering the secondary market functionality, you can allow investors to sell securities to other private investors to free some capital for other opportunities and campaigns listed on your platform.
Explore the secondary market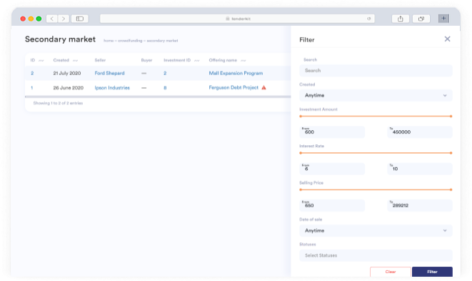 Combine private equity and private debt investment flows
LenderKit provides multiple investment flows in one platform. So, LenderKit easily covers your private equity software needs as well as the private debt software functionality. Using LenderKit software, you can run both types of campaigns and offer diversified opportunities to your fundraisers and investors depending on your business model.
About the investment flow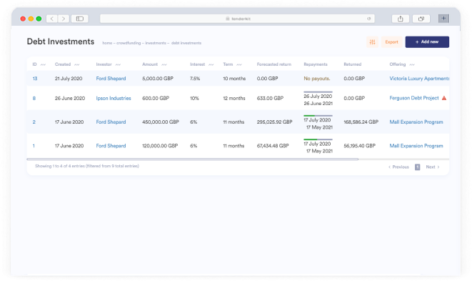 Automate money flows and integrate online payments
Integrations with online payment processors, custodians and escrow account providers allow you to automate fund disbursements, payouts and investments. LenderKit provides several ready-made private equity integrations with payment gateways, but we also allow for full customizability which means that you can either use a payment system of your choice or leverage basic invoicing.
With integrated solutions, you'll be able enhance the entire investment experience while also:
Funding deals faster

Processing more transactions at a time

Running private fundraising deals on a scale

Automating KYC/AML verification

Digitizing distributions

Closing more deals online
Reach out to us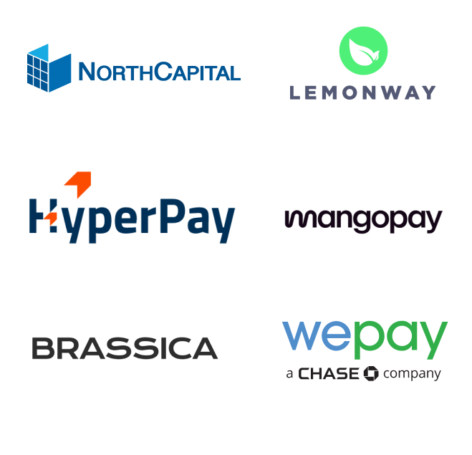 Want to launch a private placements crowdfunding platform?