Launch your FCA compliant crowdfunding platform with LenderKit
We partner with I-FACT regulatory consultancy to offer your business the opportunity to become an appointed representative and run an FCA-compliant equity crowdfunding platform in the UK.
What is an Appointed Representative and what it means for your business?
Helps you comply with FCA regulations
A regulatory consultancy with its Principal Firms will review your company. Once accepted, the Principal Firm will take responsibility for your compliance so that you are exempted from the robust requirements of the FCA.
Allows you to operate a regulated platform
Working with the I-FACT Group and reporting into one of its Principal Firms as an Appointed Representative, under their regulatory "umbrella" will enable you to run an investment platform in a matter of weeks, rather than a year or more.
Saves you time and money
Obtaining an FCA license for your crowdfunding platform can be daunting if you're just starting out. Becoming an AR allows you to concentrate on the operational aspects of your business while saving time and money.
Why starting a crowdfunding platform as an appointed representative?
There are many reasons to build a crowdfunding platform and become an appointed representative depending on your business stage and requirements. 
For example, if you're launching an operational platform (MVP), running on a strict budget or currently exploring the regulatory framework an appointed representative can be your solid start to enter the crowdfunding market.

Contact us to learn more
Launch an MVP
Register a platform
Save time and money
Explore the regulations
Consult a professional firm
Explore the market
How to set up a regulated crowdfunding platform in the UK
The FCA defines an appointed representative (AR) as a company or an individual who conducts regulated operations and acts as an agent for a company that is directly licensed by the authority. 
LenderKit can help you set up an equity crowdfunding platform and with I-FACT can provide a turnkey compliance solution, so you can run your regulated business in the UK.
Contact our Fintech Strategist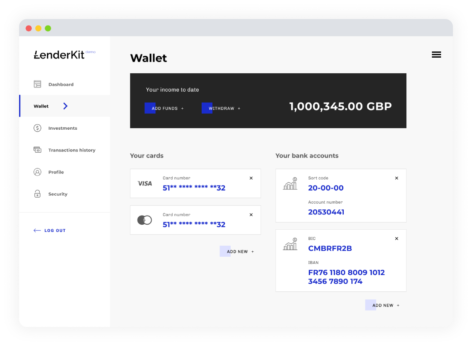 Become an appointed representative in the United Kingdom with LenderKit & I-FACT*
We partner with I-FACT, a regulatory compliance consultancy that has the Principal Firms within its Group. They have supported many crowdfunding platforms in the United Kingdom. 
LenderKit will provide the crowdfunding software and cover your technology requirements while our partner firm, I-FACT and the Principal Firms, will ensure your compliance with the FCA requirements.
*Currently, the AR service is available only for EQUITY CROWDFUNDING platforms.
Get a combined offer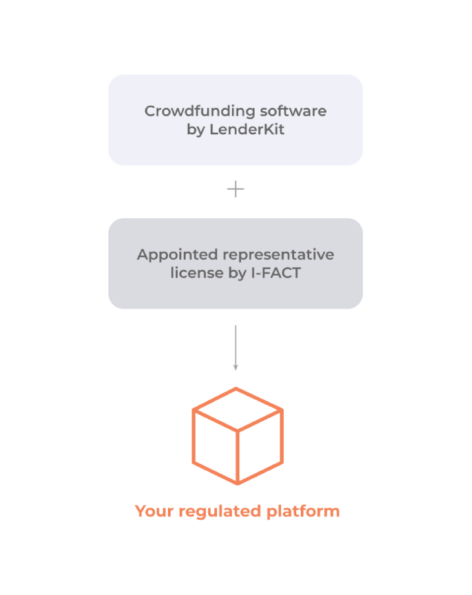 Services provided by I-FACT
I-FACT specialises in a broad range of regulatory activities and works diligently to provide clients with complete and bespoke solutions to suit their regulatory requirements.
Ongoing monitoring and reporting will be completed by your principal firm providing a very amicable relationship as our interpretation of compliance is quite simply "best business behaviour every day, as standard ".
I-FACT will determine the risk profile of your crowdfunding platform and provide you with the relevant information and monitoring schedule to ensure compliance of your operations.
Get introduced to an I-FACT rep
Agent due diligence
Compliance training & manuals
AML and GDPR manuals
Transaction monitoring
Compliance handling
FCA reporting
Ready to start your crowdfunding platform and become an AR?