Launch your P2P lending platform with LenderKit
Looking for P2P lending software to launch an online investment marketplace for funding real estate or startups? Check out LenderKit – a fully-customisable white-label P2P lending platform software.
Discuss your project
Real estate lending
SME lending
Microloans
Debt crowdfunding
P2P lending software
LenderKit works for any stage of your P2P lending business
Pitch to stakeholders with a prototype
Set up a prototype of a P2P lending platform and pitch to investors or board of directors.
Test your business model with an MVP
Use a white-label P2P lending software to you can start your lending business faster and grow your customer base.
Launch a full-scale P2P lending platform
Enter the market with a fully-custom peer to peer lending platform and outperform your competitors.
P2P Lending software for your needs
With LenderKit, you can create a unique P2P lending or debt crowdfunding platform which will help you start and grow your loan management business. 
Share your business requirements
Full-cycle loan automation
Credit scoring via third-party
Faster KYC/AML verification
On-demand calculations
Microlending for businesses
Payment processing automation
What features does LenderKit offer?
Launch a debt crowdfunding website
Explore the pre-built P2P lending website layouts which you can quickly customize, upload your content, images and contact information and start attracting users. 
Create a fresh and professional-looking website for your debt crowdfunding portal to enter the P2P lending market in no time. 
Discover website themes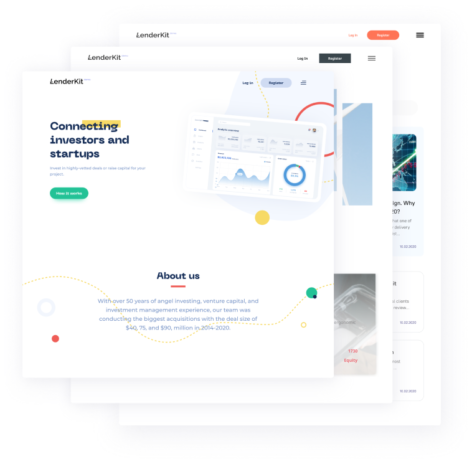 Automate onboarding of investors and borrowers
Set up a debt crowdfunding portal for your investors and borrowers where they can manage payments, campaigns, investments, personal information, connect wallets, cards and more.
When users register on your P2P lending platform they'll go through a KYC/AML optimized registration form and provide the details required for verification. 
The user verification process can be automated with a third-party KYC/AML provider or your compliance team can process new requests manually.
Explore the P2P lending portal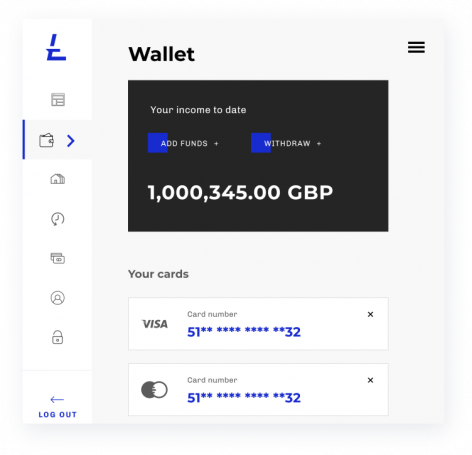 Leverage best practices when sourcing deals online
Borrowers can get a rough quote based on your platform's rates and create offerings automatically which the admin of the platform can approve or decline.
Allow SMEs and real estate developers to apply for a loan with a pre-built loan calculator on your P2P lending website.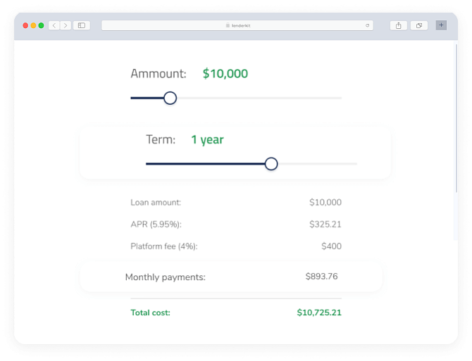 Use flexible debt crowdfunding software
Automate full-cycle loan management with a powerful back-office which allows you to:
Manage lending and investing campaigns

Manage wallets, repayments, auto-investing, and more

Allow investors to trade bonds in the secondary market




Integrate CRM, marketing automation, KYC/AML, eSign, currency exchange, crypto, and payment processing with LenderKit as per your request

Set up new user roles for advisors, loan managers, compliance managers, etc.
Explore the back-office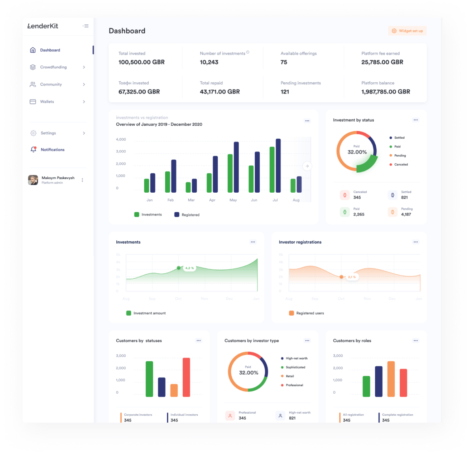 Want to launch your debt crowdfunding or P2P lending platform?