Launch your ESG crowdfunding platform
Customisable white-label crowdfunding software for impact investing business.
Have LenderKit software tailored for your ESG investing needs
Environmental crowdfunding
Environmental crowdfunding platforms focus on projects which raise capital for renewable and green energy, eco-friendly products and services.
Socially responsible crowdfunding
Socially responsible crowdfunding or social investing platforms pursue social impact and financial gain and focus on with education, healthcare, human rights, etc.
Impact investing platform
Impact investing is a collective term which includes environmental and socially responsible investing. If you're looking for impact investing software, consider LenderKIt.
ESG impact investing industries we work with
LenderKit is a multi-industry crowdfunding software, however, there are some of the particularly interesting and promising industries which you may want to focus on:
Urban farming 

GreenTech 

Agriculture

Education & science

Healthcare
We can help you adjust the functionality as well as the look and feel of the software and its investor portal to the industry of your choice. 
See the software in action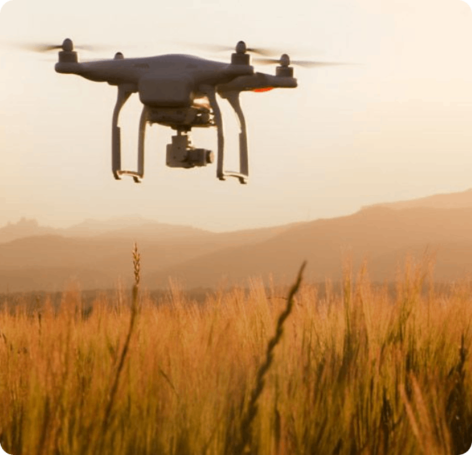 P2P lending platform for ESG investing
If you're in the loan management, microfinancing or P2P lending sector and want to set up a crowdfunding platform which focuses particularly on the environmental, social and governance investment projects, LenderKit can be a way to go. 
Our P2P lending software for ESG impact investing provides powerful out-of-box functionality and extensive customisations of the investor portal and admin area. 
Learn more about P2P lending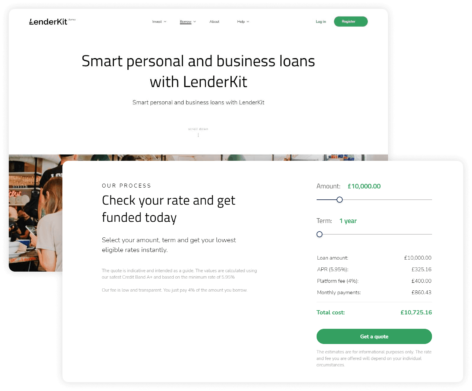 Equity crowdfunding platform for ESG impact investing
If you need an equity crowdfunding software for environmental and socially responsible projects, LenderKit can be a good fit because it supports full-cycle investing and fundraising flows. 
Allow the capital raising companies raise capital via equity shares such as preferred stock, common stock or convertibles. Configure fees, payout rules, and secondary market settings to make your LPs, GPs and fundraisers happy. 
Learn more about equity crowdfunding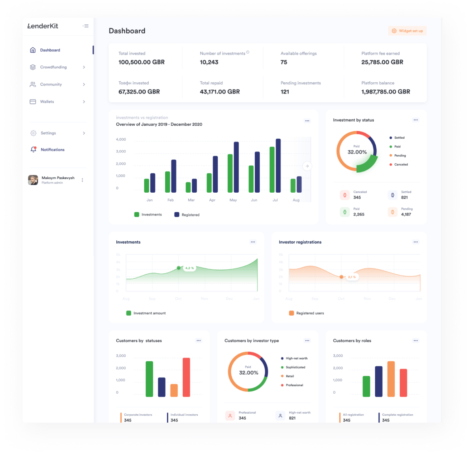 Donation crowdfunding platform for impact investing
Donation crowdfunding is most suitable for environmental and socially responsible projects that focus on achieving both local and international goals. 
Support communities by creating an impact investing platform, a marketplace, where backers and fundraisers can establish meaningful connections and fund ESG projects
Learn more about donation crowdfunding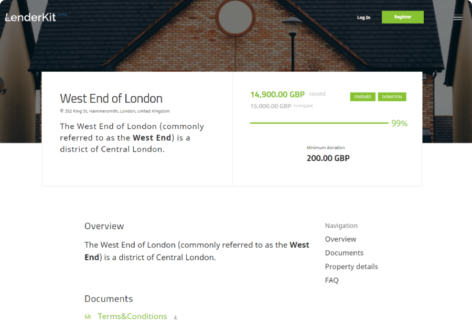 ESG crowdfunding software solutions
We offer 3 different packages which you can choose from when starting your impact crowdfunding business.
Each crowdfunding software package is suitable for different business stages from the Regulatory Sandbox application to international licensing and business expansion.
Learn more about solutions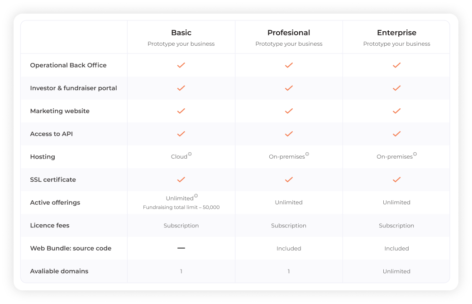 Looking for an impact investing software?