How to License a Crowdfunding Platform
There are 3 ways you can license a crowdfunding platform depending on the level of due diligence you're willing to withstand and money you're willing to spend:
Get an already licensed white-label crowdfunding software 
Use an umbrella compliance service provider and become an appointed representative
Apply to the regulatory sandbox to get your own license 
How to license a crowdfunding platform purely depends on your business maturity and needs. Each of the 3 solutions has its own advantages and disadvantages that we'll try to explain in this article.
What you will learn in this post:
How businesses usually choose to license a crowdfunding platform
We've taken some time to go through the UK register to find out how businesses actually licence their crowdfunding platforms to provide you with relevant data which you can use to make calculated decisions.
Out of 100+ analysed platforms in the UK, 16% operate under the Appointed Representative license, 77% are licensed by FCA directly, 1% is unauthorized and 1% has a Temporary Permission status.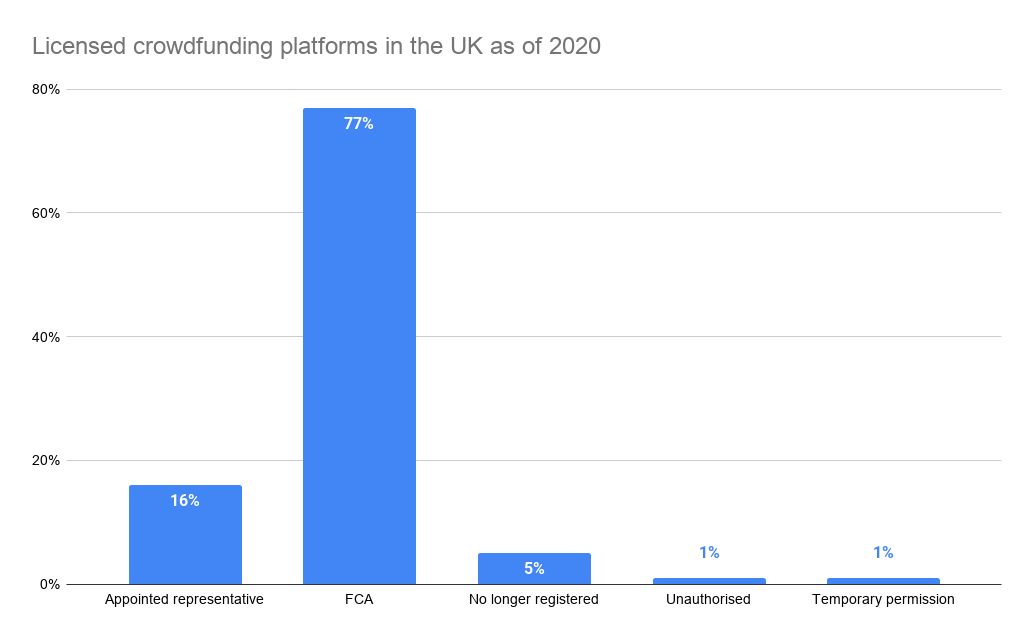 The majority of these platforms provide debt crowdfunding or P2P lending services to finance different sectors including SME and Real Estate.
From the chart, you can see that most platforms choose to undergo a long and daunting regulatory compliance process, but still, many platforms are fine licensing a crowdfunding platform with the help of the umbrella crowdfunding license provider.
An umbrella license provider can either focus on just the licensing itself or provide crowdfunding software as well.
Getting a pre-licensed white-label crowdfunding platform
A pre-licensed white-label crowdfunding platform can be used to set up a P2P lending or Equity investing business quickly and relatively inexpensively. The business motivation behind this choice may include:
No need to reinvent the wheel
Existing network of investors and projects for fundraising that can and should be immediately connected
The software which is already reviewed and licensed by the regulatory authority
License which allows to start an online crowdfunding business as fast as possible
This set of benefits is very promising for starters and small teams which, at their business stage, are not worried about the legal entities and software requirements. More sophisticated firms may find a pre-license white-label crowdfunding software less attractive due to:
Limits to structuring your crowdfunding platform software-wise (inability to edit source code, make software adjustments, etc.)
Legal and tax limitations (inability to establish desired legal entities, funds, etc. while still complying with the provided license)
Licensing a custom crowdfunding platform through an umbrella license provider
By defining a scope of your business operations and target audience, you can plan ahead and launch your crowdfunding platform under a compliance provider license. Usually, a compliance service provider will guide you through the regulatory field very effectively.
Many platforms leverage an umbrella service provider before they obtain their own license. Crowdfunding compliance service providers play a certain role in this process. They serve as an intermediary between "we're nobody, let's talk" and "we're authorized, how much do you need?"
The benefits of using an umbrella service provider to license your crowdfunding platform include:
Ability to get started quickly with custom software which may still be in development
Partnership with a professional compliance team
Documents preparation, filing, and reporting delegated to the compliance partner
Opportunity to stay up-to-date with any regulatory changes and take immediate action, especially, in the immature markets
In our analysis of the regulated platforms in the UK, we've found that firms tend to change the compliance partner once in a while. In some cases, up to 3 times in just a few years. Not sure exactly why, but there are also firms that don't jump back and forth and register with the regulator directly at the start (e.g., FCA) or right after the first compliance partner.
Presumably, the disadvantages of using a compliance partner include:
Service costs
Inability to set up everything correctly or as planned in the first place
Limits to scalability
Registering a crowdfunding platform directly with the regulator
Businesses that pursue custom crowdfunding platform development and have an in-house team of legal experts or outsource legal work to external advisors often choose to register a crowdfunding platform directly with the regulator.
It allows the business to create a crowdfunding platform according to the regulator's requirements and make any adjustments along the way. The milestone is to enter the regulatory sandbox and receive a temporary permit to operate under a limited license which will allow the business to conduct operations while developing the software.
The benefits of licensing a crowdfunding platform with the regulator from the start:
Software is tailored to the latest requirements of the regulator and business needs
Ability to license the required business structure and platform's architecture
Ability to register the required legal entities
No costs to intermediaries
No need to switch from the umbrella service provider in the future
Scalability
There are also some of the critical disadvantages which are related to registering directly:
Final thoughts
How to license a crowdfunding platform and get authorized is a question which requires expertise and professional legal advice. Get a lawyer to make sure the authorization of a crowdfunding platform works out for you correctly.
Being rather tech experts, LenderKit doesn't provide legal advice nor guarantees the accuracy of the above-written information and encourages you to seek professional help.
Having worked with several clients who went through the regulatory compliance procedures in the UK and Saudi Arabia, we can say that you can rely on LenderKit technology-wise. We'll work with you side-by-side to develop a crowdfunding platform for your needs and implement ad hoc changes to adhere to your business vision and regulator's requirements.
For further information about the LenderKit product and crowdfunding software development, drop us a line at lenderkit@justcoded.com.