Open Banking May Facilitate Crowdfunding Platforms
Open banking helps crowdfunding platforms improve the investor onboarding process, speed up borrower application approval and process transactions quicker, compared to the traditional ways of verification and money processing.
Crowdfunding platform owners may be more interested in working with payment gateways that integrate open banking technology into their list of services. Also, if you're currently building an online investment platform, using an open baking provider that works with crowdlending and crowdinvesting can potentially benefit your end costs to the customers. 
What you will learn in this post:
What is open banking?
Open banking or Open bank data is a relatively new banking practice of providing access to the openly available consumer's banking data. Fintech-savvy banks provide APIs which allow sharing customer's data among financial institutions.
To make such access possible, the consumer's consent for sharing their banking data is needed. This consent is necessary not only due to security reasons, but also to let the bank allow access to the data from its account.
The access is provided to various financial or non-financial entities and, mainly, to consumers themselves. So that, with the help of an open banking app, a person can see all the transactions and balances in all their banking and financial accounts in one place. And aside from this, a person who has access to their banking data gets the opportunity to make payments or investments in a much easier way.
How do open banking platforms work with payment gateways?
Open banking platforms and apps build integrations with various banks and financial institutions that provide secure data sharing. Open banking platforms have the APIs needed to process an open banking payment. Additionally, developers use APIs to build fancy dashboards which allow users to visualize banking data and see relevant financial information in their banking accounts.
When requesting a payment through a payment gateway using open banking data, the payment gateway requests a customer's banking data first. After that, it acquires the data with the customer's consent through an open banking platform. Next, comes the time for the work of one more element of the electronic payment chain – the payment processor. After collecting the customer's banking data needed for payment, the payment processor uses it to contact the consumer's bank and account of the merchant, and this way the payment happens.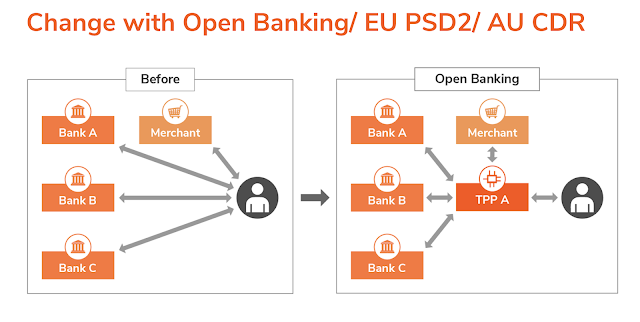 There are different use cases of payment gateways partnering with open banking platforms.
Lemonway partners with Tink
A pan-European French-based payment gateway, Lemonway, is known for working with over 200 P2P lending and crowdfunding platforms across the EU.
Recently, Lemonway partnered with an open banking platform called Tink and launched the Pay by Bank service to provide more speed and security of the digital payment method. This is due to integrating payment initiation services of the Tink open banking platform by Lemonway.
Plaid
Plaid has become a world-leading open banking platform which allows companies to build various fintech solutions.
The company also exercises great thought-leadership in the industry and shares interesting news and challenges in regard to open banking. For example, they've recently written about VRPs or Variable Recurring Payments which are extremely valuable for crowdfunding and investment platforms that have any dividend or money distribution process in place.
Why is open banking relevant for crowdfunding?
It is no secret that crowdfunding platforms wish for acquiring as many investments as possible to end their crowdfunding campaigns at maximally successful levels. According to "Creating more value at the checkout" 2021 Trustly Report, 48% of customers won't pay for the product if they find the Checkout too complex.
In crowdfunding, investors can also be affected by the same customer behavior patterns. In other words, their incentives to invest or lend can be ruined if they see an overcomplicated investment process. This especially concerns peer-to-peer lending or debt crowdfunding where a big chunk of the campaign's success depends on the retail investors' ability to fund projects quickly.
Open banking can essentially improve investors' or lenders' experience. As their payments will be processed in a much faster and easier way, compared to traditional card payments, thanks to the payment processor integration for crowdfunding.
Open banking and crowdfunding benefits for end customers
Aside from the substantial improvement of users' convenience in the process of payment, there are other essential open banking benefits for crowdfunding:
Increased payments' safety. Due to there's no need for manual input of card data or any other banking data, there's no possibility of making a mistake. Another guarantee of safety is that open banking payments are approved biometrically, i.e., through scanning a fingerprint. And it's well known how difficult its forging is…

Increased speed of payments. As there are no additional intermediaries in the process of open banking payment, payments are processed instantly and essentially faster than via the traditional means.

Cost-effectiveness. Open banking payments don't go through a chain of processing mediators so that there's no need to pay for their services. All the transactions are processed by one payment processor which requires a single fee.

Real-time KYC/AML. User verification is a tedious process that's why many crowdfunding platforms fight for finding the balance between what's required by law and what's convenient for the user. Open banking can greatly speed up the process and ensure real-time user verification.
The end customers of crowdfunding, i.e., those who aim at raising a certain sum of money for their needs, are the first who benefit from crowdfunding platforms' partnerships with open banking providers.
Conclusion
As open banking payments become easier, faster, and more seamless, nothing is likely to stop investors or lenders from making their investments or providing loans. Thus, crowdfunding campaigns are closed faster and with bigger sums of money.
Equity and debt crowdfunding platforms can benefit from increased speed of payments, high safety, and cost-effectiveness due to the shortage of redundant intermediaries. For the end customer, the major benefit is probably a simpler onboarding process because of the real-time verification.
If you're looking to build an online crowdfunding platform and looking for white-label private investment management software, LenderKit can become your one-stop partner. We offer out-of-box software as well as front-end and back-end customizations to make your platform unique.