Is Social Crowdfunding on the Rise to Save Small Businesses Worldwide?
There is a unique global response from the public in efforts to help businesses to survive. People are donating money to help small businesses they admire stay afloat. Presumably, loyal customers don't want their favourite stores, coffee-shops, and beer breweries to go down. On the other side of the coin, there are people who are always happy to support a good cause, especially, if there's a reward like this one:
"Spend 50 quid to get 75 quid's worth of beer…"
Thus, Fierce Beer raised £156,000 in a day, according to the BBC UK news.
Having failed to obtain a so-promised loan from the government either because it's too slow or too impossible, small businesses turn to crowdfunding and see a pretty good response from the community. Usually, the motivation of businesses is very straightforward: 
"…people don't know what you are going through. You need to ask for help. This is a business that people love, and you can get a community to come together and save the business."
What you will learn in this post:
Why social crowdfunding? Why now? 
Social crowdfunding is deeply rooted in purpose. For years, charities have been advocating for supporting a good cause, but never have they managed to put it into context.
For a backer sitting in a comfortable office, there is no way they can imagine the high-level purpose, the real need, or the events preceding the tough times for a company that's raising funds. However, being put in one boat with the struggling company, the whole social crowdfunding concept finally makes more sense. It's real. And it's there.
In 2016, The Guardian's article criticised charities for lacking the purpose, or to be fair, lacking the context of the purpose while commercial companies had much more success in explaining their vision, mission, and objectives.
"…explaining an organisation's purpose goes way beyond just marketing or coming up with a catchy strapline."
That is to say exactly what companies or individuals raising funds were doing when launching GoFundMe, JustGiving or even Indiegogo and Kickstarter campaigns.
Now, when there is enough proof of importance for backers, social crowdfunding platforms should strive. We expect to see a growth in donation-based and reward-based platforms potentially targeting local communities while raising funds for very specific needs.
How do social crowdfunding platforms perform now? 
There are reasons to believe that established social crowdfunding platforms will have a high load of offers and are unlikely to support or cover them all up to the highest standards. This opens up an opportunity for entrepreneurs and early-stage donation and reward-based crowdfunding platforms. 
You may check how social crowdfunding platforms are performing during the COVID-19 crisis on SimilarWeb. Despite the information being one-month-old, it can still help you predict the growth trajectory of established crowdfunding platforms. 
From there, you can see that GoFundMe experienced a 25.79% growth in traffic which added up another 8 million visits between February and March.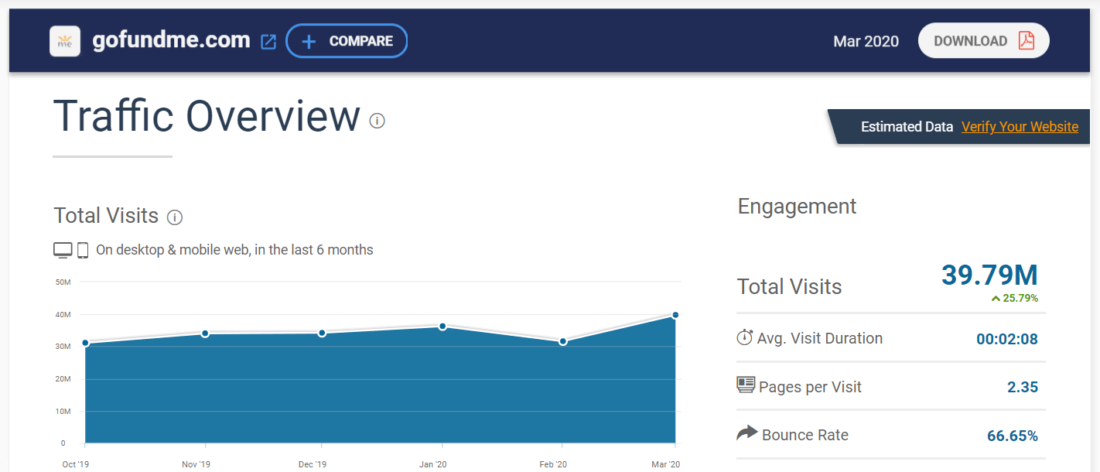 JustGiving saw a 20.32% growth which accounted for over 700,000 thousand new visitors.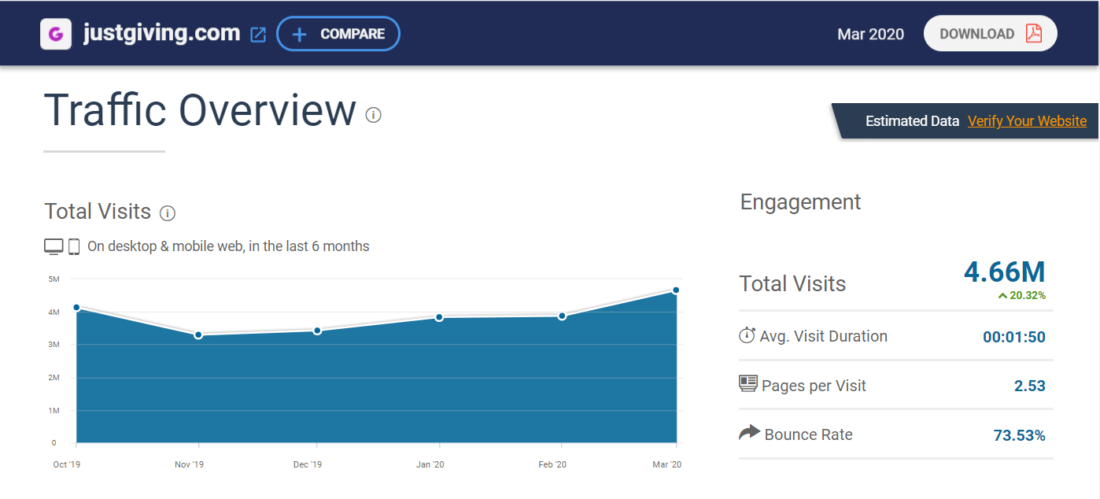 Speaking about the reward-based crowdfunding platforms, Indiegogo saw an overall 5.29% growth even though the traffic was steadily declining since October 2019 which resulted in an estimated loss of 3 million visits. However, at their website, Indiegogo stated that they've seen a 14% growth compared to last year while daily funds were up 24%.
Among specific audiences, Indiegogo got a 68.41% increase of their Chinese visitors which accounted for 3.72% of this particular segment. 
In contrast, Kickstarter experienced an overall 9.86% decline as well as the decrease in every particular segment by country (USA, UK, Canada, etc.)
Will social crowdfunding change forever and what to expect?
As more and more news comes out featuring charity-based crowdfunding platforms, there is one thing for sure – the competition is hot. Not a single platform wants to lose its positions and more so, it wants to beat up a less adjustable competitor to gain the ultimate dominance when the market stabilizes.
There is definitely going to be some restructuring in who we claim leaders in the donation and reward-based crowdfunding field. This is the time for young companies to enter the market of social crowdfunding and gain decent market share in a particular segment be it food & beverage, hospitality, arts and entertainment, or whatever other sectors.
Common sense tells that more companies will try their luck at raising funds to sustain their business while governments are allocating funds for saving the P2P lending sector.
In response to this demand of small businesses seeking funds, more donation and reward-based crowdfunding platforms should come to the market to meet their local business needs with a potential to scale globally. 
One major advantage of such platforms is that they aren't regulated as heavily as P2P lending and equity crowdfunding platforms. It's even safe to say that social crowdfunding platforms aren't regulated at all. While this opens up a door to enter the market it also creates a breach for an increased fraudulent activity in the sector.
Final thoughts
Crowdfunding during the COVID-19 crisis will definitely have both short and long-term impact on the market. It's hard to tell for sure what's going to happen as past performance doesn't guarantee future performance.
In addition to that, due to the magnitude and resourcefulness of the big brands, the vision on what comes next may be blurred as smaller companies stay under the radar for the general public so nobody knows what's going on there.
One thing we know is that if you want to launch your own social impact crowdfunding platform be it a donation or reward-based one, we are more than happy to help you. Drop us a line at lenderkit@justcoded.com and let's discuss your project requirements.
Stay safe!