A List of Crowdfunding Software Vendors
First, we've conducted the competitor analysis of the white-label crowdfunding software vendors for internal purposes. However, we thought that the analysis can actually make up a pretty decent article for entrepreneurs that are searching for a list of crowdfunding software providers by country.
There is no particular order except for a little structure for navigation purposes. We try to keep it as objective as possible and hope to provide you with some insights on the major players in the crowdfunding platform development market.
This information should help you research the right software vendor as the below-listed providers are the most used in the industry.
What you will learn in this post:
UK crowdfunding software providers
Being a well-established crowdfunding market, the UK is one of the industry-leading and referring countries in terms of regulatory frameworks, level of platforms and services.
The major software vendors include:
Whitelabelcrowd.fund
ShareIn
LenderKit
Whitelabelcrowd.fund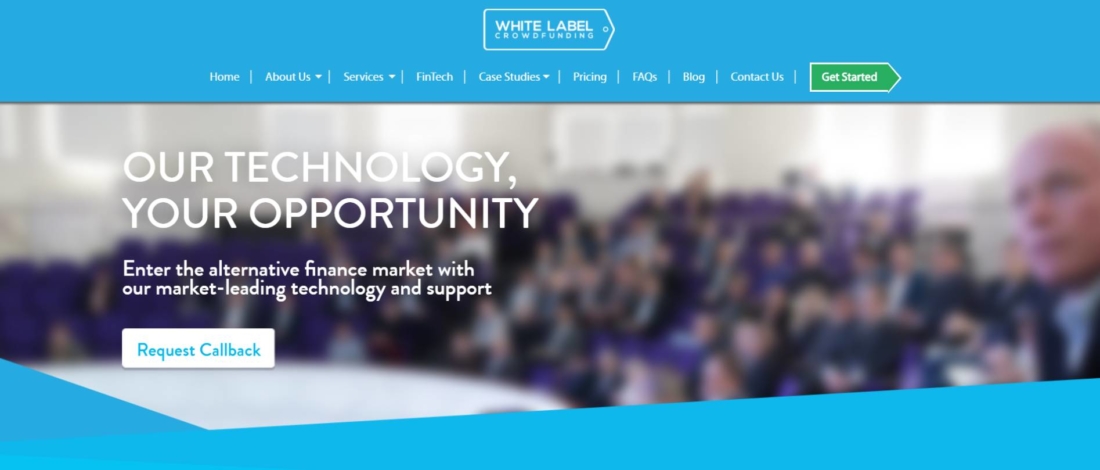 Whitelabelcrowd.fund has a cool feature on their website, a package-based calculator, which allows users to choose the required features, add-ons, and functionality and see the pricing change in real-time. This is useful to get a rough estimate of what a desirable crowdfunding platform will cost before contacting the vendor.
This white-label crowdfunding software vendor offers both white-labelling options as well as custom products. Recently. Whitelabelcrowd.fund started offering umbrella compliance services and allowed customers to become appointed representatives.
Pricing: depending on the solution, prices range between $1,000 to $5,000+ monthly. Also, the custom development is charged additionally of around $2,000 for the design and $9,500 for the mobile app.
ShareIn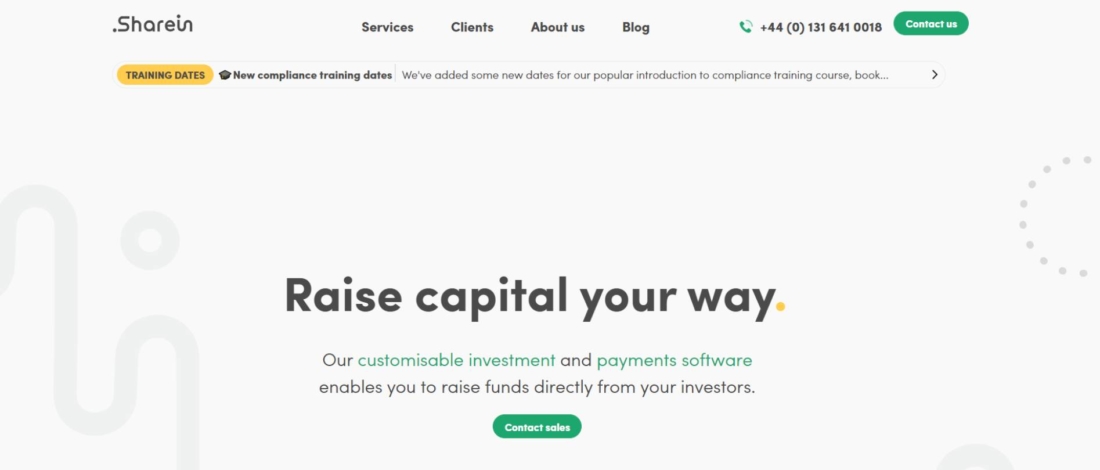 ShareIn is a SaaS-based white-label crowdfunding software which is specifically tailored to the UK market. The software comes with an ISA investment module which allows investors to invest without paying tax on interest. The limit of the ISA (individual savings account) is £20,000 a year.
The company is approved to hold client's money and also launched ShareInPay – a payment gateway which can be integrated through the API.
Pricing: N/A. Contact the vendor.
LenderKit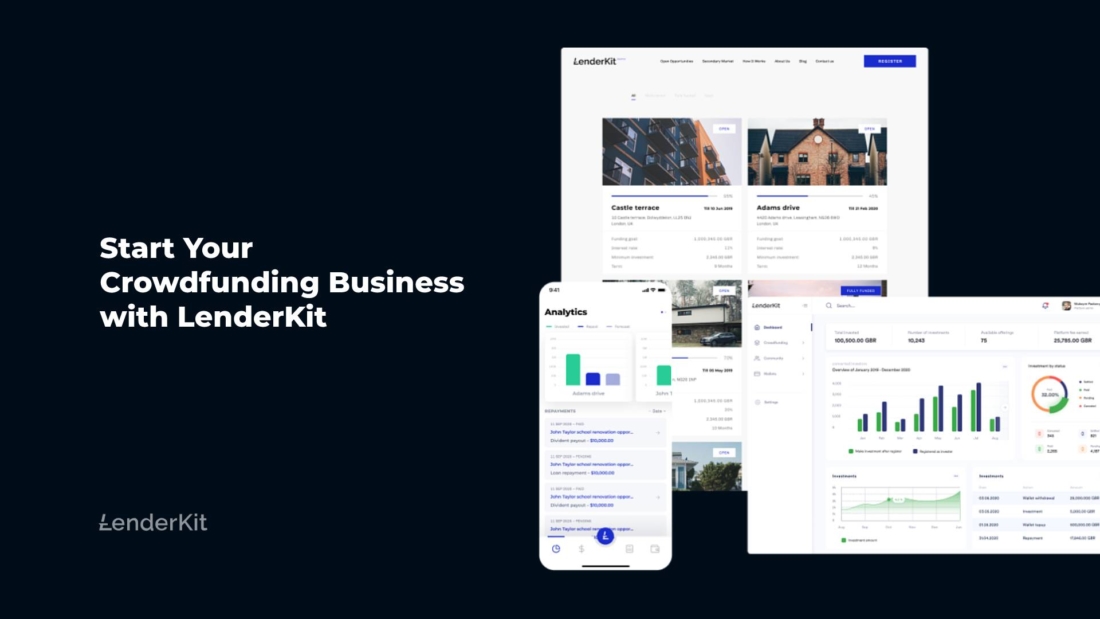 LenderKit is different from the above-mentioned white-label crowdfunding platforms because it's not SaaS. The goal is to provide the IP rights and software ownership to the end client. That means that any customizations made on top of LenderKit are the intellectual property of a client.
The on-demand crowdfunding platform development allows a client to have a tailored platform which is made for a particular industry, business, and workflows. In the end, a client has a choice whether to continue the development with their own team or with LenderKit.
The company provides both white-label crowdfunding software and custom development. Also, recently, the new LenderKit Lite package was introduced. LenderKit Lite is a simplified version of the software for early-stage businesses looking to test and validate ideas, pitch to board of directors, acquire new customers, etc.
Pricing: as soon as a particular milestone is reached, LenderKit is no longer charging any monthly fees. Contact the vendor to learn about pricing options.
USA crowdfunding software vendors
The father of equity crowdfunding. With the "JOBS" act signed by Barack Obama in 2012, the boom of the crowdfunding activity was enormous. Currently, some of the major crowdfunding software providers and developers include:
CrowdFundConnect
CrowdEngine
CrowdPay.us
CrowdFundConnect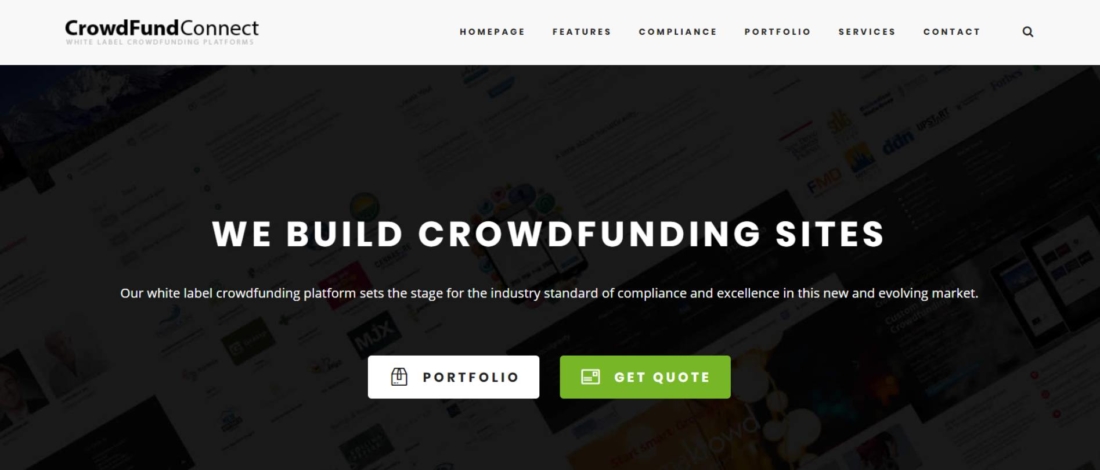 CrowdFundConnect offers white-label crowdfunding software solutions for private equity firms, entrepreneurs, and nonprofits. They've got plenty of features described on their website among which, a private deal room and an integrated payment gateway are the most interesting.
Pricing: around $8,000 for the license. Contact the vendor for the up-to-date price.
CrowdEngine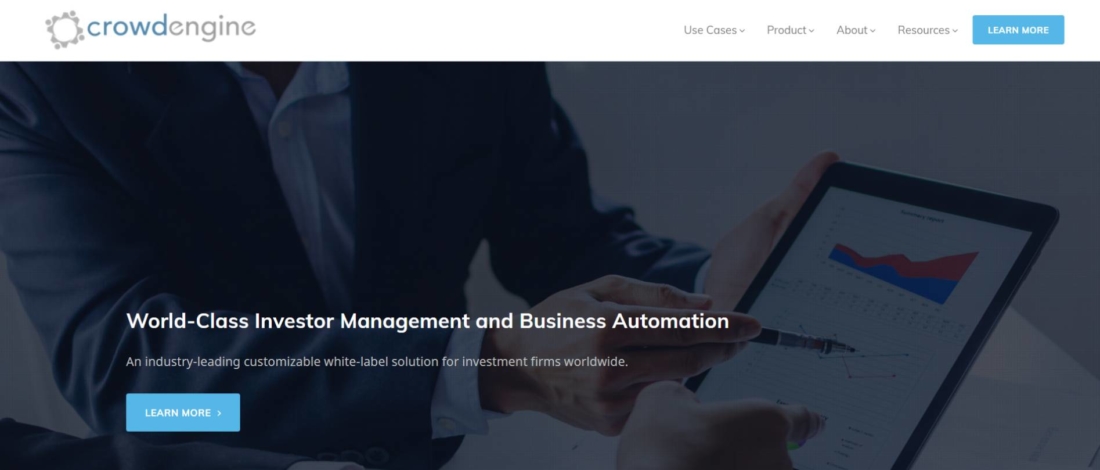 CrowdEngine provides white-label crowdfunding solutions for the private equity and real estate crowdfunding sectors. The company is distinctive due to having multiple integrations including blockchain-based asset tokenization. Also, CrowdEngine has an integrated payment processing system with an escrow account which is a very useful feature.
Compared to CrowdFundConnect, CrowdEngine seemingly keeps their focus narrower which allows them to cover a specific market.
Pricing: starting at $2,000 a month.
CrowdPay.us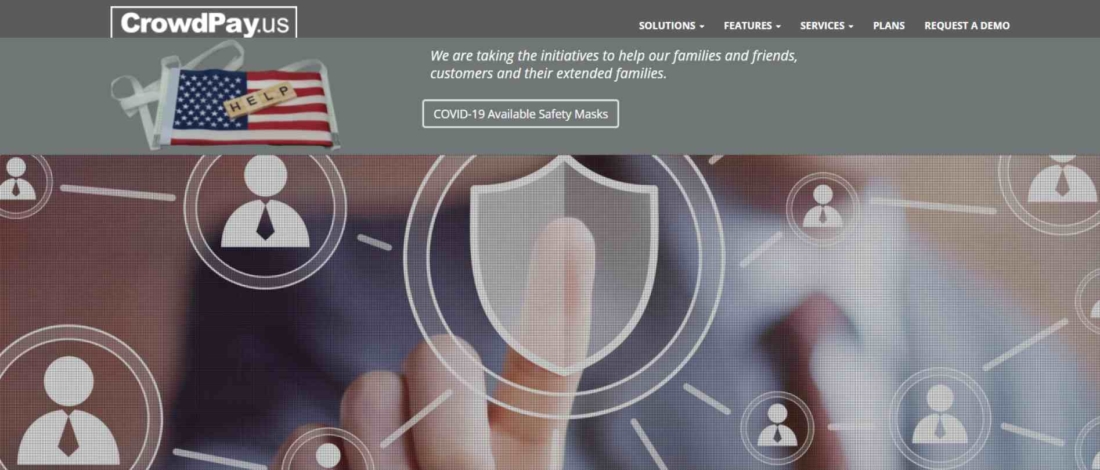 CrowdPay.us focuses on all crowdfunding types like donation, reward, debt and equity crowdfunding. The integrations also offer escrow options, deal rooms, online document signing and more.
The company offers a website builder which allows clients to build funding portals themselves. Among other services, CrowdPay.us provides SPV/Fund formation, security filings and fund administration help.
Pricing: N/A. Contact the vendor.
Canadian crowdfunding platform providers
Canada has a strong crowdfunding ecosystem with very professional service providers. The major white-label crowdfunding software providers in Canada include:
Katipult
Thrinacia
Crowdfund Suite
Katipult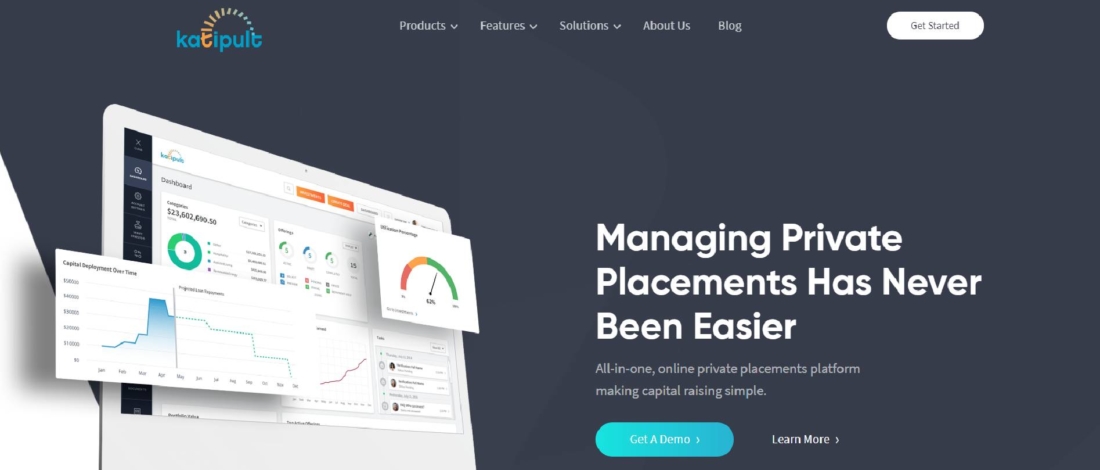 When Katipult decided to go after blockchain technology, they minimized content on their site and limited product presentation. It was a surprise to know that they've actually IPOed and started trading shares publicly.
Within this timeframe, there was a C-level restructuring and Brock Murray, former CEO at Katipult, became the head of global development while Gord Breese with prior experience at ServiceMax, SAP, Business Objects, Apple and Oracle became the new CEO.
Katipult presented itself in the new light and introduced multiple design improvements as well as new features.
Pricing: $50,000 – $150,000+
Thrinacia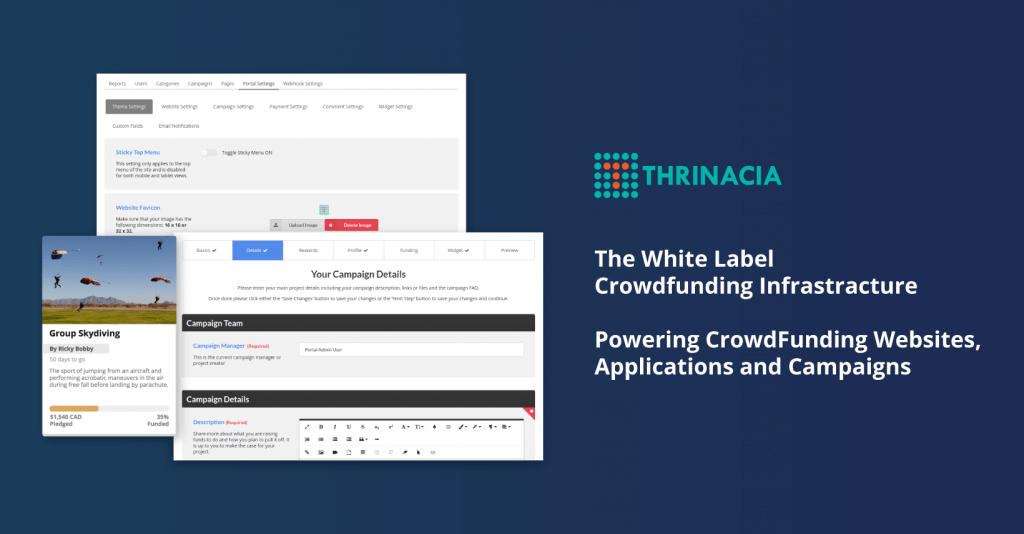 Thrinacia offers a set of cloud crowdfunding solutions that include portal development, website development and mobile app development. The company focuses on donation and reward-based crowdfunding platforms but also has expertise with the real estate P2P lending and equity crowdfunding solutions. 
Pricing: The plans range from $9.99 – $269.99 per month. As for the Enterprise solution, the pricing starts at $699 per month. Contact the vendor for detailed pricing options.
Crowdfund Suite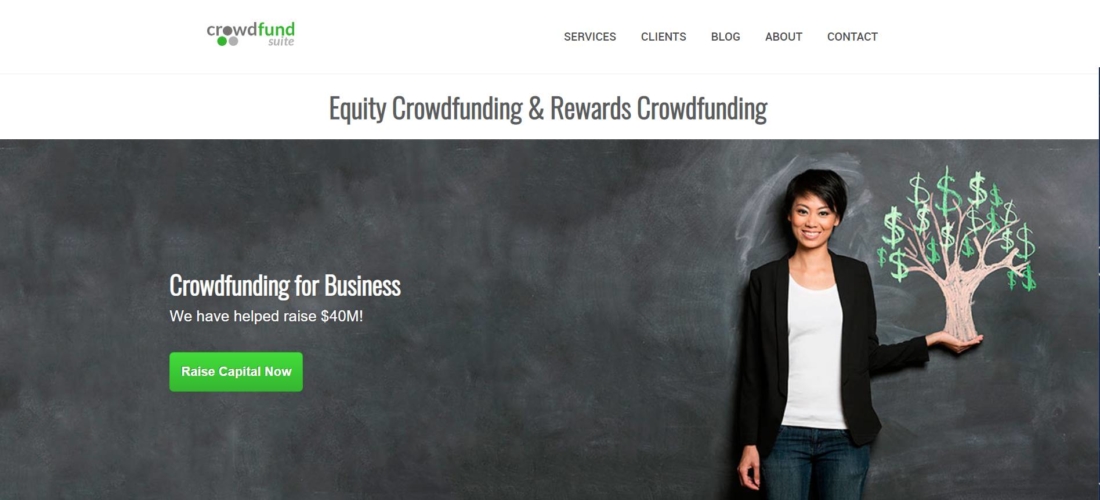 Crowdfund Suite aims to create some sort of crowdfunding ecosystem through their services. This includes crowdfunding platform development, campaign support and promotion for the fundraisers as well as workshops, guidance, and deal curation for investors.
The company became popular thanks to a successful case with FundRazr, a Canadian crowdfunding platform which made it to the top and now operates in 35+ countries providing fundraising opportunities for schools, nonprofits and businesses.
Pricing: N/A. Contact the vendor.
Indian white-label crowdfunding platform software providers
There's been a growing activity in the Indian real estate and private equity market which has also led to a boost in crowdfunding services across the country. India is one of the major players in Saudi Arabian, UAE, and Singapore markets in terms of crowdfunding services and white-label crowdfunding software provision.
Some of the most popular Indian crowdfunding software vendors include:
Fintechlabs.in
FundraisingScript
Blockchain App Factory
Fintechlabs.in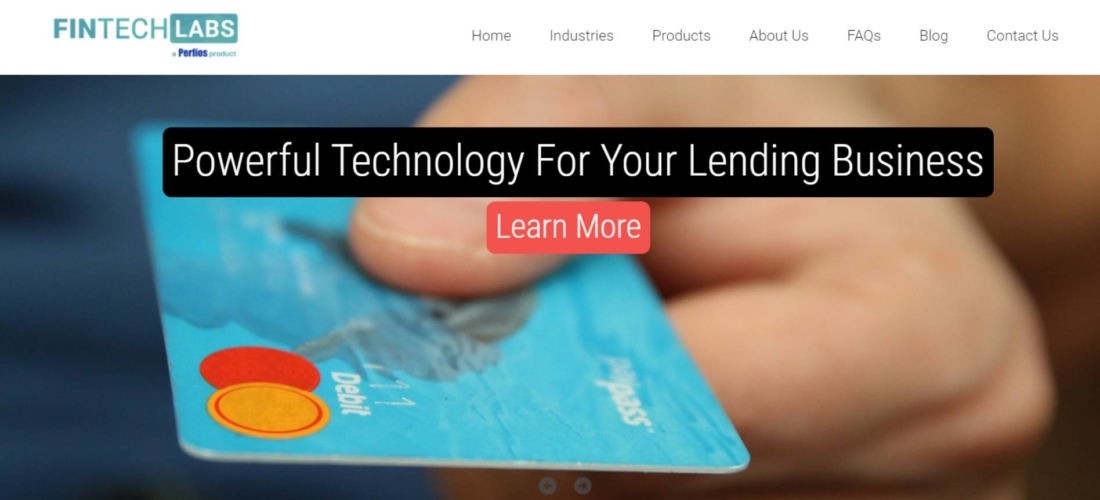 Fintechlabs provides both white-label crowdfunding software and crowdfunding platform development services. With a heavy focus on P2P lending, the platform provides direct lending and marketplace lending which is well-reflected in the platform's features. The company partners with various third-party services related to credit scoring, identity verification, digital signature, etc.
Pricing: starts at around $20,000 one-time and $2,000 monthly.
FundraisingScript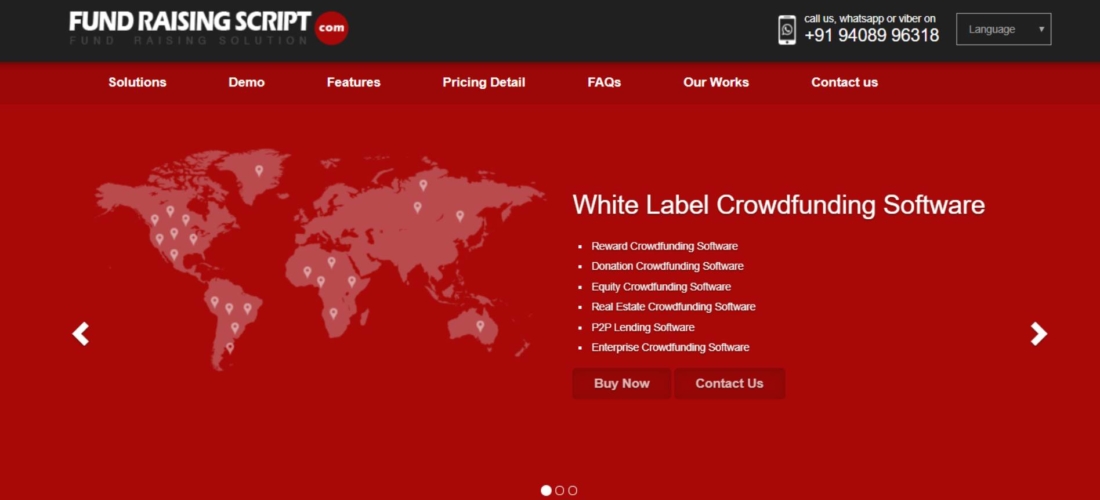 FundraisingScript is a broad-focus white-label crowdfunding software provider. Targeting donation, reward, debt, and equity crowdfunding types, FundraisingScript claims to provide access to the source code.
The demo credentials of the crowdfunding software are listed on the website for each particular type of the solution, so it's easier for clients to get the idea of what the software looks like.
Pricing: starting from $800 one-time fee. Contact the vendor for the custom pricing.
Blockchain App Factory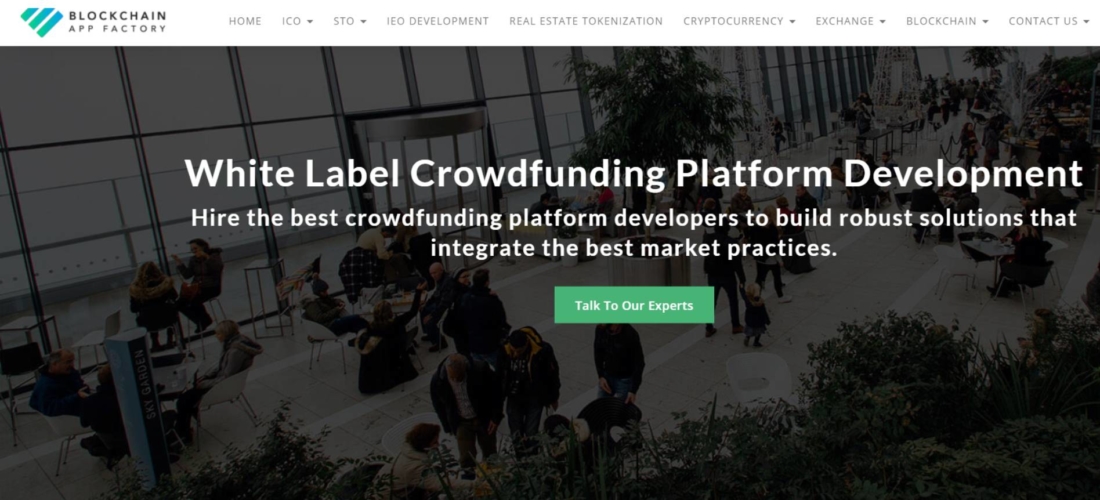 As the name suggests, Blockchain App Factory focuses on crowdfunding platforms which are powered by blockchain. This includes asset tokenization which allows for ICO, STO, IEO fundraising. The company offers a white-label crowdfunding platform on blockchain as well as custom development services.
Pricing: around $15,000 – $30,000 one-time fee. Contact the vendor for the correct pricing.
Final thoughts
When it comes to choosing the right white-label crowdfunding software vendor, you should consider every player as long as the timezone, budgets, communication, and expertise that you're looking for are up to your standards.
Currently, the majority of companies in the world have learned and adapted to work remotely like never before. So distance should not be a challenge. Nevertheless, to choose the right partner, you should rely on your due diligence, risk mitigation, common sense and intuition.
If you've found this list of crowdfunding platform providers useful, don't forget to share it with your network. And also, drop us a line to get started with P2P lending or Equity crowdfunding.