Delta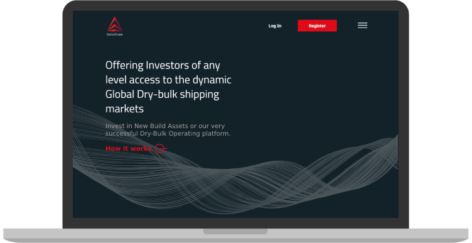 Delta Corp is a global business that operates in the UAE, India, Denmark, Singapore, Ireland and focuses on short and long term chartering of tonnage, cargo transportation, risk and asset management.

The company has launched a project DeltaStreet and in doing so has created a unique platform that allows investors exposure to Dry Shipping indexes without the need to invest in asset heavy shipping companies or having to invest in ships.
Market focus and target audience
Owners
Commercial ship owners who want to fund their cargo transportation
Investors
Investors who want to diversify their portfolio and invest in the dry shipping
Financers
Sponsors or investors that want to gain Time Charter Market exposure
How DeltaStreet platform works
Delta platform allows Owners, Investors and Financers to invest in their targeted sector in dry shipping that aims to replicates the returns of Baltic Dry Index, BCI, BPI, BSI or BHSI.
Why Delta chose LenderKit
Delta was looking for a unique and scalable investment platform that would allow them to automate various business processes and operations. 
In addition to that, the investment platform had to integrate with the existing ecosystem via an API to access data such as shipping details, statuses and more.
Automate investor relations
Digitize offline operations
Build an interactive platform
Streamline KYC
Increase revenue
How LenderKit helped
We've built a custom platform that integrates into the shipping industry and the business ecosystem. With this solution, DeltaStreet can work with institutional investors anywhere in the world. 
The platform provides powerful investing and capital raising tools, analytics, statuses, notifications and more which allows DeltaStreet run a competitive shipping business.
Built custom investor portal
Integrated 3rd-party KYC
Adjusted debt and equity flows
Customized payouts, etc.
Want to build a custom investment platform for your industry?