InvestMyCommunity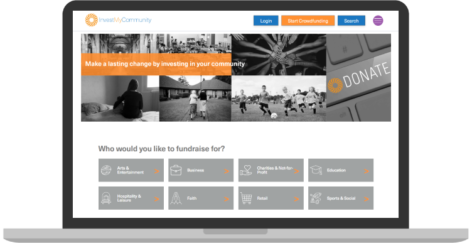 InvestMyCommunity is a donation crowdfunding platform in the UK supporting small charities and community organisations. The company helps fundraisers create, manage and promote campaigns to generate incremental revenue, or to raise capital for specific projects or initiatives. 
InvestMyCommunity's client base is charities and non-profits, schools, faith organisations and sports clubs and associations.
Market focus and target audience
Community Organisations
Charities and other organisations that make a positive social impact in their local community.
Donors
People who provide financial support to charities and community organisations on the InvestMyCommunity platform.
Fundraisers
People who set up a fundraising page on InvestMyCommunity to raise funds for the causes and organisations that matter to them.
How InvestMyCommunity works
With an unbeatable package of ongoing professional support and mentoring, powerful tools and the best value service of any platform available today, we give fundraisers all the building blocks they need to succeed in their campaigns.
Why InvestMyCommunity chose LenderKit
InvestMyCommunity needed a scalable and customisable crowdfunding solution that would allow it to build a sustainable fundraising platform with full-cycle deal management, user onboarding, identity verification and payment processing. 
InvestMyCommunity builds the UK's first and only fundraising platform dedicated to all community minded organisations and provides high-quality services to maximize client's campaign success.
Launch a donation crowdfunding platform
Attract more donors and fundraising organisations
Leverage modern crowdfunding software for scalability
Streamline KYC
Increase revenue
How LenderKit helped
We helped InvestMyCommunity launch an innovative fundraising platform for community organisations and donors, integrate with the KYC provider and set up payment processing via a third-party. 
The LenderKit team made major updates into the fee settings system and streamlined user flows to adhere to the customer requirements.
Launched the donation platform on the new architecture
Integrated 3rd-party KYC
Connected a payment gateway
Adjusted fee settings
Streamlined user flows
Refreshed portal's look and feel
Want to start a fundraising platform for your industry?