Matrix Capital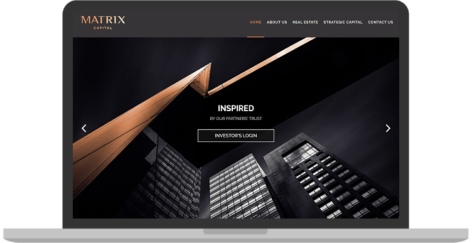 Matrix Capital is a KSA-based and sharia-compliant real estate investment management firm. The company connects qualified individuals and institutions to fully vetted, compelling real estate investment opportunities.
Matrix Capital helps deploying and structuring debt, equity and mezzanine financing from domestic, regional and international financial institutions and specialized financing companies.
Market focus and target audience
Qualified indvidials
Matrix capital enables direct investment opportunities for individual investors.
Institutional investors
Matrix capital provides value-driven approach to investing for institutional investors.
Real estate developers
The company works with its strategic partners to deploy and structure debt and equity capital.
How Matrix Capital works
Our network of high-quality direct relationships is the cornerstone of our strategy. We rely on their local sourcing and operating capabilities to source unique and interesting opportunities.
Why Matrix Capital chose LenderKit
Matrix Capital was looking for a crowdfunding solution that would allow them to set up a crowdfunding platforms quickly and apply to the regulatory sandbox in Saudi Arabia.
LenderKit provides many out-of-box features and ability to combine the debt and equity flows in one platform. Having a prior experience of launching crowdfunding platforms in Saudi Arabia, Matrix Capital found LenderKit to be a great match.
Set up a prototype quickly
Apply to regulatory sandbox
Combine debt & equity
Partner with experienced provider
Want to launch a crowdfunding platform in Saudi Arabia?