Robinland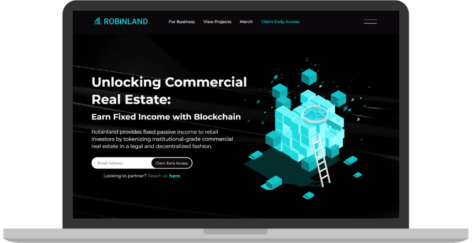 Robinland is a crowdfunding platform focused on tokenizing commercial loans for real estate developers, providing fixed interest investment products for individual investors either using crypto or fiat payment. 
The platform provides real estate developers access to faster, cheaper and more liquid sources of financing through the use of crypto tokens and offers investors an innovative interest-bearing way to make passive income.
Market focus and target audience
Defi lenders
Robinland uses the blockchain technology to provide digital security investing opportunities in commercial real estate.
Real estate developers
Borrowers can gain better access to liquidity through asset tokenization and finance projects faster and cheaper.
Retail investors
Retail investors and agents can invest i debt security tokens and keep track of digital assets in a self-custody wallet.
How Robinland platform works
Robinland provides fixed passive income to retail investors by tokenizing institutional-grade commercial real estate in a legal and decentralized fashion.
Why Robinland chose LenderKit
Robinland was looking to soft launch a crypto crowdfunding platform within strict time requirement. Some of the major goals were to set up a platform quickly and showcase offerings for investing as well as attract early-stage investors and DeFi pioneers. 
The platform needed to be registered in the US under the Regulation D and LenderKit had this functionality out-of-the-box. 
Robinland already had its own website, so the company wanted to integrate the admin back-office and portal for investors with some minor tweaks.
Soft launch a prototype
Attract investors early
Start a crypto investing platform
Facilitate Reg D compliance
Ensure full platform customizability
Integrate any third-party
How LenderKit helped
We helped Robinland to set up an online crypto investing platform for tokenized real estate projects with a focus on retail investors in the USA.
On the technical side, we integrated Metamask wallet and tweaked the investor portal to make the investor onboarding smoother and easier. 
We adjusted the platform to fit the crypto industry and work with the tokenized securities on the blockchain.
Launched a crypto investing platform
Investor portal adjustment
Metamask wallet integration
Simplified onboarding
Basic solution installation
Want to build a crypto crowdfunding platform for tokenized real estate?