Empower Your Crowdfunding Platform with FundAmerica
LenderKit integrates with FundAmerica to help crowdfunding platforms process investor and fundraiser money and hold them in the escrow account. 
We've also released our own FundAmerica SDK for developers which you can find below.
Get in touch
Payment automation
Escrow account
KYC/AML
Broker-dealer compliance
SDK for developers
Why use FundAmerica for crowdfunding?
Payment automation
With FundAmerica, you can automatically process transactions and dividend payouts and more.
Escrow account
Use FundAmerica escrow account to run a regulated and secure crowdfunding platform.
LenderKit integration
We now added FundAmerica as a standard payment integration for the US market.
FundAmerica SDK for developers
While working on the integration, our development team found that there's no official or recommended SDK to work with the FundAmerica API, so we decided to create our own. 
There are a few outdated SDKs, but they didn't meet our requirements. The SDK we released adds a more clear structure and simplicity to the code. By connecting this SDK, you can instantly start working with the FundAmerica API. 
In the example image, you can see that SDK significantly reduces the amount of code as well as automates JSON parsing and processing. The SDK for FundAmerica API developed by LenderKit is available on GitHub.
Get SDK on Githbub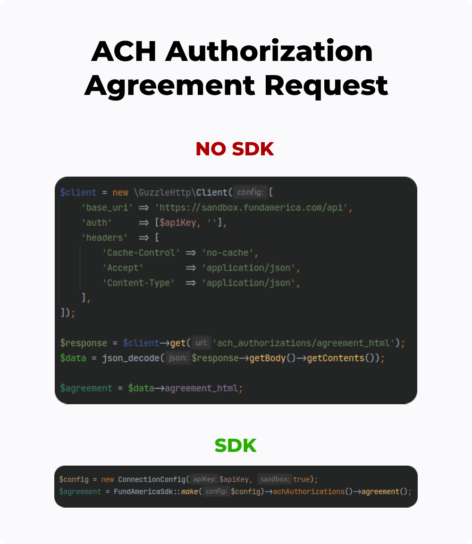 How FundAmerica helps your business
FundAmerica is a payment processing and KYC/AML service provider that offers different payment methods such as ACH, Wire, Credit & Debit cards, Check, etc. 
One of the important features of FundAmerica is its escrow account services. And there are also plenty of other solutions like invest button, investor dashboard, broker-dealer compliance, identity verification and more.
Learn more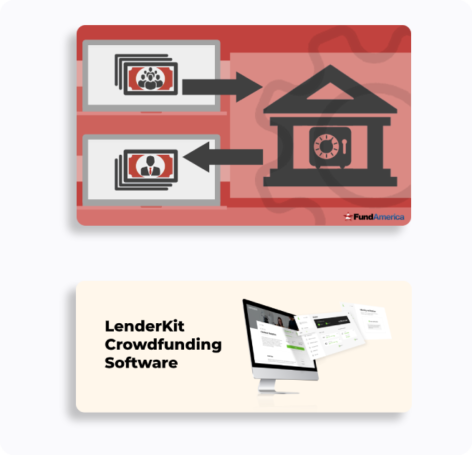 Want to launch a crowdfunding platform with an integrated payment solution?