Crowdfunding Internal Projects in a Company
There are lots of companies deploying crowdfunding within their corporate infrastructure for different goals such as improving innovation management, prototyping, strengthening corporate culture – just to name a few.
Crowdfunding for internal projects provides more control over the money flows, operations and data as well as allows to work with the selected investment groups.
What you will learn in this post:
Success stories of internal crowdfunding in corporations
IBM, Sony, Enel, Bose, Siemens, Shell – what do these companies have in common? They have tried their hand at enterprise crowdfunding at some point.
Enterprise crowdfunding can be internal or external.
Internal crowdfunding takes place within a company's infrastructure. Its main goal is to foster innovation management by engaging employees into the project fundraising process. Campaigns aren't open to the public except for some situations.
Here is how internal crowdfunding works
A company delegates the responsibility of selecting the next big project to their employees, aka "the crowd". Employees-investors are given virtual money, for example, $100 to support the project they like. It's called an "innovation stock market".
All projects are presented on the in-house crowdfunding platform where the crowd can vote for projects. The undertaking may take place online or in the intranet.
The primary goal of corporate crowdfunding is not collecting money. It's more about enhancing decision-making flows, strengthening corporate culture, and seeking innovative ideas, etc.
Let's look at real case studies.
IBM's crowdfunding platform
The best known case study is IBM's innovation crowdfunding campaigns.
In his interview to Harvard Business Review, Michael Muller provided the highlights of the campaign:
the goal was to support innovation inside the enterprise
there were three trials with 500+ employees participating in the campaign
the third trial was distributed to 29 countries
the individual investment budget was $100
dozens of projects were funded, the max investment sum was $35k
The analysis of IBM's case is presented in the scientific paper. At the end of the interview Muller concluded that they didn't have a concrete estimate of how this model influences the company's performance, but what was obvious is that:
"'None of us is as smart as all of us.' We really need all of our brains engaged on these things."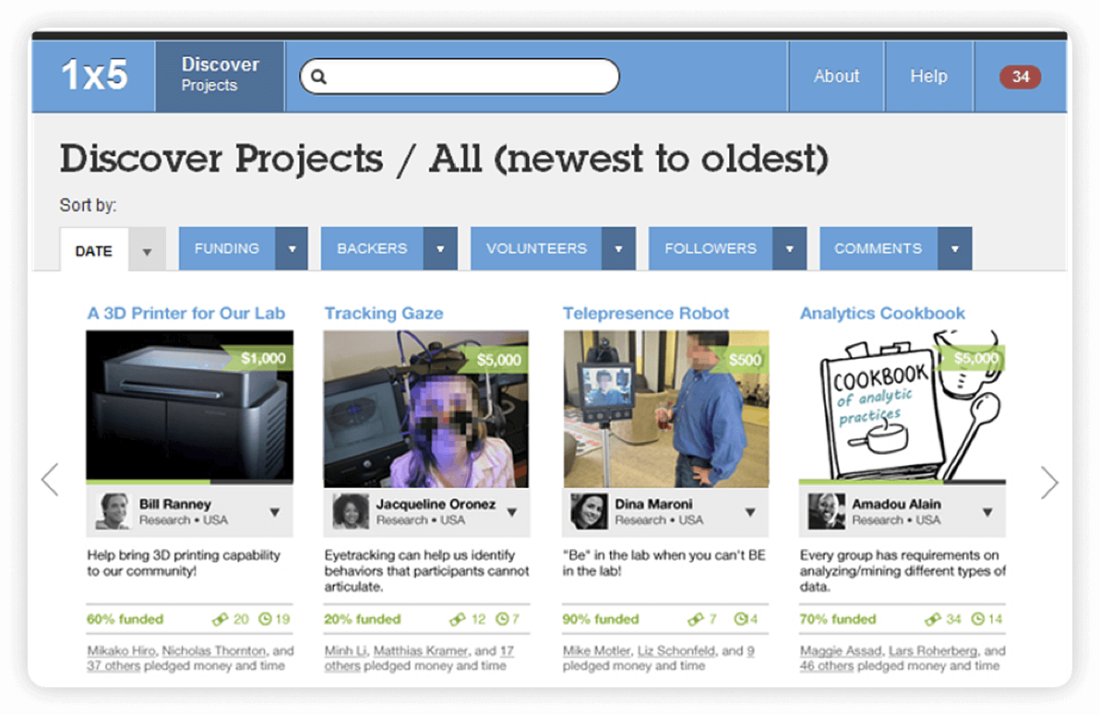 Sony's crowdfunding platform
Another classic example of crowdfunding internal projects is Sony's platform First Flight.
The company used corporate crowdfunding several times in the past and 6 years ago launched its own portal for innovative projects.
It's currently active and geared towards the Japanese audience only. The platform is based on Sony's Seed Acceleration Program for supporting and incubating business ideas generated by Sony's employees.
Backers can pre-order or buy new Sony products developed by its staff. The initiative has already helped the company complete three projects – Watch, Sensor kit, and E-Paper Remote Control.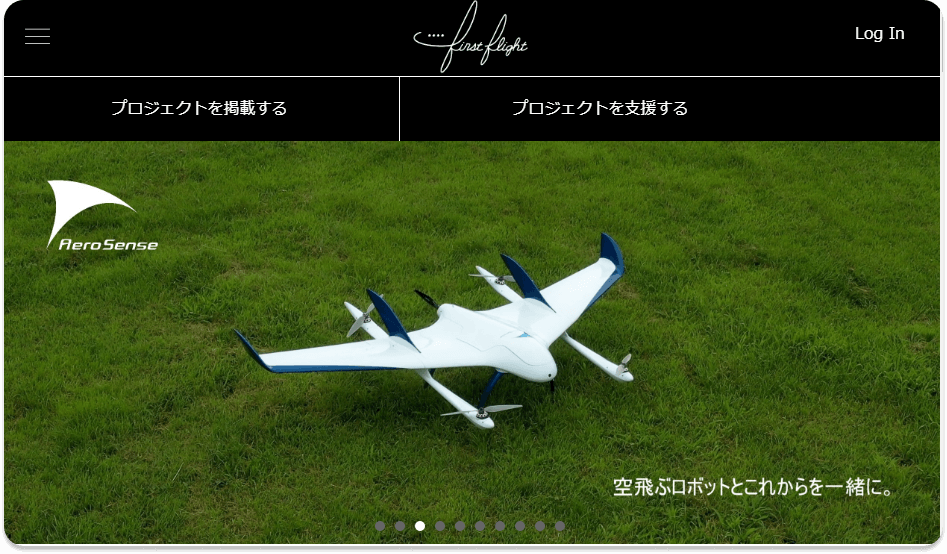 The new method can work well not only for business-oriented organizations, but also for governmental or municipal entities.
Just look at the US Government Department of Health and Human Services (HHS). In 2013, the HHS's CTO announced that they had launched an internal website HHSFairtrade where people can find support for their ideas.
They used the Kickstarter-like model when a project goes live only after gaining enough capital.
In addition, the company had an HHS Ignite program to solve funding challenges. Successful projects were selected for further implementation through allocated funds.
Internal crowdfunding may also be a perfect match for social initiatives.
Enel's plans to launch a platform
Last spring, Enel announced its intention to launch an in-house campaign for solidarity initiatives. Top managers can allocate a part of their remuneration in favour of third sector associations helping those affected by COVID-19.
The Group's non-profit organization, Enel Cuore, was also going to contribute to the fund.
It's a great example of how internal crowdfunding can serve social purposes.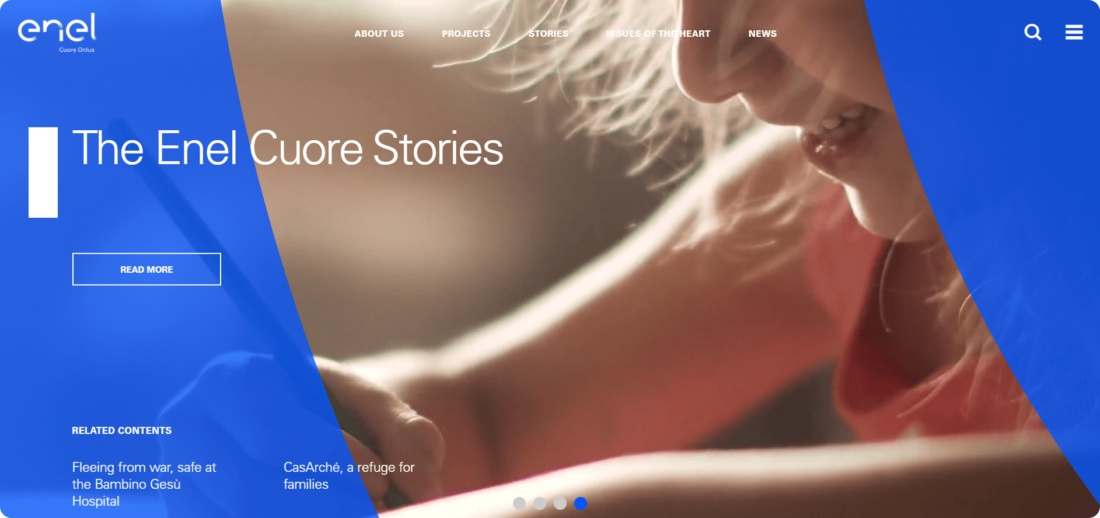 Amazon's crowdfunding platform Build It
Recently, a US tech giant Amazon announced a launch of its internal crowdfunding platform called Build It. The platform features Amazon's products and promotes smart devices compatible with the Alexa's intelligent assistant.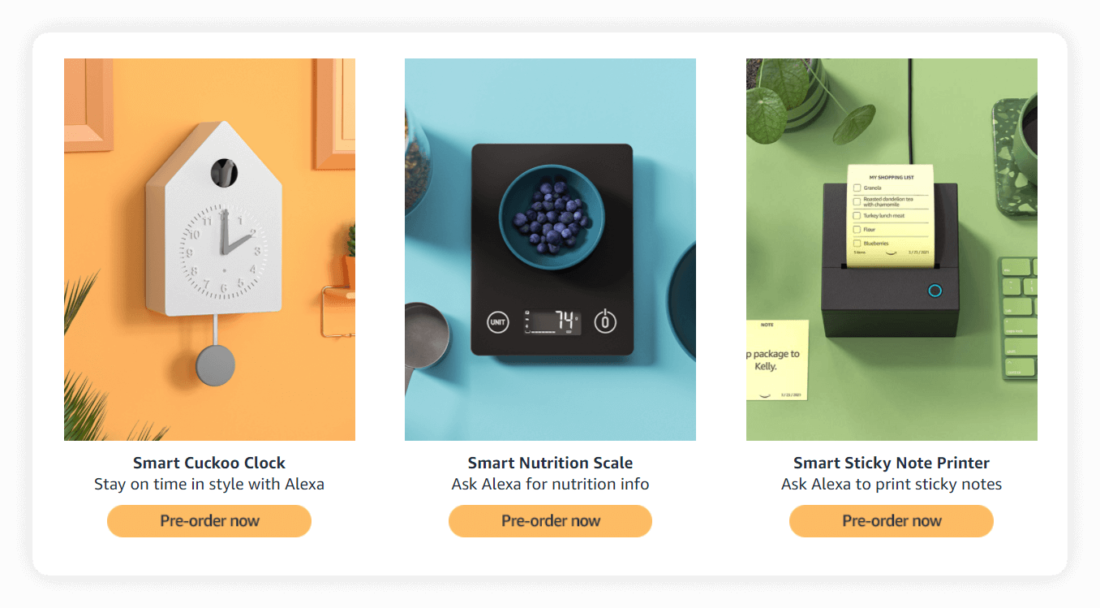 The platform is directly accessible via the Amazon's store as Inquirer claims.
The concept is based around the rewards-based crowdfunding which allows users to pre-order products and thus fund the projects at the idea stage. In case the project doesn't reach its funding goal, Amazon will not charge you.
To learn more about the Amazon crowdfunding platform, visit the official page.
Benefits of internal crowdfunding
What's very important is that a company owns all the data and doesn't disclose sensitive information to the public. Internal crowdfunding also does this:
addresses people's intrinsic motivators (autonomy, mastery, purpose, social connectedness and status)
prevents unused knowledge from being lost during the traditional product development process
improves top-down decision-making flows and collaboration between departments
create a strong community ethic and positively influences corporate culture
involves employees in key processes in the company;
improves morale, etc
Examples of external enterprise crowdfunding
When working on this article, we've done crowdfunding internal research and found out that some experts refer external campaigns to enterprise crowdfunding as well.
These campaigns have certain features:
campaigns are promoted by established companies not startups and small businesses
the primary goal may be testing a new product, entering new markets, prototyping, etc
Here are few cases for you to understand how it works.
Bose case
Bose Corporation, a U.S.-based, privately held audio equipment maker, launched an Indiegogo campaign to fund development of earplugs that can help people sleep better by masking unwanted noises and replacing them with soothing sounds.
This product prototype differed from what Bose had produced before. The goal of the campaign was to find motivated testers and collect feedback on the new prototype. The campaign was successful: in less than 3 months Bose managed to collect 900% of their funding goal of $50,000.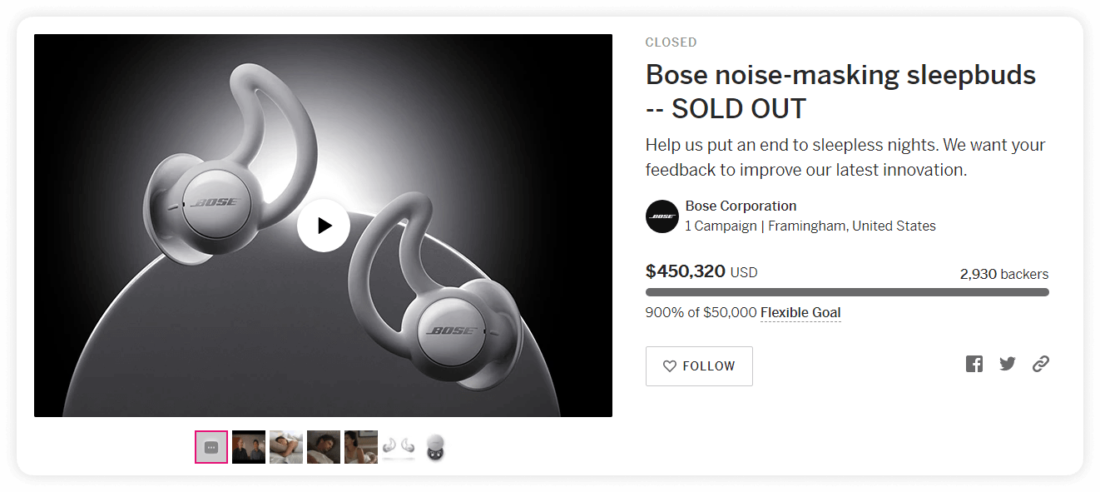 Shell case
Shell, a global group of energy and petrochemical companies, is collaborating with Cultivate Labs to use enterprise crowdsourcing to identify the most productive sites around the world to drill for oil.
In the past, the company used to rely on a small team of company leaders that typically focused on one geographic area. Now, having involved several hundred people into the decision-making process, company leaders got unused intelligence and important insights.
According to Cultivate Labs, Shell can apply that same process to:
assess operational risks;
understand the competition and industry trends;
fund new ideas for exploration and drilling with both its own employees and outsiders who have already proven to be valuable.
Other enterprise crowdfunding campaigns which you may get interested in: Hasbro gaming challenge at Indiegogo, General Electric's FirstBuild, Pfzer's Get Old campaign.
Enterprise/internal crowdfunding: perspectives and challenges
The potential of this model is huge. Internal crowdfunding can be used for finding new ideas, discovering new markets and opportunities, prototyping and getting feedback from the target audience.
The model is one-size-fits-all and works well for business-focused undertakings, non-profit and social projects.
However, a few challenges prevent companies from actively deploying internal crowdfunding:
employees may suggest projects which risk being unpopular with the clientele
"the crowd" may not take the task seriously enough, in this case the whole thing will fail
the team may not be able to make compelling pitches
it may be hard to allocate sources for internal crowdfunding
the idea is hard to be technically implemented
Alternatively, we at LenderKit can help you with solving the technical problem.
LenderKit – crowdfunding software for internal projects
Enterprise crowdfunding portals may greatly vary by the company's goal, scope, tech complexity, regulatory requirements, etc.
You can hire a dev team to build up your portal from scratch or use an off-the-shelf solution with ready-made design and functionality. In this case, you save time and money.
LenderKit is a customizable white-label software developed by JustCoded and works for any kind of crowdfunding flows such as p2p lending, equity fundraising, investment management or real estate crowdfunding.
The solution is a hybrid of white-label crowdfunding software and custom development. It's suitable for:
pitching stakeholders or investors with a new business idea
applying to regulatory sandbox
setting up an internal crowdfunding platform and adding custom functionality
scaling the platform to enter broader markets and regions beyond internal crowdfunding
The software package consists of pre-built features, colour schemes, designs and functionality to let you kickstart your platform with minimum efforts.

Summing up
Crowdfunding is a truly disrupting financial innovation. It helps companies achieve numerous goals in addition to the fundamental one – raising funds.
Now enterprise or internal crowdfunding is gaining momentum. It's a new shape of traditional crowdfunding that exists in the form of in-house crowdfunding programs.
This new method boosts corporate innovation management, increases the staff's involvement, strengthens collaboration between units. Every organization wants to increase the value of investment in its people, and internal crowdfunding may become a catalyst.