Crowdfunding Script vs Building Your Own Crowdfunding Platform What to Choose
Doing market research, we found that people are looking for crowdfunding scripts such as a Kickstarter clone script or GoFundMe clone script. It seems like there is a whole market of various crowdfunding scripts for all 4 types of crowdfunding platforms such as donation, reward, debt, and equity-based.
What's got our attention is the ease of installing a script and unfolding a whole crowdfunding platform in a blink of an eye. Is it really that simple? Is it regulations-compliant? What's the catch?

In this article, we'll go through the advantages and disadvantages of using a crowdfunding script as well as when and why you should or shouldn't use it.

What you will learn in this post:
What is a crowdfunding script?
A crowdfunding script is a web program that can be quickly installed on a website. The script unfolds into a functioning crowdfunding platform with some basic or extended features.
The script can be integrated with various APIs including mailing services, CRMs, payment gateways, KYC/AML apps, etc. If thought-out properly, a fundraising script is a good way to start a crowdfunding platform quickly because it has all the necessary features and integrations.
Why people are using crowdfunding scripts
Entrepreneurs may use crowdfunding scripts because it's a cheaper and faster alternative to starting a crowdfunding platform. A script is cheaper than a white-label solution, and a white-label solution is cheaper than custom development.

A crowdfunding script doesn't require deep technical expertise if any. The process is similar to installing a WordPress theme, so it's very user-friendly.

A crowdfunding PHP script is a good choice for:

non-profits;
charities;
schools and local communities;
donation-based crowdfunding platforms;
small reward-based crowdfunding platforms.
testing the market and your entrepreneurial skills;
What is also attractive in fundraising scripts is that they are customisable which means that you can modify and add new features to the platform. Any tweaks can be done with just one freelance developer or you can also adjust the theme yourself.

Script vs Custom solution comparison


Script
Custom
Launch time
3 hours
3+ months
Platform type
Donation, reward-based
Debt, equity, donation, and reward-based
Purpose
eCommerce, non-profit, education, charity, etc.
Real estate, P2P lending, startup investing, etc.
Functionality
out-off-the-box
tailor-made
Regulations
non-regulated
Regulated, requires registration with FCA, SEC/FINRA
Customisable
Yes
Yes
Development flexibility
Low
High
Scalability
Low
High
Quality of code
Undefined
(usually made by one full-stack developer)
High (engages developers, architects, designers, DevOps, QAs, PMs, BAs)
Starting capital
50$
Requires estimation
Crowdfunding scripts available on the market
If you decide to go with a crowdfunding PHP script, then review the company you're purchasing the script from. Triple check all of the reviews, web presence, documentation and support availability of the company.

Currently, there are several solutions on the market which might work for you.

FundMe
FundMe is a fundraising script which allows you to set up a crowdfunding platform quickly. The script allows you to have unlimited campaigns which you can manage from an admin panel.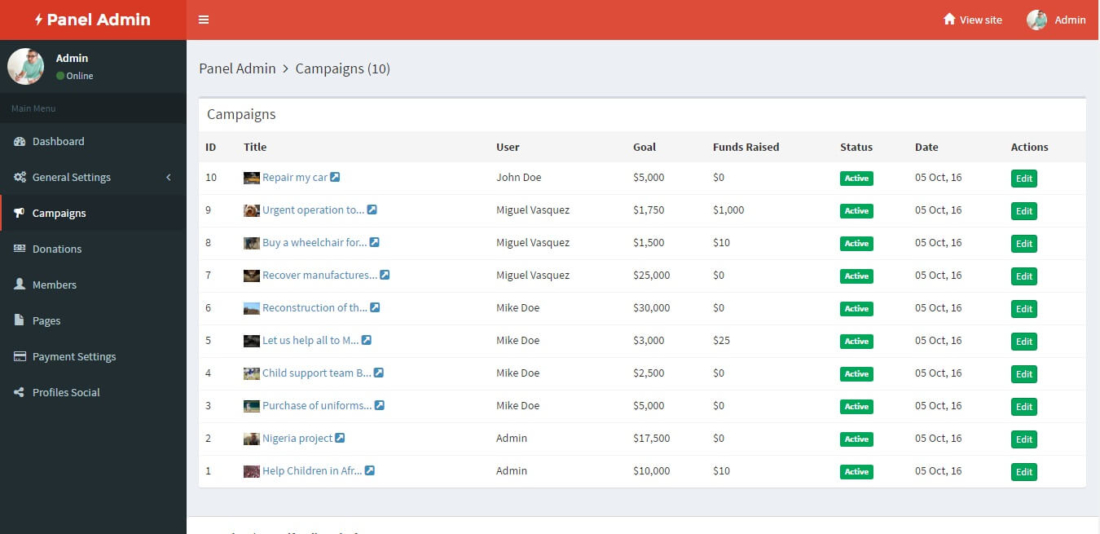 The platform integrates with PayPal and Stripe as well as provides bank transfer opportunities. FundMe is suitable for donation-based crowdfunding purposes only. Through the dashboard, an admin can manage the donation fees and withdrawals which is quite useful.

You can try it yourself using the credentials below or via a link:

From the demo, you can see that there is no proper KYC/AML process and functionality which will probably become a problem at some point. Users seem to be able to create campaigns after some basic registration process which requires email and password only. Also, it doesn't require any confirmation of registration. Moreover, the admin is able to set campaigns to the auto-approve mode which is extremely risky.

Speaking about navigation and filtering, you can see a lot of campaigns, members, and categories which you want to be able to navigate through somehow. The platform doesn't have filtering or search options which is probably not very user-friendly if the number of records exceeds 10.

If we dive into fees management deeper, it's clear that you can set fees for donations but you don't seem to be able to charge for withdrawals or transferring. Also, there are no refund options. That might not be as crucial for a donation-based site, but what if I, as an investor, accidentally add another zero to the amount?

There are other things which we can investigate further, but let's just say that FundMe is a good starting point for fundraising for personal needs and small local projects. And hey, the price is only $49, so it's pretty good to have a functioning dashboard and the ability to post and manage offerings.
GetFund
GetFund is a crowdfunding script with an admin dashboard and a web portal for users where they can request to start a campaign.

In the dashboard, an admin can see the total payments amount, registered users, current fees settings, and other information. Similar to FundMe, the platform supports 3 major payment options such as PayPal, Stripe and bank transfer.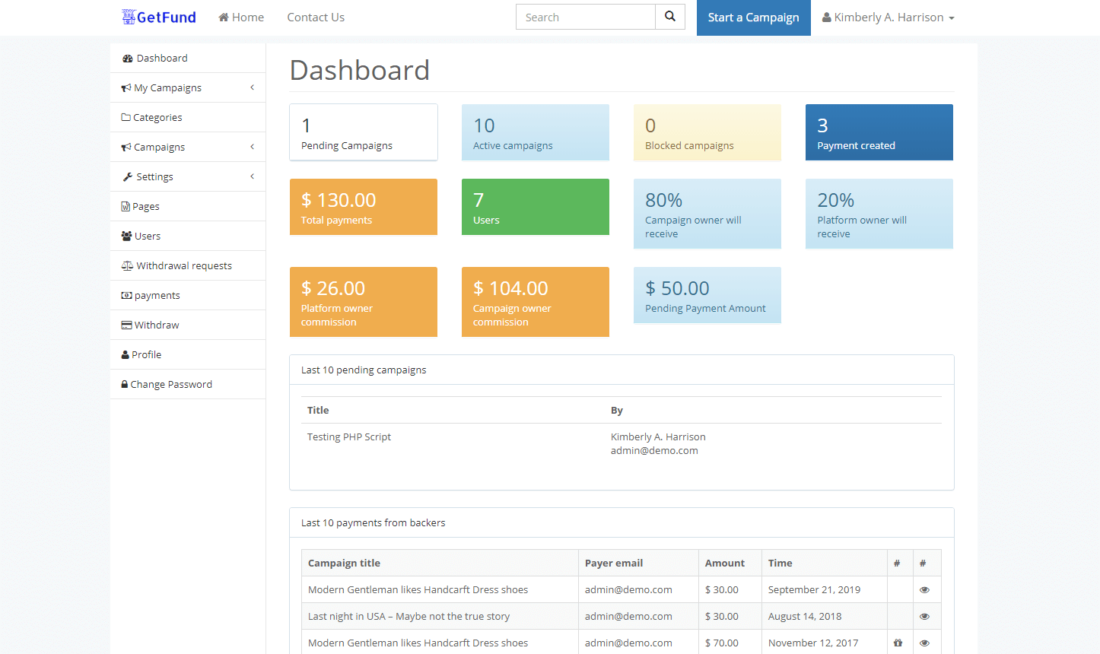 You can access GetFund using credentials below or via a link:

If you've got a chance to check out the demo, you've probably desperately wanted to click those colourful cards with numbers. Later, you've figured out that the details you're looking for are hidden in the "payments" and "payment settings." Also, you may have noticed "pending payments" which you wanted to confirm or do something with them but weren't able to.

While the GetFund solution itself might be performing the necessary operations, the user flow is quite complicated and non-straightforward. If you decide to use the search bar you'll be surprised that it's not for the navigation on the admin dashboard but for searching campaigns.

What catches your attention later is that you don't see how campaign owners get paid when they reach the funding goal. Apparently, a campaign owner has to contact the administrator to request a withdrawal and then provide payment details. In this case though, the platform loses its automation function.

However, if an admin is both a campaign owner and a platform manager, then the platform is a good option for raising for less resource-demanding projects.

If you're crowdfunding for a local school, community, yoga club or anything else of that kind, both FundMe and GetFund can be nice cost-effective solutions which you can customise.

ePonzi
ePonzi is a P2P donation platform with over 30 admin panel features.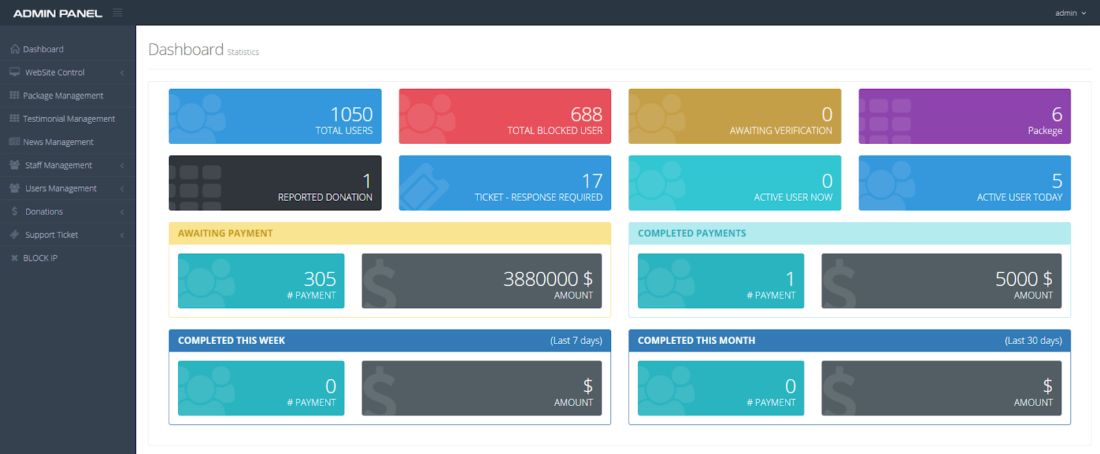 While the platform itself looks pretty and responsive, it doesn't have decent investment flows and wallet management functionality which is the number one feature for a donation-based platform.

On the front-end, the payment system is done through "package" purchasing. When you click on a chosen package it gets you to a registration page where you can fill in random details and it will redirect you to the user account.

There are no listings of offerings which you can browse and choose to donate to. Despite this and other limitations in functionality, 99 users have bought this script so far.

We could dig into the script further, but at this point, it just doesn't make sense because there are obvious breaches in even basic functionality. Also, the origin of the name "Ponzi" is a well-known fraudulent scheme which is simply off-putting and unprofessional.
Crowdfunding script vs building your own crowdfunding platform

Using a crowdfunding script doesn't free you from the development and business issues. In most if not all cases, you have little or no control over the payment gateways, wallet management, investment flows, etc.

Starting your crowdfunding platform based on fundraising script is easy but requires a ton of development work in the future.

There is probably at least one great crowdfunding solution on the market for donation purposes, but most of the time you'll have to deal with poor design and functionality Indiegogo clones. Also, most of the scripts we reviewed including EquityFunder, UniverseFunder, CyberFundraiser, and others include limited functionality which is not enough for a debt or equity crowdfunding platforms.

As seen from the examples above, many features even for a donation-based platform are not in place. When it comes to building your own equity crowdfunding portal or a P2P lending platform, there is no way a script can be useful.

Needless to say, not all of the white-label crowdfunding solutions are equally useful for building debt or equity crowdfunding platforms. So, quite a reasonable solution might be going custom.

A tailor-made solution is the best option for:

launching a scalable prototype or MVP to pitch to investors;
building an advanced donation or reward-based crowdfunding platform for managing organisations;
creating a world-class P2P lending or equity crowdfunding platform for real estate or other industry;
"A custom solution is about business relationships."

Apart from features such as automated payment processing, secondary market, fees and dividends calculation modules, KYC/AML verification and other functionality, you are also building relationships with a development partner.

In the crowdfunding field, a development partner is usually more than just a team of tech-savvy guys. Often, they have connections with legal and consulting companies such as CMS Law or Bevilacqua PLLC, payment processing providers such as MangoPay, LemonWay, or Goji Investments and other partnerships.

But what about the actual features? What can you expect to have when building a custom solution?

Check out "LenderKit's Features" to learn more.

The features of a custom crowdfunding platform
Established companies and entrepreneurs choose to build custom crowdfunding platforms for particular markets under specific country regulations. Each project is unique including purposes, design and functionality.

However, there are still some common "features" that should always be present in any platform – entities and flows.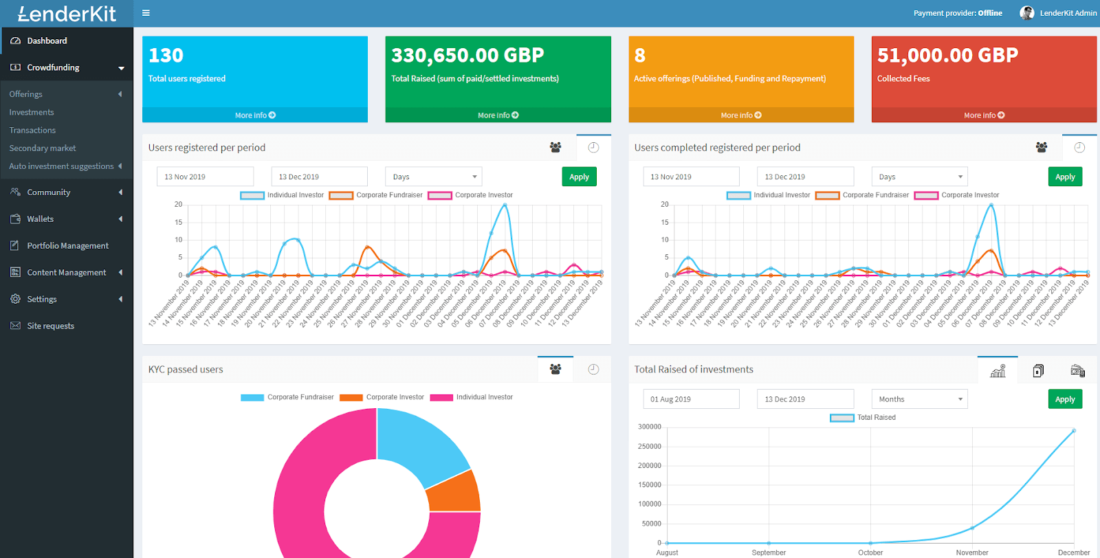 The major crowdfunding platform entities and functionality flows:

User. An individual user with their role, status, and information.


Organisation. Usually for debt and equity platforms. An organisation may contain multiple users with their own roles.


Offering. An offering should contain a category, information, images, status, type. Users can interact with the offering differently depending on their status and rights.


Wallet. The wallet contains payment details as well as financial information. Users can top-up the balance and request withdrawals.


Transaction. Each transaction contains information about a user, its type, transaction status and other information.


Investment. Users can invest in offerings. An investment record contains information about a user, status, fees, investment amount, etc.


Payout schedule. The payout schedule is a debt and equity crowdfunding feature which can be customised by an admin.


Secondary market. The secondary market is an equity investment marketplace feature where investors can trade their investments with other investors.
These features, as well as many other like fees configuration module, e-sign, auto-investments, security configuration and other functionality, are often present in custom crowdfunding platforms.

The major crowdfunding platform flows:

Registration. A user can register on the platform using a web portal however the final approval will go to the admin. Also, an admin can manually register user from the back office which is very common for private equity crowdfunding platforms as well as P2P lending portals.


KYC/AML verification. The identity and source of funds checks are performed by an authorised company. Usually, platforms use third-party integrations with SEC or FCA authorised organisations. All users have to provide sufficient information before using the platform as a security measure against fraud.
These are the two major flows in every crowdfunding platform that wants to go public on a local or international market. The complexity and extensiveness of other features and requirements depends on the country's regulations and client's needs.
Also read: "Crowdfunding regulations in different countries"

Final thoughts
Crowdfunding scripts and custom platforms have different purposes and target audiences. A crowdfunding script is suitable for low-budget projects. Usually, the markets are non-regulated or the platforms simply go under the radar of financial regulatory authorities.

In contrast, custom platforms are more suitable for serious entrepreneurs and organisations with years of experience of driving and building a business. A professional crowdfunding platform is heavily regulated and usually operated by a team of experts. Building a crowdfunding platform requires solid prior investments of around $75,000 and is the best choice for people who value both functionality and business relationships.

If you need crowdfunding consulting and development services, please reach out to us at lenderkit@justcoded.com.