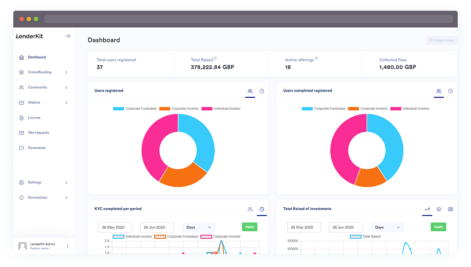 Admin dashboard with the key details presented visually
The dashboard is your mission control centre.
It visualises all vital KPIs and provides a glance into how your crowdfunding platform is doing.
What you can see right on the dashboard:
users that signed up and that completed a registration on your platform by user roles: individual investors, corporate investors, brokers, fundraisers, or corporate fundraisers;
users that passed KYC, by user role;
the total amount of offerings by status;
the total amount of funds raised;
amount of collected fees;
the number of current offerings.
These KPIs can be customised further and replaced or updated with parameters that you deem relevant.