Admin back-office
Manage your crowdfunding platform alone or collaborate with a team using a powerful back-office.
Overview of the admin dashboard
The dashboard visualises all vital KPIs and provides an overview of your crowdfunding platform's performance. For example, you can see:
users that signed up and passed KYC on your platform including: individual investors, corporate investors, corporate fundraisers, etc.
the total amount of offerings by status
the total amount of funds raised
amount of collected fees
the number of current offerings
These KPIs can be customised further and replaced or updated with parameters that you deem relevant.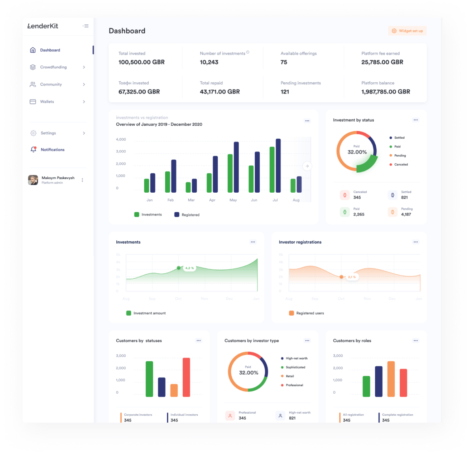 User management
The platform admin can manage all information about all user types, starting from basic details like name and address to more advanced things like:
KYC and registration status
Attached documents and billing info
View history of user activity, investments, campaigns, payouts
View offerings and crowdfunded money for fundraisers
create investments on behalf of an investor
Manage secondary market deals
Check out user dashboards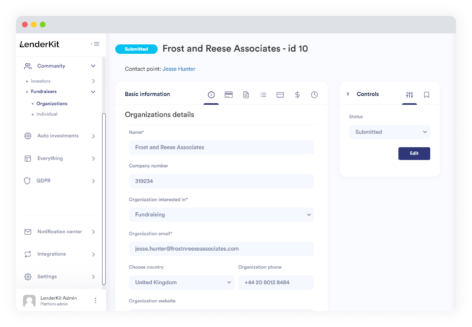 Crowdfunding and offering management
In the back-office, you can manage the created offerings by capital raising firms or add new offerings yourself. By default, every offering has the following editable details:
offering owner and offering name
financing type – debt or equity
offering opening date and funding goal
manage min and max commitment per investor, max overfunding amount, etc.
Additional information consists of various documents along with their statuses, a list of associated wallet transactions, amount of funds raised etc.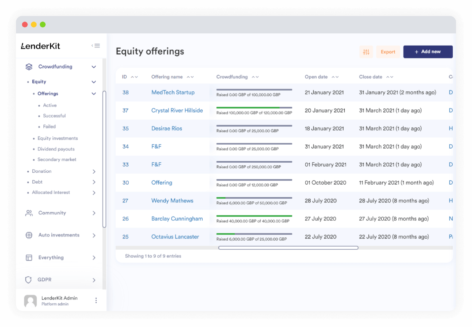 Platform wallet monitoring
The admin can keep an eye on the financial side of the crowdfunding platform and monitor the overall amount of wallet transactions, the number of failed or successful transfers performed by investors and fundraisers.
More about e-wallets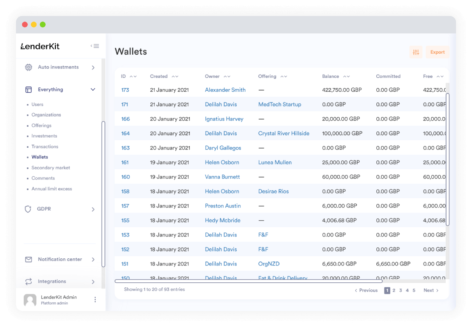 Fee setup and management
This is the heart of the crowdfunding business because it defines how and how much you are going to earn.
We've made the configuration as flexible as possible by allowing you to set up a variety of parameters:
select a transaction type to charge for;
choose whether the fee is deducted at once or added to the final amount;
determine a percentage and the maximum amount of the fee.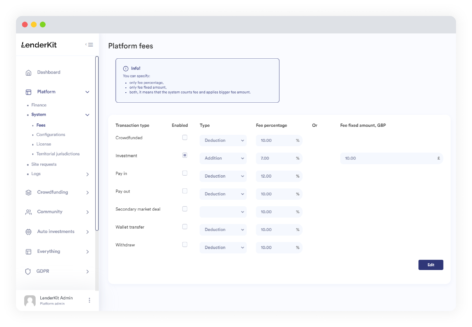 Ability to choose theme and adjust branding
A white-label crowdfunding platform with LenderKit means you can still make your platform unique.
If you want an exclusive look and feel, our team of UX and UI designers will help you create a custom design; however, if you're on a budget, the configurator can be enough for starters.
We've created a simple theme configurator to let you modify the logo, adjust the colour scheme and preview the result in real-time.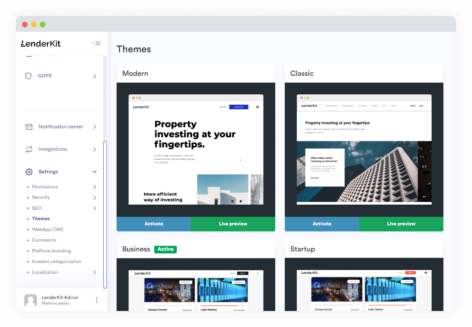 Find out what else you can control as the platform owner