What to Expect for European Crowdfunding Service Providers (ECSP) in the Next 10 Years
The global economic landscape is changing, and it directly impacts the crowdfunding markets of most countries. European crowdfunding and lending markets aren't an exception, and in this article, we will find out their development vectors for the next few years.
What you will learn in this post:
European crowdfunding trends and plans for the fintech market development
European plans for the fintech market development are pretty far-reaching. In response to the challenges of the pandemic, fintech companies are forced to diversify their services in order to remain competitive and more efficiently cope with unprecedented tasks. Europe, in turn, is developing more favorable conditions for creating startups, their development, growth, and differentiation.

Supporting local small and medium-sized businesses. Small and medium startups were hit most by the pandemic. During the next few years, the European government plans to keep them via establishing clear and flexible policies for investment attraction and more favorable conditions for economic development. For example, it can be supporting startups' fundraising through public-private funds and attractive policies.
Local markets of different European countries are "merging". According to the European crowdfunding market development initiative, the a more unified approach to the crowdfunding regulations which will allow platforms to engage with the investors and startups of the EU member states.
Enabling FinTech applications with the EU blockchain initiative. Europe has promising plans for blockchain adoption. That's why it is going to support projects powered by blockchain and streamline cryptocurrency adoption.
Facilitating the emergence of innovative business models across the EU through innovation facilitators. Innovation facilitators stand for the set of legal acts and practices aimed at innovation development and attracting funding for the most promising projects.
What new crowdfunding regulations mean for ECSP
A few years ago, there were no general rules for all crowdfunding platforms. There were only local regulators in every country in the European Union. Now, these rules are getting more diversified which means that countries that previously had no regulations will also get a chance and a more transparent regulatory framework to join the market.
Moreover, platforms will be able to work with investors and startups in the neighboring EU member states. Crowdfunding platforms will get an opportunity to apply for a EU passport based on a single set of rules and start offering cross-border alternative finance services.
Unified approach. ECSP crowdfunding businesses from different countries will be regulated by a single legal document instead of following the local rules each country specifies. This will help startup initiators, investors, and ECSP consultants avoid misunderstanding and the necessity to tailor their practices to the legal framework of each country. 
Simplicity. Starting a crowdfunding business, getting funded for a startup, and making a profitable investment in different projects across the EU is expected to become more straightforward and more flexible from the legal perspective. 
Which European countries have the strongest crowdfunding markets?
According to Statista, Finland, Spain, and Germany have the strongest crowdfunding markets in Europe. Let's review their specifics and European crowdfunding websites in more detail.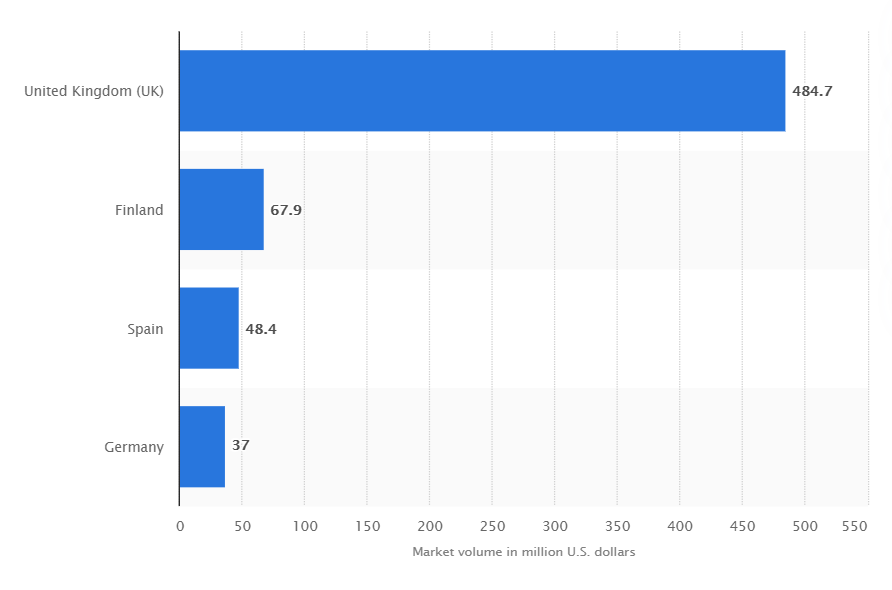 Finland
According to Statista, Finland has the most substantial crowdfunding website presence in Europe. The transaction value on the Finlandia crowdfunding market is expected to show an annual growth rate (CAGR 2021-2025) of 1.02% resulting in a projected total amount of US$5.8m by 2025.
Invesdor. This crowdfunding business has been operating in five more countries in addition to Finland for eight years. This is an equity crowdfunding company that allows to find the best investment deals on the EU market and raise funds for local startups.
Privanet is a professional equity crowdfunding platform with advanced features for portfolio management and analysis.
Fellow Finance is an all-in-one crowdfunding solution aimed at business and personal financing and investing with limited risk opportunities.
Spain
The crowdfunding segment in Spain is expected to grow to 530.8M U.S. dollars in 2024. This is the second robust crowdfunding market on the European map, and here are the businesses that make it grow.
Crowdcube, despite being a UK-based platform, is one of the top crowdfunding platforms in Spain that allows for buying and selling shares in local businesses in the seeding and growing stages.
Socios Inversores is a professional equity investing platform with an expert filtering system to allow investors to only finance the most promising businesses.
Germany
The German crowdfunding market is promising as well. Transaction value in the crowdfunding segment is projected to reach US$42.9m in 2021. The following leading players drive the market.
Startnext is the top German crowdfunding platform aimed at helping small companies get funded, raise brand awareness, and validate the ideas behind their startups with the help of crowdfunding.
Seedmatch. This crowdfunding platform is focused chiefly on raising investments for tech startups at the seedling stage.
How can you enter the European crowdfunding market?
The recent legislation changes made entering the European crowdfunding market easier. The Regulation on European Crowdfunding Service Providers for Business (ECSP) is a unified document that covers the plans of the EU for fintech market development. It simplifies starting a crowdfunding business and investment-making opportunities, practices for authorization, and supervision of crowdfunding services providers and investors protection practices. As for more specific regulations, pay attention to the following points:
In addition to equity crowdfunding, the recent legal norms regulate transferable securities;
Crowdfunding service providers should have a clear policy, terms, and conditions to let the potential investors and business owners make well-informed decisions;
The Regulation covers a lot of other crowdfunding-related practices like risk assessment and investor protection.
Software for starting a crowdfunding business in Europe
If you want to enter the European crowdfunding market and start our crowdlending or crowdinvesting platform there, LenderKit can become your crowdfunding software provider in Europe.
If you're based in the UK, we can help you launch a regulated crowdfunding platform under an appointed representative license. In other European markets, we'll cover your technology requirements and tailor the software to the required regulations. We can either start with a quick prototype or help you launch a fully-custom crowdfunding platform.
All the embedded features are perfectly tailored to your crowdfunding platform specifics, for example, P2P lending, real estate, or equity funding software.
To learn more about our solutions, schedule an online demo with our Fintech Strategist.