How to Build a Crowdfunding Platform like Seedrs
Seedrs is an equity crowdfunding platform registered with the Financial Conduct Authority (FCA) in the UK and operates in different European countries thanks to the "European Economic Activity (EEA) Passporting." The company was established in 2012 and was directly registered with the FCA since the beginning unlike 16% of firms that are "Appointed Representatives" and work under an umbrella license. 
Seedrs is focused on retail, high-net-worth and institutional investors who help to finance startups and later-stage businesses. As mentioned in the FCA register, the crowdfunding platform can provide several investment types:
Security certificates
Debentures
Shares
Units
Warrants
In this article, we dive into the Seedrs's crowdfunding business model and what you can take from it to build a crowdfunding business.
What you will learn in this post:
What makes Seedrs unique
There are several factors that may have made Seedrs's crowdfunding business so successful:
Timing – launching along with the Seed Enterprise Investment Scheme (SEIS), implemented in 2012, which offers up to 50% of individual tax relief and up to 28% of capital gains and reinvestment tax relief.
Democratization of venture capitals – offering investors to invest with as little as £10.
Expertise and funding – Augmentum Fintech, a venture capital firm, is a parent organisation of Seedrs. With the help of the parent firm as well as many other investors, Seedrs raised over $71 million in over 15 rounds. 
Technology – Seedrs is known for crowdfunding for themselves through their own platform. But there are also other technologies including secondary market, auto-investing, payment processing and money holding and more. 
All in all, Seedrs is a medium-sized company with a vast partnership network, connections, and customer base. In recent years, the company has put extra effort into the marketing department to ensure proper client segmentation and targeting which allows Seedrs to onboard clients more efficiently. One of the reasons for marketing structuring is Seedrs's ability to process payments.
The company is authorized to handle payments and hold client's money which opens a window for insightful analytics of user behaviour, investing habits and more. By structuring a marketing department and leveraging the data, Seedrs is able to shape better product positioning and branding for particular audiences.
How does Seedrs make money?
Seedrs monetization strategy is built upon fundraising and investing fees. Investors have to pay 7.5% of fees on profit – if the business they've invested in increases in value and pays out dividends. Other investor fees include:
1.5 % for transferring and selling securities on the secondary market + 7.5% on profit.
Fees to brokers for trading publicly listed shares
Direct investment fees of 1.5%
EIS100 Fund 2% fees
Relatively low fees for investors makes Seedrs an attractive investment vehicle on the market. For investors, there are no administrative, currency conversion, or deposit fees.
For the fundraisers, the fee structure is a bit more sophisticated. Seedrs makes money for their main and additional services provided to fundraisers. The main fees include:
Success fee – 6% of the total amount raised and an administration fee of £/€2,500 + VAT
Credit and debit card fees ranging from 0.45% to 2.90%
On-demand document review
Marketing support fees
And also some sort of "fines":
Break fee – closing the fundraising campaign before it ends
Disintermediation fee – when investors directly contact the fundraiser and invest without Seedrs
How Seedrs is structured technology-wise 
As an equity crowdfunding platform, Seedrs has 2 main components:
Investor portal (and, apparently, a fundraiser one)
Admin back office
The company has an in-built content management system in the Portal. And the Seedrs's technology stack includes Next.js, webpack, React, and Node.js, according to the Hexometer. 
Seedrs has a knowledge base centre for investors and entrepreneurs which are located on the subdomains, presumably, for diversifying the user load on the portal. In other words, users may spend a lot of time reading and scrolling through guides which creates additional pressure on the portal. So instead of doing this, they've put the knowledge centres separately:
help.seedrs.com – for investors
help-entrepreneur.seedrs.com – for entrepreneurs
Understanding Seedrs's web portal and what you can do with it
Users can't see the offering details before they register on the platform. This is a marketing trick which stimulates users to register and complete their profile step-by-step while Seedrs opens up functionality along the way.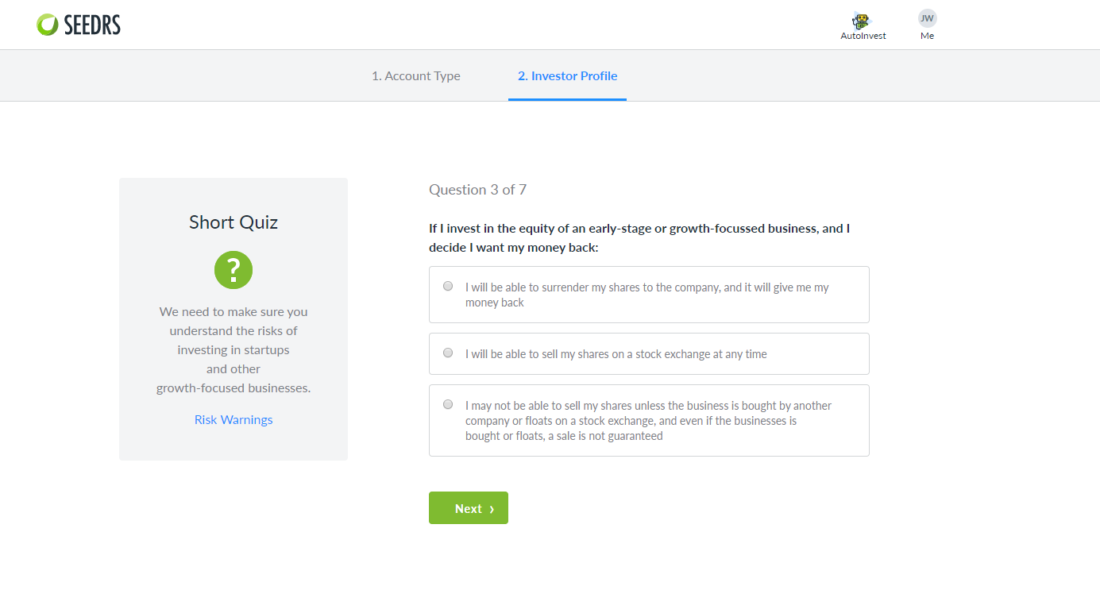 During the investor profile set-up, users should take a self-accreditation quiz which helps them understand what they're signing up for. Ultimately, the quiz is a risk notice for investors and is mandatory for the registration.
Through the form, Seedrs collects the data for further KYC verification which is the last step before an investor is able to top up wallets, make investments and trade securities on the secondary market.
All in all, the investor portal provides access to:
Secondary market
Auto-investment module
Offerings' information and investing
Investor portfolio management
Profile management (tax documents, profile info, etc.)
Notification manager
Wallet management
Each of these features is comprehensively covered in the help centre on Seedrs, so you can rely on it to get inspired when building an equity crowdfunding platform. 
What else you should know about Seedrs's crowdfunding business strategy
If you want to start a crowdfunding business like Seedrs, you have to look into their partnership strategy. Seedrs invests in professional consulting services (e.g. Ernst & Young LLP (EY) to review documents and strategies and partners with the big guys like Republic by AngelList to run joint crowdfunding campaigns.
Other partnerships include:
CityFALCON – for "e-commerce-like" experience in searching for campaigns
TOG (The Office Group) – to provide 100 annual lounge membership to all Seedrs Alumni companies
Oval Money – a money management app. Seedrs partnered with Oval to leverage their customer base and provide investment opportunities
The Law Society – to develop the lawtech sector. The Law Society can leverage the Seedrs community and provide legal support to lawtech startups
By connecting the dots and forming strategic partnerships, developing their own product, and making acquisitions, Seedrs is able to operate at very high capacity.
There is a lot you can take by looking at their business strategy, technology choice, and a whole lot of other features which we haven't covered like website navigation, narration style, communication, and more.
Is there a crowdfunding software to help you make a crowdfunding platform like Seedrs?
If you're looking to make a crowdfunding platform like Seedrs and want to start a crowdfunding business be it P2P lending or Equity crowdfunding for SME or real estate financing, LenderKit is worth checking out. 
LenderKit is a customisable white-label crowdfunding software which is made of Marketing Site, Web Portal for investors and fundraiser, and Admin Back Office. Each part can be tailored to your particular business needs and country's regulations.
To schedule a demo and learn further details, reach out to us at lenderkit@justcoded.com.