Litigation Crowdfunding: How Does it Work?
High costs of civil litigations leave many people and companies unable to pursue legal cases. This impacts their ability to protect themselves effectively. The problem gave a push to the development of litigation crowdfunding as an alternative to third-party financing and litigation funding.
Third-party financing usually comes with high interests, and the funds have to be repaid independently on whether the claim is successful or not. Litigation funding is accessible only to cases that promise high returns and is considered an investment strategy rather than a way to assist those protecting their rights.
Litigation crowdfunding provides an effective solution to individuals and companies that need funding to pursue legal cases regardless of the case size.
What you will learn in this post:
What Is Litigation Crowdfunding?
Litigation crowdfunding is in a nascent stage but it already offers financial aid to many people in facilitating their efforts to protect people's or company's rights. The idea of this crowdfunding type is to rely on small donations from multiple bakers or investors to handle huge litigation costs.
Litigation crowdfunding can come in various forms:
Equity-based: contributors get their share of the settlement money if the claim is successful, but if it fails, they don't get anything and have no legal right to claim their funds back.
Lending-based: contributors lend funds and expect to be repaid with interest.
Donation-based: some platforms such as GoFundMe host litigation crowdfunding campaigns on a donation basis where the public contributes without expecting anything in return. 
Reward-based: contributors expect non-monetary benefits.
Ethical Concerns about Litigation Crowdfunding
Even though litigation crowdfunding has the potential to level the playing field and promote justice, it comes with some ethical concerns.
For example, questions arise around supporting community or societal cases and individual cases and whether a specific category of legal cases shall be given priority over others.
Another question is whether crowdfunding impacts defenders by offering them an opportunity to earn more in a longer proceeding and whether it inhibits them from maintaining independent judgment.
To ensure ethical compliance, platforms have to follow some rules. So, a platform cannot request any confidential or privileged information about the client's case to access it and decide whether to host the campaign or not. Nobody can interfere with the work of a lawyer, and all the raised funds shall be transferred to the client's lawyer, not to a client.
Donation-based platforms where donors don't expect anything in return for their funding have the most reliable ethical footing.
Litigation Crowdfunding Campaign Examples
Statistics show that litigation crowdfunding can be used for all types of cases such as protecting human rights, environment, public interest, equality, politics and more.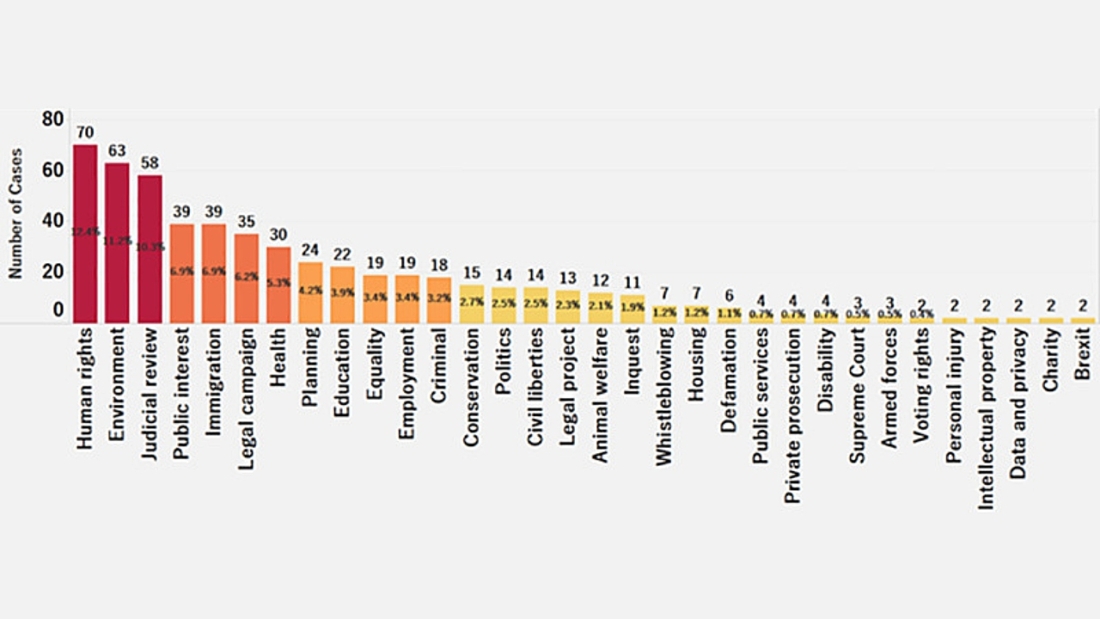 The number of human rights cases is the highest, with 70% of all cases funded through crowdfunding platforms. Further, environment-related cases follow with 63%, and then, cases for judicial reviews close the list of leaders with 58%.
Top Litigation Crowdfunding Platforms
All crowdfunding activity is usually handled through a third-party platform that facilitates the litigation crowdfunding deal. Here are some of the most popular litigation crowdfunding platforms.
CrowdJustice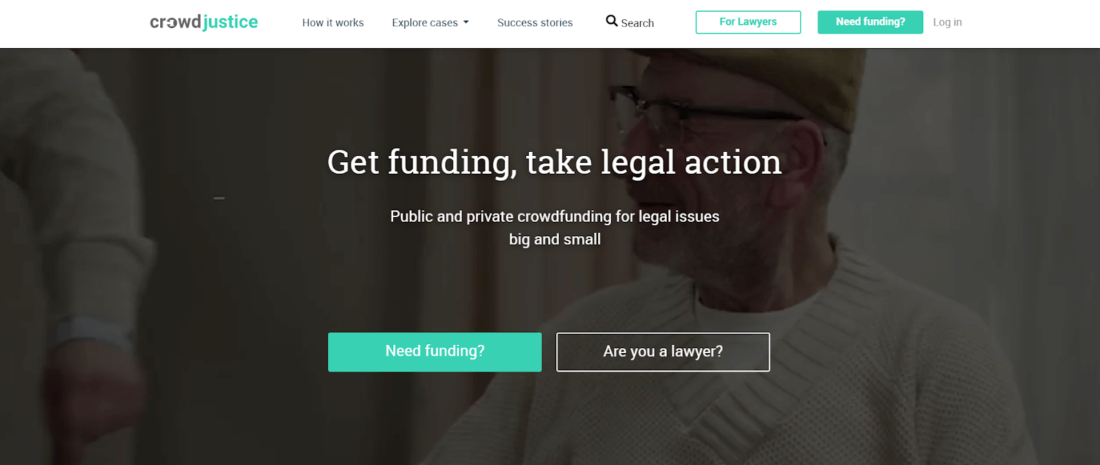 CrowdJustice is a commercial crowdfunding platform that helps individuals, companies, and communities to raise the funding needed to pursue legal cases. 
The platform allows raising funds privately (by limiting access to a campaign to only invited people) or publicly (anybody can view the campaign and donate).
The platform handles all the compliance matters and sends the raised funds to the fundraiser's lawyer as soon as the funding minimum is met. The platform charges a 3% management fee plus payment processing fees.
Anybody can use the platform with the only condition that one shall have a lawyer of be a registered charity organization.
There are two fundraising targets – the initial target and the stretch target. If the initial target is not reached within 30 days, the investor's cards are not charged, and the funds aren't transferred to anybody. After the initial target is reached, one can choose to continue with the stretch target to raise further funds for the case.
LexShares

Since its launch in 2014, LexShares has been helping companies and law firms to assist in pursuing legal cases. 
The platform offers the fundraisers the flexibility of not repaying the funding if the legal case is lost. Clients with limited access to capital have an opportunity to discuss the platform fee and get the best possible option.
The platform helps in funding commercial cases such as banking and insurance disputes, anti-competitive claims, fraud, contract disputes, intellectual property, and copyright infringement, among others.
Each case is reviewed by LexShares specialists, and if they consider that the case is worth funding, they provide a client with the collaboration terms.
The minimum investment amount on the platform is $200,000, the maximum funding amount is unlimited, and only institutional and high-net-worth individuals can participate in offerings.
LexShares doesn't charge any management fees but investors pay a share of their profit if there is such.
AxiaFunder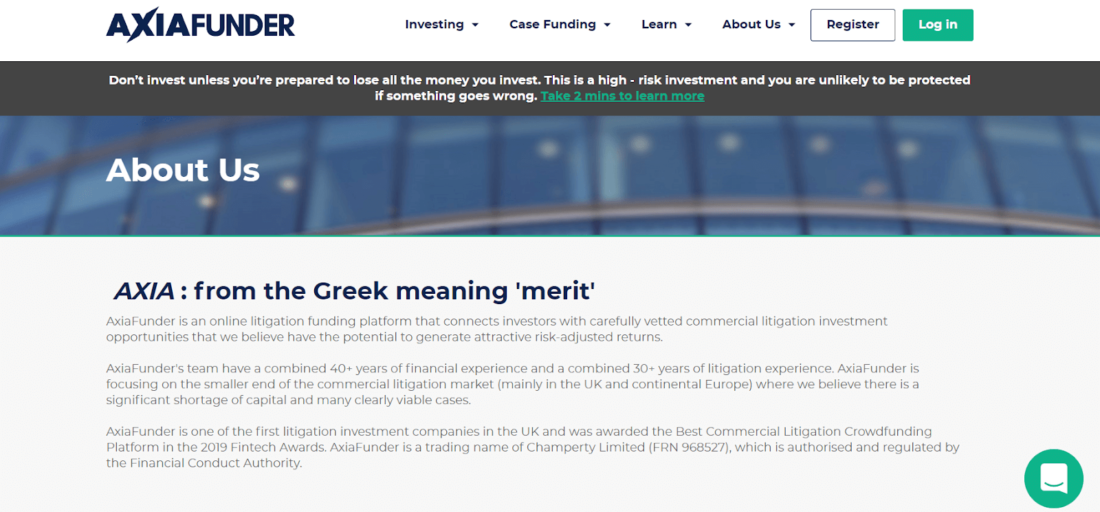 AxiaFunder is another investment-based litigation crowdfunding platform that offers accredited and institutional investors carefully vetted commercial litigation opportunities. It is one of the best litigation crowdfunding platforms, and the proof of it is the Best Commercial Litigation Crowdfunding Platform (2019). 
The platform charges two types of fees from investors:
An upfront fee of 7 to 10% of the total of funds invested
20% of the profit if the case is won.
The minimum investment is $1,000, and the maximum is calculated for each specific case.
Conclusion
Litigation crowdfunding is a very specific niche, and investing in it is very risky. Due to its nature, litigation crowdfunding is very unlikely to go mainstream, and this is why there are not so many platforms dedicated to this specific crowdfunding type. However, that also means that right now, it may be the time to launch your own litigation platform.
You can do it without excessive expenses and within the minimum time with white-label crowdfunding software from LenderKit. The software allows you to quickly launch a prototype to test the market, and it comes with all the features to start the operations ASAP. 
In addition, LenderKit crowdfunding is highly customizable and can modify the front-end and back-end and create unique flows and designs. If you'd like to launch a prototype or a full-scale platform, reach out to our fintech strategist for an online demo.