Starting a Crowdfunding Business in Canada: What You Need to Know
Canada is the world's second-largest country and one of the largest exporters. It has a highly developed mixed economy and provides a lot of business freedom to players.
It's considered to be an "energy superpower" and is believed to have one of the most prominent economies.
Finally, Canada is among the leaders of medals won at the Olympic Winter Games.
But, no one is perfect. When it comes to the crowdfunding environment and regulation, Canada is losing to its peers.
In 2016, Crowdfundinsider called Canada's regulatory framework "dead in the water". The whole issue revolved around the provincial approach to regulating investment crowdfunding.
Since that time, not that much has changed. Canada is still a challenging destination for crowdfunding businesses, yet it has great potential.
Herein, we're discussing crowdfunding in Canada and legal requirements for new players.
Grab something hot to keep warm in the Great White North and let's go.
Disclaimer: this article is intended for informational purposes only. Please don't consider it as legal advice.
What you will learn in this post:
Canada crowdfunding regulation
Let's start with the toughest.
Fintech experts from Canada, legal advisers, entrepreneurs, backers – all continue to harp on the complexity of the Canadian crowdfunding law.
SeedUps CEO Sandi Gilbert called it "a mess". The Competition Bureau believes that entry regulatory barriers are one of the main reasons why fintech appears to be struggling to take off in Canada.
One-third of crowdlending and equity investment portals reported to Cambridge researchers that current rules are too excessive and strict for their platform activities.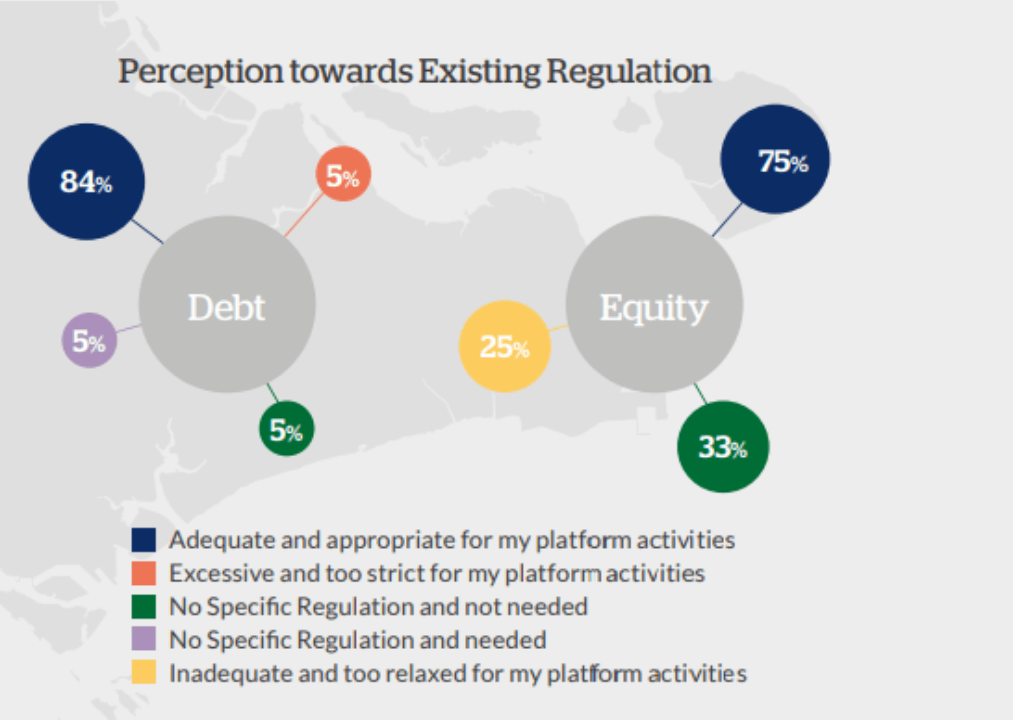 So, what's so burdensome in the Canadian legal environment?
The Canadian Securities Administrators (CSA) is an umbrella regulatory body of Canada's provincial and territorial securities regulators.
Its activity aims to improve, coordinate and harmonize the regulation of the Canadian capital markets.
The CSA consists of 13 members- regulatory agencies responsible for administering and enforcing securities regulation in their province or territory.
Check the list of the National and Multilateral Instruments which are in effect on the website of the CSA member from a Canadian province or territory you're going to enter.
NCFA is a national non-profit actively engaged with social and investment crowdfunding, alternative finance, fintech, peer-to-peer (P2P), initial coin offerings (ICO), and online investing stakeholders across the country.
According to NCFA, Canada now has two crowdfunding specific exemptions: the Start-Up Crowdfunding Exemption, and the Integrated Crowdfunding Exemption.
In Canada, securities and those offering securities to the public must be registered unless there is an exemption available from registration and/or the preparation of a prospectus.
The CSA in British Columbia, Saskatchewan, Manitoba, Quebec, New Brunswick and Nova Scotia introduced start-up crowdfunding registration and prospectus exemptions to provide an alternative source of capital to non-reporting issuers at an early stage of development.
In Canada, equity crowdfunding market is more developed than debt. Debt-based companies providing services in Canada are foreign and are authorized in the jurisdiction of their country. However, Canada has plans to relax the rules.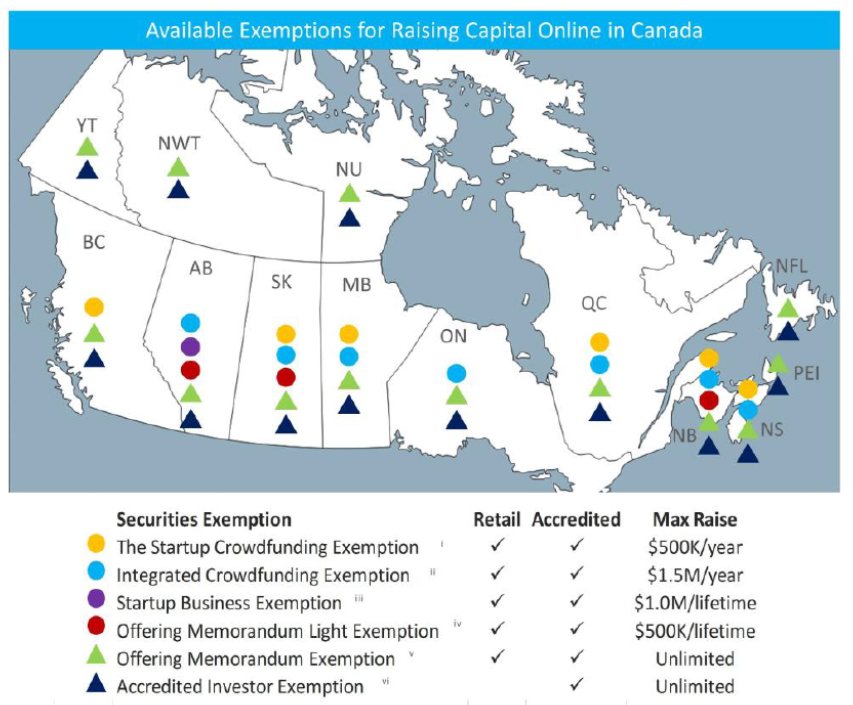 Issuer requirements (main):
the issuer cannot be a reporting issuer or an investment fund and located outside a participating jurisdiction;
the issuer must issue and distribute eligible securities through an online funding portal;
the issuer must use an offering document that includes the basic information regarding the issuer, his intentions on how to use the funds raised and the minimum offering amount;
Issuers are restricted to a maximum of two start-up crowdfunding distributions of no more than $250,000 of aggregated funds raised;
investment limit for individuals – $1,500 in a distribution;
max duration of distributions – 90 days.
Funding portal requirements (main):
the portal's head office must be located in Canada and the majority of its directors must be Canadian residents;
the portal must deliver information forms to the participating regulators at least 30 days before facilitating its first start-up crowdfunding distribution;
the portal must accurately record its financial affairs and client transactions;
the portal must not provide investment advice;
the issuer's offering document and the risk warnings available online to purchasers are a must for portals;
all payments must be received through the online portal.
The above is basic info on how Canada crowdfunding legal framework. Please do your legal research or hire a professional adviser before starting your business.
A sneak peek into the Canadian crowdfunding domain
In 2018, Canada crowdfunding was ranked 2nd regionally (after the US) and 10th globally – reports Cambridge researchers.
The total SME business funding volume was $561M and the volume derived from institutional investors – $490M (54%).
To compare, in 2018, the US market reached $61.1 billion in overall volume.
In Canada, p2p/marketplace consumer lending, with a 36% share of the overall market volume was the model that generated the most volume.
The Cambridge researchers say that 39 Canadian players (24 Canadian-based and 15 foreign firms) participated in the survey as opposed to 100 crowdfunding companies from the US.
Obviously, the US market is more mature and competitive than Canadian. The latter has a ton of opportunities (free niches, a large crowd of pro and retail backers, innovative projects) for those who aren't afraid of regulatory challenges.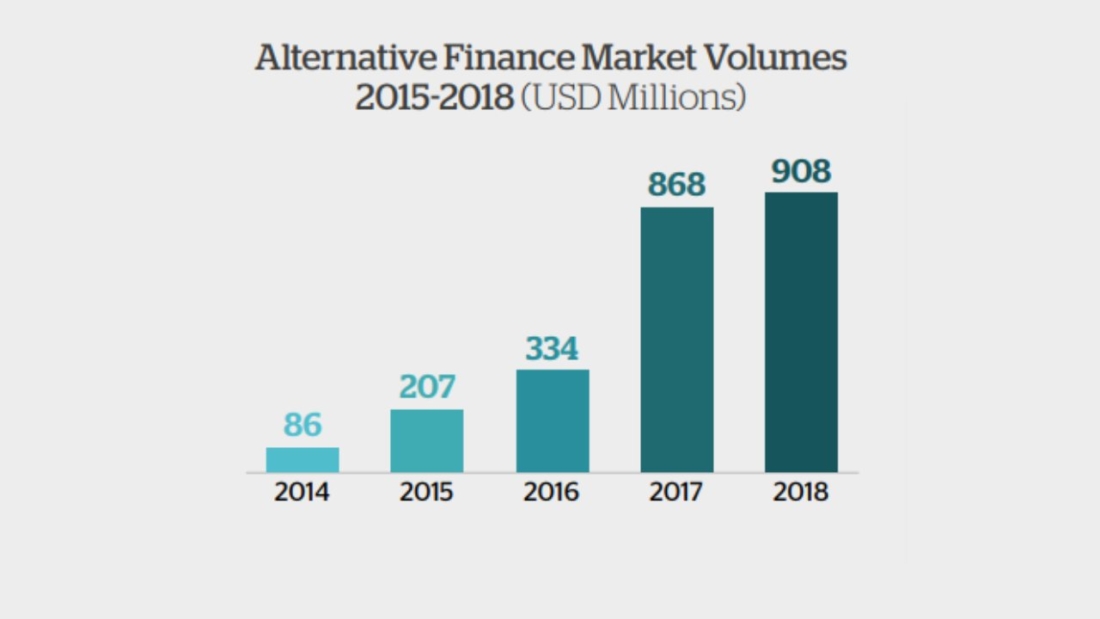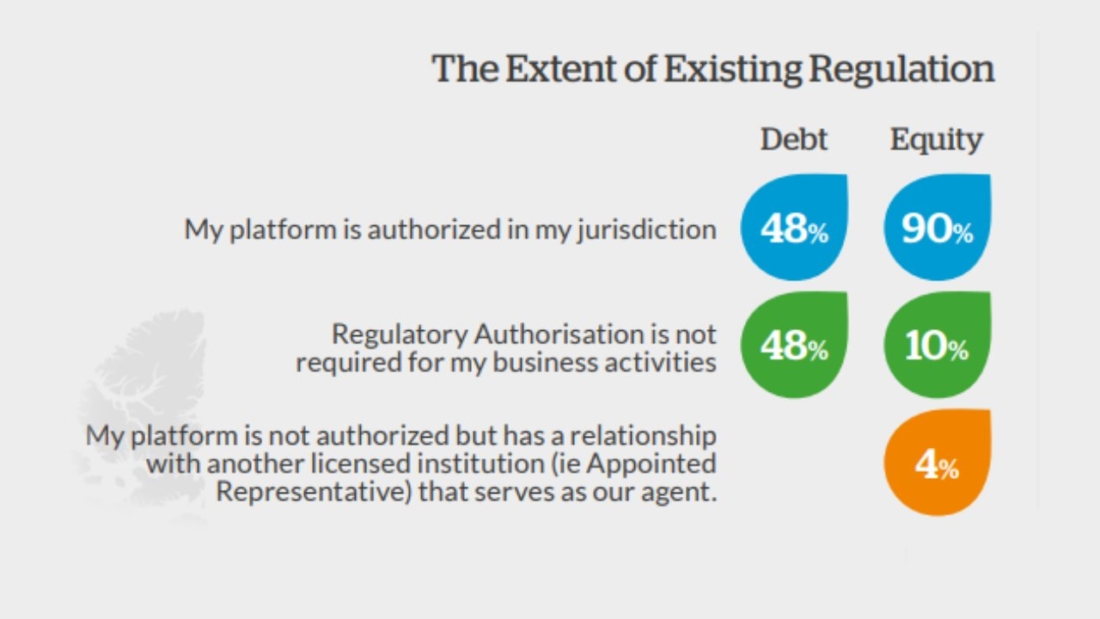 By the way, in Feb 2020, CSA published new nationally harmonized crowdfunding rules that would replace and enhance the requirements currently in effect.
Enhancements are to increase the maximum total amount that could be raised by a business up to $1 million (from $500,000) and the max investment size per purchaser to $2,500 (from $1,500).
By doing so, the regulators want to expand the access to capital to businesses and investors.
Other statistics for the Canadian crowdfunding market:
Canada crowdfunding market size in 2020 was $909.3 m 
the transaction value in the Crowdfunding segment is projected to reach $22.4m in 2021.
during 2021-2025, transaction value is expected to grow at CAGR of 2.41%;
the average funding per campaign in Canada is $5,292 in 2021;
the US and Canada are world leaders in real estate crowdfunding;
the leading Canadian province in terms of crowdfunding companies registered is Ontario;
sustainable investments and clean energy are rapidly developing sectors of the Canadian crowdfunding market.
Meet your competitors – leading Canada crowdfunding platforms
The Canadian crowdfunding market is at the early stage of its development. The majority of players are donation-based (FundRazr, Haricot), the rest rely on the equity investment model. 
Among the most popular providers are best-known Kickstarter, Indiegogo, Rockethub and local fundraising portals (Frontfundr, Seedups).
FrontFundr
FrontFundr is Canada's leading equity crowdfunding platform democratizing the private sector investment model.
The provider uses an all-or-nothing funding investment model to raise funds for Canadian projects only.
The residents of Canadian provinces over the age of 18 may be eligible to invest through FrontFundr. The ability to invest in a specific company depends on the location of the company's headquarters and the crowdfunding regulation in each province.
SeedUps
SeedUps is a Canada-based online platform where ordinary individuals and sophisticated investors create pools to support young private companies. 
The funding gap the platform fills in ranges between $250K and $2 million. The duration of each crowdfunding campaign on SeedUps is 180 days. Only accredited investors are allowed to take part in SeedUps' deals.
SeedUps Canada has developed the AngelBot App to bring the investor's deal flow on the go.
Ulule
Ulule is a crowdfunding platform with headquarters in France, Quebec and Spain.
The company was founded in 2010 and is today the number one community-backed incubator of positive impact projects in the world.
Ulule's mission goes beyond mere funding. The provider aims to empower the crowd and businesses to turn their ideas into actions, succeed and grow their projects to increase their impact.
NexusCrowd
NexusCrowd is the 1st real estate crowdfunding Canada platform to give professional management across multiple securities & access to exclusive real estate investments. The company thoroughly screens local-based established institutions for real estate success stories.
For now, NexusCrowd has completed 13 deals with $9,1 million total raised and a project value of $411 million.
The min investment deposit with NexusCrowd is $10,000, target returns – 50%.
Benefits NexusCrowd brings to the investor's table: exclusive access to property investment opportunities, professional management, due diligence, execution experience, safe investing.
Start your crowdfunding business in Canada with LenderKit
Canadian regulators oblige companies to raise funds through online platforms equipped with such fundamentals as investor/borrower onboarding, client and admin dashboards, KYC/AML verification. payment processing automation, etc.
JustCoded, Fintech web & mobile app development services provider, has found out that the average cost to build a fully-fledged crowdfunding platform is 89,000 EUR.
Ready to splurge now, or maybe you want to consider alternative options?
What about getting a portal at three times lower cost?
Our white-label solution, LenderKit, helps enthusiasts launch p2p lending sites, equity crowdfunding platforms, and real estate portals in several months.
LenderKit has everything you need to enter the Canadian crowdfunding market:
beautiful and mobile-optimized crowdfunding marketing site;
automated crowdfunding process;
built-in personal dashboards and e-wallet features;
back-office management;
fees management;
third-party integrations.
It's not a pilot solution, Lenderkit is already integrated in several projects, just check our customer success stories. 
Conclusion
Despite being among the top 10 leading crowdfunding destinations, Canada is still a virgin territory with many pitfalls distracting new players from discovering it.
Until recently, the national legislation of alternative finance was considered a complicated environment for fintechs – the provincial approach, strict entry requirements, lack of crowdfunding regulation.
Now that Canadian regulators have taken the first steps to improve the current situation, the industry is likely to develop further and introduce a great potential market for companies, investors and platforms.
So, is crowdfunding in Canada better than in the US? That's a controversial question.
The US market is very saturated and you should be over your head to take a place under the sun. The US regulation is more business-friendly than Canadian, but Canada offers more to freshly-baked crowdfunding companies.