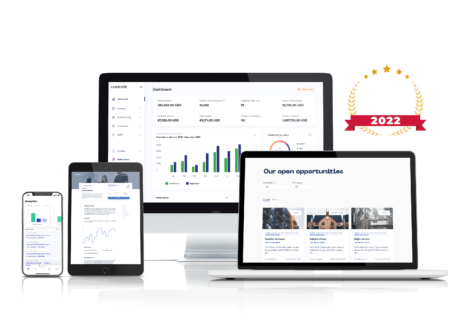 Raise capital online on your own terms
We build public and private investment portals, marketplaces and platforms tailored to your business model, your country regulations and your infrastructure.
Request a demo
Launch an investment platform for your industry
Give access to investment opportunities in any niche
Whether you like old-school private capital raising for SMEs, real estate financing or want to focus on more trending assets, LenderKit can be your one-stop technology partner. 
We provide white-label private investor portal for early-stage businesses and established investment companies worldwide.
Discuss your industry
Real estate
Startup investing
Green energy
Agriculture
Software & technology
School & education
Crypto investing
Our clients are regulated by authorities worldwide
Apply tailored investment platform software to your business
Everything is customisable. We have out-of-box solutions for investment firms looking for a proof of concept and we also offer the full power of customisations for companies planning to scale.
LenderKit gives you full control over the data and can be hosted at your own infrastructure. It gives flexibility over the data management and regulatory compliance. 
We can tailor any part of LenderKit to your unique business processes, including the investor portal and admin back-office.
See LenderKit solutions
Automate deal flow
Attract more investors
Optimise payouts
Increase efficiency and ROI
Speed up KYC and payments
Explore investment software that fits your business
Basic
A branded prototype of your investment platform to help you fine-tune the business strategy, talk to investors and stakeholders, validate the market and get necessary permissions.
Pro
An out-of-box white-label crowdfunding software that helps you launch an MVP of your platform and automate your investment operations globally or regionally.
Enterprise
A fully-customizable private capital investment software to automate your processes and close more deals online. This tier is best suitable for businesses with an established deal flow.
See the investor portal in action

Crowdfunding software for early-stage businesses and industry leaders
Funding portals
Build a simple crowdfunding portal for matchmaking investors and fundraisers and charge transaction fees.
Broker-dealers
Create a private equity fund, REIT, or an asset management platform and automate full-cycle investing/fundraising operations.
Accelerators
Expand the spectrum of your services and set up an equity crowdfunding portal to scale your business.
What are key LenderKit features?
Powerful back-office for individuals and teams
Get a full picture of everything that happens on your investment platform. LenderKit is a white-label crowdfunding software and investment management software that gives you full control of your online investment business:
view amount of new registrations and visitors;

manage investors and borrowers;

access offerings and overdue payments;

export detailed reports and analytics;

view documents and control payment transactions.
See the admin back-office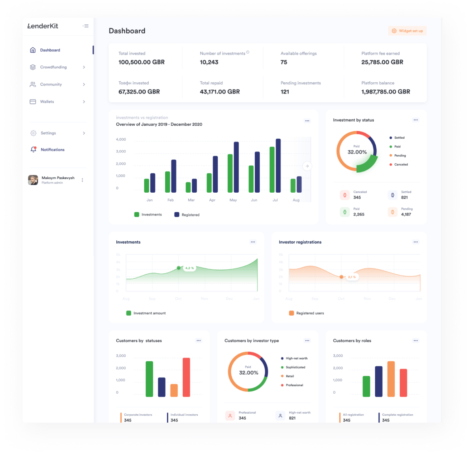 Crowdfunding portal for investors & fundraisers
Friendly personal dashboards allow investors and fundraisers to stay up-to-date with their activities on the platform:
monitor investment portfolio;
track crowdfunding performance;
browse transactions;
view investment history;
see wallet balance changelog;
manage payouts;
access reports and stats.
View dashboard features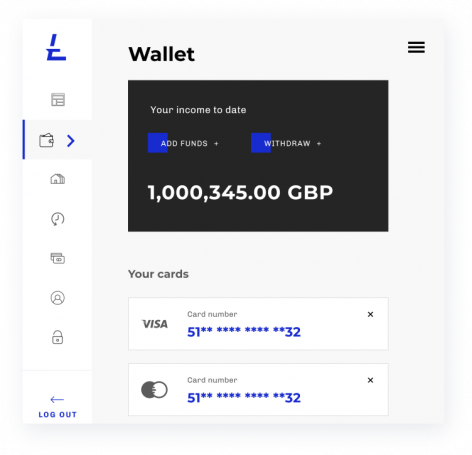 Responsive investment marketplace website themes
A set of 4 ready-made themes for an investment or crowdfunding website allows you to save time on design and launch the platform faster. Pick one theme, put your logo on it and you're ready to go. Effectively promote your business, onboard early-stage investors and fundraisers.
The themes work great across all popular devices and provide an excellent experience, be it a laptop or mobile phone. LenderKit themes are great for launching a white-label crowdfunding platform for real estate or SME investing in a highly-compressed timeline.
Check the themes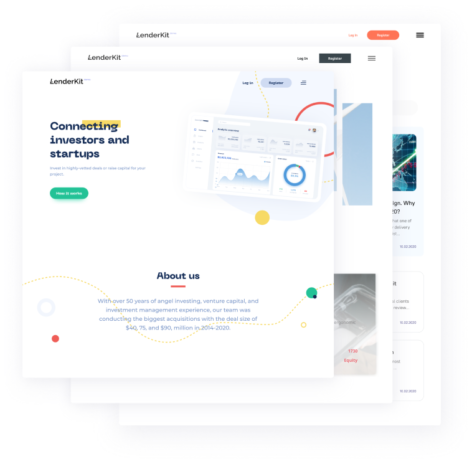 Build a mobile investment app to connect with your audience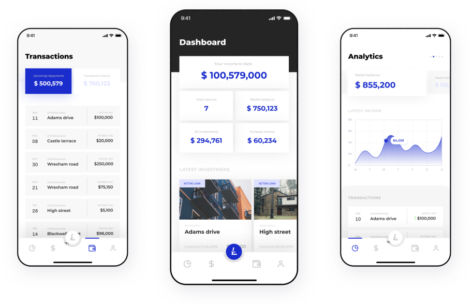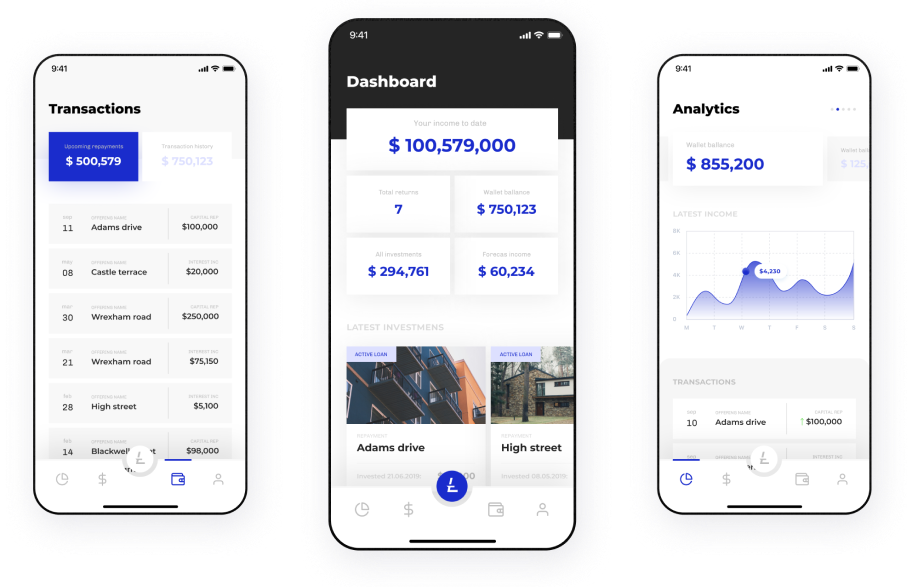 What our clients say
We've enjoyed our Lenderkit experience very much. The team listen to our requirements, and enhance, adapt or new functionality promptly and professionally to meet our needs. When there have been issues (rarely) the team responds promptly to address them – even "out of hours". It's a service led company, and it shows.
The product was easy to set up and use with a great development team that had an abundance of relevant experience to support and advise on customisations.
They customized white-label crowdfunding solutions for us based on the regulations in Saudi Arabia and delivered the web platform according to the requirements that we had. We had several meetings for a discovery phase, where we provided some documentation and extensive research.
We were thinking of developing a crowdfunding platform where people could invest in dry bulk shipping platforms without investing in physical assets. We saw an opportunity in the market that was opaque, largely unknown, and misunderstood, but heavy on the asset side. As a result, we're now looking for a smaller number of investors with larger investments into our shipping projects.
LenderKit designed and developed a secure website for an investment management platform. Ensuring privacy and stability, they used PHP, and did everything from the wireframes and mockups from scratch.
LenderKit managed full stack development of a web app to produce an MVP for an investment firm. Following specifications, they adapted a proprietary solution. They integrated onboarding features and two APIs.
They manage the project well and exhibit good communication skills. Additionally, the team's willingness to understand and cater to the business' mission sets them apart from other service providers.
Check out crowdfunding videos
Want to see our investment software in action?