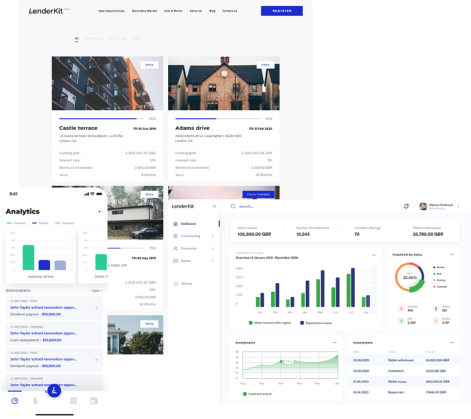 Jumpstart your online investment business
LenderKit is a flexible white-label crowdfunding software for regulated investment businesses.
Request a demo
Have LenderKit tailored for your crowdfunding business
Launch a crowdfunding portal for your industry
Industries like SME or real estate crowdfunding have become an integral part of the economy, while others like green energy and agriculture crowdfunding are getting its momentum.
Adhering to your choice, LenderKit can be customised to fit your industry, country's regulations, and business needs. It can work as a white-label crowdfunding software, so you can pitch to your stakeholders and get started, or it can be used to build a fully-fledged platform.
Discuss your industry
Real estate
Startup investing
Green energy
Agriculture
Software & technology
School & education
We have experience with these regulators
Apply crowdfunding software to your business
LenderKit helps your crowdfunding or investment management business automate operations and facilitate regulatory compliance in the USA, UK, Europe, Saudi Arabia or other regions.
You can also work internationally and have investors in one country while sourcing projects in another country. LenderKit provides solutions for small, mid-sized business and large corporations.
See LenderKit solutions
Source more deals
Attract new investors
Grow your business online
Increase efficiency and ROI
Automate KYC and payments
Launch an FCA-compliant crowdfunding business in the UK
If you're looking for an FCA-compliant crowdfunding software and want to become an appointed representative to run a regulations compliant investment business in the United Kingdom, LenderKit has got you covered.
We partner with I-FACT, a regulatory consultancy firm, to facilitate your regulatory compliance in the UK and help you run an FCA-regulated crowdfunding business.
Learn more about this offer
FCA-regulated
Crowdfunding software
Appointed representative
See the investor portal in action

Software solutions for early-stage businesses and industry leaders
Funding portals
Build a simple crowdfunding portal for matchmaking investors and fundraisers and charge transaction fees.
Broker-dealers
Create a private equity fund, REIT, or an asset management platform and automate full-cycle investing/fundraising operations.
Accelerators
Expand the spectrum of your services and set up an equity crowdfunding portal to scale your business.
What are key LenderKit features?
Powerful back-office for individuals and teams
Get a full picture of everything that happens on your crowdfunding platform. LenderKit is a white-label crowdfunding software that gives you full control of your online crowdfunding business:
view amount of new registrations and visitors;
manage investors and borrowers;
access offerings and overdue payments;
export detailed reports and analytics;
view documents and control payment transactions.
See the admin back-office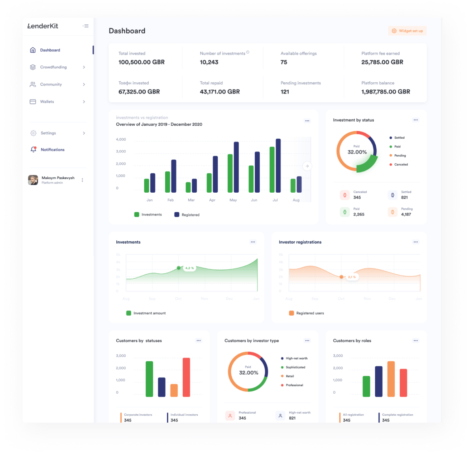 Crowdfunding portal for investors & fundraisers
Friendly personal dashboards allow investors and fundraisers to stay up-to-date with their activities on the platform:
monitor investment portfolio;
track crowdfunding performance;
browse transactions;
view investment history;
see wallet balance changelog;
manage payouts;
access reports and stats.
View dashboard features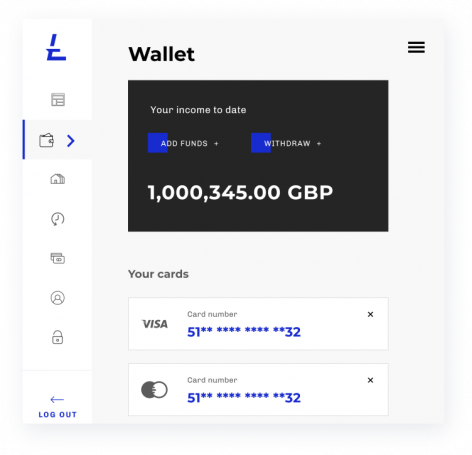 Responsive crowdfunding marketing site themes
A set of 4 ready-made themes for a crowdfunding website allows you to save time on design and launch the platform faster. Pick one theme, put your logo on it and you're ready to go. Effectively promote your business, onboard early-stage investors and fundraisers.
The themes work great across all popular devices and provide an excellent experience, be it a laptop or mobile phone. LenderKit themes are great for launching a white-label crowdfunding platform for real estate or SME investing in a highly-compressed timeline.
Check the themes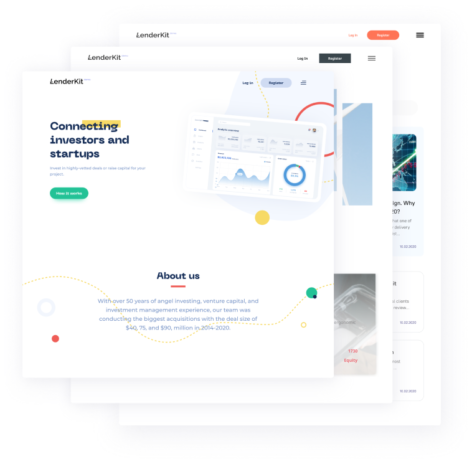 Empower your investors with a mobile crowdfunding application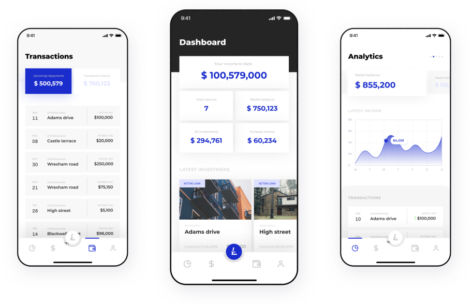 Want to see our investment software in action?