How to Start a Healthcare Crowdfunding Business
Healthcare crowdfunding can be an attractive niche on its own because it spins around the major need of the global population. From personal healthcare projects to crowdfunding for medical equipment and real estate, this industry may offer interesting opportunities for non-investment and investment-based crowdfunding platforms. 
"Health care can be considered both a community and social project because it incorporates programs such as poverty reduction and child education" – write co-authors from the Koppelman School of Business and Gabelli School of Business
The fact that healthcare can be related to community and social projects which are increasingly advertised and financially empowered, especially in Europe and the USA, makes it interesting to monitor. For example, Europe is deploying a sustainable finance program which generally refers to and promotes environmental social and governance (ESG) considerations when investing. 
What you will learn in this post:
Healthcare crowdfunding market overview
Forbes called crowdfunding a 'lifeline' for the US citizens that cannot cover their healthcare expenditures on their own or are trying to help a family member or a friend in need. 
A recent survey by The University of Chicago research discovered recently that 8 million of American citizens opted for crowdfunding campaigns for themselves or a relative to pay medical expenses. In addition, more than 12 million launched fundraising campaigns to help somebody other than their family to cover medical bills.
Beyond that, a study narrowed down the economic benefits of health-related crowdfunding. To mention a few, researchers identified that medical crowdfunding:

Attracts funds and attention to ignored and rare medical conditions
Offers non-accredited investors access to private equity deals within the commercial healthcare sector
Fills in the financing gap that small and medium-sized companies experience
In addition, scientists claim that сrowdfunding medical projects assists and streamlines systems of economic sharing on a local, national, and global level. Furthermore, it goes beyond institutional barriers and encourages the active participation of worldwide communities in tackling pressing issues in healthcare.
In Malaysia, for example, a #DigitalVsCovid campaign was started to raise funds and buy supplies for frontline health workers that lack 200,000 protective suits, 2,000,000 triple-ply face masks, 100,000 face visors, and 20,000 space suits.
Patient Engagement Hit states that around 8 million people in the US rely on crowdfunding to pay their medical expenses. Similar to individual needs, international medical centers choose crowdfunding as a means to buy necessary equipment or lacking supplies. 
This made every 1 out of 5 Americans unable to cover their healthcare bills on their own. Additionally, the same source believes that medical crowdfunding can help patients deal with financial debt, but it requires the niche to reform.
According to the Centers for Medical Care and Medicaid Services (CMS) and National Health Expenditure Accounts (NHEA) highlights, the country's health care expenses in 2019 grew by 4.6% and climbed to 3.8 trillion USD, making it 11,582 USD per person.
What were Americans spending their money on in 2019? The spending categories that made it to the top were hospital care (31%), physician and clinical services (20%), and retail prescription drugs (10%).
CMS emphasized that the federal government and households covered most of the expenses (29% and 28% respectively) and the next sponsor in line was private businesses that accounted for 19% of expenses.
Exploring the USA healthcare crowdfunding scene, researchers studied the  geographic distribution of the number of medical fundraising campaigns across the country: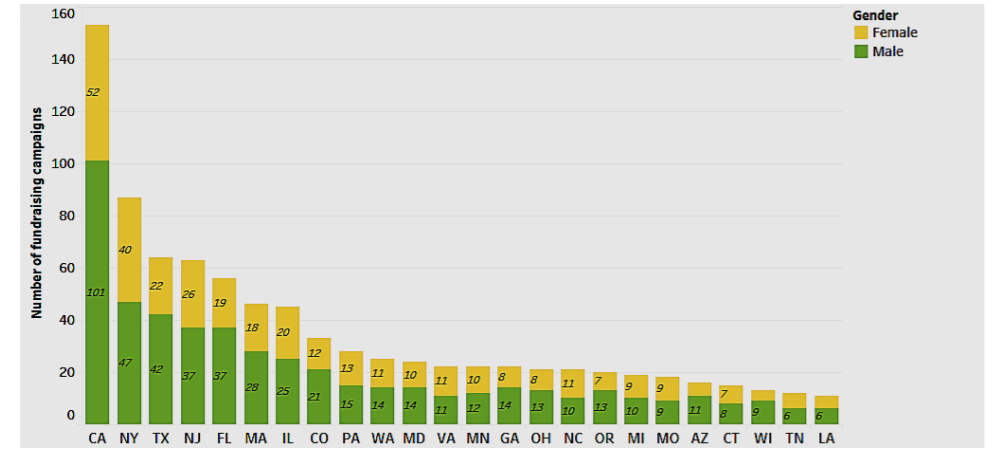 California, New York, and Texas were the leading states for medical crowdfunding in the States with  Iowa, Indiana as well as Wisconsin raising the highest average amount per campaign: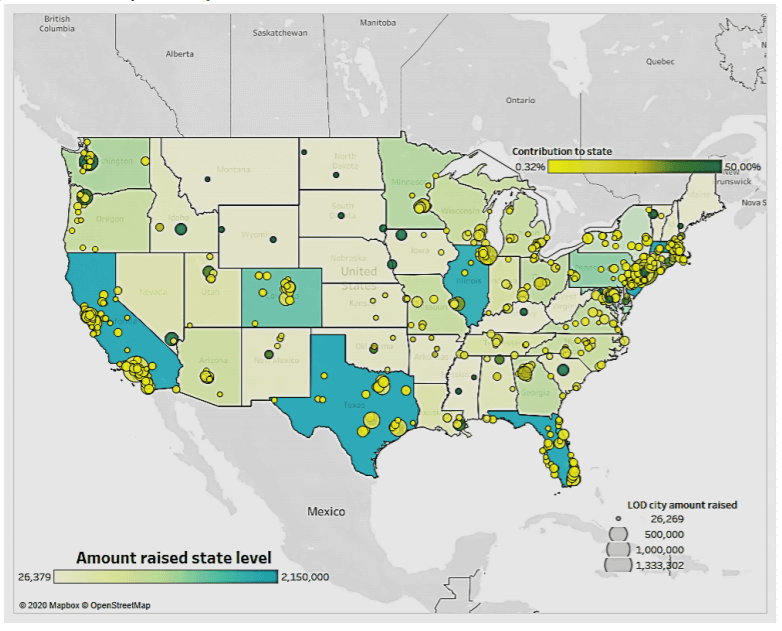 In Europe, the UK's health care spending budget is to reach 177.7 billion GBP in 2021; compared to 164.1 billion GBP in 2020, it makes it an 8% year-on-year increase. The times of uncertainty is another opportunity for medical crowdfunding in the UK to flourish.
One more source reports that the Department for Health and Social Care's budget in England was estimated at 148.8 billion GBP for 2019-2020 and 201.7 billion GBP in 2020-2021 taking into account the adjustment necessary to address the current pandemic: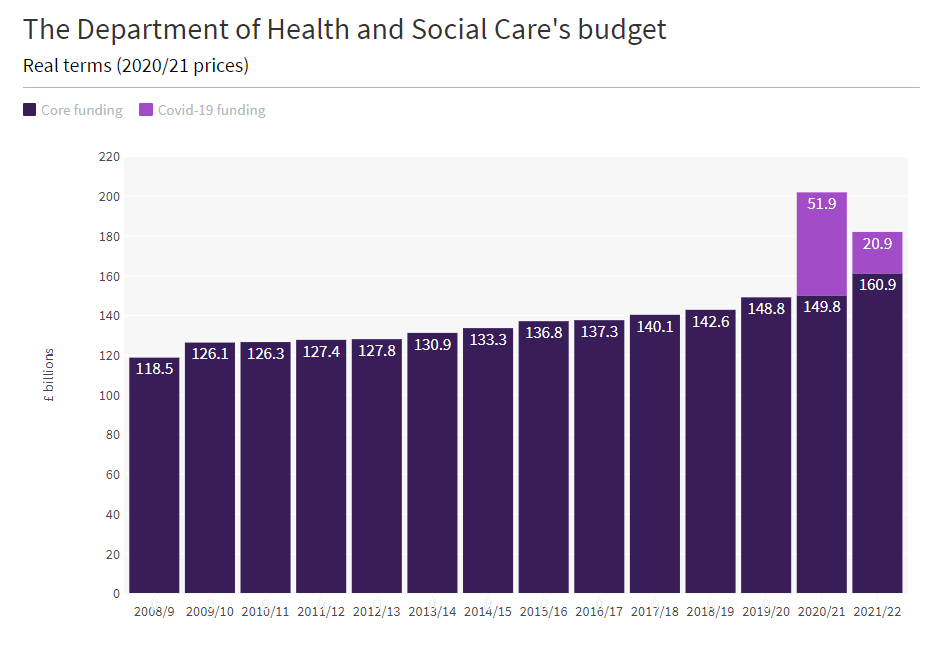 Local researchers question whether the popularity of medical crowdfunding in the country is symptomatic owing it to systemic gaps in health and social care. 
The scientists gathered insights across 400 medical crowdfunding campaigns on the UK's GoFundMe. The study explored if people choose medical crowdfunding to address insufficiency in service provision, support 'skipping the line' or finance medical tourism.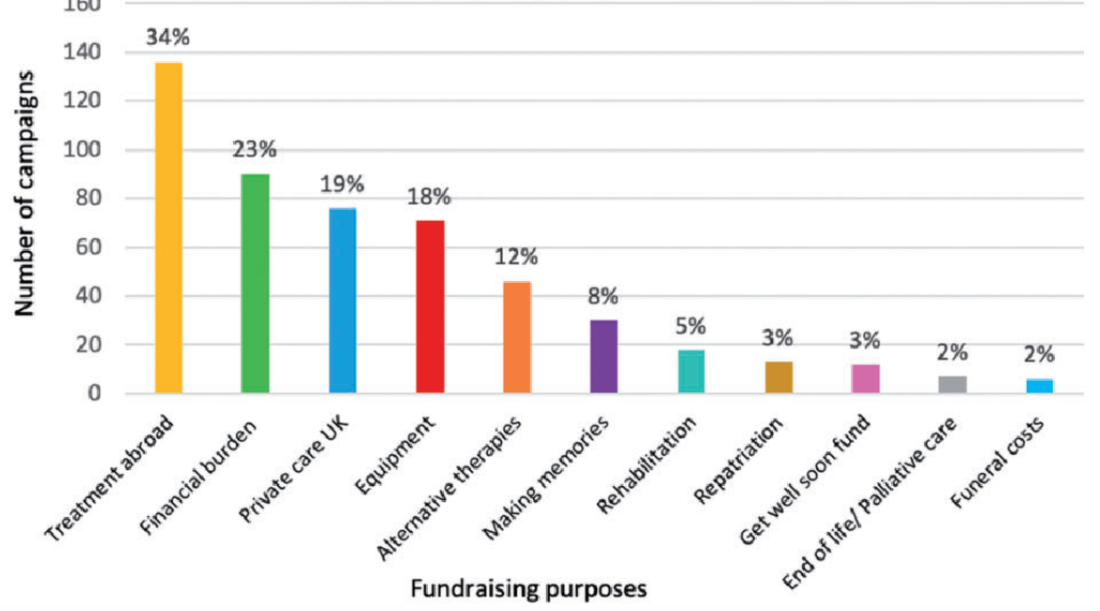 The funding purposes differed drastically with overseas treatment, financial hardships, and private care being more than half of all the campaigns. 
Medical Crowdfunding Platforms and Campaigns
Medical crowdfunding platforms focus on different business models including non-investment-based fundraising such as donations and investment-based crowdfunding such as equity and debt.
GoFundMe
Notably, a crowdfunding platform GoFundMe alone showcases 250,000+ medical campaigns raising more than 650 million USD annually.
The top campaign categories include breast cancer, surgery, leukemia, and lymphoma treatment among others. Trending in medical fundraising are the projects helping to fund a new heart, cover medical bills for curing Multisystem Inflammatory Syndrome in Children (MIS-C), and help a teen battle with terminal cancer.  
CoFund Health
CoFund Health's research discovered that more than ¾  of families cannot afford an extraordinary health situation.
With this thought in mind, its management started a one-of-a-kind crowdfunding platform dedicated to funding exorbitant healthcare expenses. The fundraising campaigns include hip replacement, Pierre Robin syndrome (PRS) of a newborn, and epilepsy medicine funding.
Fundly
Fundly supports a variety of healthcare campaigns helping people finance medical research, physical therapy, hospital bills, wheelchair and mobility expenses as well as at-home or hospice care.
Uniting individuals and non-profits, Fundly claims to be a platform for risk-free instant fundraising for a general fund for epilepsy foundation, dental care for two fellow Iraq combats,  and aneurysm brain surgery.
JustGiving
Through JustGiving people can support crisis counseling, muscular dystrophy, brain injuries, Hematopoietic Stem Cell Treatment (HSCT) for Multiple Sclerosis, and immunotherapy. 
Crowdacure
Crowdacure sources funds to support medical research.
So far, the platform had 2 types of research supported by donors including a study on multiple sclerosis and a still ongoing one on phantom limb pain management with augmented reality.
CapitalCell
Europe's first equity crowdfunding platform with a focus on life sciences projects, Capital Cell connects bold ideas and capital they require. Bringing together VC, angels, sophisticated investors, and the public, Capital Cell created a bridge between companies and scientific researchers that work hand-in-hand to advance the funding of medical science.
Conducting very thorough due diligence by a group of subject-matter experts, the platform offers unique projects to investors worldwide willing to support non-listed businesses in exchange for shares in promising ventures.
Creating a Platform for Healthcare Crowdfunding
The topic of medical crowdfunding is getting traction despite the relative niche status. Either donation-based or equity crowdfunding business, medical crowdsourcing goes far beyond just covering healthcare bills with some experts laying high hopes on it to enhance effective cooperation on anything from diagnosis to clinical trials.
In addition, comparing healthcare crowdfunding in Canada, the UK, and the US researchers found out that while in the US people mostly seek funds from a crowd to finance routine care US (77.9%), in Canada (21.9%) and the UK (26.6%) the money necessary to pay for alternative therapies (16.0%) was more popular for cancer (23.5%) than noncancer (6.5%) diagnoses.
To build a robust crowdfunding platform, LenderKit has the right set of tools to attract the crowd's attention to a social cause and solicit public contributions necessary to finance expensive clinical trials, rare medical equipment or real estate. If you're planning to create a crowdfunding platform to support those in need and connect fundraisers with the capital they require, LenderKit is a one-stop solution for medical crowdfunding business.