Fundraising software for donation crowdfunding businesses
Automate donation crowdfunding operations and manage individual and corporate fundraising with LenderKit. Digitize your offline donation crowdfunding business by launching a clone of Kickstarter, Indiegogo or a private donation platform.
Request a demo
Powerful software
Custom integrations
Full software flexibility
White-label options
Have unique features developed for your platform
Text-to-donate integration
Leverage the power of mobile crowdfunding and take advantage both old fashioned SMS and innovative chat messaging to fundraise.
Donation kiosk connection
Integrate with a donation kiosk, put in in the visible spot at an event and allow people to donate to your projects easily.
Social media donations
Set up a website quickly and redirect users from social media channels to your site, so you can raise more funds and manage new users.
Connect donors and fundraisers
LenderKit provides donation management automation to allow you to connect donors and fundraisers seamlessly. Your users will able to:
Create and donate in offerings
Upload and request documents (e.g., donation receipts)
Run campaigns and leverage your platform's support
Set donation limits, etc.
See fundraising software in action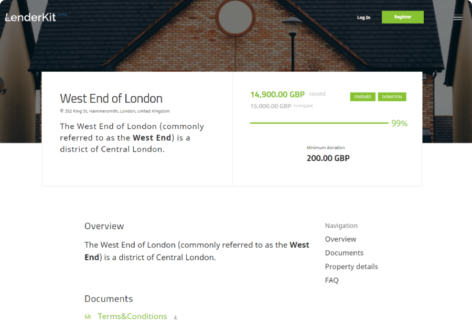 Support various industries
Be it ESG donation crowdfunding, healthcare, green energy education, agriculture, science or art, your LenderKit-based donor management software can be tailored to fit specific industry requirements.
With our fundraising software, you'll be able to effectively support sustainable finance and social impact activities that will help you boost your brand equity and business profits.
Discuss requirements
Healthcare
Green energy
Real estate
Agriculture
Education
Public sector
Access analytics and monitoring
Use the admin panel to track and manage all activities on your donation crowdfunding platform:
Manage investors and fundraisers
Assign access rights to your team
Manage campaigns and transactions
Monitor performance and gain insights on donation and fundraising habits
Automate document exchange and more
Explore the admin panel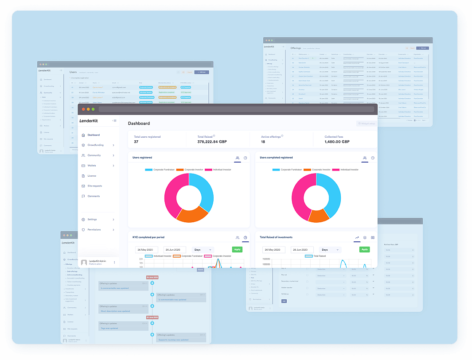 Looking for reliable donation crowdfunding software?