How to Enter the African Crowdfunding Market
Investing in emerging markets can be challenging. But the uncharted waters might bring the benefits one can no longer expect in the North American and European markets. A couple of years back, Deloitte called Africa a 'magnet' for foreign capital.
By and large, 2020 is going to bring 26.9 million USD in transactions in crowdfunding in Africa. The forecasted median per-campaign funding will be 3,018USD in 2020. Furthermore, crowdfunding in Africa statistics claims the number of campaigns will reach 11,800 by 2024. The 4-year growth rate of 15.9% will result in 48.5MUSD of transactions.
In this article, we will tell you why the region takes the spotlight off other developing markets. We will cover the most popular projects and see who regulates the segment there. Let's get to the point.
What you will learn in this post:
Crowdfunding in Africa: a Snapshot
The World Bank estimates the impacts of COVID to reach 37-79 billion USD in losses for the current year. The global outbreak translates into lower agricultural productivity, imbalanced supply chains, increased trade tensions, fewer jobs as well as regulatory uncertainty.
But that's the key. Some will patiently wait for international aid to arrive. But daring startups are likely to step in and try to help the region with 1,755 trillion USD GDP (2019).
Where will they go to find capital? When conventional financial instruments are out of reach, crowdfunding is the option. There are quite a few market players already showcasing innovative projects on their platforms. Who are they and what they do? Let's find out.
Crowdfunding for real estate
Crowd Prop, for instance, is a crowdfunding platform in South Africa. The platform offers investors to grow wealth by funding expert-screened property development projects. Any corporate entity can register at Crowd Prop and start crowdfunding in South Africa.
The platform offers estimates of expected returns that an investor receives as dividends on the shares bought. Crowd Prop has a robust due diligence model and conducts a number of checks before listing properties.
Using Clean Energy
Renewable energy in sub-Saharan Africa along with telecommunications and logistics will be some of the leading industries and opportunities to invest. Not only because it's a good deed but because it's rewarding, too. For example, Charm Impact offers 8% of annual returns to alternative energy investors. The platform connects startups focused on clean energy solutions with investors to provide universal access to clean, more affordable energy and battle climate change.
Charm Impact offers early-stage startups to start small and ask for bigger loans in the long run when entrepreneurs have a good track record repaying debts.
This way, the crowdfunding engine lowers investors' risks. Charm Impact has different projects to choose from including solar lanterns, solar home systems and appliances, mini-grids among others.
Sourcing capital for agriculture
One more booming industry is local farming. A firm responding to an agricultural challenge is Nigerian FarmCrowdy. It bridges the gap between farmers and those willing to earn money on agriculture and positively impact the local economy. The platform offers a robust tool kit to streamline food production and plenty of opportunities for investors to build up wealth.
A sponsor can help small-scale farmers to increase production capacity at lower costs.
The platform keeps 20% of the profits and a farmer and sponsor share the remaining 80%.
Launched in 2016, the agritech platform promises 11% of returns to those who put their capital to work for at least a 7-month period.
Who Regulates Crowdfunding in Africa
Some of the countries globally are taking firm steps to enable financial inclusion and create a safe ecosystem. But African crowdfunding regulations are still blurred. The African Crowdfunding Association (ACfA), however, enhances transparency and promotes industry best practices in the region.
Being a self-regulatory entity, ACfA is on a mission to "harmonise crowdfunding regulations across Africa." The organization created a Charter of Good Conduct that all the crowdfunding platforms listed on the website must comply with. The Charter along with annual compliance audits help crowdinvestors stay on the safe side.
In its most recent Global Alternative Finance Market report Cambridge Centre for Alternative Finance explored local regulations and asked platform owners for insights. These were their findings: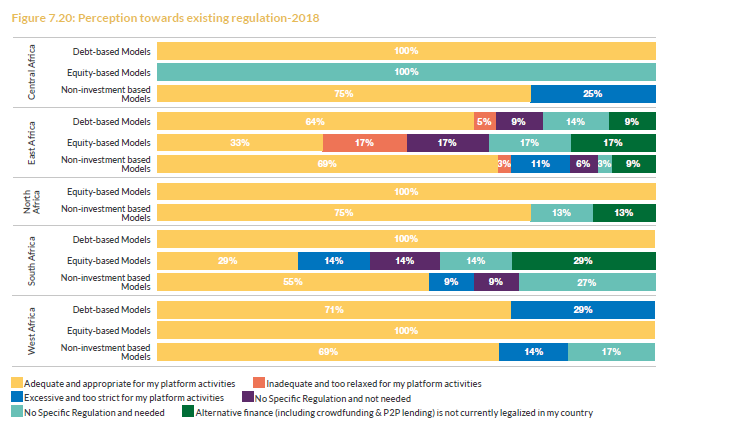 At the same time, the researchers pinpointed the 3 countries moving ahead of the curve in alternative finance in Africa. The top performers are Kenya, Zambia, and South Africa crowdfunding markets.
Additionally, notable players are:
Tanzania with 1.1 million USD in volume for equity-based crowdfunding;
Zimbabwe with 0.7 million USD in real-estate crowdfunding.
Let us have a close-up look at the regulators in these 5 states:
On a side note, Cambridge Centre for Alternative Financing believes that The Communications Authority can be instrumental in creating a regulatory framework in the country, too.
Zambia crowdfunding: the Bank of Zambia introduced the National Financial Inclusion Strategy, under which the government created a capital markets working group headed by the SEC to foster financial inclusion.
South Africa crowdfunding: The Financial Sector Conduct Authority (FSCA) is in charge of monitoring and regulating the market. The equity crowdfunding model is relevant to the FSCA as it involves trading and potentially can offer intermediary services as defined in the Financial Advisory and Intermediary Services Act, 2002.
However, the regulator mentions in its Perimeter Report 2020 the plans to pair up with the Intergovernmental Fintech Working Group (IFWG) to draft a regulatory framework for other crowdfunding solutions raising funds for investment in non-financial products or engaging in peer-to-peer lending.
Launching a Crowdfunding Platform in Africa
According to the UK-Africa Investment Summit, the crowdfunding environment in Africa is currently forming and expanding. Presumably, the launch of a crowdfunding business, especially a startup, in this region will have to withstand temporary regulatory uncertainty and develop a sustainable monetization strategy in such an environment.
In case with more established businesses, the initial investments in a crowdfunding platform can vary depending on the level of engagement with the market.
For both startups and large companies, LenderKit offers a white-label crowdfunding solution with code and design customisation opportunities to help you enter the crowdfunding market in Africa smoothly. Whether you are interested in real estate investment software (e.g. crowdfunding for schools in Africa) or SME financing software with p2p lending, equity crowdfunding, or donation modules, we've got your back.
LenderKit is a ready-to-use software that has three components necessary to run an online crowdfunding business: admin back office, web portal, and marketing site. Any of these parts can be customized to suit the needs of a particular cause.
In terms of integrations, our team will help you connect the required payment gateway, KYC/AML verification provider, document signing tool or any other instrument that will make your investment business more efficient and productive.
Final thoughts
African crowdfunding scene is hot now. Many new players are going to emerge and use a chance to achieve growth and earn high ROIs in this emerging market.
If you want to be one of them and bring your idea to life, we can help you with an MVP launch. If you want to go all-in and build a unique full-scale platform instead, our team is happy to help.
Interested to explore opportunities with LenderKit? Fill in the contact form and our manager will get back to you soon.