Crowdfunding Industry Report 2022 by CrowdSpace
Our sister company CrowdSpace releases a new crowdfunding industry report of 2022 with new insights into the European crowdfunding market, regulations and platform challenges.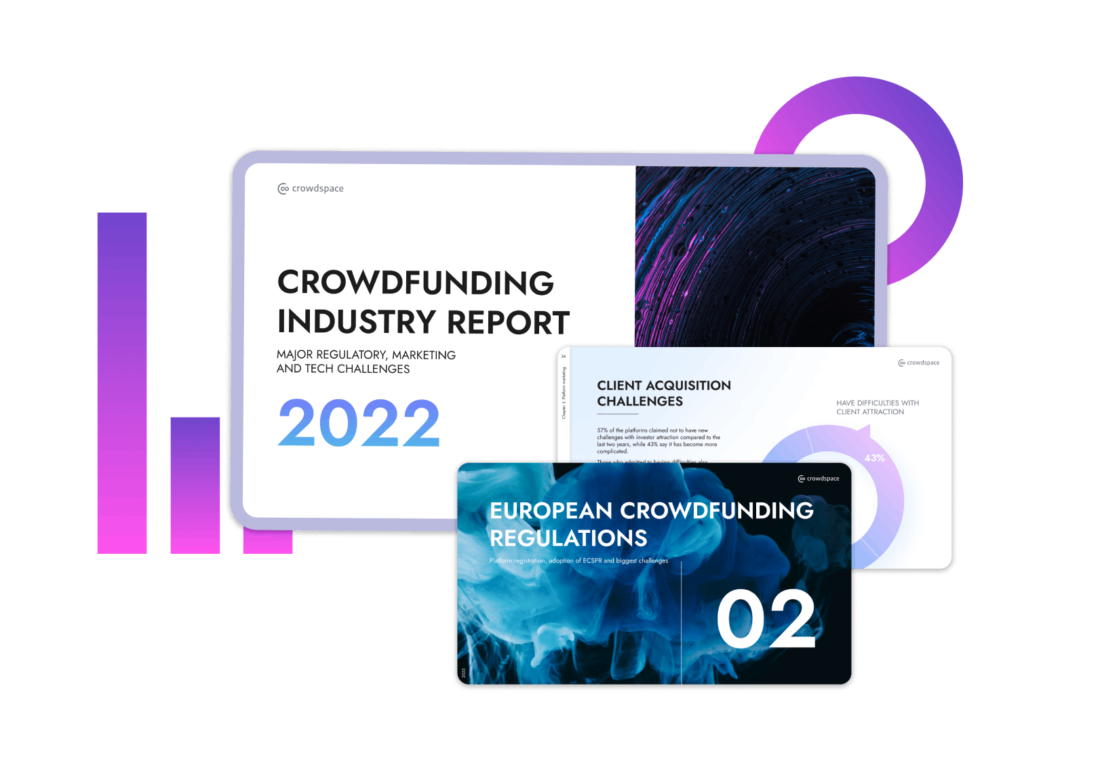 This is our third annual crowdfunding report in a row, and we are super excited to share what we've learned. As always, we surveyed crowdfunding platform top managers including CEOs, Co-founders, Heads of Investor Relations, CMOs and created a list of acknowledgments where you can find platforms that participated in the research.

What you will learn in this post:
Crowdfunding statistics 2022
Before you drop your email to download a PDF crowdfunding report, you may wonder whether even worth it, so here are some of the crowdfunding statistics and what you can learn from the report:
51% of platforms have no niche focus
74% of crowdfunding platform were founded in 2014 – 2019
41% focus on public crowdfunding campaigns
24% are registered in multiple countries in Europe
83% are registered directly with the regulator and 17% use umbrella compliance
Also Read: Appointed Representative Crowdfunding License: Regime Update
17% are prepared for the ECSPR while 43% are in the process of implementing the new framework
Organic search, social media, referral and partnerships alongside with paid advertising are the most used customer acquisition channels
57% don't have challenges with attracting investors
27% reported a positive impact of Covid on their business
These are just raw crowdfunding statistics of 2022, if you'd like to know more, download a full crowdfunding industry report.
Crowdfunding statistics can help the industry in a variety of ways. By analyzing the data, crowdfunding analysts and industry professionals can gain insight into which crowdfunding platforms and campaigns are most successful, what can be improved, and which industries are most popular for crowdfunding.
Investment statistics obtained directly from the marketplayers can also cast some light on the overall health of the crowdfunding industry, helping to inform decisions about potential investments and other strategies. Additionally, statistics can help industry professionals understand trends and enable them to better anticipate changes in the market and adjust their strategies accordingly.
About CrowdSpace
CrowdSpace is the biggest crowdfunding platform directory in Europe. It features over 450+ crowdfunding platforms including their country of operations, asset types, niche focus, minimum investments and a link to the website.
Both investors and issuers find this tool useful to research various crowdfunding platforms for investing or fundraising and learning about new platforms on the market.
CrowdSpace is not just a crowdfunding platform listing website. The company actively conducts research, applies for grants, shares industry knowledge and promotes crowdfunding as an alternative financial instrument.

About LenderKit
LenderKit is a white-label crowdfunding software provider that helps young investment businesses and established firms.
On the one hand, we offer crowdfunding platform prototyping solutions to test the waters, pitch to investors and apply to the regulatory sandbox. On the other hand, we provide full private capital deal management software to automate your match-funding operations and investor relations.
If you'd like to learn more about the LenderKit crowdfunding software, reach out to our fintech strategist for an online demo.