Equity Crowdfunding in China: How Does it Work?
Crowdfunding was introduced to China in 2009 as a response to the world economic crisis which is late compared to Europe where the first crowdfunding platforms have been operating since 2000.
However, the crowdfunding model began expanding rapidly in the country. So, from 2013 to 2015, the Chinese alternative market grew from $5.56 bln to $101.7 bln, and the total number of crowdfunding platforms in the country exceeded 400. 
What you will learn in this post:
Crowdfunding in China: some history
The initial focus of the first crowdfunding platforms in China was on art and entertainment ventures because such platforms faced fewer regulatory challenges.
The first crowdfunding platform in China, Demohour, was launched in 2011. After just two years of operation, Demohour managed to raise funds for more than 2,000 projects without access to bank loans or wealthy investors. The majority of projects for which the funds were raised were film- and art-related. This success has established film and television crowdfunding as an effective alternative financing vehicle.
Further, various platforms appeared in the Chinese market:
Alibaba Group launched Yu Le Bao, an entertainment industry crowdfunding platform, in 2013.
Baifa Youxi was rolled out by Baidu in 2013.
Licaitong was launched by Tencent in 2014.
SuningCrowdfunding started its operation in 2014.
Zhao Cai Bao, a peer-to-peer crowdfunding platform was launched by Alibaba Group in 2014.
Coufenzi, a crowdfunding platform allowing users to contribute toward individual projects and products, was launched in 2014.
JD Equity Crowdfunding was created in 2015 to help entrepreneurs to find early-stage investors.
Equity-based vs other types of crowdfunding platforms in China
According to Statista, only 36% of crowdfunding platforms in China are equity-based.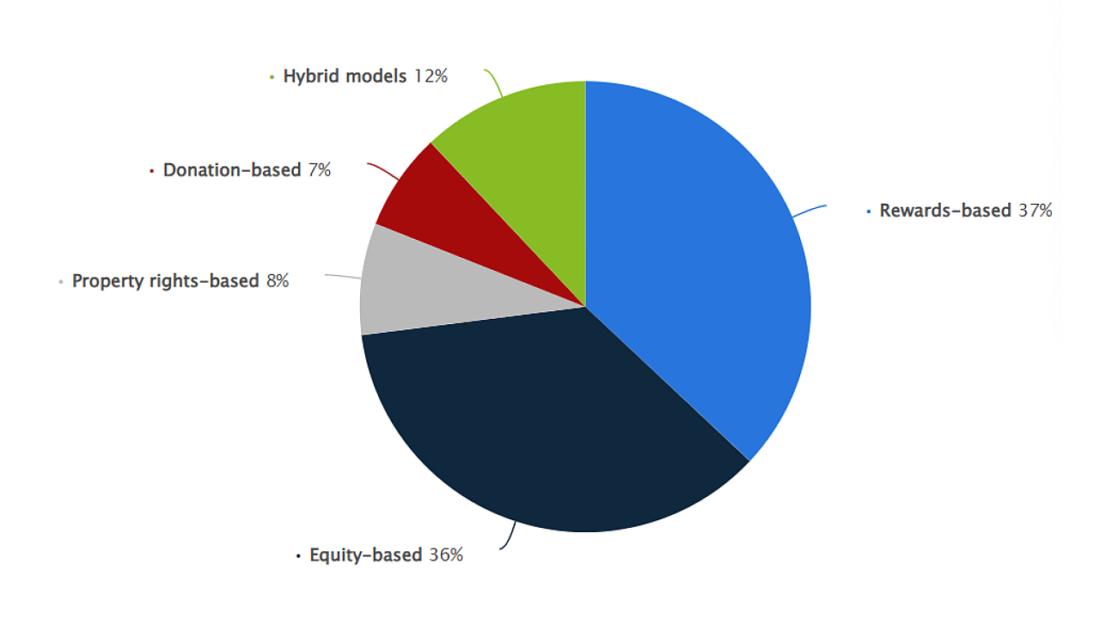 It is connected with equity crowdfunding regulations in China and all the regulatory challenges equity-based platforms have to face. From 2011 till 2015, the number of crowdfunding platforms in China has been growing exponentially. This caused the Chinese government to issue a series of policy announcements to make the new environment safe for investors.
Most of these announcements apply to equity crowdfunding in China, and this was one of the main reasons that from 2016 until now, the growth of the crowdfunding platform number and the funds raised has slowed down.
Requirements to equity-based crowdfunding platforms in China
In equity-based crowdfunding, individuals invest money in securities of a private company with the expectation of receiving financial rewards in the future. In China, equity-based crowdfunding is referred to as "internet non-public equity financing".
Equity-based crowdfunding in China can be performed only as a private offering because all public offering ventures are under the supervision of the government.
All private offerings including equity-based crowdfunding are strictly controlled and regulated and therefore, they have to comply with plenty of requirements.
Mandatory registration with the Securities Association of China
One of the very first requirements for equity-based crowdfunding platforms is compliance with regulation for crowdfunding platforms in China accepted in December 2014. An equity-based platform shall be a member of the Securities Association of China (SAC). While it doesn't provide investors with any guarantees, the registration and membership in SAC show the platform's wish to comply with regulations.
Equity crowdfunding is mostly conducted through syndication. AngelList is the largest and most significant portal that enables syndicate-based equity crowdfunding. But the Chinese model differs from the standard Angel List. In China, they use the "angel + backers model".
An "Angel + Backers" investment model
In the AngelList syndicate, angel investors create a profile online with the information for potential backers. This information might include such details as the number and type of deals they are planning to support every year, the standard investment size, and similar. Backers apply to participate in the syndicate, and the syndicate lead decides whether to accept them. Once accepted, the backers invest in projects on the same terms as the lead does. In this case, backers are attracted by the lead's reputation.
In the "angel+backers" model, an investor chooses to invest in a specific project and be a lead of the project. Those backers who see the project's potential and earning opportunities, join the investment venture. In this model, the lead's reputation doesn't have crucial importance because backers support the project, not the lead. This model is also one of the main reasons why only the best projects can raise sufficient funds.
While the "angel + backers" model is prevalent in China, some projects opt for direct investment when investors either enter directly into investment agreements or assign a designated representative to manage investments on their behalf.
The rights of investors and fundraisers in China
In equity-based crowdfunding, projects do not promise a steady income for investors. Return to investors is possible only if the project makes income. And even in this case, not the entire profit sum is distributed among investors. Around 25% of income is normally used to establish an "enterprise development fund", to pay a third-party manager who monitors all the processes, etc. So, approximately 75% of the income is distributed among the project investors. Because the income from investments is not guaranteed, there is no requirement for investors to sell their investment to a campaigner or to quit a project within a predetermined time.
Crowdfunding investor eligibility
Only those individuals or companies can invest in crowdfunding who have enough resources and knowledge to do so. The requirements for qualified institutional investors in China are the following:
Entities with the net assets are equal to or more than RMB (renminbi) 10 mln;
Public or social welfare funds (social insurance funds, charity funds, pension funds);
Fund schemes registered in SAC;
Fund management companies and their managers.
Individuals, to qualify for an investor status, shall comply with the following requirements:
Individuals with financial assets worth equal to or more than RMB3 mln; or
Individuals with annual income within the last three years not less than RMB500,000.
The financial assets include but are not limited to bank savings, bonds, shares, trust schemes, bank financial products, etc. An individual has to bear the investment-connected risks.
Finally, an entity or an individual who can invest at least RMB1 mln in a single product is also qualified as an investor.
Top Chinese equity-crowdfunding platforms
Let's have a look at the leading equity crowdfunding platforms in China that you can compare and build a similar platform using LenderKit crowdfunding software.

JD Dongjia
JD Dongjia was founded in 2015 in Beijing, China. Since then, the company has helped businesses to raise $170 mln from above 60,000 investors. Along with a varied selection of projects to invest in, the platform provides investors with risk control measures.
Renrentou
Renrentou is another equity-based crowdfunding platform founded in Beijing in 2014. The platform enables companies to post their projects and provide information about them in form of articles, photos, or whatever they consider is needed. Renrentou follows an all-or-nothing crowdfunding model.
36Kr Equity Crowdfunding
The equity crowdfunding platform was launched in 2015 by 36Kr, an online technology media platform and entrepreneurship service provider. The crowdfunding platform's focus is on product innovation. One of the main platform's benefits is the availability of a high-end leading investment group consisting of top investment institutions.
Zhongtou8
Shenzhen Zhongtoubang Co., Ltd. was founded in Hunan, China, in 2010. It positions itself as an emerging industry financial technology service platform active in non-public equity-based investment.
Other types of crowdfunding platforms in China
Along with equity-based crowdfunding, other crowdfunding types exist in the country, too, with reward-based crowdfunding being the most popular one and taking 37% of the market share. Further, such crowdfunding types follow as property rights-based with 8% of the market share, donation-based with 7% of the market share, and hybrid models with 12% of the market share. Even though the Chinese crowdfunding market doesn't develop rapidly, like it was at the start of the Chinese crowdfunding era, China is still the largest crowdfunding market in the world which constitutes 71% of the alternative financing market.
Final thoughts
If you'd like to launch your own equity crowdfunding platform in China, reach out to LenderKit. We provide flexible white-label crowdfunding software which can be customized to comply with Chinese regulatory requirements and your business model.
Check out the LenderKit tour to learn more about the product or book an online demo with our fintech strategist to answer your questions.