What is SAMA's Regulatory Sandbox and How to Apply
مرحبا!
As you probably know, Mohammad bin Salman wants to transform the KSA – Kingdom of Saudi Arabia – economy by reducing its dependence on oil and improving other economic sectors and industries including the Fintech one.

As a part of the Saudi Arabia Vision 2030, SAMA (Saudi Arabian Monetary Authority) launched a program named SAMA's Regulatory Sandbox Framework which intends to enhance the financial technology and create more opportunities for alternative finance businesses to enter the KSA market.

SAMA's Sandbox is a test and controlled environment where you can test your crowdfunding, P2P lending or investment platform on a real audience without immediately complying with the regulations.

Through the program, SAMA pursues a goal of creating a relatively safe and controlled environment where a business can fulfil its needs in cooperation with the regulator and under its supervision.

What you will learn in this post:
How does the program work?
SAMA accepts applications to the Sandbox twice a year. For example, in 2019, the first submission cohort took place from 20.03.2019 to 20.04.2019 and, in 2020, the second cohort opened between 15.12.2019 and 15.01.2020.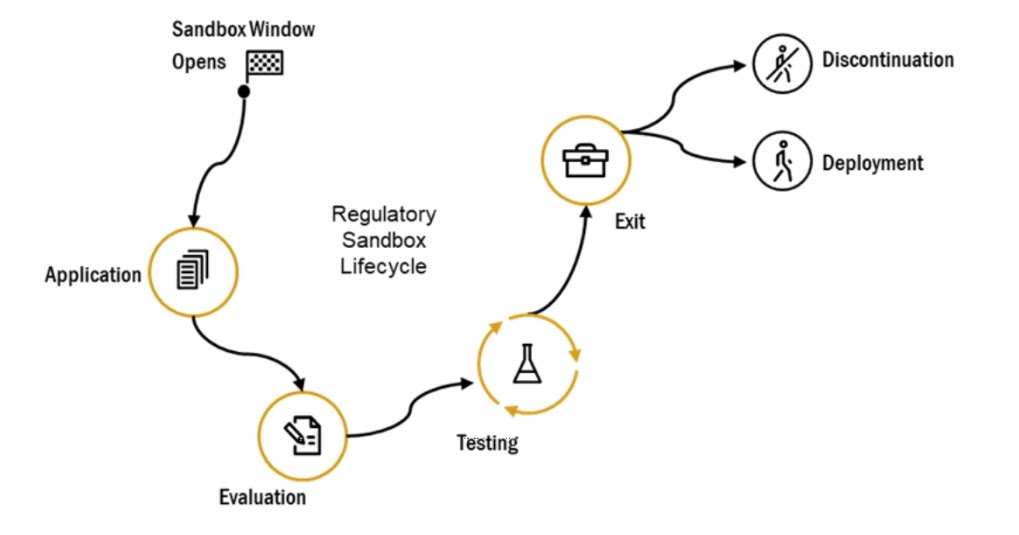 The cycle is broken down into 3 major timestamps:

Application – 30 days to process
Evaluation – 60 days
Testing – 6 months
During this cycle, applicants will get a Letter of Acceptance (LoA) pass the evaluation and testing. The exit means further business development in case of the successful testing process completion.

How can you benefit from SAMA's Regulatory Sandbox Framework?
According to the official Regulatory Sandbox document released on February 2019, there are four types of applications who can benefit from the program:

SAMA-licensed innovators who want to test a new, but regulations-compliant solution.
SAMA-licensed innovators who want to test a new solution, but there are no regulations for this solution yet.
Non-licensed Fintech firms or startups.
International Fintech firms that want to start or scale their business in the KSA.
To keep this article informative and specific, we'll focus on the Non-licensed Fintech firms or startups. In other words, if you have a bright idea and are looking to start your own crowdfunding or P2P lending business by entering the market through the SAMA's Sandbox, this article is for you.

For this particular group of entrepreneurs SAMA's Sandbox offers:

Test your idea and business plan on a real audience
Register your crowdfunding platform with SAMA
Get a license for debt or equity crowdfunding from SAMA
Receive advise or guidance on the business requirements
Get help with formalising and finalising your documents
The list above is a subjective but quite a realistic overview of what you can expect to achieve when applying to SAMA's Sandbox.
How to apply to SAMA Regulatory Sandbox and pass the evaluation process
If you want to know how to pass the SAMA Regulatory Sandbox and increase your chances of even getting there, you should prepare in advance according to SAMA Application Form requirements. 

While the Sandbox might seem an easy go-to-market solution, you must meet the basic requirements:

Domain name, website
Marketing plan
Business plan – growth and revenue strategy
SRS – software requirements specification
Testing plan – technical document to test your app and business
Risk assessment plan
Exit plan – included in a business plan
Prepare a marketing plan before you apply to SAMA's Sandbox
You should start with the market analysis, surveying, and marketing plan creation. In other words, you should know your competitors, their rough development strategy, who your target audience is and what you are going to offer.

In your marketing plan, you should outline the consumer benefits of your crowdfunding platform. SAMA makes it clear that there are two ways you can impact consumers:

Directly – better services, lower fees, niche services, etc.
Indirectly – wider choice of platforms, proficiency of services.

When you apply to the Sandbox, you can either focus on the benefits of your platform or how you will increase and nurture the competition in the KSA.
In other words, if your platform is already similar to your competitors which you can find at "Permitted Fintechs" on SAMA's website, you can stand for increasing the market competition, decentralizing crowdfunding services, breaking the monopoly, etc.
Create a persuasive business plan
If you're just starting out, it might be quite complicated to think a few steps ahead. However, you should try your best to develop a business plan which includes:

Our vision and mission
Product/service description (type of the platform, how it works, etc.)
Market and regions of operations
Team capacity and expertise
Scalability of your business
Partnership with third-parties such as AML/KYC or other.  
Having a solid business plan will help you and SAMA's representatives understand your ambitions and readiness for the Sandbox.

While it's known that nobody usually cares about the business plan, you can point out your partnership strategy with money holding providers, payment gateways, KYC and AML providers to make your business plan much more interesting and relevant to SAMA.
Hire a crowdfunding platform development company to create an SRS document
Software requirements specification is something that you can do on your own, with a business analyst, independent consultant or a crowdfunding platform development service provider.
See: "LenderKit Solutions"

A development partner is usually both tech and business-savvy and can help you outline realistic software requirements as well as the testing plan to it.

The SRS usually includes:

Crowdfunding platform type and its full description
Workflows and process diagrams
Detailed description of features
User roles and interactions
Data processing and storage diagrams and description
KYC/AML process description
Payment processing
Security measures
Microservices and integrations, etc.
Out of all these mentioned and non-mentioned points, there are 3 that are most important for the SAMA Sandbox – KYC/AML verification process, payment processing and money holding as well as security measures.

When filling in the SAMA Application Form, you should put extra attention and focus on highlighting these points. Provide a full description of how you will handle these processes to increase your chances of getting accepted.

Apart from these three, there are also other SAMA requirements listed in the right column which you should pay close attention to.

Make detailed testing and risk assessment plans
A testing plan is probably the most serious document in your application. SAMA puts extra strictness on KYC and AML as well as investor protection to minimise potential hazards.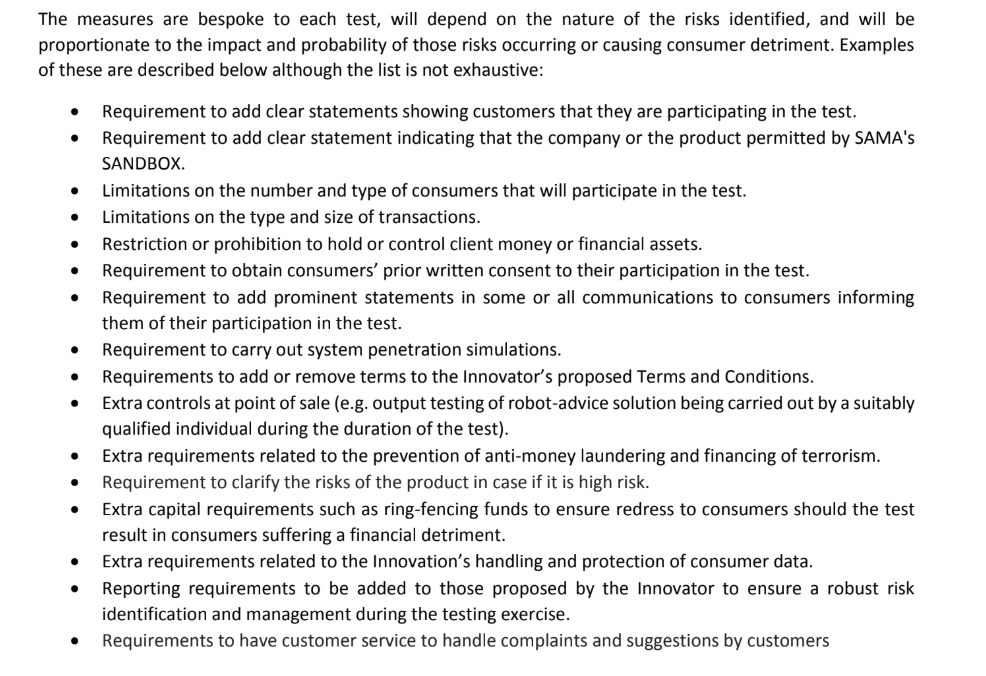 Your testing plan should be created based on the above-mentioned requirements as well as your risk assessment plan.

Basically, SAMA wants to know how well you understand the risks of running a Fintech business in a newly created environment and what you do to avoid, minimise and mitigate the risks. The better your platform, investors and fundraisers are protected the higher chances it has to be accepted.

Also read: "The Risks of Managing a Crowdfunding Platform and How to Avoid Them"

So, the testing plan should be developed simultaneously with the risk assessment plan.

Write a precise exit plan that shows your further business development after the Sandbox
While an exit plan sounds like you should close your business – it's not. An exit plan which SAMA wants from you is simply your scaling strategy.
They want to know how you will be developing your business when you've achieved the objectives that you should have included in your application form as well as the testing plan.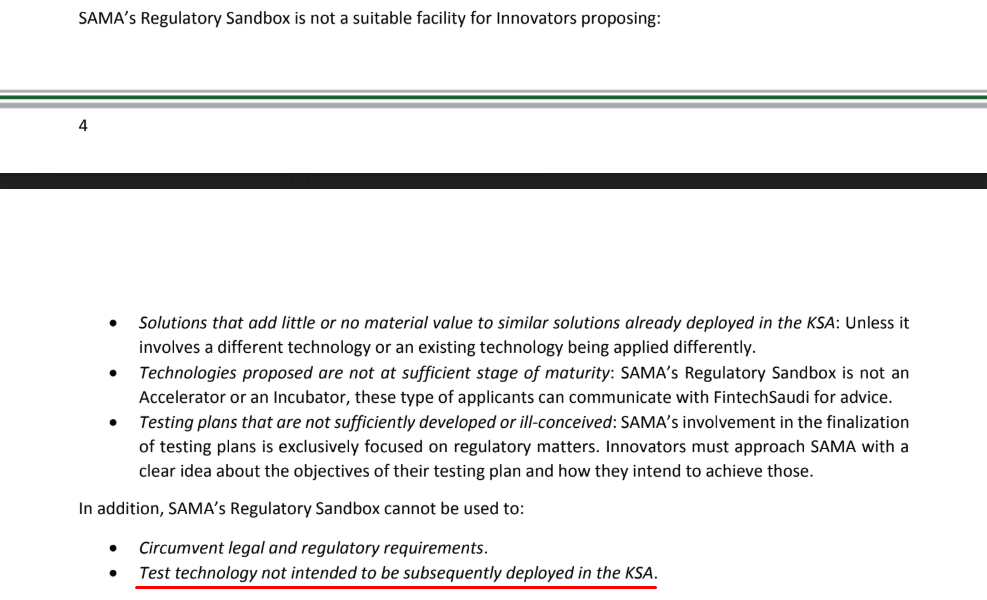 SAMA wants to make sure that the crowdfunding platform you want to test is exactly what you are going to deploy in the KSA. For example, if you are testing a debt investing platform, then you should operate a debt investing platform and not launch, say, Forex trading services under the license and regulations you've acquired.

The exit plan should be crystal clear and constitute your SAMA's Application objectives as well as your vision.

Final thoughts
To increase your chances of getting the Letter of Acceptance (LoA), you should maximise the positive indicators mentioned in the Regulatory Sandbox Framework document, and minimise the negative indicators.

Apart from that, you should prepare financially, mentally, and socially to go through a long application and testing process. Also, you have to prepare yourself to operate a crowdfunding business in a developing Fintech environment.

Nevertheless, we believe SAMA's Regulatory Sandbox is a great opportunity for young and established businesses to enter the Fintech market and contribute to the country's economy. We wish you best of luck with your application!

Also, if you need help with building your own crowdfunding platform, creating software requirements specification or testing plan – reach out to us at lenderkit@justcoded.com

If this article helped you give it 5 stars and subscribe to our blog for more insights on crowdfunding.