How to Start an Education Crowdfunding Business
Education crowdfunding platforms work with 3 major business models – P2P lending, equity financing or donations.
P2P lending platforms usually focus on student loans and collateral-backed business loans for private schools.
Equity crowdfunding platforms most often work with "industry-disrupting" startups that launch new products which enhance and simplify the learning process like Duolingo, DragonBox, Kahoot and alike.
Donation crowdfunding platforms are working with large volumes of social impact projects both individual and corporate. From crowdfunding tuition fees, dream education to financing schools' internal projects.
Let's have a closer look at the education crowdfunding platforms and see what they offer.
What you will learn in this post:
Education crowdfunding platforms and their business models
Let's have a closer look at the education crowdfunding platforms and see what they offer.
Education-focused donation crowdfunding platform
StudentBackr is a unique ecosystem where students can start a number of fundraisers to pay for college fees, international exchange programs, and simply try and fund the education they always dreamt about.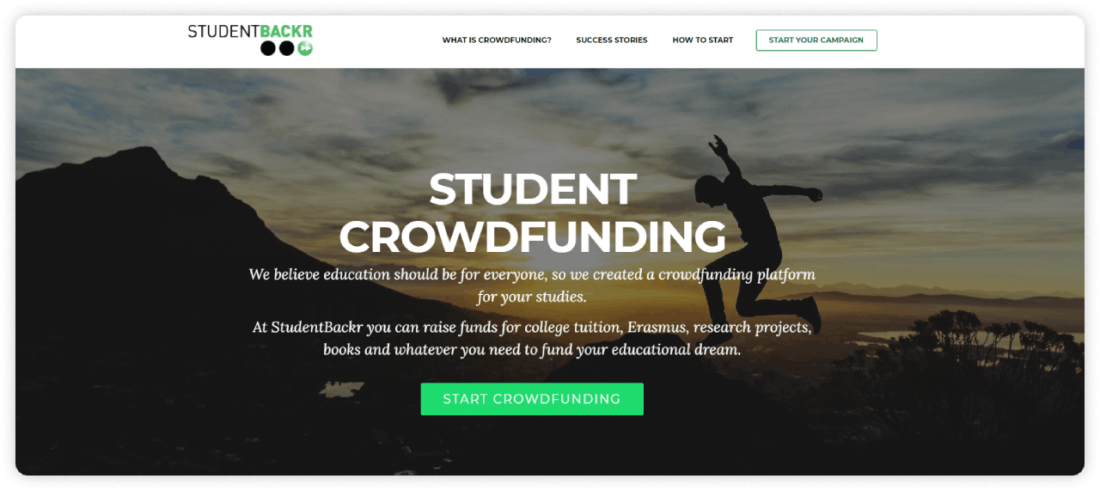 The website has partnered with a number of leading educational organizations to promote affordable learning including ESCP (native name "École Supérieure de Commerce de Paris") Business School and EAE Business School.
Indian online crowdfunding engine ImpactGuru strongly believes that education should not be a luxury but a basic right of everyone with any financial background. With the instant approval of a fundraiser, both students and their families can begin sourcing funds and gather debt-free contributions from around the globe.

Through ImpactGuru, for instance, a non-profit organization, QMed Knowledge Foundation raised 162% of its initial goal assisting 100 postgrad medical students with their thesis research. The platform has 3 packages and offers self-driven, assisted, and collaborative fundraisers charging 0%, 5%, or 8% fee respectively from the amount raised.
The UK's DonateMySchool is another iconic example of donation crowdfunding for schools and p2p lending. Starting a fundraiser with the portal is a matter of a couple of hours. DonateMySchool charges a 3% marketing fee with no extra legal or bank fees.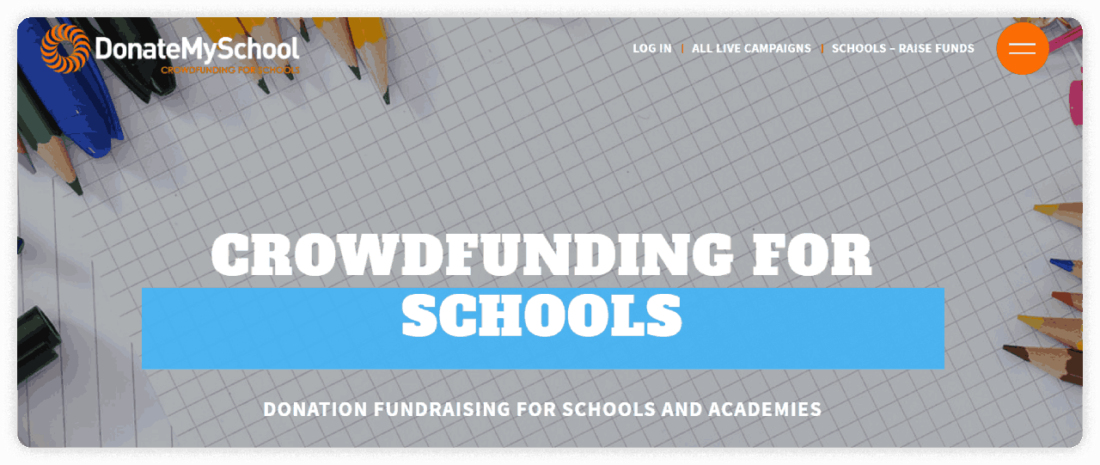 The crowdfunding site hosts a variety of campaigns e.g a grammar school sourcing capital for a brand new library, a trust raising funds to buy laptops for a school, and an academy willing to bring on board a therapy pup to improve its students' mental health.
DonorsChoose brings the public and schools together offering numerous opportunities to support teachers in need of classroom materials. Started by a Bronx tutor, the portal hosts a number of projects to assist teachers.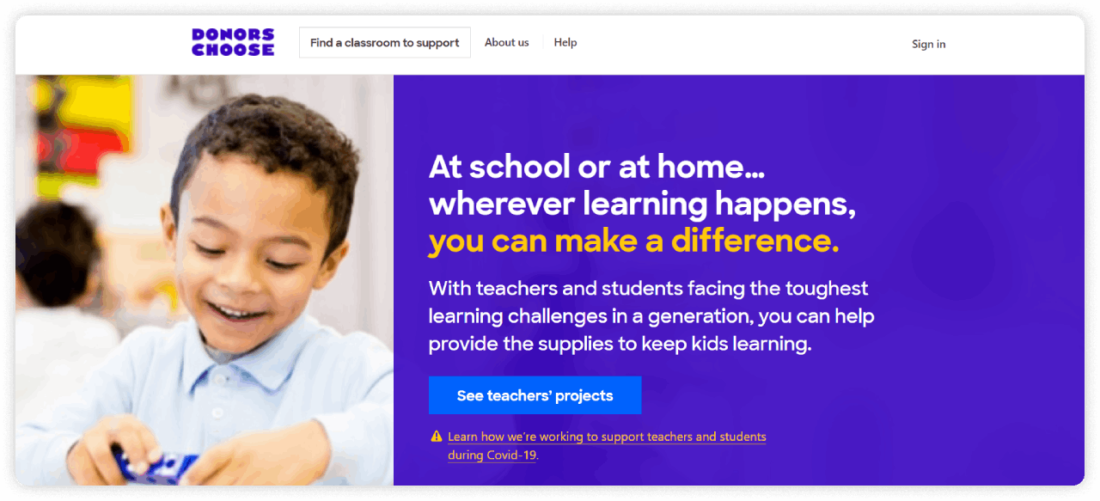 With DonorsChoose, more than 4,5 million donors have funded around 1,9 million projects since 2000. Along with a donor-advised fund that encourages annual donations, donors can support individual projects and buy gift cards, too.
A well-known online learning website study.com has just joined the ties with DonorsChoose to use crowd contributions to finance teacher subscription requests to its platform. Through these learning funds, Study.com will not only cover subscriptions for tutors but also offer online learning access to 40,000 students.
Promising limitless opportunities, a social fundraising platform GiveCampus has all the tools necessary for successful university crowdfunding and peer-to-peer contributions towards giving days and short-term challenges, class and reunion gifts, athletic campaigns, and other special events.

Through GiveCampus Fordham University boosted donors' engagement, Pacific Lutheran University managed to bring more donations to its Student Emergency Fund, and Westminster College harnessed the power of strategic athletics fundraising challenges to increase 2020 participation numbers.
P2P lending platforms for education
Swiss-based platform for education, Splendit, offers peer-2-peer loans to students funded by private individuals. These loans have interests that are determined by the auction bids of investors.

Lendwise, a British p2p lending platform helps youth advance their education at affordable rates. At 7-12% interest rates, borrowers can repay the debt in monthly installments. If a borrower misses a monthly payment, the lender tags it as 'due' and goes on with the efforts to collect the outstanding debt from the borrower.

Equity crowdfunding in EdTech
We haven't found any equity crowdfunding platforms that would specifically focus on the education sector only. Donation and P2P lending platforms are the most popular in the education sector.
There are individual campaigns which are scattered across different platforms:
Gojimo, UK's renowned revision and exam prep app raised capital at Nextfin UK
Tech Will Save Us crowdfunding campaign raised capital on Seedrs
American company Moonshot Junior raised money on WeFunder
However, there can be private equity funds and platforms that focus on the education crowdfunding and EdTech sectors like LLR partners which invest $25-100M.
Crowdfunding software for launching education crowdfunding platform
Software for an education crowdfunding platform helps you facilitate the full-cycle fundraising process from client onboarding to capital solicitation and dividend payouts. It also helps to automate document management, reporting and be more compliant with the regulatory requirements.
For example, LenderKit provides technical tools to equip you and your team with the necessary instruments to build a crowdfunding platform for public or private school crowdfunding.
Our crowdfunding software fits small, medium and large companies and allows you to work with individuals or corporations.
If you're focused on equity crowdfunding or P2P lending, you should check out our product solutions to find out which fits you best.
If you're in a non-profit business our all-in-one funding software is what can help you seamlessly connect non-profits and educational facilities with donors and their capital.

Final thoughts
The World Economic Forum (WE Forum) emphasizes the necessity of private investment to boost education in the US. And with education being a part of the impact investing, it can be an interesting opportunity for new crowdfunding platforms.
There are plenty of startups in the education sector, public and private schools, individual and corporate projects as well as real estate opportunities where crowdfunding platforms may help to attract capital and drive the industry forward.