Transactions in Crowdfunding: Two Types of Money Flows to Explore
How you structure transactions in your crowdfunding platform, will determine your control over the money flows as well as the level of interaction for investors.
There are two types of money processing on a crowdfunding platform:
Let's have a closer look at each of the solutions and find out which works best for your crowdfunding business and requirements.
What you will learn in this post:
Direct crowdfunding
On a crowdfunding platform, the direct payment means that the money goes directly into the escrow account of a custodian or whoever is managing the intermediary account before the funds are sent to the fundraising company. There's no "pre-funding" or any wallet creation process in the platform itself. 

In direct crowdfunding, investors choose an offering on the platform and make an investment. The investor transfers certain funds through the ACH payment or a Wire transfer into the escrow account of the funds manager. This escrow serves to protect investor's interests and make sure all of the funds are collected before they are transferred to the fundraiser.
CrowdFund Insider describes a direct lending case in their article: 
October does not manage the money from our clients directly. Every borrower and lender has a wallet on Lemon Way and it is where October monitors the financial transactions.
Lemonway is a European payment processing provider that enables platforms like October to work with clients' money and conduct regulated transactions. 
Wallet-based crowdfunding
In wallet-based crowdfunding, investors first register on a crowdfunding platform and then configure the payment methods, attach a particular bank and payment details to the account in the crowdfunding platform.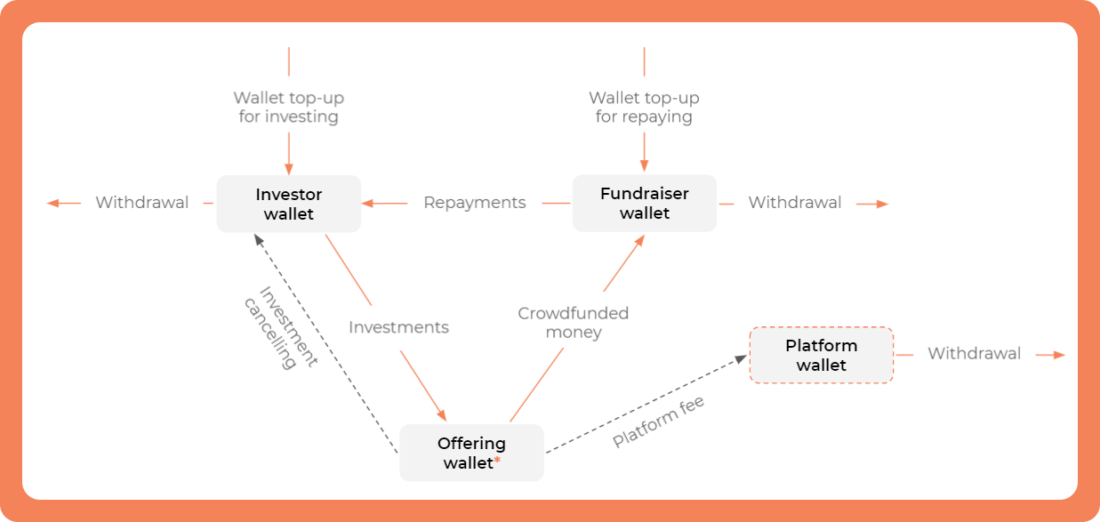 In this case, a crowdfunding platform either has the necessary permissions to manage clients money or works with a payment processor. In the latter case, the payment processor provides a tech solution which is connected to the crowdfunding platform via an API.
In any way, the wallet on a crowdfunding platform, enables investors to top up the balance and invest later or even configure auto-investing or robo-investing if this functionality exists.
Having connected the bank account, the investors can access the transaction history and monitor their money flows in the investor's dashboard on a crowdfunding platform. They can also request withdrawals or refunds, trade their securities on a secondary market or even work with crypto and tokenized assets.
Direct vs wallet based which method is more cost effective?
From the technical point of view, it's harder to configure the wallet-based flow and thus more expensive.
A separate dashboard for investors and fundraisers allows them to monitor their balance and make certain financial decisions, so it takes time to configure and connect a third-party payment processor as well as make sure the wallet works according to the business needs.
If you're working with pre-funding options or want to configure robo-advisory or auto-investment rules, asset tokenization or secondary market trading, then you should probably use wallet-based crowdfunding.
In other cases, it's sufficient to work with the direct money flow which is integrated into a crowdfunding platform through such payment processors as:
LenderKit – a crowdfunding platform software with different money flow options
LenderKit is crowdfunding software for regulated investment businesses which offers both money flow options – direct and wallet-based.
To help you automate transactions and enable online money processing on your platform, we work with Lemonway and FundAmerica and also have experience integrating with PrimeTrust, Plaid, Alinma Bank and other payment facilitators.
Apart from transactions, a payment processing partner also helps with KYC/AML verification procedures and solves the compliance challenges when it comes to customer money management.
They provide an escrow account to secure the funds and conduct deals between fundraisers and investors professionally.
If you would like to build a secure and efficient crowdfunding platform based on LenderKit software, reach out to us for an online demo and we'll answer any questions you may have.