E-wallets
The funds are stored in e-wallets throughout the funding period until the payout. They add one more level of safety both for fundraisers and investors.
How e-wallets work in general
E-wallets are a sort of pre-paid accounts where users store their money.
Investors never pay any money from their bank or credit card accounts directly. When an investor wants to invest in a selected offering, they need to top-up their wallet first, which is created automatically for every user in the LenderKit platform.
Upon confirming the investment amount, the platform will exchange information with the payment gateway, which will subtract the money from an investor's wallet and transfer it to a fundraiser's wallet.
Depending on the payment solution you integrate, wallets can work online and offline.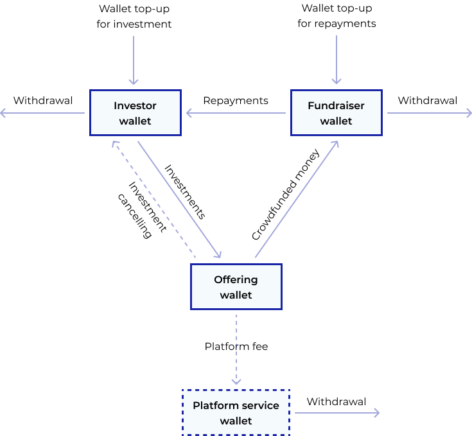 Wallet top-up for investors
Investors can top up their wallets via bank transfer, online payments, or offline.
With online payments, transactions are processed automatically and don't require the platform admin to track them and change statuses.
Bank transfers and offline payments are made directly to the platform's escrow bank account. Since banks are not connected to LenderKit, the platform admin will need to create and manage transaction statuses in the back-office. After that, the appropriate top-up amount will be reflected in the investor's dashboard.
Learn more about investment flows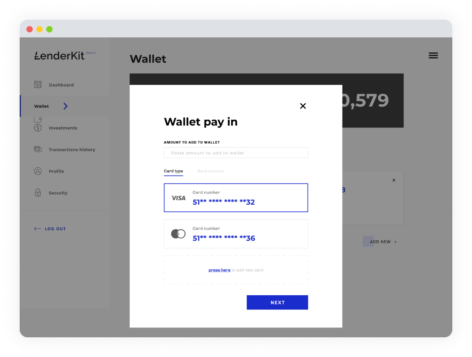 E-wallet management in user dashboard
All users on LenderKit can access and manage their money directly:
top-up e-wallets;
perform internal transfers between e-wallets;
withdraw funds from e-wallet to a bank account or a credit card;
add new funding methods.
There's no need to involve the platform admin in the process of internal transfers between the wallets because everything happens automatically.
See user dashboards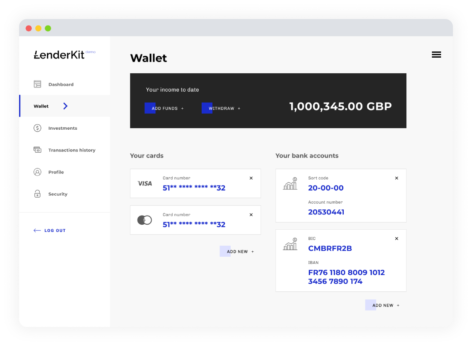 Funds withdrawal from e-wallets
Investors can re-invest the money they earned on your platform or withdraw them from the platform.
If you integrate an online payment processor, the withdrawal is made automatically with no assistance from the admin needed.
Offline payment processing means an investor has to send a request to the platform owner who then transfers the funds from their escrow bank account to the investor.
E-wallets in the back-office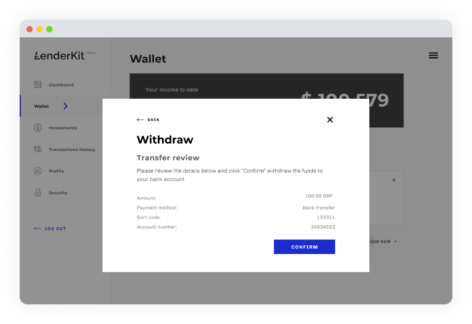 Check how wallets work with various payment providers