Investing: the core platform functionality
It includes a number of related flows needed to ensure the process works within the defined regulatory rules.
High-level overview of the investment flow
While the investment flow is straightforward for investors, there's a bunch of things happening under the hood.
Here's what's going on in a nutshell:
when an investor has chosen an opportunity and clicked "Invest", the system checks if they have enough money to invest;
if the money is not enough, there's a quick way for them to top up their e-wallet in the user dashboard;
if the money is enough, the investor enters the amount to invest and e-signs the legal agreement;
at this point, the system sends a request to the payment service asking to transfer funds from the Investor's wallet to the Offering's wallet;
if a wallet exists and there's enough money in it, the payment system will process the transfer, creating a transaction as a result.
Check available payment integrations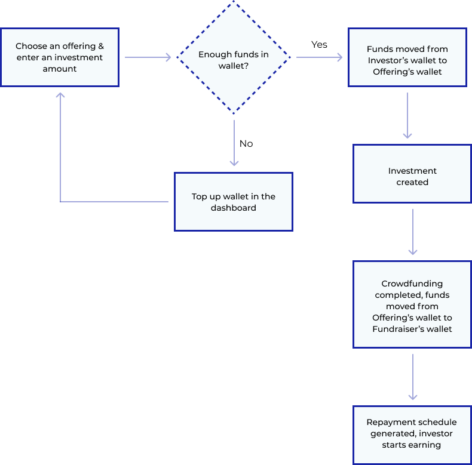 Step 1: select an offering to invest
Only registered and verified investors can invest and perform financial transactions on LenderKit. An investor that completed registration and successfully passed KYC checks can browse the opportunities on the platform and decide what they want to invest in.
The offering list provides summarised offering details, while an offering landing page gives exhausting information:
funding goal, investment terms, min investment, interest rate
the amount already raised
offering description, attached documents like, valuation, marketing plan, etc.
answers to frequently asked questions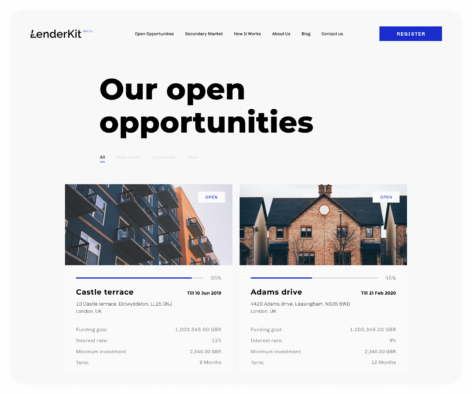 Step 2: Confirm amount for investment
When ready, an investor clicks the "Invest" button and decides how much money they want to invest. An investment could be processed online via 3rd party payment service or via offline transactions:
online payments require adding money to e-wallet and creating a representative transaction in 'Paid' status in the platform admin back-office.
offline investments require sending investor's payment details with a bank account and a unique payment reference. Once the money has been received, the admin will manually confirm the payment in the back-office.
Learn more about e-wallets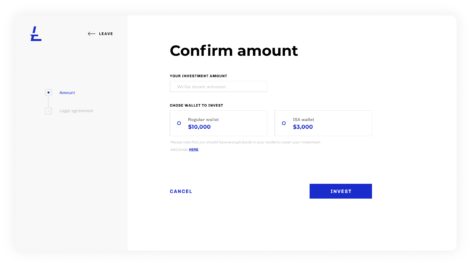 Step 3: accept the legal agreement
Once the investor has accepted the legal agreement, LenderKit will send a request to the payment system asking to move funds to the wallet of an Offering.
It will also create a new investment that will show up in the back-office as well as in the Investor's dashboard.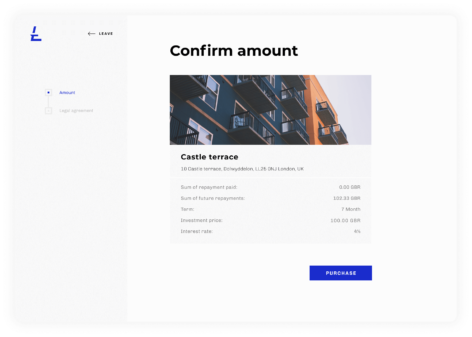 See the investment process in action