Crowdfunding in Bahrain: Launching Your Own Platform
Bahrain crowdfunding market is currently in development. With the introduction of the Conventional Financing Based Crowdfunding Regulations in Bahrain in 2017, the market started growing.
Now, on the 8th of March of 2022, certain amendments have been proposed to "further enhance" and develop the financing-based and equity-based crowdfunding sector. The new updates may facilitate the creation of new crowdfunding platforms in Bahrain and outline the refreshed rules for existing marketplaces.
In this article, we've gathered the main requirements for platforms as well as a few amendments to help businesses enter the Bahrain crowdfunding market easier.
What you will learn in this post:
Crowdfunding platform requirements in Bahrain
There are two crowdfunding models in Bahrain and each of them has different requirements and limits. We are talking about financing-based crowdfunding or "lending" and equity crowdfunding.
Financing-based crowdfunding regulations
Financing-based crowdfunding platforms in Bahrain may only raise capital for borrowers based in the Kingdom. The rules allow to raise 500,000 Bahrain dinar (BD) or around 1.3 million USD. Also, the tenor of the loan should not exceed 5 years.
In order to raise funds, the escrow account with the licensed retail bank has to be created for each issuer because the Bahrain government only allows to work with the approved banks to facilitate transactions.
One of the major requirements for borrowers on the platform is the minimum target amount they have to raise in order to be allowed to "withdraw" the money. The regulator mentions 80% of the requested funding goal, so if you're raising 100K BD, the campaign will be successful if the borrower raises at least 80K BD.
Equity-based crowdfunding regulations
When it comes to equity-based crowdfunding platforms in Bahrain, the limits are slightly different. Through an online portal, startups can raise 250,000 BD or around 660,000 USD.
However, for the real estate project the amount is the same as with financing-based crowdfunding which is 500,000 BD in a 12-month period. In 2022, the amendment was suggested to make the real estate offerings available for the retail investors.
Just like with financing-based crowdfunding, if the company that is raising through an equity crowdfunding model doesn't reach 80% of the target amount, the platform will have to refund all the investors. This puts certain marketing pressure on the campaign offering, however, it also seems like cross-border operations are allowed.
In terms of the time requirements for the equity crowdfunding offers in Bahrain, they shouldn't last less than 10 days or over 3 months. And if the offer wasn't successful or hasn't reached the 80% mark, then the platform should refund the money to investors within 7 days.
How to get into the Bahrain crowdfunding sandbox to obtain the license
Similar to other countries such as Saudi Arabia or United Arab Emirates, a crowdfunding sandbox in Bahrain also exists. The official website of the Central Bank of Bahrain has an online form submission portal where you can select which license type you need.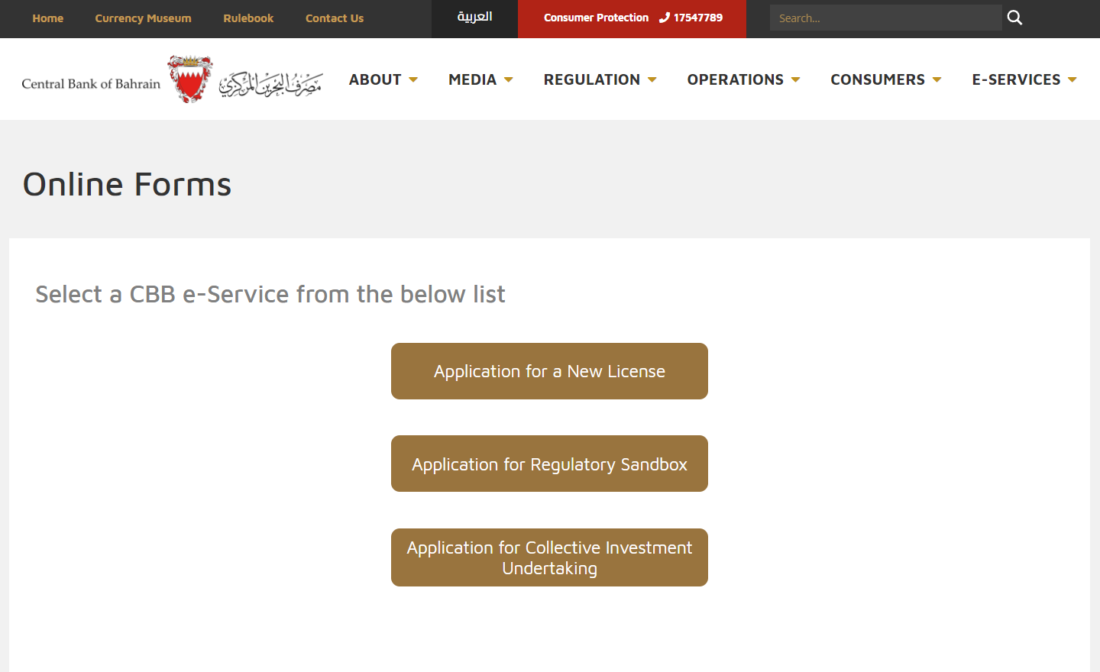 To apply to the regulatory sandbox, platforms need to fill in the form where they disclose general information about the business and why it needs to apply to the sandbox. As with any other sandboxes, the business should also outline any relevant KPIs and what it's going to do after the "sandbox test" is completed.
The sandbox lasts up to 12 months and can be extended upon request and approval. Basically, you apply to get the temporal license which allows you to operate a crowdfunding platform in Bahrain and run your business. The flow of applying for the Bahrain crowdfunding regulatory sandbox looks like this: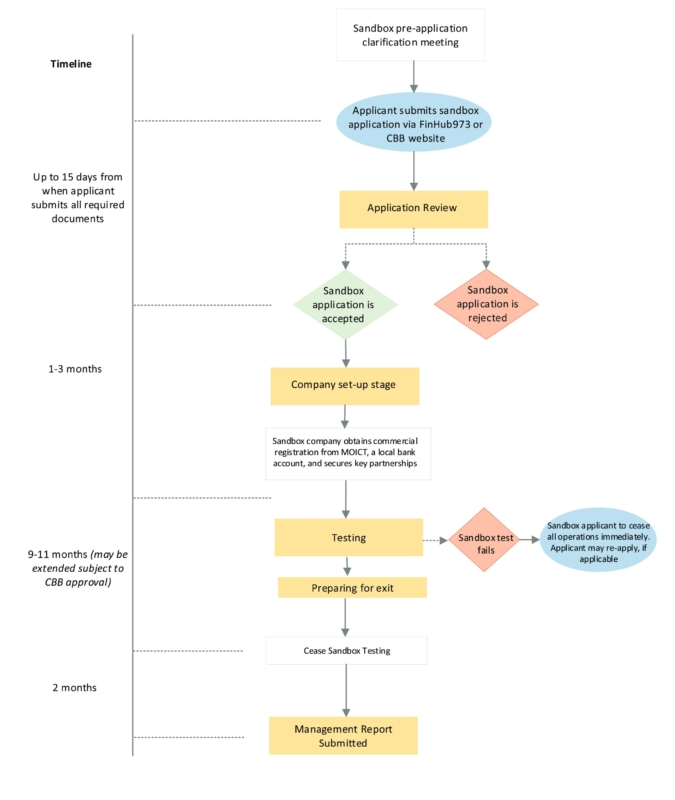 Bahrain crowdfunding platforms
Currently, there are several crowdfunding and investment platforms in Bahrain that applied for the license through the regulatory sandbox and are listed in the register.
| | |
| --- | --- |
| Platform | Type |
| Suyula | Receivables financing, debt arrangement, inventory financing |
| Amal Invest | Shariah-compliant investing for muslims |
| Raseed | Stocks investing |
| Tasleefa | Loan aggregation |
All platforms are at different development stages. Some platforms are operating in Saudi Arabia and are also looking to get a license in Bahrain to grow their business. Also, a few platforms are getting the license for this market specifically.
Suyula
Suyula is a debt crowdfunding platform from Saudi Arabia, however they applied for the license in Bahrain as well. According to the website, they are currently waiting to get their CMA license.
Amal Invest
Amal Invest is a shariah-compliant investing app for muslims which is backed by Y Combinator that aims to transform the funding model for early stage startups.
The Amal Invest app is designed for stocks and funds investing to take the "due diligence and compliance" burden off the investor's shoulders. According to the site it also provides automatic trading with zero fees.
Raseed
Raseed Invest is a fractional shares investment marketplace with real time trading opportunities. They offer ETFs and stocks investing for all types of investors with "any" dollar amount to get started.
Tasleefa
Tasleefa is a loan aggregator that works with banks and other financial institutions to satisfy the borrower requests for a loan. They also work with borrowers that are on the ASNEF list.
Current crowdfunding market condition in Bahrain
Either we didn't find any "traditional" online crowdfunding platforms that work with startups and real estate projects or they lack good SEO presence.
Nevertheless, the market is very much alive and will probably develop in the near future. On one hand, the amendments to Bahrain crowdfunding regulations will stimulate other crowdfunding platforms in neighboring markets such as Saudi Arabia, Oman and UAE to consider getting the license in Bahrain. On the other hand, new crowdfunding platforms should enter the market if there's enough investor appetite as well as startup or real estate financing demand.
Crowdfunding software for starting a platform in Bahrain
If you're looking to start an investment marketplace for SMEs or real estate in Bahrain and need white-label crowdfunding software with customizations or even want to build a platform from scratch – consider LenderKit.
At LenderKit, we've worked with companies in the MENA region like Forus, NEOM and others, so we have experience of building software solutions for startups and large brands.
From the technology standpoint, we help you to fill in the Sandbox Application and prepare the wireframes, set up a demo environment and other stuff which you may need to apply to the sandbox and get licensed.
You can check the LenderKit tour or contact our fintech strategist directly to consult on setting up your crowdfunding platform in Bahrain.