Crowdfunding in Italy: Regulations, Platforms and Market Potential
The Italian real estate crowdfunding platforms raised €99M for 272 projects in 2021 with equity and lending platforms raising €42M and €57M respectively.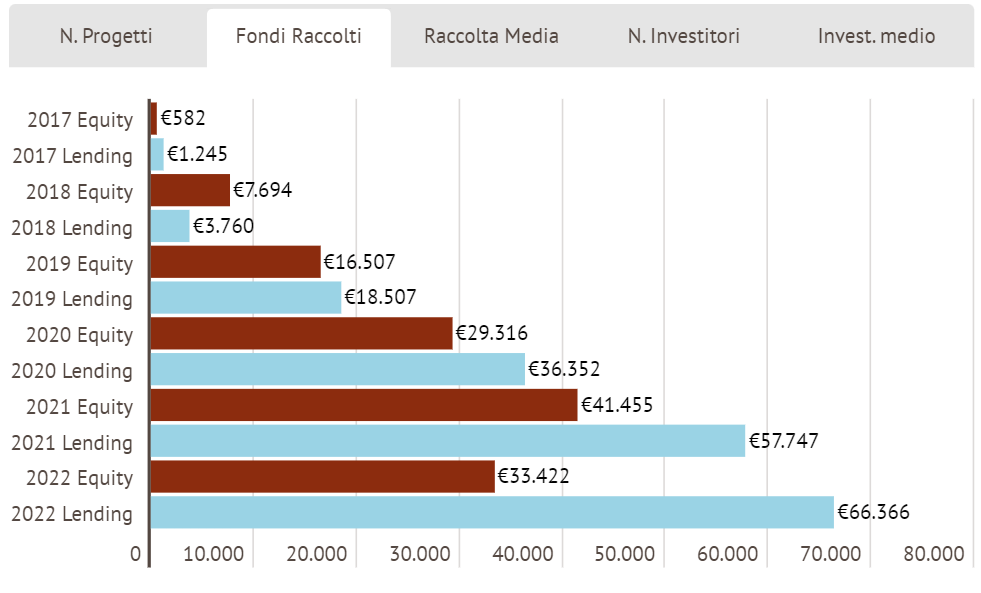 If we are talking about startup fundraising, equity crowdfunding in Italy grew by 11% and accounted for €142M from 2021 to 2022.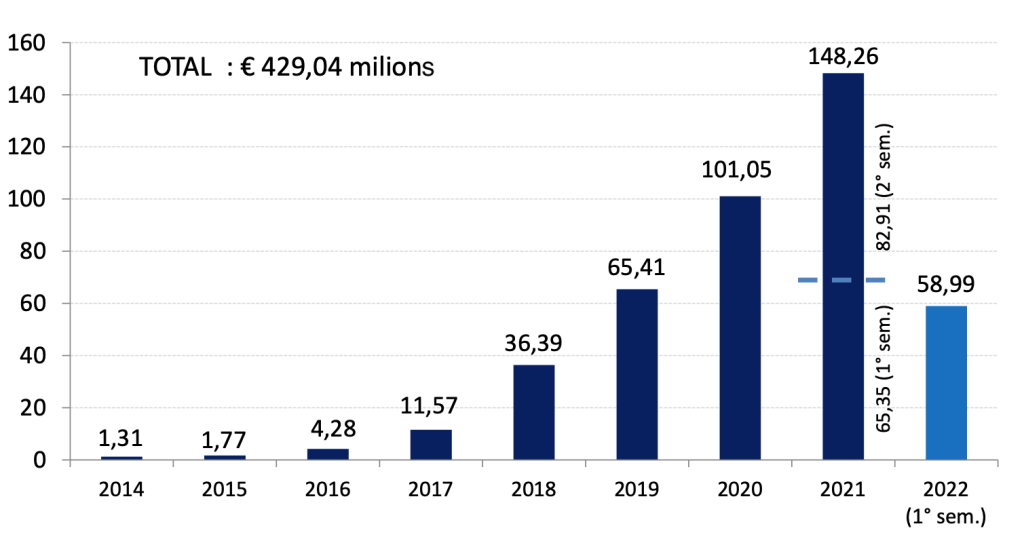 Despite a decline in 2022, these numbers demonstrate that Italian crowdfunding has been in good health so far which means that it might be the right time to launch your own crowdfunding platform in Italy. 
What you will learn in this post:
Crowdfunding regulations in Italy
All crowdfunding platforms in Italy are regulated by Consob. You can find the full listing of the registered crowdfunding platforms in Italy on the official website.
The regulator has adopted a two-year transition plan to move from the current Italian crowdfunding regulations to ECSRP. On November 10, 2023, all platforms will be required to operate based on the new pan-European legislation. Consob introduced an implementation plan for 2022 to enable a smooth transition for crowdinvesting portals to the new rules.
Considering that the crowdinvesting market in the country was well-segmented and highly specialized, the transition shall not be a challenge. The fundraising threshold of €5M per year was already established, as well as the differentiation between accredited and non-accredited investors.
P2P lending platforms in Italy
P2P lending in Italy is leading the sector in terms of capital raised with over €57M compared to €42M raised in equity crowdfunding in 2021. The major players in the lending crowdfunding market are the following portals.
Recrowd
Recrowd was founded in 2018 and enabled investing in real estate projects for as little as €250. The platform offers investors six types of projects to invest in. These projects differ in the matter of risk, minimum capital, duration, and return.
Recrowd is the first platform that included personalized negotiations of the rate at which funds can be lent between the fundraiser and the investor.
Prestiamoci
Prestiamoci is a P2P lending platform that makes investing in the personal loan market accessible for everyone. It enables fast, easy, and transparent ways for investors to lend capital to individuals.
Equity crowdfunding platforms in Italy
Equity crowdfunding in Italy makes an impressive share of the market in the country. Based on the number of projects, the major equity crowdinvesting platforms in Italy are Walliance, Concrete Investing, Build Around, CrowdFundMe, Backtowork24 and Mamacrowd.
Walliance
Walliance crowdinvestment platform aims to make investing in real estate as transparent as it is possible. Investment is accessible through various financial instruments, including Equity, Lending, and Debt.
The company started operating in the Italian market in 2017, but its history started much earlier. The platform took its first steps from Bertoldi Group, a company operating since the sixties and known for its strong positions in the real estate sector. So from its launch, the company has already a solid base in the real estate sector.
Walliance was the first crowdinvesting platform in Italy that got authorization from Consob to raise capital for real estate projects online. In January 2020, it became the first Italian platform authorized to operate on the territory of another country – France.
One of the main distinctive platform's features is its focus on Corporate Social Responsibility. It is reflected in many areas of the platform's operation, including the selection of projects. And it is one of the reasons why all the fundraising campaigns launched on Walliance were 100% funded.
Concrete Investing
Concrete Investing enables everybody to invest in real estate. But considering that the minimum investment is €5,000, it becomes clear that most likely, the platform's offerings are suitable rather to accredited investors only.
BuildAround
BuildAround is an equity-based crowdinvesting platform authorized by Consob that offers the best real estate opportunities for people able to invest at least €1,000 even though the majority of projects set the minimum limit of €5,000. It means that the platform is more likely to be used by accredited investors only.
Mamacrowd
Mamacrowd positions itself as one of the most important Italian platforms that enable equity crowdfunding investments with as little as €200. The platform works with both accredited and non-accredited investors. Mamacrowd focuses on innovative projects such as promising startups, innovative SMEs, etc.
CrowdFundMe
Another leading Italian crowdinvesting platform funded by Bertoldi Group, CrowdFundMe, focuses on startups and established companies. Both accredited and non-accredited investors can use the platform to make investments starting from only €250.
Backtowork24
Backtowork24 equity real estate crowdfunding platform enables both accredited and non-accredited investors to participate in the funding of real estate projects with as little as €500.
How to launch a crowdinvesting platform with LenderKit
If you want to start a crowdinvesting platform compliant with Consob crowdfunding rules and facilitate compliance with the ECSP regulation, consider using LenderKit crowdfunding software. It's equipped with a ready-made EU regulations module and can be fully customized to fit the Italian crowdfunding regulations.
Apart from the complete deal management, LenderKit features offer regulation settings, EU investor categories, investor assessment, acceptance criteria, key investor information sheet, and other important details.
You can launch your Italian crowdfunding platform with equity, debt, donations, or reward-based flow or combine them. The extensive set of readily available functionalities from user onboarding to funds disbursement enables you to launch the platform right away.
Request a demo from our team to see the flow or check out our online tour to get an idea of how LenderKit works.