Crowdfunding in Norway: Software Providers, Regulations, Opportunities
During the global lockdown, Norwegian crowdfunding market has demonstrated stable growth.
As Rotem Shneor states in his Twitter, the market crossed the NOK 500m milestone in the first three quarters of 2020. It's more than the annual funding volume of the entire 2019 (NOK 442m). 
The majority of 2020 volumes (71%) come from investment models (equity crowdfunding and debt-based lending). Donations and rewards take one-third of the market, which is also a lot.
The bright future the experts predicted for Norwegian alternative financing in 2019 seems to be already here. The Kingdom is catching up with European crowdfunding leaders (France, Germany, Netherlands, and Italy). And who knows, maybe in the nearest future, it will become famous not only for fjords and northern lights.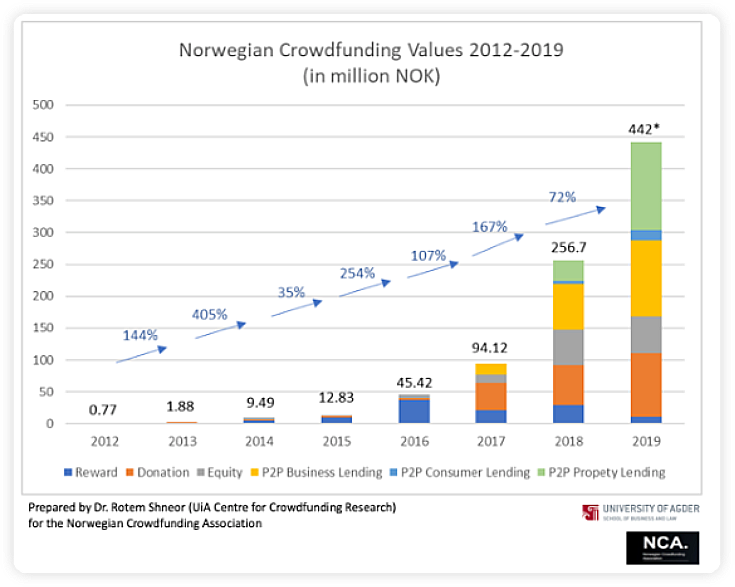 What you will learn in this post:
Norway crowdfunding market overview
Denmark, Finland, Iceland, Sweden, and Norway create the Nordic crowdfunding market.
In 2017, the Nordic market was ranked as the third largest market in mainland Europe.
Although Norway is a highly digital country, until 2018-2019 it didn't see a crazy boom of alternative financing.
While the European market for investment crowdfunding grew with more than 80% only in 2016, the market in Norway showed zero growth from 2013 to 2016.
During 2017-2018, the industry saw impressive development, especially in investment crowdfunding.
Today's Norwegian crowdfunding market looks like a pie with the biggest pieces of p2p property lending (31%) and business lending (27%).
P2P loans and rewards have the smallest share.
So, if you're planning to open up new business horizons, consider empty niches.
Compared to other Nordic countries, Norway takes the 2nd place in donation crowdfunding. Finland is the leader on the equity crowdfunding market, Denmark – p2p property lending, Sweden – balance sheet consumer lending.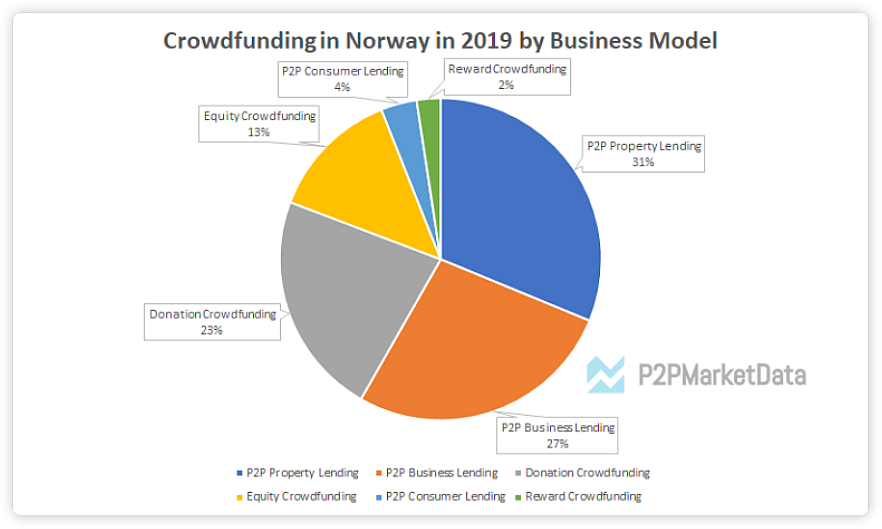 The toplist of crowdfunding platforms in Norway
As of 2017, there were 14 locally-based platforms and 7 foreign-based platforms operating on the Norwegian market.
Debt crowdfunding in Norway is presented by Monner.no, FundingPartner, Kameo, PERX, and Kredd.
DealFlow, Folkeinvest, and SparkUp are the most famous equity crowdfunding providers.
The sector of donations & rewards includes Bidra, Spleis, and Startskudd.
Monner.no
It's the largest fundraiser for SME businesses in Norway. Investment limits: min – NOK 1K, max – 20% of the total loan amount. The platform supports growth projects, acquisitions, and working capital among others. 
Kameo
Kameo facilitates real estate lending in Norway at a minimum investment of  NOK 500. There are different kinds of real estate loans on the platform: building credit, housing loans, bridge loans, renovation, business loans, rental property among others. 
Funding Partner
It's another provider of SME business loans to Norwegian companies. The platform requires a minimum investment of NOK 1K. Available fundraising options: business development, acquisition, financing of property, working capital, new investments, and debt restructuring.
Dealflow
Dealflow, a Bergen, Norway-based company managing a crowdfunding platform was founded in 2017. Dealflow helps entrepreneurs to get money, cheap and efficient through crowdfunding campaigns. Deal Flow is a fully digital and self-service platform where companies can sell parts and get money to grow further.
Folkeinvest
Folkeinvest facilitates capital raising for companies seeking amounts below NOK 20m. Backers can support early-stage companies through the platform. The main goal of the company is to contribute to safe and efficient trading of securities in young companies, which provides good returns for customers, issuers and investors.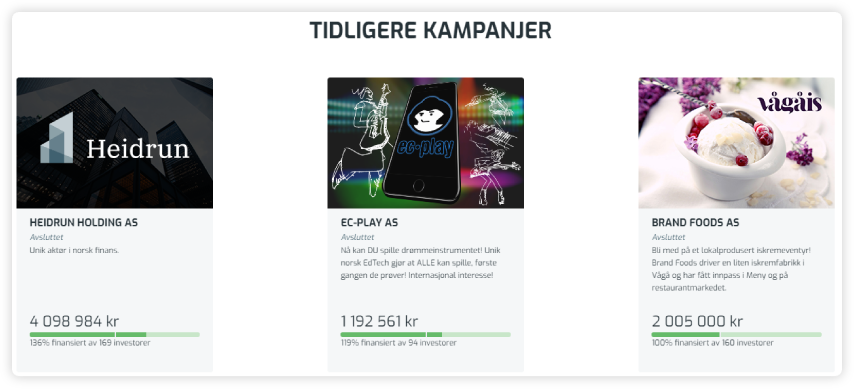 Bidra
Bidra has been helping good deeds and exciting projects in getting funding since 2014. A crowdfunding campaign on this platform is both marketing, testing of an idea and financing production at the same time. Bidra is Norway's leading provider of technology and services for public financing (PaaS).
Startskudd
Startskudd.no is a platform for public financing. Campaigns are created on the platform and shared via social media to ask for support. Donors who support the project often receive rewards such as discounted products, invitations to launch, or honours.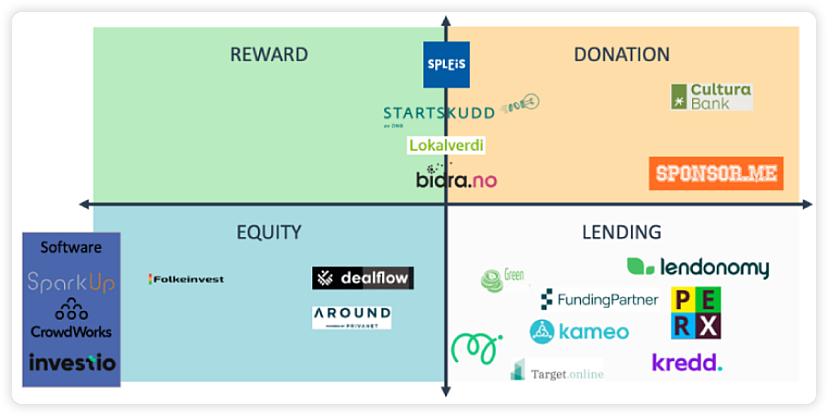 Norwegian crowdfunding regulations
Up to spring 2018, there had been a lack of regulations regarding crowdfunding in Norway.
It's an interesting fact that in February 2017, the Norwegian Financial Service Authorities (FSA) sent a letter to the Ministry of Finance claiming that there's no need for specific regulation for crowdfunding platforms.
The providers should, like other financial organisations, adapt their businesses to current regulations.
As experts state in "Norway Fintech Laws and Regulations 2020" report, at tha time the local regulatory environment presented a challenge to Fintech businesses. 
Therefore, in 2018 a specialised regulatory sandbox was created to let industry players test their innovative products, technologies and services on a limited number of customers.
The  Financial Supervisory Authority of Norway (FSAN) became the chief regulator of this process.  
FSAN is an independent government agency building international standards for financial supervision and regulation. Laws and decisions are made by Parliament (Stortinget), The government, The Ministry of Finance (Finansdepartementet) (MoF).
In the survey conducted by the CCAF in 2019, 67% of debt-based crowdfunding providers and 75% of equity fundraising businesses admit that the current regulation is excessive and too strict for their platform activities.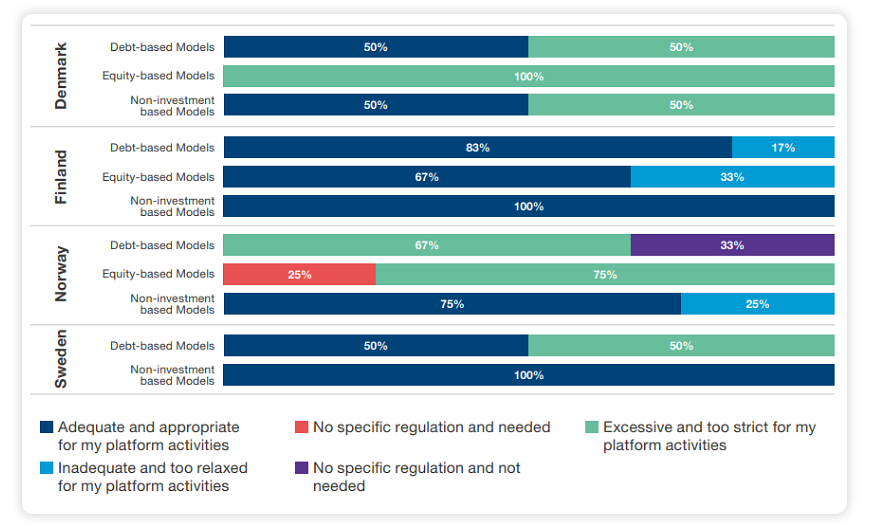 How can you take up debt crowdfunding in Norway?
The crowdfunding platform provider usually qualifies as a loan intermediary, which does not require authorisation but has to register with the Norwegian Financial Supervisory Authority in accordance with section 2-18 of the Financial Institutions Act of 10 April 2015 no. 17.
Recently the Norwegian Ministry of Finance has adopted a new regulation on debt-based crowdfunding  to mitigate the uncertainty regarding the financial market participants.
According to updated legislation, lending up to NOK 1m per year per lender will not qualify as financing activity.
Platforms offering equity crowdfunding in Norway only need authorisation as a bank or financing company if they also conduct financing activities.
Norwegian authorities have not been formally engaged in efforts of revisiting existing legal frameworks. Thus far, authorities have allowed equity crowdfunding by a few Markets in Financial Instruments Directive (MIFID) licensed platforms that have sent notifications.
The revised MiFID is commonly referred to as MiFID II.  MiFID II compliance is a prerequisite for a licence to operate investment services within the European Union.
MiFID II mainly impacts the disclosure of information to customers, product governance rules, inducement regime, execution rules, pre-trade and post-trade transparency rules, transaction reporting, and trading obligations.
Check up our tips on how to license a crowdfunding platform.
Challenges and opportunities of the industry
Several obstacles are preventing the Nordic crowdfunding market from transformation to a mature landscape.
Consider the below concerns before entering the market:
the risk of collapse of one or more platforms due to malpractice (the same that happened with the Swedish prominent debt platform in 2015);  
the risk of an increase in default and business failure rates since clients may be  may be too sensitive to bad news
concerns regarding potential changes to regulation, both at EU and national levels (in Norway, the legislation tends to become even tougher)
possibilities of cybersecurity breaches

The market players invest lots of time, money and efforts implementing innovations into the fundraising process.
The majority of efforts are targeted towards performance enhancement technologies.
75% of Nordic platforms are streamlining and automating business flows, 66% – enhancing payment processing, 53% – discovering artificial intelligence opportunities.
Also, companies strive to improve customer service and management systems.
Building crowdfunding business from scratch with LenderKit
You can kick-start your equity or debt-based fundraising platform in any of the Nordic countries using LenderKit, white-label crowdfunding software that can be customized according to your needs. 
The average price for building a crowdfunding online portal is EUR 89K. It consists of crowdfunding software (license) and minor customizations. With extensive additional functionality the prices usually go up to EUR 150K or higher. 
The crowdfunding software costs range depending on the solution (SaaS-based white-label or custom). The first is cheaper yet not so bespoke as the second one.
With LenderKit, flexible white-label crowdfunding software, which is non SaaS, you can create an online platform for p2p lending, equity crowdfunding, and real estate investing.
LenderKit has everything you need: smooth user onboarding, admin dashboard, functionality for the automated KYC/AML checks, third-party integrations, secondary market and more.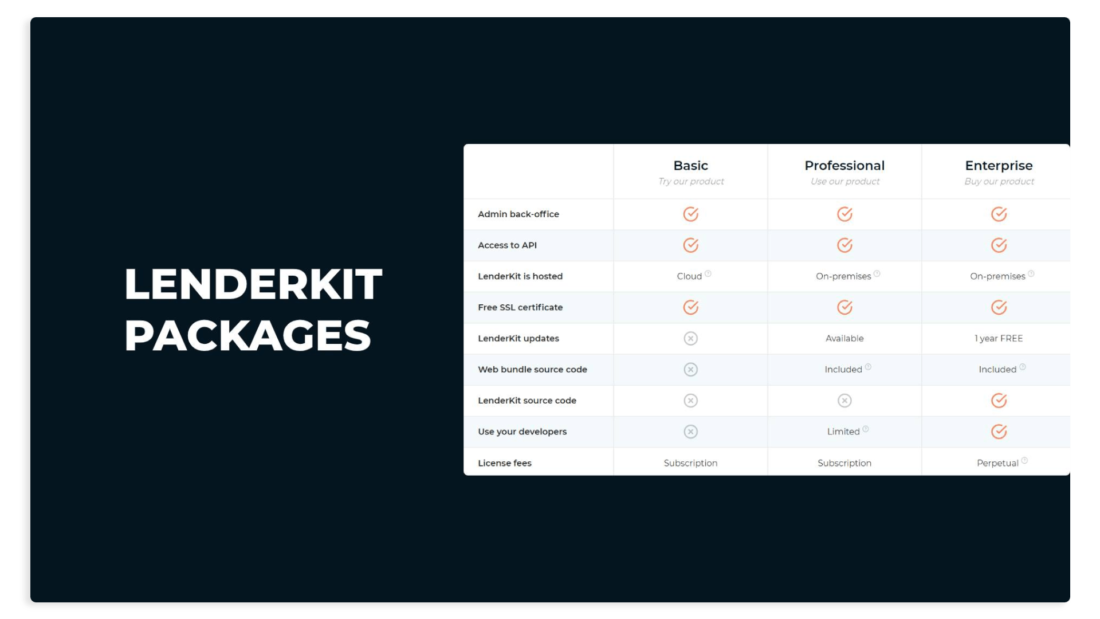 Learn more about the LenderKit Packages
Wrapping up
The Norwegian crowdfunding industry is evolving rapidly and provides many opportunities for new entrants. The largest sectors are p2p business loans, crowdinvesting, and property lending.
Due to the regulatory limitations, p2p consumer loans aren't popular and take only 4% of the whole market.
The greatest challenge for existing and new players is tight regulation. However, financial authorities have already started reconsidering current laws and rules to adapt them to alternative financing.
If you need tech advice, don't hesitate to reach out to us.. We'll get back to you shortly.