Crowdfunding in Saudi Arabia: CMA vs SAMA
There are two official entities that regulate crowdfunding in Saudi Arabia – the Capital Market Authority (CMA) and the Saudi Arabian Monetary Authority (SAMA). Both organisations are united and aligned with the Saudi Arabia Vision 2030 which aims to transform and diversify the KSA's economy.

In addition to that, CMA has its own mission named "Financial Leadership Program 2020" that was initiated and agreed with SAMA. This program aims to create a sustainable ecosystem for all types of investors and facilitate the development of the commercial and non-commercial investment market.

In this article, we'll outline the major differences between CMA and SAMA that will be useful for:

What you will learn in this post:
What is SAMA and CMA and how are they different?

SAMA, the Saudi Arabian Monetary Authority, is the central bank of the Kingdom of Saudi Arabia.

It's responsible for regulating the financial markets in the KSA, ensuring the safety and soundness of the financial relationships of different organisations and individuals. In addition to that, SAMA monitors and regulates the activities of entities working under CMA.

CMA, Capital Market Authority, is the governmental financial regulatory authority responsible for supervising, regulating, and instructing the organisations in the capital market.

While this looks clear, there is a not-so-clear difference between the two organisations when it comes to understanding the specifics of the crowdfunding market in the KSA. At least, not at first glance.

Understanding CMA and how it regulates crowdfunding in Saudi Arabia

Just like SAMA, CMA has its own regulatory sandbox – FintechLab – which permits early-stage crowdfunding platforms to enter the market under experimental licensing options.

Some entrepreneurs may confuse the two sandboxes due to similar application processes, forms, requirements, and missions of the organisations. However, there is a difference that you should understand if you want to increase your chances of applying and going through the sandbox successfully.

According to CMA's Financial Leadership Program, the company is focused on equity crowdfunding:

"The Capital Market acts as a platform for the transformation of successful family-owned businesses and sole proprietorships into joint-stock companies, in addition to contributing to their sustainability and growth. Further, listing these businesses in the Capital Market leads to separating ownership from management."

To ensure, you may review the Permitted Fintechs listed at the official website.


In this image, you can see that there two types of platforms currently listed on the website:

Equity crowdfunding platforms
Robo-advisors
However, equity crowdfunding is not the only thing that CMA is focused on. Apart from that, it focuses on creating a solid ecosystem for SME and real estate development by allowing individual and institutional investors to collaborate. Here is an excerpt from the list of CMA initiatives which will be interesting for:

Private equity and venture capital firms
REIT specialists
Firms looking to build a crowdfunding platform in Saudi Arabia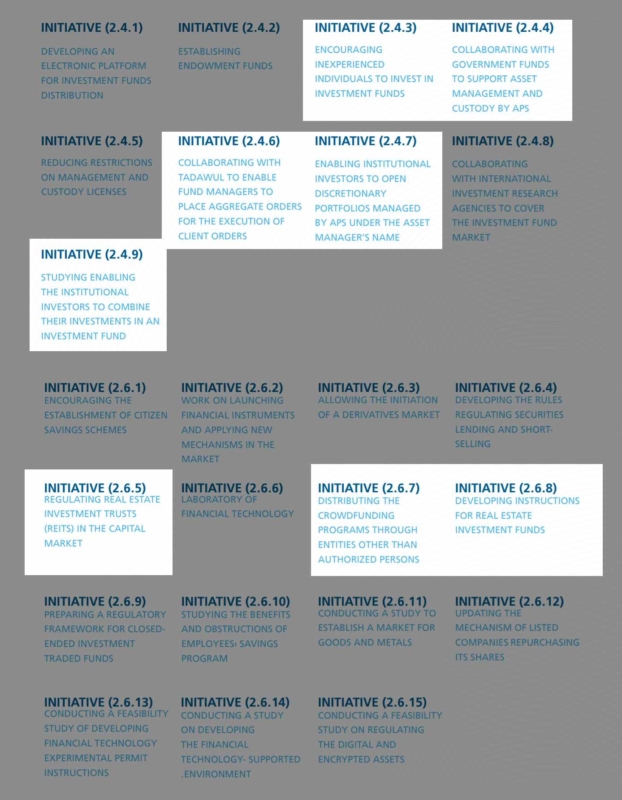 How SAMA regulates crowdfunding platforms in Saudi Arabia

As a monetary authority, SAMA regulates payment processing providers, exchange platforms, and debt crowdfunding platforms. There are potentially many more service providers SAMA can regulate, but these are the ones currently listed among Permitted Fintechs.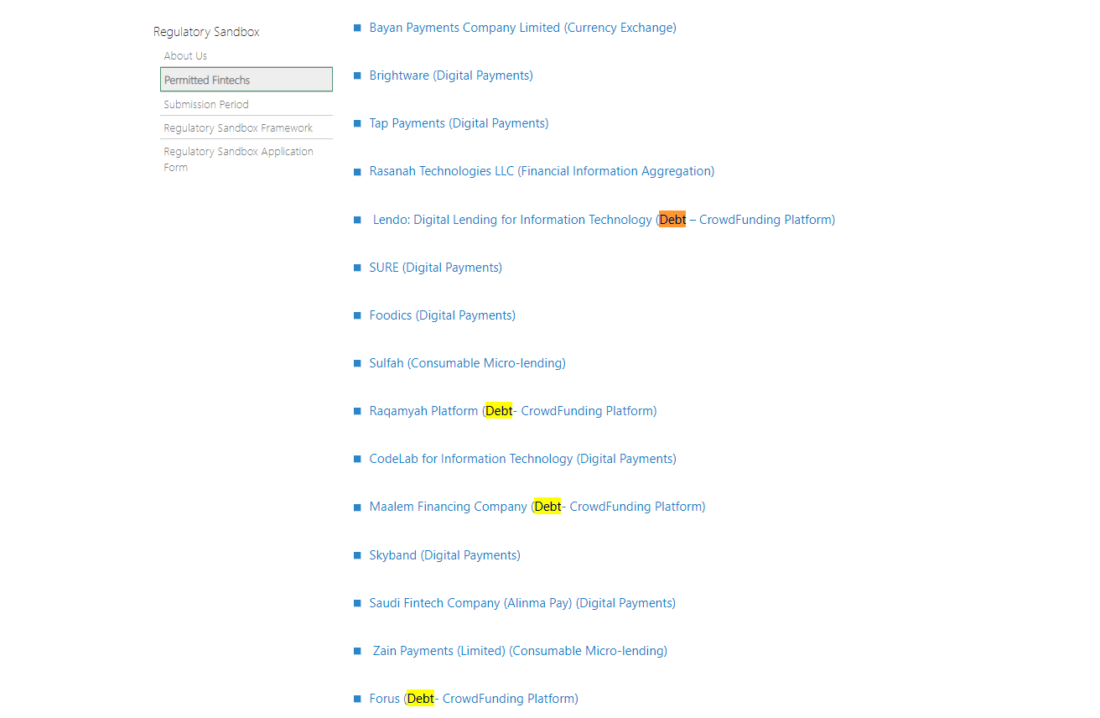 While CMA is focused on developing the capital markets, SAMA is responsible for regulating the financial sectors of the KSA. In their Regulatory Sandbox Framework, SAMA clearly defines its goals to ensure direct and indirect benefits to consumers, innovators, and the organisation itself. However, to be able to enjoy the benefits of the Sandbox, you have to prove that you're eligible.

When applying to the Regulatory Sandbox, firms should comply with the list of requirements and fill in the application form.

Learn how to apply to SAMA
CMA or SAMA where to register your crowdfunding platform?

If you're launching an equity crowdfunding platform – apply to CMA, and if you're creating a debt crowdfunding platform – apply to SAMA.

Is there any proven crowdfunding software which can help you enter the Saudi Arabian crowdfunding market?

LenderKit is a customisable white-label crowdfunding software which can be used to apply to the regulatory sandbox. The structure of the platform can be divided into 3 core components:

Admin back office
Web portal for investors and borrowers
Marketing site
All of the crowdfunding software parts are connected but can be decomposed and customised to your business needs, your design preferences, functionality, and regulations.

In our practice, we have at least one company that is currently using LenderKit in the sandbox environment – Forus.

Forus is one of the debt crowdfunding or P2P lending platforms currently registered in the Saudi Arabian Sandbox.

Headed by Nosaibah Alrajhi, the CEO and Co-Founder at Forus, and Abdulwahab Majeed, the CTO and Co-Founder at Forus, the P2P lending platform provides individual investors with opportunities to invest in SMEs using debt instruments.

How can LenderKit help you get started with crowdfunding in Saudi Arabia?

While being a crowdfunding technology framework, which we use to build crowdfunding platforms for real estate investing or SME financing, our team can also offer you support and guidance with the Sandbox Application.

Our business analysts will work with you closely to transform the requirements into business documentation and software specs which will be essential if you decide to apply to the sandbox.

If you have any questions and would like to collaborate, you may start exploring our solutions.
And if you'd like to talk with one of our experts, drop us a line at lenderkit@justcoded.com.