Financial Advisors in Crowdfunding: How They Work
A financial advisor is a person or a company who consults others about the value of securities and the potential benefits of investing in them. A financial advisor performs, upon request or as a part of a regular business, analyses or reports on specific securities.
There are financial advisors who help investors to make the correct investment decisions and those who help to push crowdfunding campaigns to their financial targets. Let's have a look at how these types of investors work.
What you will learn in this post:
Crowdfunding campaign consultants
A campaign consultant is a person or an agency that helps companies to launch, manage, and promote their crowdfunding campaigns. If you hire a crowdfunding campaign consultant, you can count on the following benefits:
Years of experience and knowledge the crowdfunding consultant has built up while working in the field.
An extensive network of influencers and journalists of the consultant that help to get the desired visibility for the campaign.
A strong portfolio of digital materials such as marketing strategy and insights, data about the audience.
Skills in campaign promotion, video production and content creation.
Among the drawbacks are the added costs for the services and potential success fees.
In some cases, you may not need to hire a consultant at all. For example, if your funding goal is not high, or if you know how to promote your campaign, you may manage it on your own.
Not all consultants work efficiently. That's why before paying for the service, it is important to check whether the consultant has the required resources to promote your campaign (A PR specialist, a copywriter, an SMM specialist, etc.). The success fee matters, too. For example, if out of 60 campaigns, only 10 were successful, you may want to look for a different consultant.
Crowdfunding financial advisors for investors
Crowdfunding investment advisors help investors diversify their portfolio and pick the right crowdfunding platform for investing. The platform can either focus on debt or equity.
In equity crowdfunding, companies sell securities – whether in the form of equity in the company, a convertible note, a revenue share and are considered riskier than debt instruments.
For more risk-averse investors, crowdfunding financial advisors may suggest crowdfunding platforms that focus on debt and P2P lending.
Here are few things to know about the crowdfunding financial advisors:
An ideal advisor is certified and registered
Unbiased and helps to make rational financial decisions
Helps to assess risk tolerance
Builds an optimal portfolio for risks and rewards
Suggests how much money to put in which asset classes

How crowdfunding platforms work with financial advisors
The most progressive crowdinvesting platforms are already using the services of financial advisors or are offering such services themselves. Let's have a look at how different crowdinvesting platforms work with financial advisors.
CrowdStreet
CrowdStreet created CrowdStreet Advisors – an offshoot of the investment platform that specializes in providing financial advisory services on the projects listed on the platform. The financial advisors offer clients an opportunity to diversify their portfolios with alternative investments, and the company will extend its reach in the market by promoting private real estate investment opportunities to investors.
The minimum balance on the investor's account shall be $250K, and the fee paid to a financial advisor depends on the project.
CrowdCube
CrowdCube collaborates with financial advisors through the platform's affiliate program. The platform offers its partners a referral commission which is a part of CrowdCube's fee.
The platform also collaborates with marketing and branding agencies as campaign advisors.
The fees to partners are paid after the fundraising round of the company referred by them is completed.
For investors who use the services of financial advisors, there is an option to indicate it when they register on the website.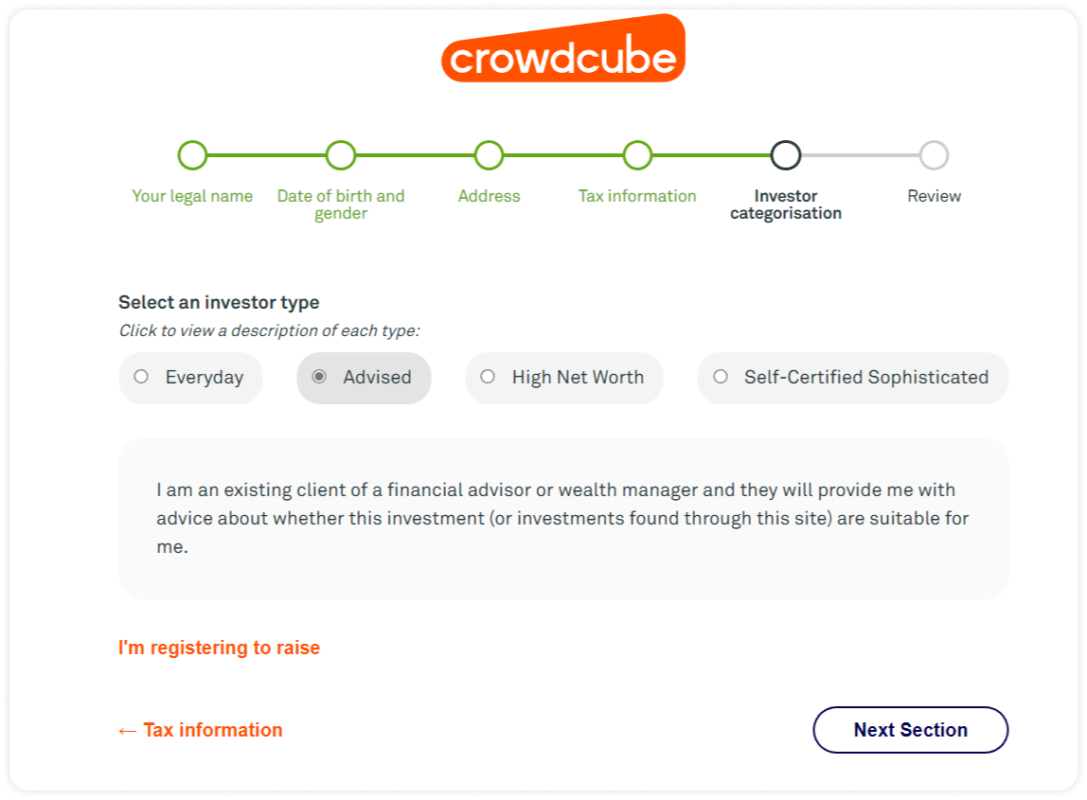 Fundrise
Fundrise is a platform that enables investors to invest in top real estate projects in the USA. The platform uses the services of Fundrise Advisors, LLC, a wholly-owned subsidiary of Rise Companies Corporation, the owner of Fundrise, an online investment platform.
Fundrise Advisors provide their services to individual clients based on a subscription plan the client has signed up for: Portfolio Investment Plan, Auto-Investment Plan, or Re-Investment Plan.
Why platforms work with crowdfunding advisors
Advisors help crowdfunding platforms attract more investors and fundraisers. On the one hand, crowdfunding campaign agencies and consultants make money on campaign promotion, but they also need a reliable platform with transparent fees and affiliate benefits to market those campaigns.
On the other hand, financial advisors often help retail and accredited investors diversify their portfolio beyond stocks and bonds and explore alternative investment instruments to build and preserve their wealth.
Crowdfunding platforms that choose networking and partnerships as their main customer acquisition channel, it may be interesting to be technically advanced to offer their advisors better services and look professional.
LenderKit crowdfunding software has thought for your client relationships and offers better ways to serve your clients such as fundraisers, investors and advisors. We've identified the pain points that crowdfunding platforms face with campaign management, investment processing and funds disbursement and created a solution that not only helps you manage a full deal cycle, but also stand out from the competition.
If you'd like to learn more about the LenderKit crowdfunding software, reach out to our fintech strategist for more info.