How Does White-Label Crowdfunding Software Work
White-label crowdfunding software allows investment firms to launch an online portal for managing capital raising campaigns and investors.
An investment firm pays a monthly, quarterly or yearly fee for using the software under the investment firm's brand name and identity. When you're using white-label software, you can upload your logo, change the content, create landing pages, wording and colours of your platform.
The purpose of the white-label crowdfunding software is to provide a quick go-to-market solution for prototyping, applying to the regulatory sandbox or testing the market demand.
However, firms often use white-label investment software to run an actual online business for many years because it's affordable and eliminates the technical headaches because the software provider is responsible for the technical support.
What you will learn in this post:
The real idea behind white-label software
The concept of white-label software is to provide "as much as possible out-of-box". While this may sound a little too exaggerated, for crowdfunding and investment platforms that means covering full-cycle crowdfunding campaign management from investor onboarding to fundraising and payout processes.
White-label software providers compete to offer comprehensive solutions that cover compliance, payment processing, electronic document signing, identity verification and more.
Advantages and disadvantages of using white-label crowdfunding software
For the customer, a "fully-packed" solution means less headache when purchasing white-label crowdfunding software because everything is in-built and you can immediately start and run your business online.
However, the more "out-of-box" the software is, the less they want to make any adjustments to the processes and features for a particular client. In other words, for an individual customer, there's a risk of limited flexibility as well as inevitable vendor dependency or even lock-in because the software becomes mass-oriented. But again, this highly depends on the vendor's operations and business model.

Some vendors stick purely to the SaaS – software as a service model, while others tend to provide proprietary software.
Generally speaking, the benefits of using white-label software include:
Fast go-to-market
Understandable pricing model
Vendor is responsible for the technical support & updates
Expertise and consulting
Payment gateway, KYC/AML and document management come out-of-box
While the disadvantages are:
Vendor lock-in
Limited back-end and financial flows scalability and flexibility
Generic software without any actual differentiators
Limited pricing flexibility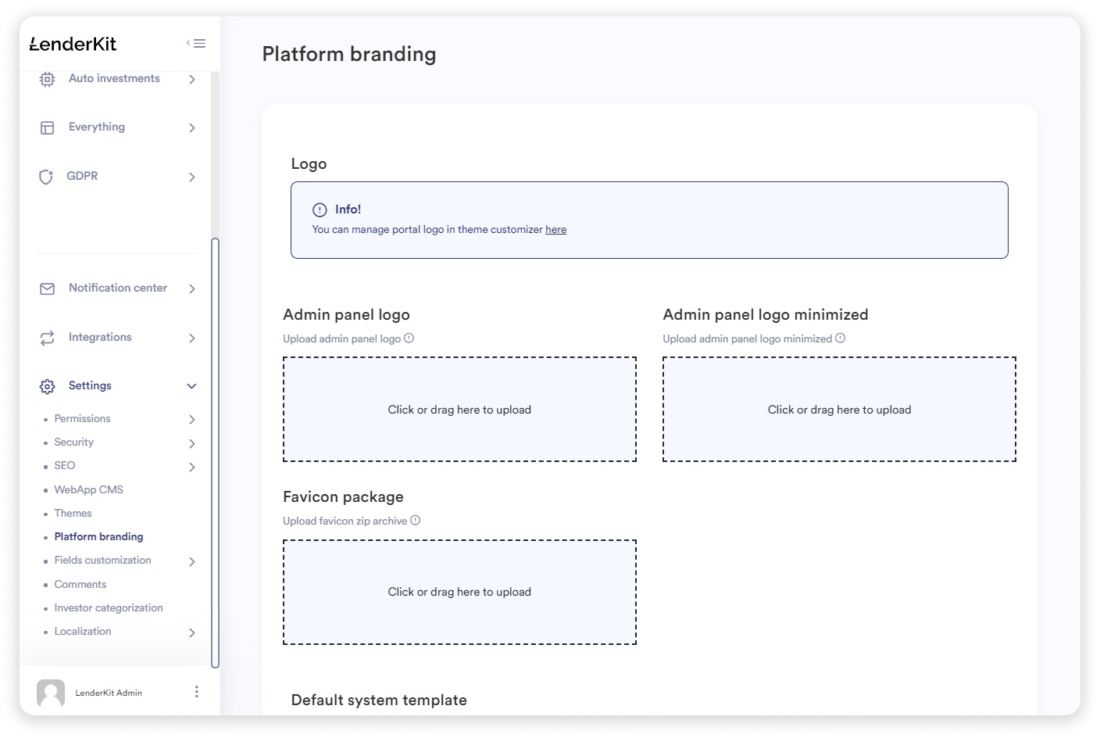 Interesting facts about white-label crowdfunding software
You can get a white-label equity crowdfunding or p2p lending platform from either an independent software provider or from a firm that has built a platform in-house and wants to make some money by leasing the software to you.
For example, Rebuilding Society is a P2P lending platform that provides services to borrowers and lenders and also offers software for similar firms unless there's no conflict of interest. They have a solution called Whitelabelcrowd.fund which is a white-label crowdfunding platform developed by the P2P lending firm itself and for their own needs.
In contrast, LenderKit is an independent white-label investment software provider, so you don't compete with us when running your business.
Can you run a successful investment business using a white-label solution?
Yes. It's possible to operate a crowdfunding platform for a long period of time using pure white-label software. As long as you stay in your niche either P2P lending or equity crowdfunding for startups or real estate and the software covers your needs and volumes, you are good to go.
The majority of white-label crowdfunding software providers don't own any of your or your customer's data, so you can safely and securely operate your business.
If at some point you decide to brand out into different markets or add other financial flows into your platform, then you may want to consider a white-label provider who offers custom development and allows you to have the back-end modified.
Usually, all white-label software providers offer modifications of the front-end (the client area), but very few provide the ability to modify the back-end (the admin area), so that's something to look into when choosing your technology partner.
Crowdfunding platforms that use white-label crowdfunding software
It's pretty easy to find examples of platforms that use white-label investment software because providers usually highlight them in their success stories or case studies.
So, always make sure to check out the portfolio to see if any similar platforms to the one that you want to build are using this solution.
Charm Impact
Charm Impact is a UK-based startup investing crowdfunding platform that focuses on clean energy investment opportunities. The platform is powered by LenderKit, so you can check out the case study and send us a request to build a similar or different crowdfunding platform.
In 2020, Charm Impact raised over £240,000 an equivalent of $329,000 on CrowdCube.
WeAreStarting
WeAreStarting is an Italian equity crowdfunding platform that is powered by Katipult, a famous Canadian crowdfunding software provider.
HarvestReturns
HarvestReturns is a US-based agricultural crowdfunding platform that is powered by CrowdEngine, an investment automation software in the USA.
SimpleCrowdfunding
SimpleCrowdfunding is a UK-based property crowdfunding platform that runs on ShareIn.
Conclusion
The above-mentioned platforms have different achievements in the industry and are currently operating their online investment businesses using white-label crowdfunding software from different vendors.
The choice of a crowdfunding software provider highly depends on your specific needs and budget. Some firms prefer having a technology partner in their own country while others are in pursuit of better pricing options or technology solutions abroad.
At LenderKit, we provide both white-label crowdfunding software and custom development services.
Our in-house team of developers includes back-end, front-end, design, project manager and business analysis specialists that are happy to provide consulting and technical support.
If you'd like to learn more about LenderKit, you may check out our YouTube channel and have a look at several videos featuring different crowdfunding platforms including:
Alternatively, you can also go through our website and learn about different solutions that we provide.