How to Start an Agriculture Crowdfunding Business
At different times, different investment industries are advertised – oil and gas, real estate, blockchain, AR/VR, and solar energy – but the real essentials remain rock-solid. As long as people need to eat, the agriculture investing industry will stay "trendy".
The agriculture industry can be divided into several sectors which you can focus on with your crowdfunding platform for farmers:
Animal production
Crop production
Food production
Farmland
Agricultural property
Technology and machinery development
Depending on your management level, marketing power, ambitions and capabilities, you can create a great alternative financing business in your country, region, and market.
Each of the above-mentioned sectors needs capital to operate and grow. The only questions are how much, what for and why. By answering these questions, you'll be able to calculate and weigh the risk-reward ratio and start sourcing projects to list on your crowdfunding platform. 
What you will learn in this post:
Understand the prerequisites for agriculture crowdfunding business in your market
The concept of crowdfunding was born on the basis of several factors:
Banks don't want to provide loans for businesses because the risk is too high or the business model is too theoretical
Financial institutions don't want to invest because of the same reasons and because profits are not always clear due to improper valuation or business strategy
While this might be true for the prerequisites of the agriculture crowdfunding business, it's still better to dig deeper into the details, understand the exact risks, profits, and motivations. Identifying these nuances will give you the context to work with, help you differentiate from competitors and position your brand.
In the US, for example, the current situation with agriculture investing is pretty tense:
Farms and ranches are under financial stress due to declining net farm income in recent years – but the households started to rely more on the off-farm income which is forecast to increase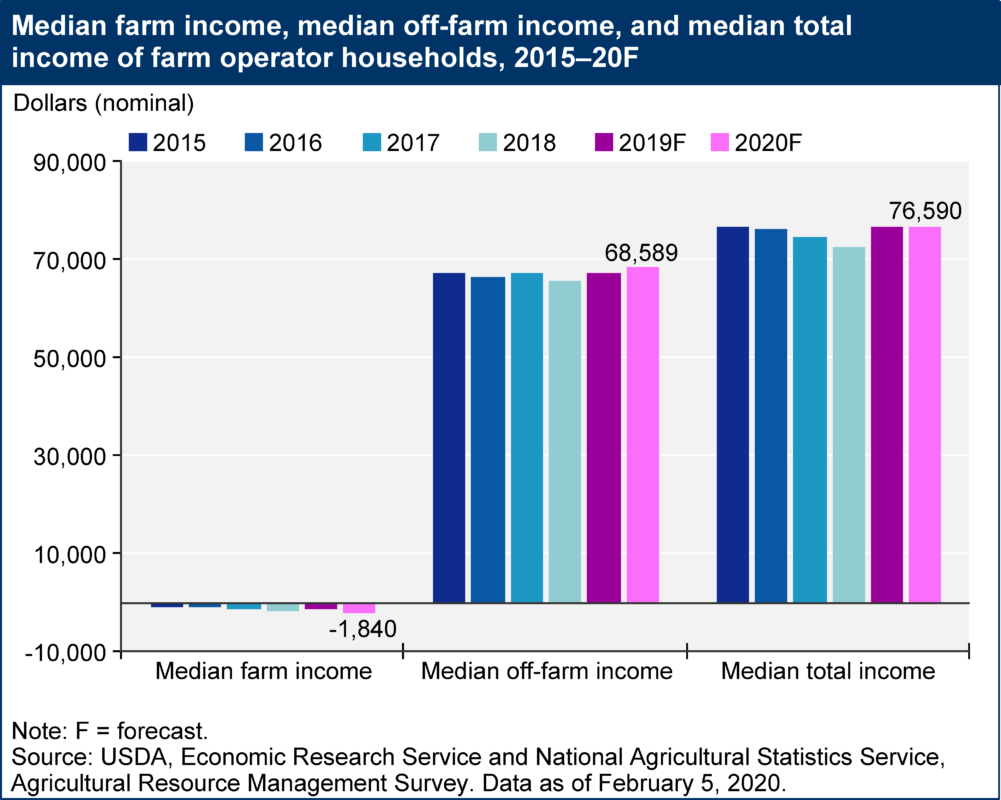 Trade uncertainty
Difficult growing season in 2018-2019
Regulatory restrictions
In response to the above-mentioned and other factors regarding the economy of the national agriculture sector, Sens. John Thune (R-S.D.) and Tammy Baldwin (D-Wis.) wrote a letter to the Senate to ask for regulatory flexibility. This flexibility concerns the "arbitrary concentration limits on agriculture portfolios" which may restrict the financial institutions' lending activities.
Similar to the US agriculture market condition, Australian regulations are also strict. The regulations got tougher after the improper farm valuations by local lenders. Very often local lenders would overvalue agriculture properties to earn higher commissions, so the decision was to restrict the lending actions and grant power to more authoritative institutions.
As stated in the article in The Conversation, this has led to certain implications:
"They [banks] don't understand how different farm lending is – or should be – to commercial and housing lending. Neither do they seem to appreciate the broader social and economic dimensions of the role they have in managing farm risks."
Banks wouldn't miss the opportunity and introduced lower interest rates to farmers, luring them to take loans. Of course, banks treated the agriculture business like any other and expected returns without tolerating volatility and uncertainty peculiar to the farming industry. The farmers who got the bait, quickly realized that they're being owned by the banks.
Study the crowdfunding and agriculture regulations in your focus-region
The further you dig into the regulatory framework of a particular country, the more details you uncover which may become either roadblocks or gateways for your agriculture crowdfunding business.
Depending on the type, P2P lending or Equity crowdfunding, your platform will be regulated differently. But that's not the only thing you have to figure out.
Your farmland crowdfunding business will be dependent on the performance of your fundraisers, so it's vital to make sure they can operate smoothly with minimum regulatory interference. As an alternative financial institution that has to repay dividends to investors, you need to understand the environment of your fundraisers better than they do.
This may sound unnecessarily complicated, but that's something that can help you diversify among the assets and agriculture business sectors at the right timing while preparing in advance to potential challenges.
Build your farmland crowdfunding marketing strategy around needs and opportunities
Farmers want a financial institution they can trust and rely upon. They don't want to be "micromanaged", controlled, and owned by that institution. In addition to that, farmers need a partner that understands them, their volatility, seasonal uncertainty and challenges. These wants and needs should be reflected in your positioning both to farmers themselves and investors whom you may have to explain these compromises.
How do you find the right positioning and offer the right solutions to your audience looking to invest in agriculture?
One way to go about it is to conduct a competitor analysis to see how agriculture crowdfunding platforms position themselves. For example, you can use Serpstat where you put a domain name of your competitor and get a whole list of them to go through individually.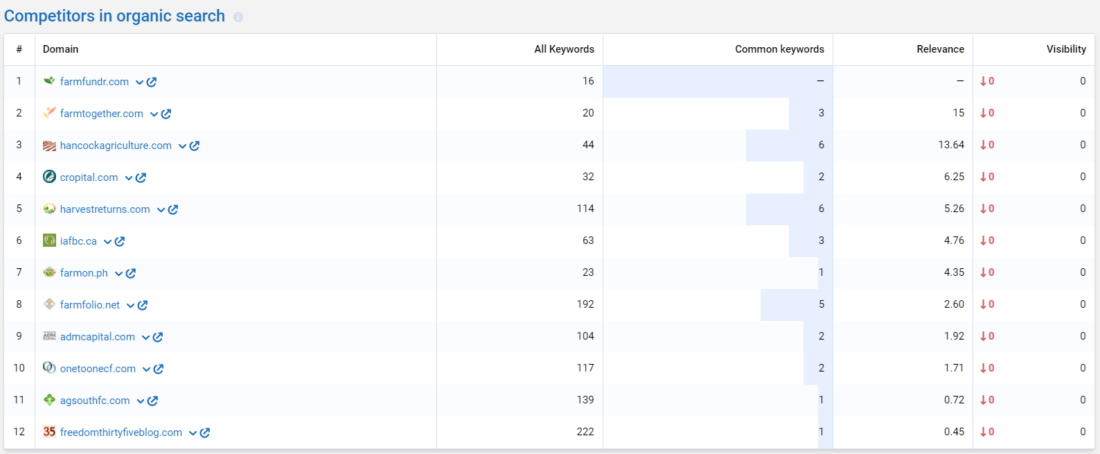 In the picture, you can see plenty of crowdfunding platforms for farmers you can analyse. If you have a marketing manager on your team, assign a task to them to go through the websites and elicit the "positioning" and "selling points" both to fundraisers and investors. But, to save you some time, here is what we've found.
What benefits agriculture crowdfunding platforms show to investors:
Little correlation to the overall stock market – your investments are safer
Lower risk of loss during market corrections – unlike farmland stocks and REITs
Returns agriculture investing beat returns from other asset classes in the long run
Relatively low entry investments usually ranging between $5,000 – 10,000
IRA (US), ISA (UK) tax-advantaged investing
A good asset class to add to your portfolio diversification strategy
Higher benefits (like fees flexibility, 1031 exchanges, etc.) for larger investment sums starting from $500,000
Returns ranging between 6-15%
What platforms promise to fundraisers:
Flexible deal structure and terms
Tax planning options
Financial reporting
Confidentiality of the information
Flexible access to capital compared to traditional sources of financing
The majority of platforms focus on similar benefits though some platforms put extra focus on particular benefits either financial, social or both. Some agriculture crowdfunding websites are targeting investors mostly while forgetting about marketing to fundraisers – farmers, farmland owners, etc. This opens opportunities for other agriculture crowdfunding platforms to better position themselves and win the market share.
Find a scalable agriculture crowdfunding platform

There are many solutions for farmland investing on the market which can be divided into several categories:
Software tailored to a particular region (licensed white-label crowdfunding software)
Software which can be tailored to any region (non-licensed customisable crowdfunding software)
The choice of the software for crowdfunding for farms depends on your specific needs, budget, and team capacity.
Thus, a licensed white-label crowdfunding software will allow you to handle these operations:
No headaches of obtaining a license because it's already included
Manage particular asset classes included in the software
Use pre-integrated payment gateways
Work with specific deal sizes limited to the license of the white-label provider
Use pre-integrated KYC/AML providers
Use off-the-shelf fees management module
Work with pre-built investment flows and deal structure capabilities
Other specifics of a SaaS crowdfunding platform for farmers include:
One-time deployment fee
Ongoing fees that you pay to the platform provider
Inability to change payment gateways or KYC/AML providers
Inability to launch operations in another country or region if the license of the software doesn't allow it
In contrast, a customisable crowdfunding software allows you to break the above-mentioned limits and create your own crowdfunding platform for agriculture. However, it doesn't mean you have to do everything alone. Usually, a service provider will advise you on the most suitable practices which work for your business.
Freedoms that a customisable crowdfunding software allows for:
Choose one or multiple payment gateways with the most optimal fees, escrow opportunities, holds, limits, and policies
Work with the KYC/AML providers of your choice
Manage integrations and connect any API which will make your work more comfortable
Set your own fees for any transaction or operation
Create a hierarchy of user roles to reflect a normal business structure and grant access rights for more security and efficiency
Other peculiarities of a customisable crowdfunding software:
Development costs and software costs
No ongoing fees
IP rights and software belong to you in the end which allows you to sell, exit, or grow your business
Ability to launch multiple businesses in different countries, but you'll have to obtain the license because no license comes out-of-the-box
Ultimately, there is no clear "good" or "bad" categorisation. Each solution is suitable for a particular need and is designed to solve a specific problem.
At LenderKit, we can help you build a P2P lending platform or Equity crowdfunding software for agriculture crowdfunding using our customisable crowdfunding software framework. The framework consists of 3 modules:
Each part of the software can be customised to your country's regulations and business needs. Ultimately, we can help you launch an MVP or a full-scale platform, digitize your offline business and build your online empire which will make you proud:)
Interested to learn more about LenderKit? Drop us a line at lenderkit@justcoded.com.