Open Source Crowdfunding Software vs Proprietary: What to Choose
There are 3 ways to have your crowdfunding platform up and running:
Create your own platform with all the front- and back-end functionality in-house. In this case, if you have technical resources required to design and build a crowdfunding platform, you will be the sole owner of your source code.
Get a free crowdfunding solution. If you're low on budget and have a tech-savvy team who can take care of the software setup, configuration, and customization as per your business needs, then an open source crowdfunding portal is for you.
Buy proprietary software. There're a few very good white-label crowdfunding solutions that offer flexibility and allow you to customize your software. The software vendor who takes care of all the technical aspects can tailor the software to your specific project with zero programming effort needed from your end.
In this article, we will look into the strengths and weaknesses of proprietary vs. open-source software. So you can weigh the options and decide what floats your boat.
What you will learn in this post:
Software Benefits and Risks: Open Source vs Proprietary
Generally speaking, open source crowdfunding software is scarce. Most of the time, you'll stumble upon crowdfunding scripts that extend your CMS (Content Management System) functionality. However, scripts position themselves as open source because they provide source code access either to the front-end or back-end.
Open source crowdfunding platform pros
Zero costs
You pay nothing to use free software. Saving money upfront, you can reinvest them later to pay good salaries to developers working on the source script, for example, expand your business, or hire top C-suite execs to take your startup to new heights.
Global community
As many other open source products, crowdfunding software would have a large community of users who'd gladly share their opinions on the Internet free of charge. The only thing you'll require is time to search through FAQs, wikis, portals, and documentation.
Access & control
Open source software projects allow developers and programmers explore and modify the source code. The more control they have, the more flexibility it means for your business if they know what to do with software.
Open source crowdfunding software cons
Competitive edge
Since many other crowdfunding entrepreneurs are likely to use the same open source crowdfunding platform code as you, the chances to be a step ahead are slim. Of course, you can put the right strategy in place, but the tech aspect will still be pretty basic.
Tech team
Open source software aims at skilled programmers who would know how to change the source code to make it work for your crowdfunding business. This means a lot of expenses for you to pay for that subject matter expertise and skills.
Limited support
Free support is not necessarily fast and high-quality. What if you need a quick fix, ad hoc assistance? Commercial support and detailed root cause analysis are rarely the case with an open source community. This is very important once your business evolves beyond a startup.
Finally, there's no reliable open source crowdfunding software at this point, so it's hard to give examples of particular software providers. This market state narrows down the choices to white-label options, in-house development, or outsourcing.
In-House or Development Outsourcing?
The in-house team is great for large companies with technical expertise and free capital or funding to invest in development. This venture will obviously require a product manager and a full-stack team that consists of designers, front-end and back-end developers, quality assurance experts, and project managers. Depending on the market, the salaries will vary greatly so will the time to find and hire the required staff.
In contrast, outsourcing is a great way to reduce the costs and time, especially, if you're outsourcing to a crowdfunding software vendor with its own platform such as LenderKit.
LenderKit provides crowdfunding software with customizability options as well as opportunities to buy out the source code, so you can avoid vendor lock in and scale independently.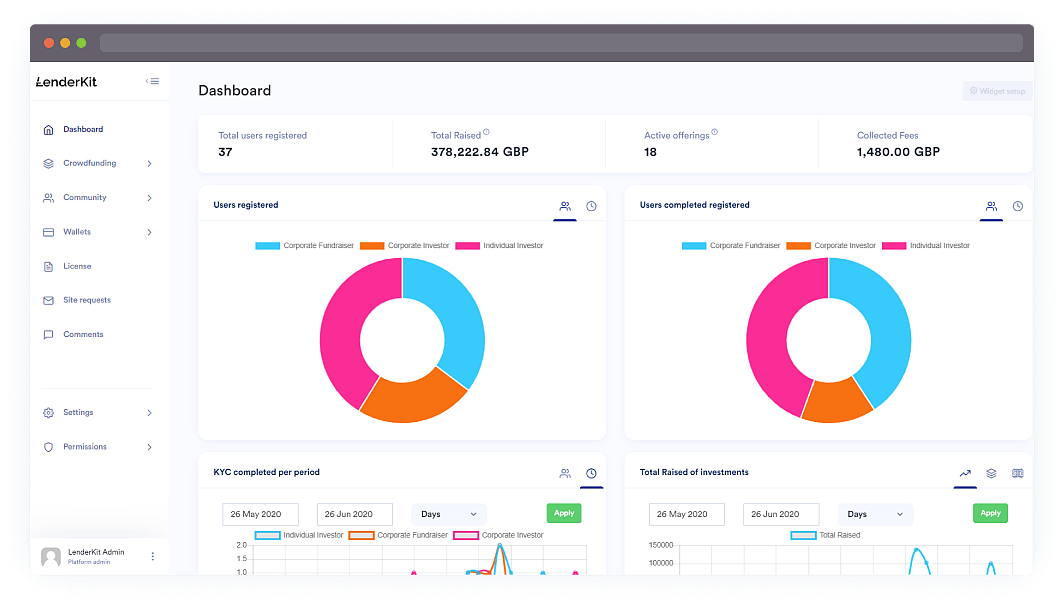 Expanding your operations with the LenderKit crowdfunding software provides you with several advantages:
A unique solution that will give you a lot more competitive advantage. No need to worry that your product will be a copy of somebody else's idea and just fall into a 'good enough' category. Your solution is one of a kind.
Better security due to the encrypted source code and strict access rights. You can be sure that LenderKit prevents competitors from duplicating your intellectual property since every software that's built on top of LenderKit is unique.
Timely support that is ready to address all your inquiries and help to resolve issues. Your concerns will be a top priority since the support is a part of the package you are paying for. Interested to learn about the pricing structure? Reach out to our manager.
Code ownership. LenderKit offers an option to buy out source code. So forget about a vendor lock-in problem. You'll have an opportunity to scale and run your software independently or continue with our support and maintenance package to keep things running smoothly.
All in all, compared to open source software or pure white-label crowdfunding platforms, the initial investment with LenderKit is higher. However, we offer crowdfunding software in installments.
Final thoughts
If you want to up your game with robust crowdfunding software, LenderKit can be a great option. We offer flexible proprietary software with all the necessary components to automate your investment business operations.
If you want to create your own product, we've got a tech team with years of experience and a track-record of custom crowdfunding projects. Why go for an open source crowdfunding portal if you can rip the long-term benefits with your own platform built by experts?
Contact us and learn more about how we can help.