Private Equity Crowdfunding or How to Digitize Your Private Equity Business
As the 2020 crisis strikes, there are a lot of new opportunities appearing for private equity firms that have been patiently waiting for 10 years. The PE firms have already started hunting small and medium companies and getting ready for M&As and buyouts.

According to the Institutional Investor interview with Peter Witte, EY's global lead private equity analyst:

"Many PE firms recognize that the GFC (Global Financial Crisis) represented one of the best buying opportunities of all time and that both GPs and LPs were overly cautious. "

"We think they'll be more aggressive this time around"

The only problem that has become a roadblock for the PE normal operations is distance. As countries have closed the borders and imposed limitations on free moving across the cities, PE firms had to relocate online like the rest of the world.

For the bigger firms with many representatives in different countries, connections, and networks, quarantine might not seem like a big deal though it has certainly created some risk and operation management issues. But for smaller PE firms with strict funds and budgets, this might have become a deal-breaker at some point.

A potential solution to reach out to investors and fundraisers might be digitizing your business and launching a private equity crowdfunding platform. 

What you will learn in this post:
What is private equity crowdfunding?

Private equity crowdfunding is a hybrid of a traditional private equity model and crowdfunding which allows private equity firms to fund large projects with the help of individual and institutional investors. By breaking down the funding rounds into manageable iterations, private equity firms may achieve higher returns and performance results which were not previously accessible.

You may have never considered crowdfunding as an option because you thought crowdfunding allows individual investors to invest small amounts of money directly in startups.

However, this definition of crowdfunding is no longer that straightforward.

In established markets like the UK and USA, crowdfunding is coming towards a more traditional private equity investing model with bank transfers, fund managers, negotiations, and other things in the nature of private equity. And there are reasons for it.

Both, due to regulatory changes as well as the level of sophistication of crowdfunding, platforms incorporate more and more flows, features, processes, and overall power to conduct high-value deals professionally.

Why you should launch a private equity crowdfunding platform now

There are several reasons why private equity firms are considering crowdfunding as an online tool for running operations and financing projects. These reasons can be divided into two categories:

Indirect benefits (marketing, promotion, brand image, scalability)
Direct benefits (tax advantages, higher fees, more projects, data control, software ownership)
Apart from that, there is probably a tendency among medium-size companies to downgrade their operations, so they may even condense to small-size companies to survive. By cutting budgets, team sizes, and restricting operations and product launches, the companies may get conservative to stay afloat. When the crisis ends though, they will get back to normal and will seek capital to grow again.

By that time, you should have already established your web presence and transferred your PE brand image to the online world. This is the perfect timing to build a private equity crowdfunding platform and allow the clients to get reasonable funding rounds which they can comprehend and work with.

A flexible marketing instrument

Ultimately, a crowdfunding platform is a great marketing tool which allows private equity firms to operate in a more modern way using specialized technology instead of or in addition to Excel or Google sheets. Not only does it contribute to the brand image of the firm, but also helps to automate key operations like sign up, KYC, payment processing, investing, offering creation, email campaign sending, etc.

Using a crowdfunding platform, private equity firms can better onboard new investors and source projects. "Better" means proper clientele segmentation by type, region, source of income, strategy preferences, etc.

From making capital calls to allowing investors to pledge money on their own, private equity crowdfunding can become a useful instrument to add to your private equity strategy.

A better control over data

Being chained to too many third-party options can be daunting. A CRM, investment management software, reporting software, etc. The list of software to use may go on and on. While it's good to have a particular software which solves a problem, it's better to have a tool which can have all the essentials in one package.

Basically, a private equity crowdfunding software works like a CRM which allows you to not only use the out-of-the-box features, but also create custom ones with a development team.

The main benefits related to data control include managing all of the offerings, individual and organisation information, payments, reports, importing and exporting of data, etc.

Tax advantages and financial benefits

As a private equity crowdfunding platform manager, you can introduce several attractive options to investors:

High interest rates of up to 6 – 14%
Investing through a savings account to have tax-free income from dividends (but you need to partner with a suitable payment gateway)
Flexible minimum investment rates from $100 to $15,000 or higher depending on the project and your strategy.
When it comes to your particular benefits, you can negotiate higher rates offline and introduce reasonable rates to your investors online. Apart from that, you can build a sophisticated fees management structure and not just a classic "two and twenty" model.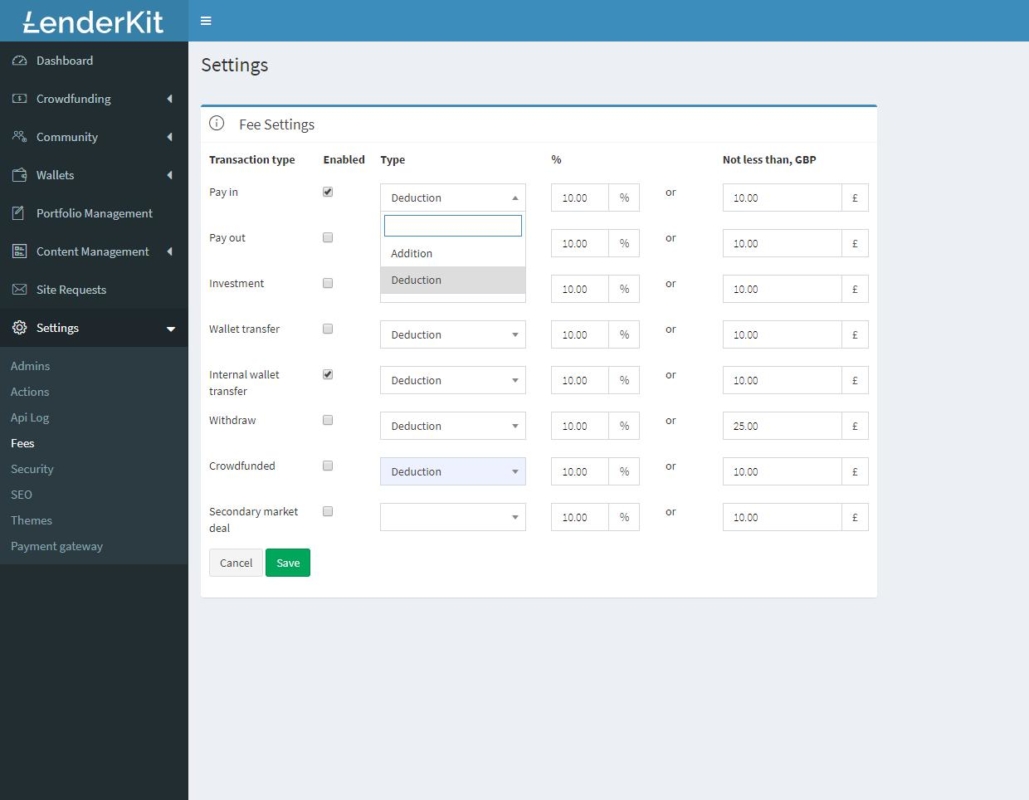 How to build a private equity crowdfunding platform
When it comes to choosing a solution provider to build a private equity crowdfunding platform, it's really hard to find the right fit among so many options:

Investment management software
Crowdfunding software
Add to this white-label and custom solutions, and you have 4 combinations which you have to go through. However, there is a clear structure which you have to follow whatever solution you pick.

Regardless of the approach, there are at least two stages that you'll have to go through when creating a private equity crowdfunding platform. Ideally, your software has to be scalable enough to allow you to complete the following stages:

MVP – the smooth launch phase – a basic platform with partially automated flows. MVP is usually needed to register your platform, get approval from the regulator to conduct debt or equity investment, handle transactions, etc. At this stage, you can conduct offline transactions and extensively promote your product to early-stage customers.


Full-scale launch – your private equity crowdfunding platform is ready to become an integral part of your business operations. It's tailored to your business flows, regulatory frameworks, has multiple roles like advisor, fund manager, accountant, super admin, etc. At this stage, you can fund offerings through a preferred investment model, manage campaigns, portfolios, KYC, payments, set up repayments, auto-investing and pretty much anything else.
The biggest challenge is to choose the right crowdfunding solution for your business.

Starting with a ready-made crowdfunding solution vs custom-built private equity crowdfunding platform

You probably want it to be flexible, scalable, and already regulated by a financial authority. But it doesn't work like that because there are mainly 3 options you can choose from:

Compliance + technology with defined flows and functionality – can't be customised
Services without technology – you need to register your platform
Technology + service – you need to register your platform
Usually, a crowdfunding software which comes with a regulated license is based on a SaaS – software as a service model. The model such software uses is "one-to-many", so by default, it can't cover your specific needs because it was designed to solve a general problem.

The biggest problem with a pre-built crowdfunding software is that it's impossible to customise due to the politics of the company. All of the customisations are done only on the user interface – UI/UX side. Also, some "non-core" features can be customised.

But if you want to customise payment processing, build a secondary market, diversify by investment models, increase deal size, change investor onboarding process, then a fully pre-built and regulated crowdfunding platform is not the way to go.

If your platform requires extensive customisations and needs to be scalable, you have to go with a crowdfunding software provider which offers customisation options such as LenderKit.
LenderKit is a customisable white-label crowdfunding software which provides technology and service to make sure your private equity crowdfunding business is standing on a solid ground in the online world.
How LenderKit works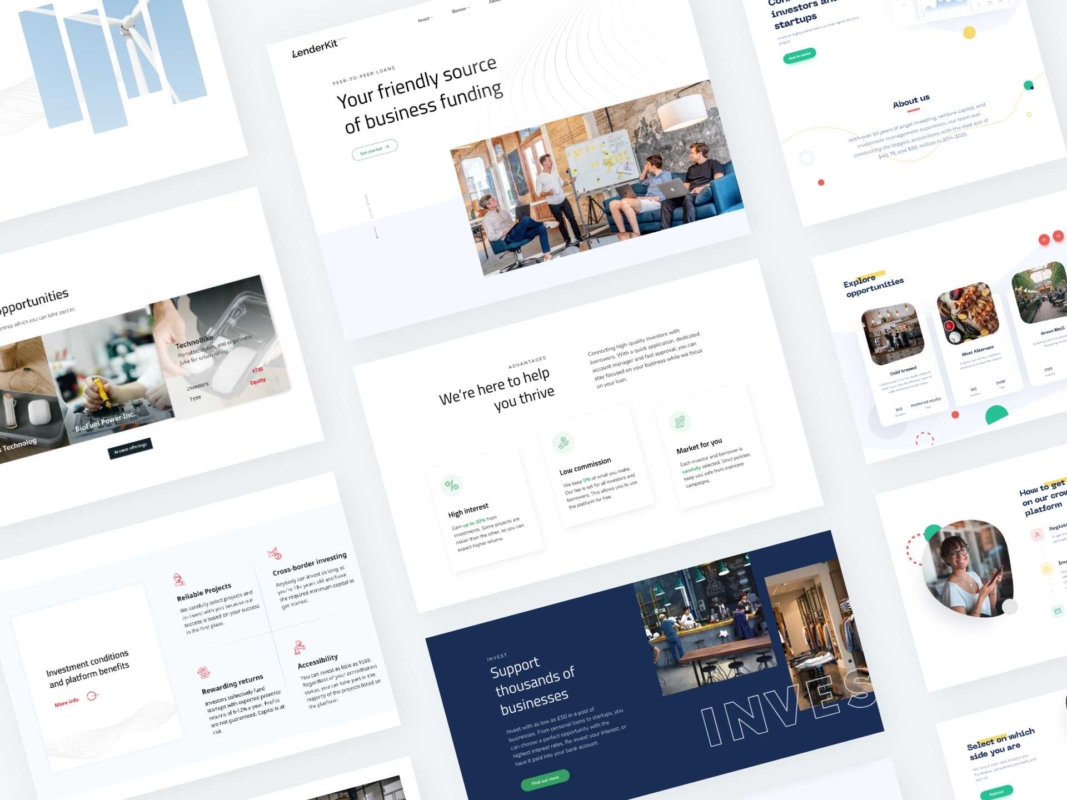 At LenderKit, we provide solutions for the MVP stage and further growth. We've built our software to be usable from the start and scalable in the future. We provide a crowdfunding solution which includes:

Marketing site – a WordPress-based theme integrated with LenderKit to help you promote your business even before you get a license from the regulator.


Investor and fundraiser dashboards – the web portal where investors and fundraisers can see their information about offerings, financial operations, performance, etc. Users can top up wallets, make investments, request withdrawal, etc.


Admin back office – the admin area with interactive dashboard and access to every single part of your crowdfunding platform. It's possible to create several admin roles and build the required hierarchy of the access rights. Additional features for an accountant, advisor, agent and lawyer can be created to make your platform as functional as possible.
What's peculiar about LenderKit is that it's not just a crowdfunding software provider, but also an active service provider. Powered by JustCoded, the parent company, LenderKit can be customised to fit your particular needs from design and functionality to business logic and structure.

Interested to see a demo? Drop us a line at lenderkit@justcoded.com.