How to Start Real Estate Crowdfunding Business in New York
Raising funds for real estate projects has always been a hot trend. Even before the crisis, experts predicted the market revenue would grow up to $869b by 2027 in the US alone.
While the investment demand for commercial real estate in major American cities like NYC is high as usual (Flight to quality effect), properties in the Midwest are increasing in value. 
Due to social distancing and remote work, Americans tend to move to cheaper areas like Heartland. Even Tesla is considering the option of moving facilities to Texas/Nevada.
It means that now is a great time to jump on the American real estate crowdfunding bandwagon and launch a crowdfunding platform in New York.
The future of real estate crowdfunding in NYC is going to be bright. So, why don't you start your successful path now?  
What you will learn in this post:
Real estate crowdfunding platforms in NYC
Before jumping into the deep end we suggest that you carefully study the local market and find your niche.
Here's the list of companies providing crowd investing and debt crowdfunding in NYC.  
Crowdfunz
It's a NY-based platform offering real estate opportunities and investing services to international clients. Crowdfunz was founded in 2015 by a group of specialists from different fields (real estate, finance, IT).
The platform has got offerings for professional and everyday investors, mainly residential and commercial real estate. All investment opportunities listed on their website are US-based projects.
Non-US based investors are also allowed to fund projects through Crowdfunz.
Investment opportunities (debt or equity): family house or small commercial real estate, medium commercial development, institutional-grade projects.

Prodigy Network
At the beginning of 2020, the US real estate market was disrupted by bad news. Prodigy Network, once a leading fundraiser for real estate projects needed $40m of cash to keep real estate development.
Originally, the platform focused on prime Manhattan real estate. Now it raises funds for real estate development in major cities like New York City, including multi-family, office, retail and hospitality.  
The target market – institutional and ultra high net worth investors interested in supporting RE developments in major metropolitan cities.

Capfundr
Capfundr is another online investment management platform providing accredited investors with access to a curated selection of private equity real estate funds.
The provider deals with individual pro backers, small institutional and family offices. Investors don't pay a commission to invest in Capfundr funds because there is no middleman.
Min investment size is $10,000.
CityVest
Similarly to Capfundr, CityVest match individual accredited investors with the best real estate investment funds.
CityVest aggregates investors to get access to top tier institutional investment funds and those with discounted fees.
Traditionally these funds require a million-dollar subscription. CityVest lets clients join the pool of investors with $25,000.
The fundraising model: equity crowdfunding.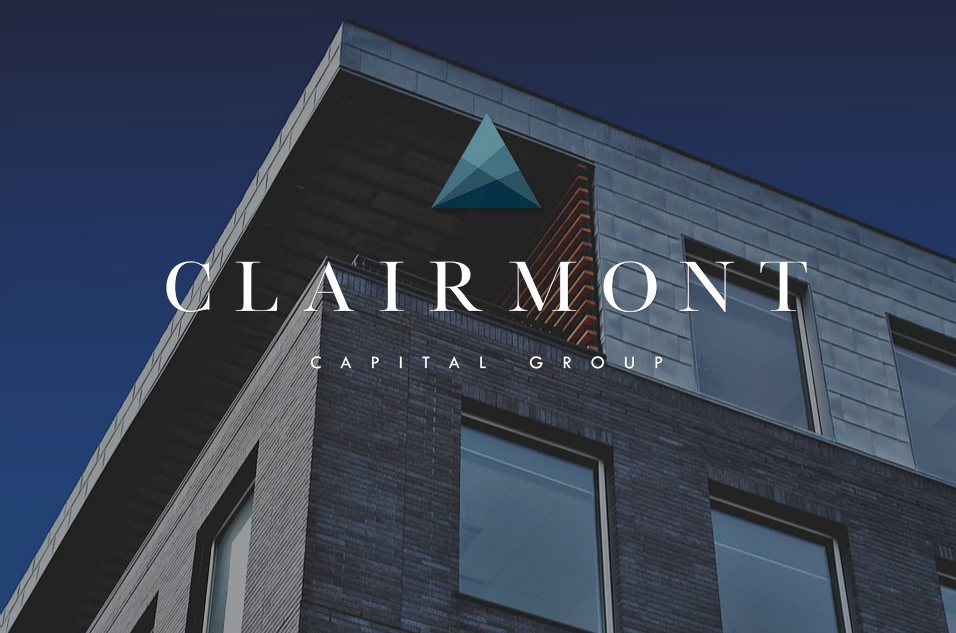 InstaLend
InstaLend is a real estate crowdfunding platform from the Big Apple offering senior debt real estate opportunities and monthly distributions of earnings to accredited investors.
All the offerings on the platform are senior debt. Each investment backers make is associated with a first position lien on the underlying asset (real estate).
Backers invest in borrower payment dependent note ("BPDN") which gives the investor an interest in the underlying real estate.
The minimum investment is $5,000.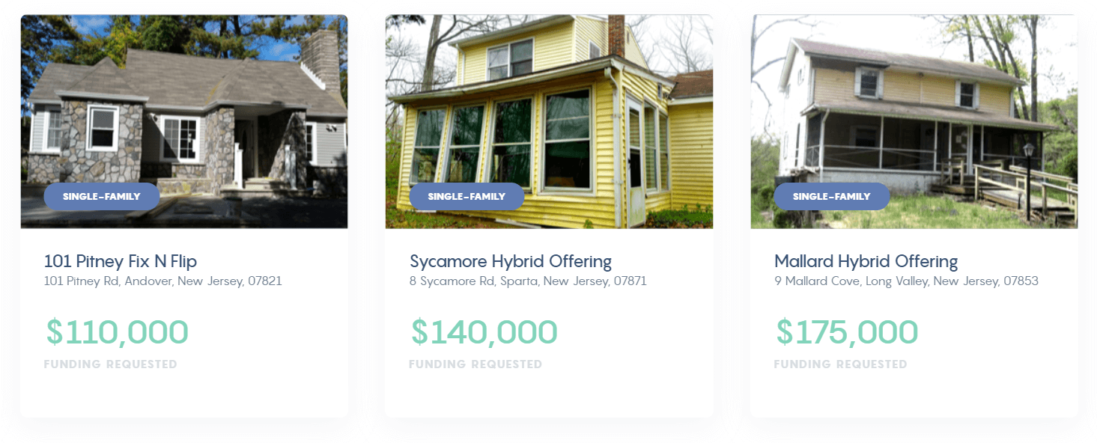 Equity Multiple
EquityMultiple is a commercial real estate investment and technology firm helping accredited investors create and build a diversified real estate portfolio by making passive investments through a secure online platform.
The core asset classes are multifamily, office, retail and industrial, self-storage, manufactured home communities, and student housing.
EquityMultiple focuses almost exclusively on institutional commercial real estate.
Products: equity, preferred equity, and senior debt investments.
The minimum investment amount starts as low as $5,000 but will vary from offering to offering.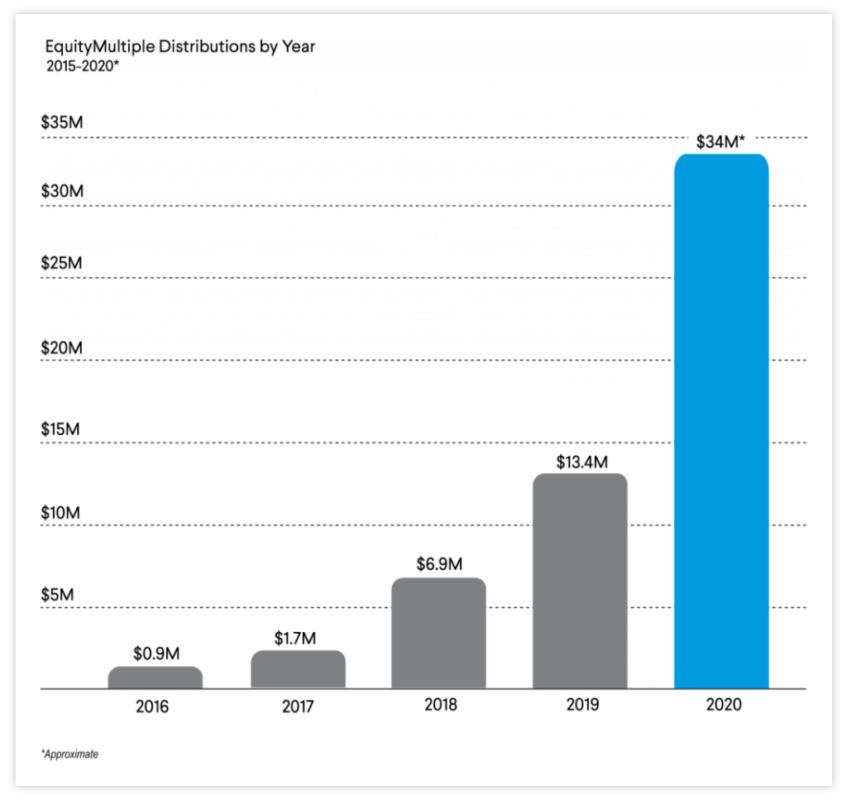 The core audience of these NYC-based real estate crowdfunding companies can be divided into 3 investor personas:
professional and everyday investors seeking residential and commercial real estate opportunities;
institutional and high net worth backers interested in supporting commercial RE developments;
accredited investors wanting to get access to investment funds.
Crowdfunding models to deploy: equity, debt or combo (mezzanine loans).
Real estate crowdfunding in NYC and outside in numbers
Here's a bit of the US real estate crowdfunding market statistics to save your time on research and analysis.
Fact #1. The share of the real estate crowdfunding in the US is 70% of the entire market volume.
Fact #2. North America to lead the overall RE crowdfunding market growth in terms of revenue.
Fact #3. The Residential real estate type segment is likely to increase by over 55% during 2020-2027.   
Fact #4. The industrial buildings sector is rapidly expanding at CAGR of over 60%.
Fact #5. Institutional investors to dominate the investors segment by 2027.
Fact #6. Top real estate fundraising platforms are Fundrise (investments through eREITs and eFunds), CrowdStreet (mixed real estate offerings), RealtyMogul (institutional investments).
Fact #7. According to Fundrise, the average annualized return for their crowdfunded investments were 9.47% (2019) and 9.11% (2018).
Fact #8. RegTech is currently gaining serious traction in the US, in particular for handling real estate deals.
Building a crowdfunding platform for NYC-based business with LenderKit
LenderKit is compatible with the US market regulations which allows you to set up a crowdfunding platform under the major regulatory frameworks including Reg CF, Reg A/A+ and Reg D. 
LenderKit offers a customisable white-label software for real estate crowdfunding and full-cycle crowdfunding platform development services if you need to build a unique portal from scratch. 
Out-of-box, LenderKit provides:
fundamental functionality for your buy-to-sell or buy-to-rent real estate crowdfunding platform
a toolkit that supports real estate syndication projects
tech capabilities to cover equity and debt-based investment flows and business operations
admin back office, investor and fundraiser portals, marketing site layouts;
pre-built KYC checks to automate client onboarding
built-in secondary market to let backers trade securities or liquidize holdings
auto-investing to allow your investors set up investment schedules and make their money work for them while they are asleep
permissions module for secure role-based access
GDPR module to facilitate your regulatory compliance requirements and more
We helped Camly to launch their crowdfunding platform which focuses on providing the US-based projects for the Vietnamese investors.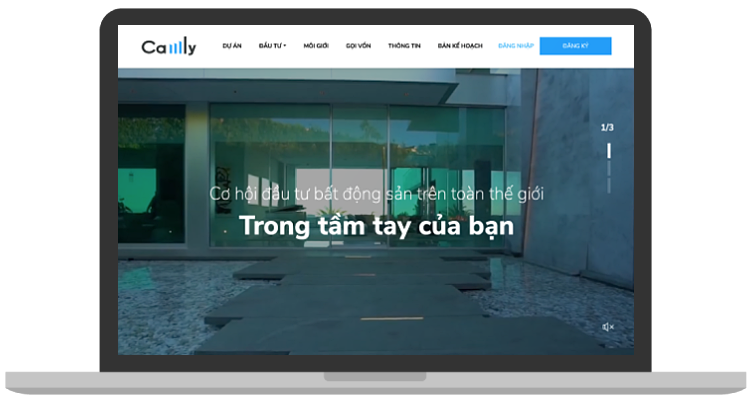 Camly is a real project based on LenderKit. It's a RE crowdfunding platform for Vietnamese everyday and sophisticated investors.
On a side note
Hard times may not seem to be the right time for new undertakings. But let's face it – "any kind of crisis can be good".
According to Forbes experts, Covid-19 has become an opportunity for RE crowdfunding industry introspection. 
Players are actively promoting tech advances like satellite viewings of real estate and land and generating trust based on careful due diligence of projects and investors.
Although no one knows how long this coronavirus storm will last, one thing is for sure – the demand for real estate investments will remain stable.
Want to set up a crowdfunding platform or your NYC-based business? Talk to our experts and schedule the LenderKit demo.