Robo-Advisors in Saudi Arabia and How They Work
The financial and wealth management industry in Saudi Arabia is undergoing rapid transformation, that's why traditional methods of financial advising are frequently combined with the work of robo-advisors.
Robo-advisors are platforms that operate based on a specially developed algorithm and almost don't need any human interference to work. The software behind a robo-advisor platform helps to manage user assets independently and comprises interactive investor support elements to guide users through an automated investment process.
Robo-advisors can be paired with financial advisory companies to assist in handling companies' resources.
For their operation, robo-advisors collect loads of data such as income level, investment preferences, financial goals, risk tolerance, etc. Robo-advisor platforms analyze this information and offer custom investment portfolios to investors.
What you will learn in this post:
The market of robo-advisors in Saudi Arabia
The number of assets managed by robo-advisors in Saudi Arabia is growing every year. According to Statista, the transaction value of robo-advisors in KSA reached $1.33 billion in 2022 and is double by 2027.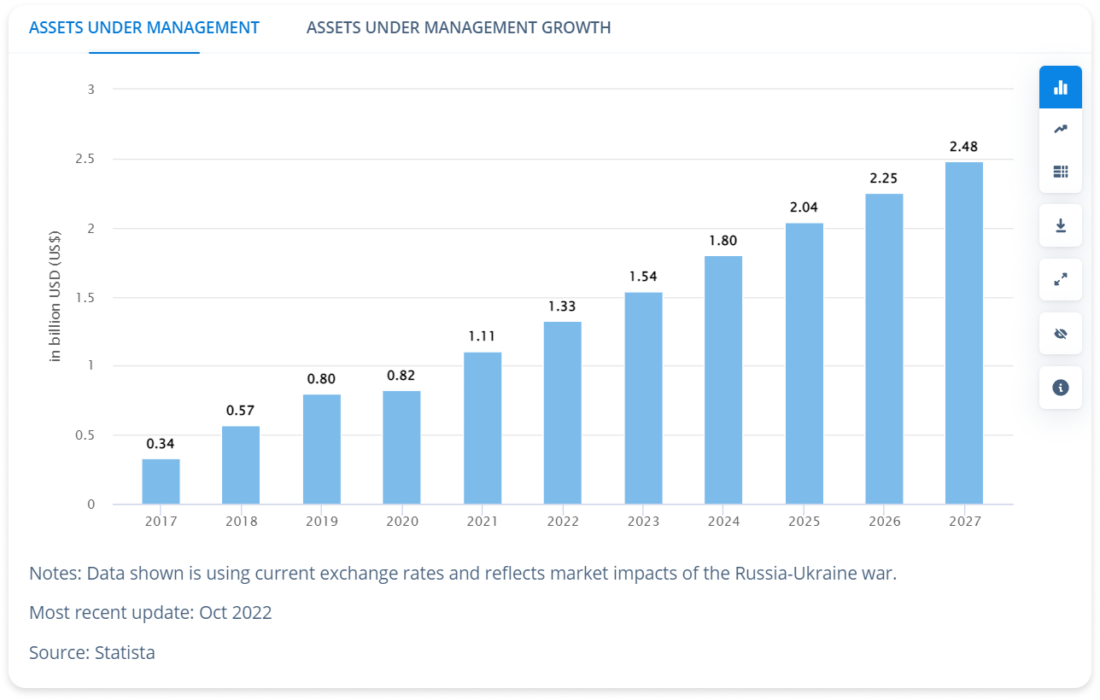 Despite the fancy numbers, some say that robo-advisors in Saudi Arabia will become a commodity and start competing on prices. Due to the risks of decreased profitability, stronger competition and fees to third parties for payment processing and KYC, new robo-advisor platforms will simply not make it to the market or will have a hard time staying afloat.
A sneak peak into robo-advisor regulations in Saudi Arabia
Robo-advisors in Saudi Arabia are regulated by the CMA and shall be authorized by the regulator to perform their activities in the country.
The first steps towards robo-advisors adoption were taken in July 2019 when the Financial Services Regulatory Authority (FSRA) of Abu Dhabi Global Market (ADGM) issued a regulatory framework for robo-advisors or, as they were called, digital investment managers.
The next step was taken in August 2019 when the Capital Market Authority (CMA), a country's watchdog, granted Haseed Investing Company and Wahed Capital a permit to test their robo-advisory services. These companies were allowed to provide automated online management services and were given the responsibility to manage their clients' money within predetermined parameters and agreements.
In January 2021, Sarwa, a Dubai-based technology start-up expanded its platform's services to Saudi Arabia after having received approval from the CMA. It was an experimental permit that allowed the company to offer online investment management services to a limited number of Saudi users.
However, the real development of robo-advisors started in September 2021 when Derayah Financial announced the launch of Derayah Smart, the first robo-advisor for individual investors launched by a financial establishment in Saudi Arabia.
The list of robo-advisors in Saudi Arabia
Even though the country aims at becoming a hub for fintech companies, surprisingly, the list of Islamic robo-advisors that have Financial Technology Experimental Permit from the regulator is not big.

DirectFN RoboAdvisory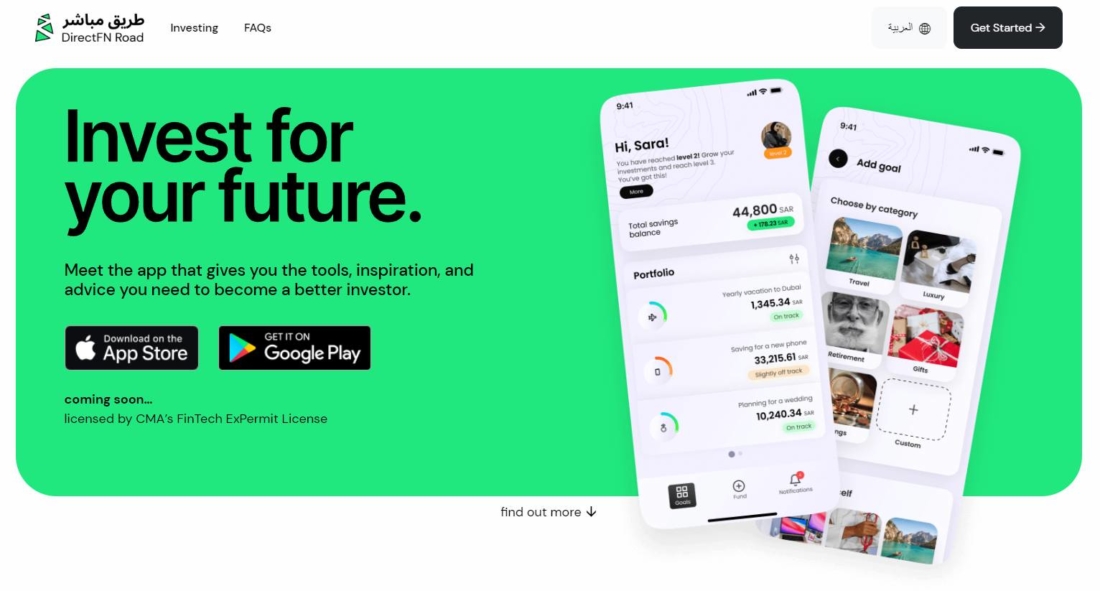 The company has received the Financial Technology Experimental Permit in 2020. It enables DFN RoAd Company to experiment with robo-advisors. Based on the permit, the company's solutions provide investors with advice on securities and investment products via an automated platform or an application.
Additionally, the company offers automated online discretionary investment management.
The company aims at adjusting to the investors' needs by enabling individuals to use the robo-advisor for as little as 50 riyals (slightly more than 13 USD).
The platform is Shariah-compliant to ensure the investment growth is aligned with the investors' values.
Madkhol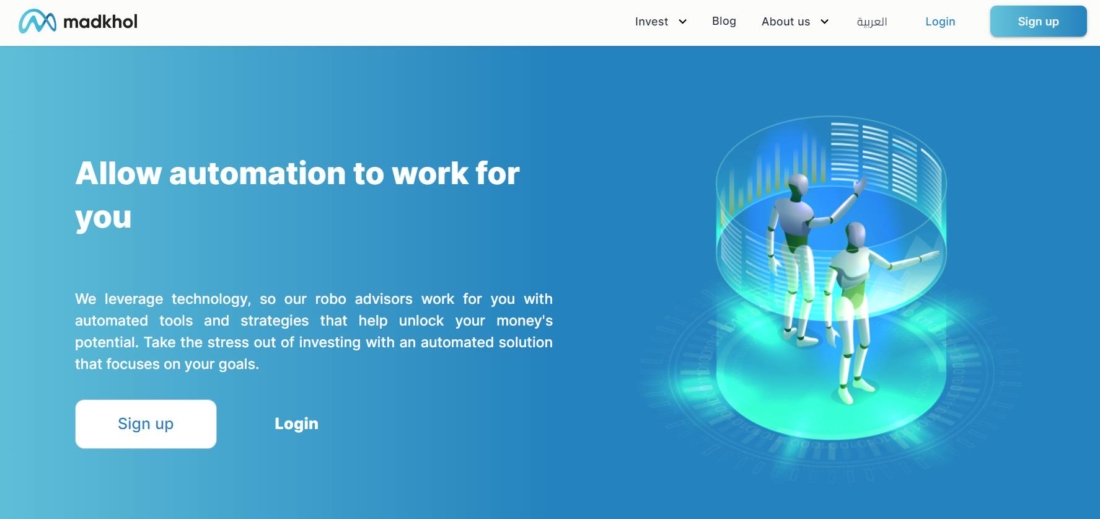 Madkhol is a robo-advisor platform that also received the Financial Technology Experimental Permit among the first ones, in 2021. Like all the KSA robo-advisors, the platform is Shariah-compliant.
The state-of-the-art robotic advisor automatically monitors and rebalances the investor's portfolio and assesses the client's risk profile and financial goals to determine what investment strategy would work best for each individual investor. The automated investing services are provided accompanied by guidance.
Along with automated investment services, Madkhol focuses on promoting awareness and educating people about investment opportunities in the country. Another important point of the company is to boost people's life level by enabling them to make smart investment decisions.
The platform offers services based on the subscription however to get an idea about the subscription fees, one shall sign up for using the service.
Abyan Capital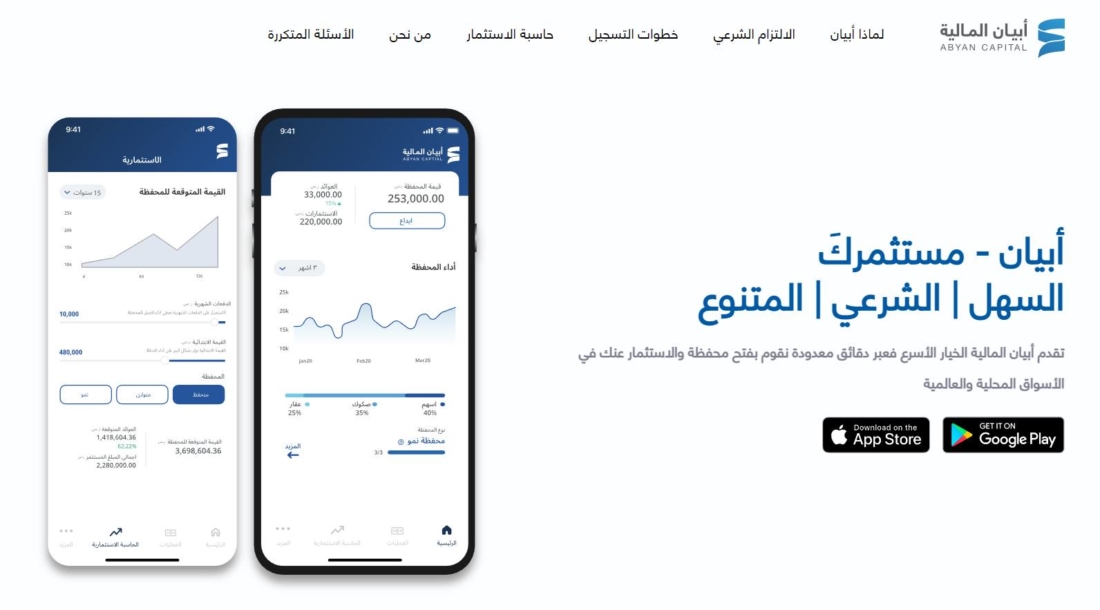 Abyan Capital is among the newest robo-advisor platforms that have received the authorization of the CMA. Nevertheless, Abyan Capital stands out because of its transparency. The platform is maximally open with potential investors regarding sectors in which Abyan operates, the minimum investment amounts, and the fees that the company charges for its services.
The company is focused on long-term investment strategies because the Abyan team believes that long-term investments only can guarantee stability in financial life. Therefore, the main sectors in which Abyan Capital operates are real estate, Saudi and international stocks, and Sukuk (Shariah-compliant bond-like instruments).
The minimum investment to start with the platform is 1,000 SAR (slightly above 266 USD at the moment of writing). After investing the minimum, a client can add any other amount at any time.
The platform strives to minimize risks connected with investment activities, and thus, concentrates on static investment tools such as exchange-traded funds (ETFs) rather than on active investments.
The platform charges a 1% fee on the investment sum managed for a client. The fee is calculated per year and charged on a monthly basis. It is possible to deposit and withdraw funds from the platform at any moment. One shall note, however, that the request processing may take 2-5 business days.
Considering that the platform is registered and operates in a country with strong Islamic traditions, needless to mention that all the investment products are reviewed and are subject to approval by the Shariah Committee.
Malaa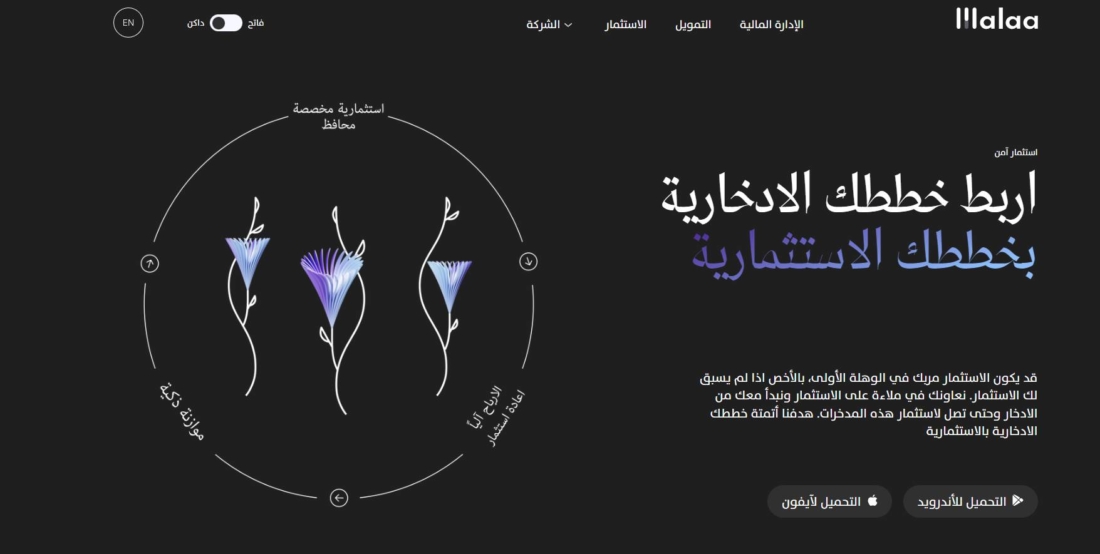 Malaa is another robo-advisor app in Saudi Arabia that received its Experimental permit in 2022. It is a free personal wealth management tool that enables everybody to take control of their finances:
See and track all expenditures from a single dashboard by integrating all bank accounts via a secure gateway.
Get better access to financial products by representing creditworthiness through financial behavior instead of applying usual risk assessment methods.
Benefit from automated investing based on your budget and goals.
Final thoughts on robo-advisor platforms in Saudi Arabia
The market of robo-advisors in Saudi Arabia is still very young, but the country makes significant efforts in adopting the latest technologies in all sectors, including financial. The introduction of a Saudi Arabian robo-advisor regulation is a big step forward that will open access to investments for a wider audience.
If you're looking to build an online robo-advisor platform in Saudi Arabia, check out our crowdfunding software for startups or real estate projects financing.