How to start a property crowdfunding business in London
Crowdfunding helps property developers access the required capital easier and faster. With crowdfunding, property development firms can reduce the bureaucracy, time to get funded, and create sustainable channels of property financing via alternative fundraising. In London, many platforms offer property investing and connect property developers with professional or amateur investors.
London has one of the most well-established housing markets, so crowdfunding naturally fits the ecosystem and provides plenty of opportunities for new platforms and property developers. Perhaps unsurprisingly, 10 out of 40 property crowdfunding platforms in the UK were founded in the past 3 years.
Property crowdfunding in London can become an attractive business opportunity both for newcomers and professionals in the investment management sector.
What you will learn in this post:
London housing market
Although the average price of a house in London now is still lower than in 2017, the market began recovering in Q1 2020.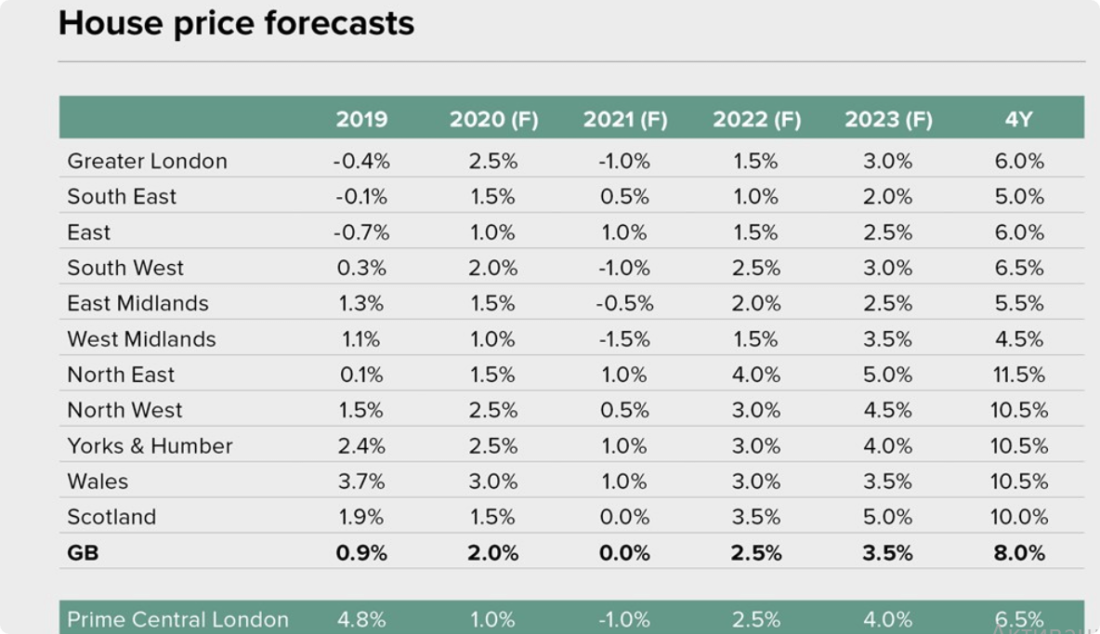 However, due to the global pandemic, the forecast for the nearing future is somewhat pessimistic. But the long-term perspective is promising. With housing prices in the capital surging to 1.5% in 2022 and 3.0% in 2023, London is to expect a 5.5% 4-year growth.
The most recent Quarterly Housing Market Report states that during the fiscal year of 2020 (up to July), private rents in the capital gained 1.1% in nominal terms with a cross-country index reaching 1.6%. In March 2020, London's median rent climbed to 1,425GBP with the country's average being 700GBP.
Knight Frank's quarterly round-up of key market reports the first quarterly price hike in prime central London in September since February 2020. On top of that, the property consultants predict the sector to add 5% in 2021.
London property development companies
According to a summer survey of HomeViews, verified residents pointed out 10 property build-to-sell firms that they trust.
The home owners said they'd suggest such top-tier property developers as Berkeley Homes (a part of Berkeley Group), Barratt London (a subsidiary of Barratt Developments PLC), Anthology, Crest Nicholson, and Ballymore Group among other companies to their friends.
As for build-to-rent property development firms, PropertyInvestorTODAY compiled its list of the capital's movers and shakers. Among them are Quintain, Criterion Capital, London's branch office of American Greystar, L&Q, Grainger as well as many other players.
The competitors in London are on a tight race trying to satisfy growing demand for affordable housing for sale and rentals. At the same time, they look for solid investments to grow their portfolios – the capital that is often not easily offered by traditional banking.
Need for the capital creates an opportunity for crowdfunding platforms owners and investment management firms that are looking to automate operations using crowdfunding software.
Starting a crowdfunding business in London
If you're setting up a new crowdfunding platform, you need to register it with the Financial Conduct Authority. FCA has a regulatory sandbox which outlines the eligibility rules and guidelines on how to apply.
There are several ways to register a crowdfunding platform in the UK:
The nuances of each approach and the whole registration process are a field of a professional advisor, so you can either contact an expert that you know or try to reach out to firms like Weblaw, ResolutionCompliance, Lawsconner, or Gallium.
Some of these firms worked with platforms like RealtyBundles, CapitalRise, PropertyCrowd, JaeVee and others.
Crowdfunding software for automating property investing and loan management
Whether you're into equity crowdfunding or P2P lending, LenderKit can help you with launching a prototype for the regulatory sandbox or building a full-scale platform to facilitate your investment business growth and expansion.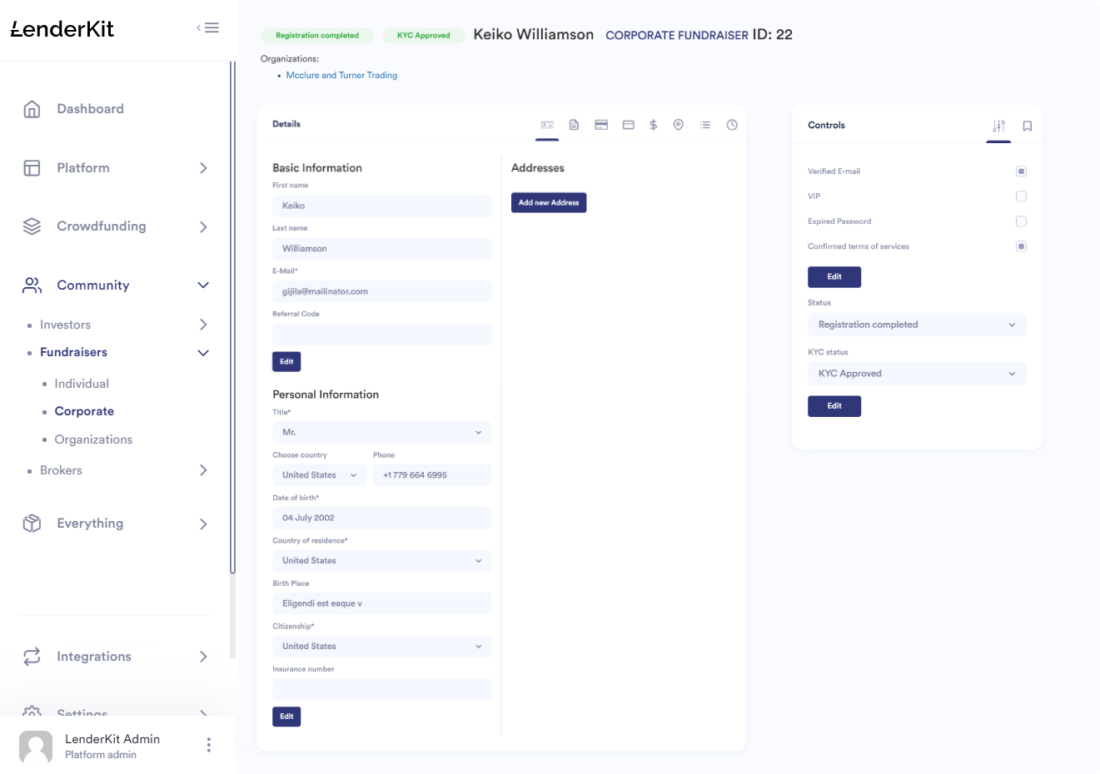 LenderKit has product tiers such as "Basic", "Professional" and "Enterprise".
Basic tier
Basic is most suitable for starters that need crowdfunding software to pitch to the board of directors, raise funds for further development or test and validate ideas. Using the Basic tier, one of our customers, Charm Impact, was able to fundraise over £270,000 on CrowdCube.
Professional tier
The professional package is the best fit for small and medium sized investment management firms or accelerators that want to launch an operational crowdfunding platform and make a transition from the offline world to online crowdfunding.
Enterprise tier
Enterprise works best for international companies that need multiple software licenses in different countries and want to operate in different jurisdictions. This is the only product tier which enables the purchase of the LenderKit source code for independent scalability and growth.
Each product tier has its benefits and fits different business development stages and requirements. To learn more about them and see a LenderKit demo, reach out to our manager.
Final thoughts
Whether you're looking to start an equity crowdfunding business in London or anywhere in the UK, LenderKit can provide crowdfunding software to help you connect investors with fundraisers and automate operations. We can tailor the software to cover any specific needs for your crowdfunding, e.g. buy-to-let, buy-to-sell or other business model.
We can also help you set up a debt crowdfunding platform in London might because we already have most of the required components to help you kick off your crowdfunding business.
To see LenderKit in action and learn about our solutions, reach out to us to schedule a demo.