Top 10 Angel Investing Platforms and How to Build One
Angel investing provides investors with the opportunity to put their money into startups that could potentially yield profits in the future. It also helps startups to find the necessary funding for their operations.
For a long time, angel investing was a privilege for high-net-worth people. Now, angel investing platforms offer more opportunities to retail investors, too. But during recessions, amateur investors are unlikely to put their money into anything and would rather wait till the next bull market. Instead, accredited investors are more likely to take action, even though being rather careful with their funds.
While retail investors are hesitant, more sophisticated investors make calculated decisions of where to invest their money for profits in the future. So if you are an expert at finding the right investment opportunities and connecting investors with startups, then launching an angel investment platform now might be the right time.
Here is a list of the most popular angel investing platforms to provide you with an overview of the market, opportunities in this sector and how you can build a similar investment platform.
What you will learn in this post:
SeedInvest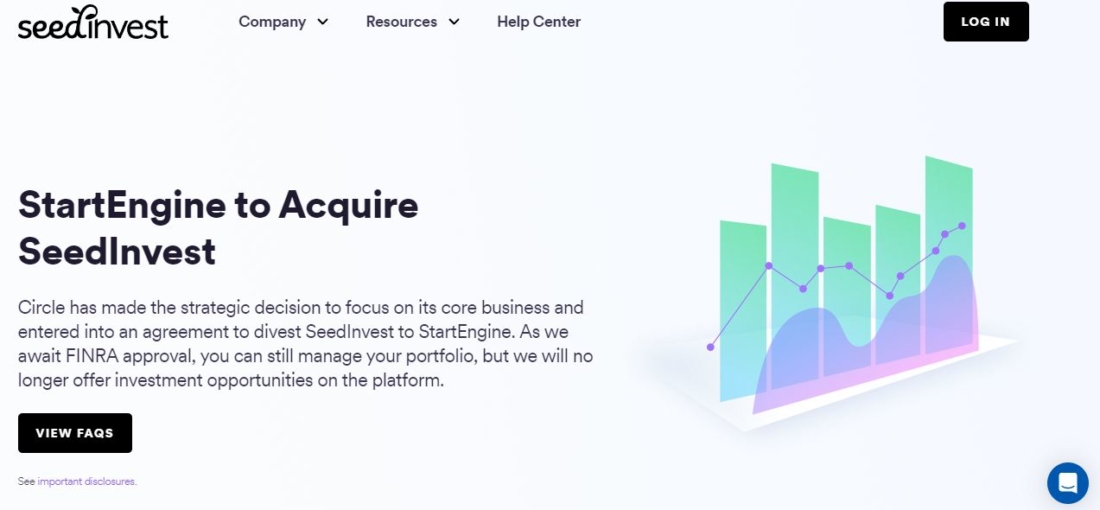 SeedInvest is a leading equity crowdinvesting platform that provides everybody with top-quality startup investment opportunities. The investment entities served by SeedInvest include angel investors, non-accredited individuals, venture capital firms and funds, family offices, and accredited investors.
Before listing on the platform, companies have to complete vetting and due diligence processes. Only about 1% of all companies manage to comply with all the requirements and be listed on SeedInvest.
At the moment, Circle, a company that acquired SeedInvest in 2019, decided to focus on its core business. So, SeedInvest will be purchased by StartEngine as soon as FINRA approves it.
Angel Investment Network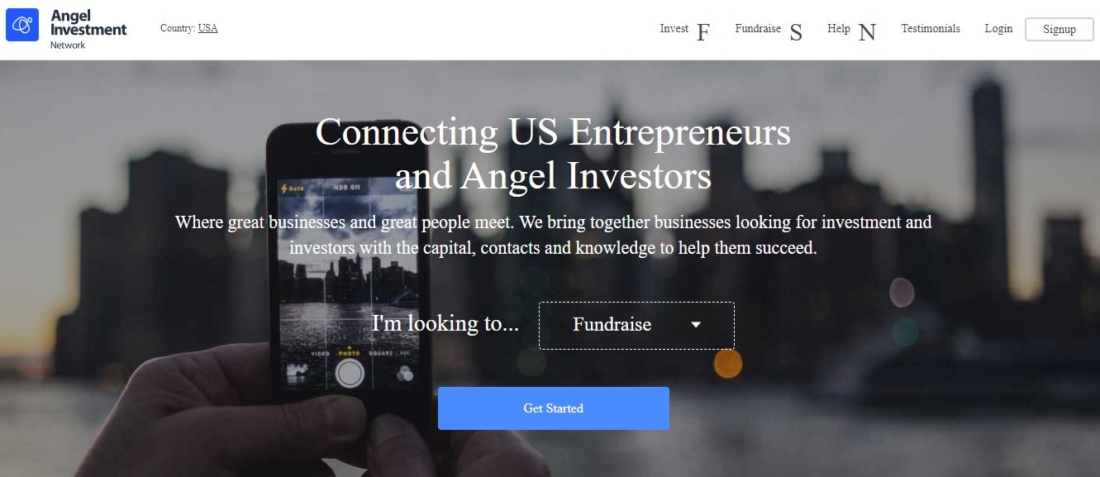 Angel Investment Network claims to unite the biggest angel community in the world, with almost 2,000,000 members including 320,000 investors and 1,611,569 entrepreneurs.
This angel investing platform is created for sophisticated investors and investment professionals. The service is free to investors, and the startups pay a fixed fee to use the website.
It is not, however, a crowdfunding platform and only connects investors with entrepreneurs. Once they get in touch, all the investment procedures are performed between them, not through the platform. That's why it is important for investors to perform their own due diligence on each project they consider investing in.
Leapfunder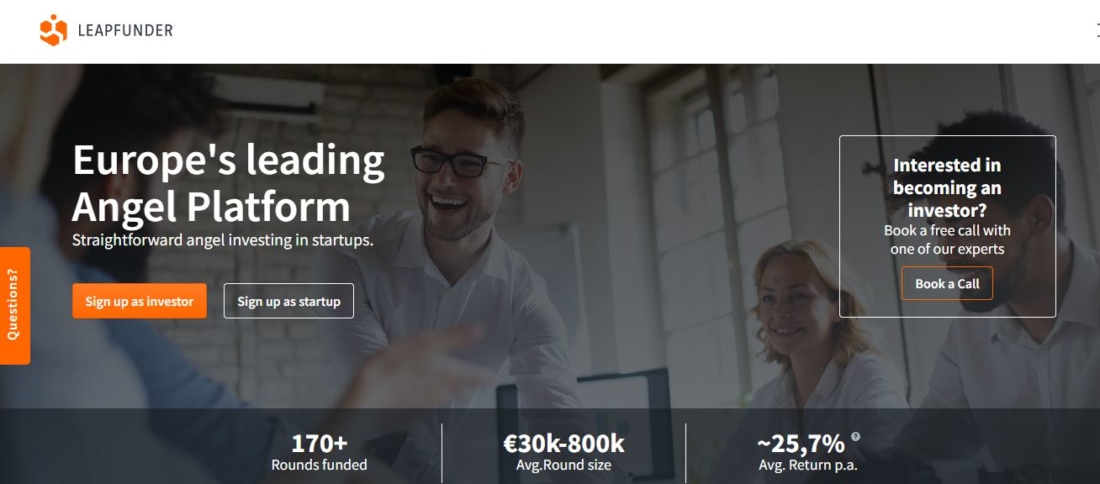 Leapfunder is Europe's leading angel investing platform that enables investing in promising startups through Leapfunder notes. When an investor sees a promising startup, they invest a specific sum and get convertibles in the form of Leapfunder notes. All investments are deposited to and kept in an independent bank account. The funds are transferred to a startup only if it reaches the minimum investment goal before the investment round closes. If the minimum is not reached, the money is returned to investors.
If the investment round is closed successfully, Leapfunder notes are converted to the startup shares that are held by a Special Purpose Vehicle. The Notes will also be growing in value at a predetermined rate.
The minimum investment is €1.000, and the average investment is €5-10K.
VentureSouth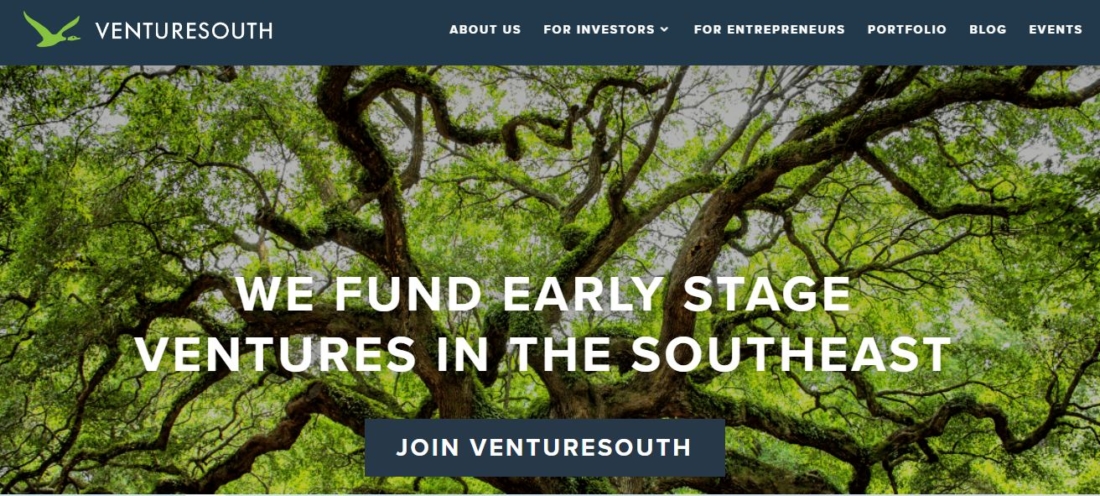 VentureSouth provides support with capital and expertise to startups operating in the US Southeastern region. The platform has grown to include over 450 investors. It ensures VentureSouth a leading place among similar venues in the USA.
The average funding sum in a startup varies from $250,000 to $1,000,000, and companies seeking financial assistance have to pass a thorough due diligence process. Only 1-2% of all startups that apply for funding receive it.
NEXEA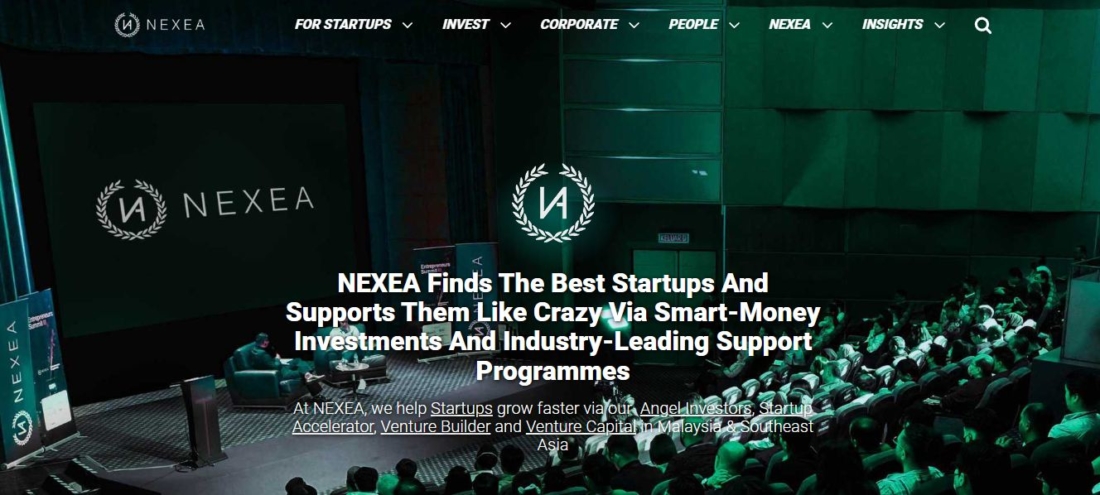 NEXEA is a leading angel investing platform in Malaysia that focuses on assisting startups in Southeast Asia. It charges investors a percentage of the profit they receive if their investment was successful and the startup they invested in starts bringing profit.
The company performs careful due diligence so from approximately 1,500 companies looking for investment options per year, only 3 -10 receive the funding.
NEXTA works only with high-net-worth individuals or high-income earners – those who either have a total wealth or personal assets worth RM3 mln (approx. USD 680,000) or with a gross annual income of RM180,000 (approx. USD 40,900) in the preceding 12 months, or jointly with a spouse with the gross annual income of RM250,000 (approx. USD 56,800) during the preceding 12 months.
EquityNet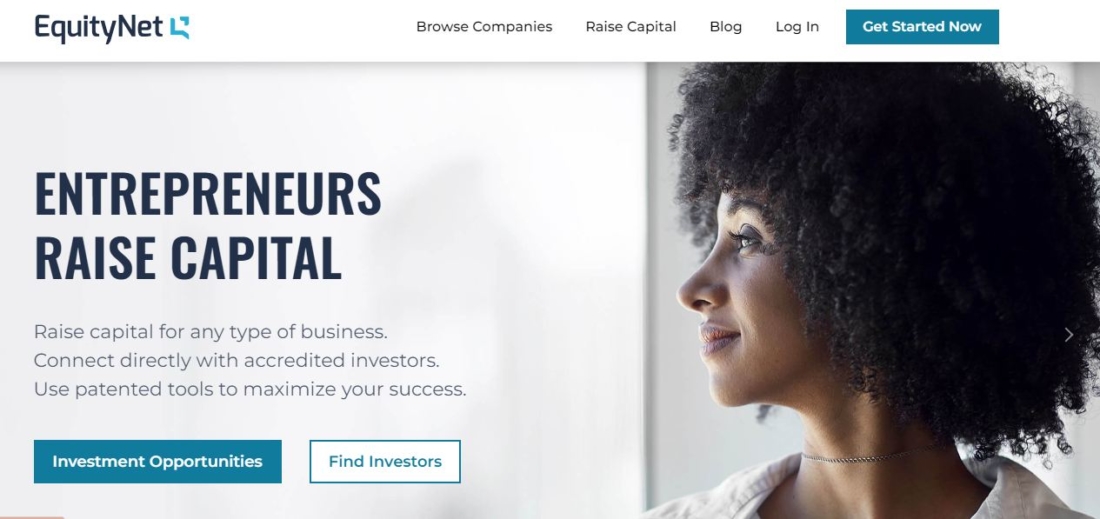 EquityNet helps startups raise funds from accredited investors. The service was launched in 2005 which makes it the first business crowdfunding platform in the United States. With over 20,000 accredited investors, the platform is also one of the biggest in the country,
Investors create a profile on EquityNet and set up their investment criteria. The platform's patented technology allows them to screen and analyze thousands of investment opportunities. Other tools such as patented analytics, standardization, and business plan benchmarking make the investment process easy and efficient.
Envestors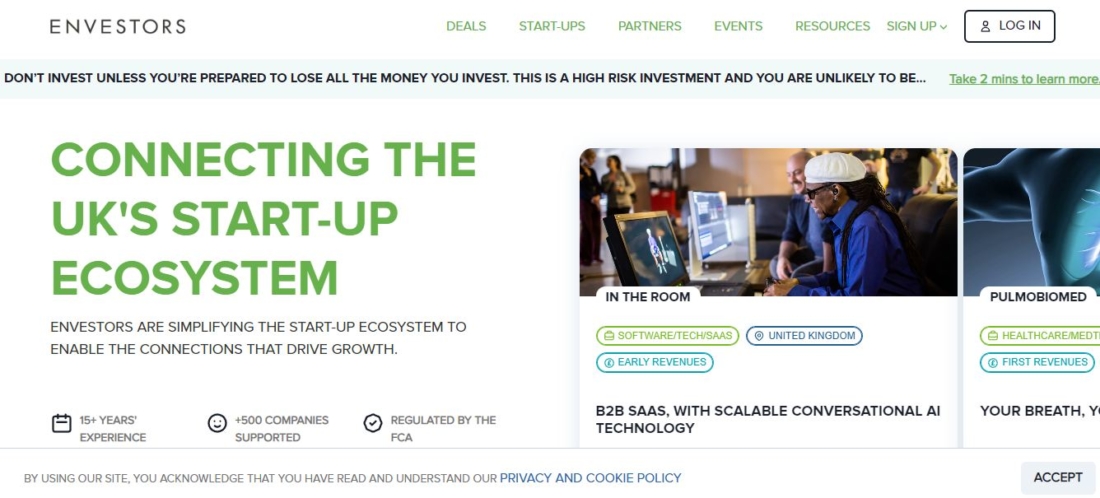 Envestors is a UK-based platform regulated by FCA. During over 15 years of operation, the platform has helped over 500 companies to get funding.
Envestors created a single digital marketplace where all participants – startups and investors, can connect seamlessly. All offers with the standardized deal information, full disclosures, and options to get in touch, are placed on the marketplace. Investors can review them and get in touch with the businesses looking for funding directly.
The platform also allows companies that support entrepreneurs – accelerators, angel clubs, and corporate finance firms – to promote their profiles on a specialized channel in the marketplace.
Republic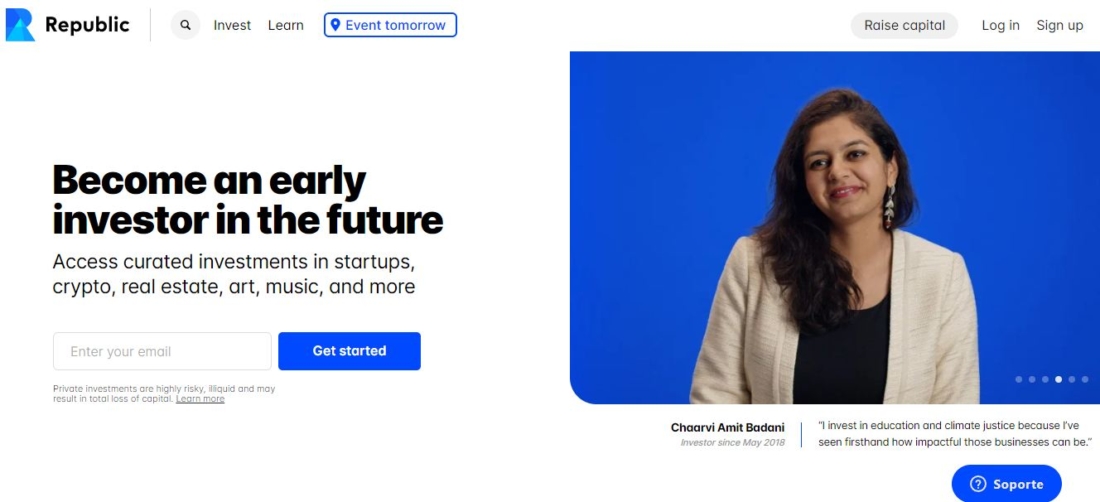 Republic enables investing for all types of individuals and companies across the USA, the UK, and Asia.
The Republic's investing platform is focused on retail investors by enabling them to benefit from investment opportunities in early crypto, art, real estate, music, and other types of startups.
The platform's institutional investing team invests in such promising directions as Web3, fintech, and deeptech.
Each person 18 years or older can invest but the deals are limited based on the investor's income. There may be some requirements and limitations that apply to specific campaigns, and some offerings are available to accredited investors only.
MicroVentures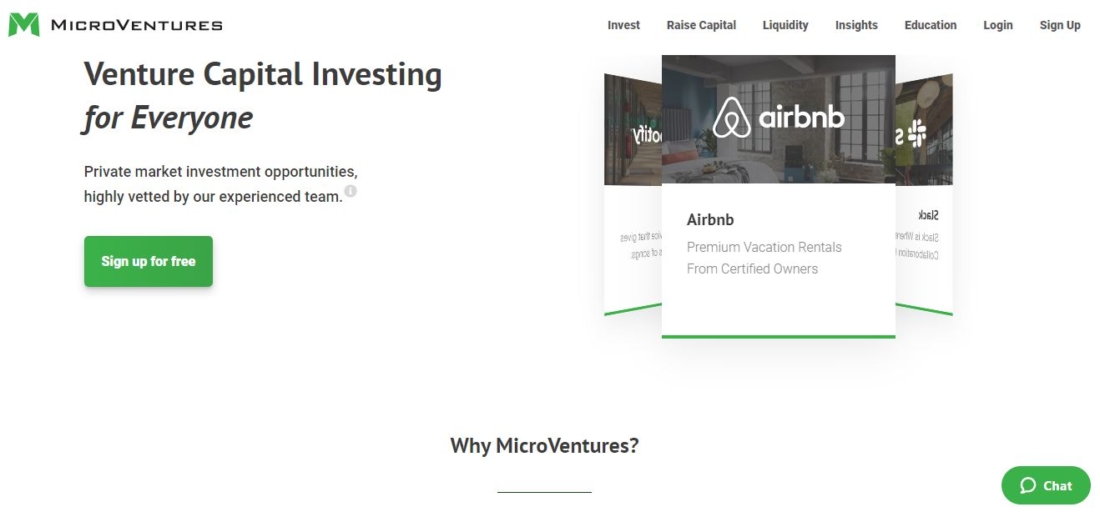 MicroVentures was founded in 2009 as a venture capital firm. It became the first VC that opened investment opportunities to the public.
Now, it is a registered broker dealer that offers an extensive range of services. It is also a member of FINRA/SIPC.
Both accredited and non-accredited investors can invest in highly-vetted startups, frequently at the same terms. The minimum investment is USD 100 but this limit may be higher for some offerings, and some deals are available for accredited investors only.
iAngels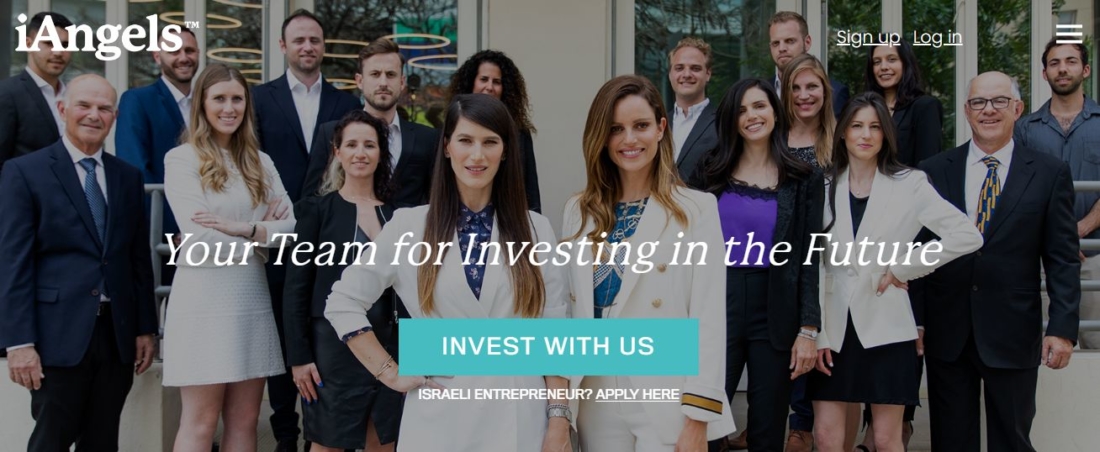 iAngels opens the Israeli investment market to accredited investors from all around the globe.
The minimum investment is limited to USD 10,000 per deal. Investors have a choice to either open a self-managed account or benefit from a Managed Account. In the latter case, the minimum investment commitment is USD 250,000. Investors have access to a personalized dashboard where they get quarterly updates on their portfolio, reporting for taxation, and valuations of investment positions.
The platform doesn't charge any registration fees. However, it charges a 10% one-time management fee, and a 20% performance fee on profits.
How to start an angel investing platform with LenderKit
Launching an angel investing platform may be an expensive and time-demanding task. That's why it is better to use a customizable white-label angel investment software such as the one offered by LenderKit.
A tailor-made angel investment platform adheres to all of your business needs and our out-of-box solution has a set of features that allows you to start operations immediately:
Automate your investment activities and manage deals effectively.
A powerful admin back office allows you to organize your team based on their responsibilities.
A user-friendly investor portal allows investors to choose the most suitable offerings, set up automated investments, view transaction history, invest, and perform all the activities they need.
To see how the LenderKit angel investment software works, feel free to schedule a demo and reach out to our fintech strategist to discuss your business needs.