How to Start a Crowdfunding Business
If you want to start a crowdfunding business you need to find investors and capital raising companies in your area or target industry.
The essence of an online crowdfunding portal is to match inventors with fundraisers and make money on fees and commissions. To do that effectively, you need to have a continuous flow of projects to fund and active investors that are ready to pour capital in the campaigns.
A basic roadmap for starting a crowdfunding business would look something like this:

To have all the fundamentals set for a successful crowdfunding business, you need around 1 year. And it takes around 2-3 years on average to scale your business completely from scratch.
Speaking of the milestones like building a crowdfunding website and launching your crowdfunding platform, that can be done within 1-6 months depending on the scale of the projects including features and functionality of the crowdfunding platform.
What you will learn in this post:
Build a crowdfunding website to grow your online presence
Whether you have an already existing audience and working with excel spreadsheets or not, now you have to launch an online website to properly market your business and be visible to search engines as well as potential customers such as investors and fundraisers.
Building a basic crowdfunding website is relatively easy. Now, what does the "basic" mean? It means that with this website, you have to be able to:
Create new landing pages for investors, borrowers/fundraisers, advisors
Have a blog to write articles and grow your SEO
Build other pages like FAQs, terms & conditions, etc
Publish your portfolio of previously successfully funded projects
Showcase potential returns for investors
But most importantly, for a pre-marketing phase, you need to be able to collect this information about your users:
User role: investor, fundraiser, advisor
Email
Name
For fundraisers, you need to collect their pitches to raise capital and for the investors, you need to know their accreditation status such as retail investor or accredited.
That information will be needed to understand the market demand as well as have some basic audience when you launch a prototype of a crowdfunding platform.
Study the regulatory framework in your area and for your type of business
Crowdfunding is a young industry, so are the regulations. They have a tendency to change once in a while, so having up-to-date information on the regulatory requirements for crowdfunding platforms in your country of operations is the key.
Partner up with a lawyer or consultant to guide you through the nuances of registering your crowdfunding portal in the US, UK, Saudi Arabia or the UAE.
Why is the regulatory aspect so important?
Building a crowdfunding platform may cost you a ton of money, for example:
$20,000 – 50,000 for a prototype
$51,000 – 100,000 for a minimum viable product (operational platform)
$150,000+ for a custom crowdfunding platform
So, before you start the development, it's vital to understand the regulations in your area and requirements for your debt or equity crowdfunding portal in your industry such as real estate or startup investing.
What are some of the potential requirements to watch for:
Account opening
Measures to reduce the risk of fraud
Information transparency and communication
Money processing
Completion of offerings, confirmations and reconfirmations
Payment to third-parties
Data privacy
Reporting
These are some of the major concerns for crowdfunding intermediaries that you need to be aware of right from the start. Usually, crowdfunding software providers are also aware of the regulatory requirements on some level, but nothing can replace a good lawyer and direct communication with your regulator.
Build a crowdfunding platform and conduct a few successful crowdfunding deals
Crowdfunding software is required to automate your investment business operations including:
Investor onboarding
Quick online KYC checks
Online money processing
Transaction history monitoring
Offering creation and marketing
Document signing & reporting
Secondary market trading, etc.
Whether you're focused on fund of funds or direct investing, building your crowdfunding software is what will help you run your business online. The software architecture is relatively simple and may look something like this: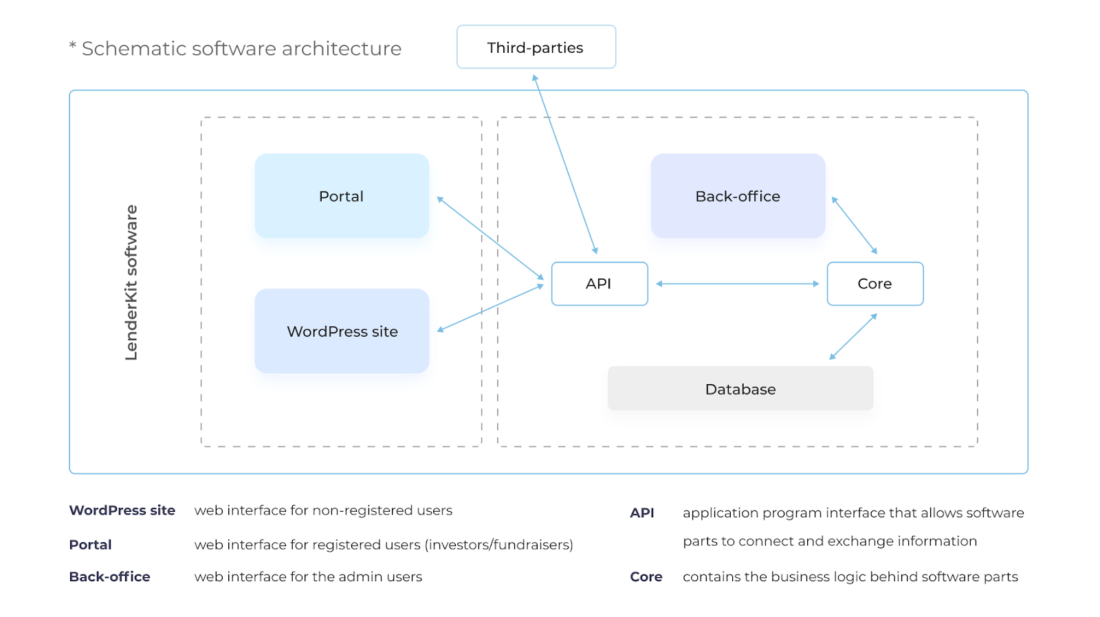 For a non-technical person, you need a crowdfunding website where your users browse your landing pages and register. After they register, users will land into the investor or fundraiser portal and create an account to start investing or creating campaigns for fundraising.
Finally, as an admin of the platform, you'll see all user's activity and will be able to make final decisions on whether to approve or decline offerings, investments, secondary market transactions, registered users, etc.
Register your crowdfunding business – a list of crowdfunding regulators in different countries
After you've launched your crowdfunding platform prototype using some of the available crowdfunding software options and conducted several successful projects, it's time to register your crowdfunding business.
Depending on your country or region, you can apply to the regulatory sandbox and enter the "safe harbor" where you can run your crowdfunding operations under the watchful eye of the regulator.
Here is a list of crowdfunding regulators in the USA, UK, Europe, Saudi Arabia and the UAE:
Usually, after your pitch to the regulator with your business model and crowdfunding software prototype, you may get some feedback on what modifications need to be made to the software and your business operations.
A crowdfunding software provider and developer usually solves any technical questions related to the software which is your crowdfunding platform, investor portal and marketing site, etc. It's important to hire an experienced firm, especially if you're just starting a crowdfunding business to eliminate potential communication barriers and lack of knowledge in the crowdfunding field.
Crowdfunding software for your crowdfunding business
LenderKit provides crowdfunding software for regulated investment businesses worldwide. We've helped both startups and established investment firms that pursued different goals from applying to the regulatory sandbox, to developing new investment directions.
You can find customer success stories in our portfolio.
With LenderKit, you can build a p2p lending or equity crowdfunding platform for individual and corporate investors and different types of fundraisers including startups or real estate developers.
LenderKit facilitates a full-cycle capital raising process and allows you to run a full-scale crowdfunding platform in any region. We customize the software to fit your regulatory requirements and business needs to create a unique look and feel for your crowdfunding platform.
If you want to start your crowdfunding business using LenderKit crowdfunding software, don't hesitate to book an online demo with our fintech strategist.