3 Solutions for Building a Crowdfunding Platform
As somebody who is researching crowdfunding software solutions, you've probably encountered white-label crowdfunding platforms, fundraising scripts, and custom offerings. The biggest challenge might be finding out what works for you and for what purposes.

When you have that idea of launching your own crowdfunding platform, it's not always clear what crowdfunding solution is right for your business and needs.

Should you go white-label or custom, debt or equity, donation or reward? What is the best option for a mixed-type platform which offers debt and equity investment opportunities?

In this article, we'll review 3 crowdfunding solutions based on LenderKit that might become the right fit for you.

What you will learn in this post:
Demo Prototype: Developing a crowdfunding platform prototype
Despite the growing number of crowdfunding platforms worldwide, many entrepreneurs are very conservative when it comes to starting a crowdfunding business. Crowdfunding, especially debt and equity, is a relatively new niche and is not yet oversaturated as the digital marketing industry, for example.

Most entrepreneurs have real estate, banking, or other property management or finance-related background. They have the right connections and experience running an offline business, however, they feel the urge to start an online crowdfunding business and continue to provide their services.

The best way for starting nice and smooth is launching a crowdfunding platform prototype which provides basic functionality and opportunities to test the platform and get used to operating it.

Key factors for building a prototype
Apart from the top-notch real estate developers and financial experts, there is also another group of entrepreneurs which value step-by-step platform development because they are learning as they go.

There are certain characteristics of a crowdfunding platform prototype that both groups are looking for:

Cost-effective
Fast time-to-set-up
White-label opportunities allowing you to put your own branding and watermarks on the platform
Usually, the pressure points which become the decisive factor for launching a prototype include:

Concrete short-term goals and plan but the long-term strategy is not yet outlined
Strict deadlines either for entering the Regulatory Sandbox or else
Need to pitch to investors to raise funds, etc.
These are very clear business objectives which LenderKit is designed to help you solve.

What is LenderKit?
LenderKit is software for rapid P2P lending and crowdfunding platform development which helps to triple the development speed and release custom and white-label P2P lending platforms in 2-5 months.

LenderKit works best for real estate crowdfunding, P2P lending, investment marketplace development, and debt or equity crowdfunding.
What is Demo Prototype and how it works?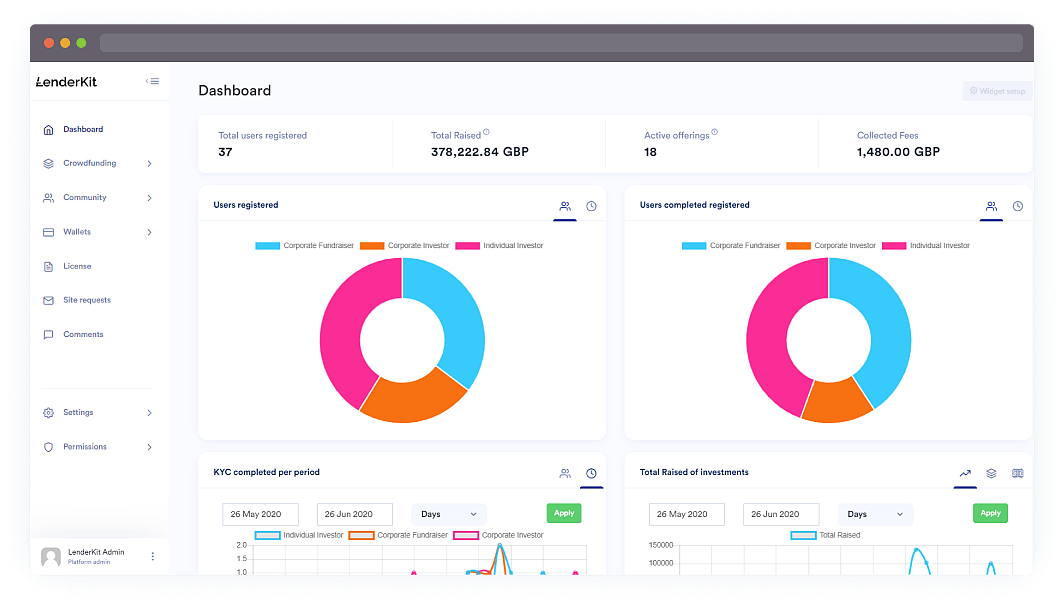 Demo Prototype is the latest release of the LenderKit platform which perfectly fits the real estate crowdfunding niche and can be adjusted to fit other niches too.
The solution has multiple features which you can use:
Dashboard with real-time updates.
Investor, borrower/fundraiser accounts management.
Wallet and transaction history management.
Manual KYC/AML verification.
Manual payment processing.
Fees configuration module.
Debt-based investment flow.
Automated repayment generation (monthly only)
Secondary market.
SEO management.
Basic fonts, colour, and logo configuration.
Apart from the back-end, Demo Prototype has also the front-end accounts for fundraisers and investors.
On the client-side, fundraisers can create offerings which contain images, description, price tags, funding progress bar, and document attachments.
Demo Prototype is hosted on our servers because we provide this solution for representational purposes only.
With this solution, you can successfully pitch to investors and always be sure that if there is anything that needs to be adjusted, you have a team of professionals behind the product who are ready to develop additional features on demand.
As you raise the funds for further development, you can proceed to building the MVP with your own branding, flows, and identity design around the platform.
MVP Operational: Developing crowdfunding software for clients
Adhering to the software development philosophy – release early, release often or RERO – by Eric Steven Raymond, you have to move away from prototyping to MVP release to make sure your product is worthwhile.
MVP development is more of a psychological step rather than functional since you have to force yourself to release your perfect product which never seems too perfect to release.
In crowdfunding platform development, MVP stage is defined by new challenges which arise before an entrepreneur. At this stage, you need to:
Have a base of white-listed investors and fundraisers to perform at least one transaction through your platform.

Automate payment processing, KYC/AML verification, set up eSign, and expand on other features to make them user-friendly.

Prove to your investors that the platform is striving for growth and your idea is market-viable to raise even more funds.

Make your platform more attractive to new investors and fundraisers who will become your active clients.
Considering the fact that you need to adjust your platform rapidly and often, a white-label crowdfunding solution would prove ineffective immediately, and you'd start looking for a development partner.
At an MVP stage, entrepreneurs and agencies face the following pressure points:
Limited or lacking technical expertise and resources;

Restricted budget which doesn't allow for the trial and error approach and can only be allocated at the most important features;

Responsibility for the investors and borrowers who are awaiting interest rate payouts and/or are looking to diversify their portfolio as well as closing deals;
What is MVP Operational and how it works?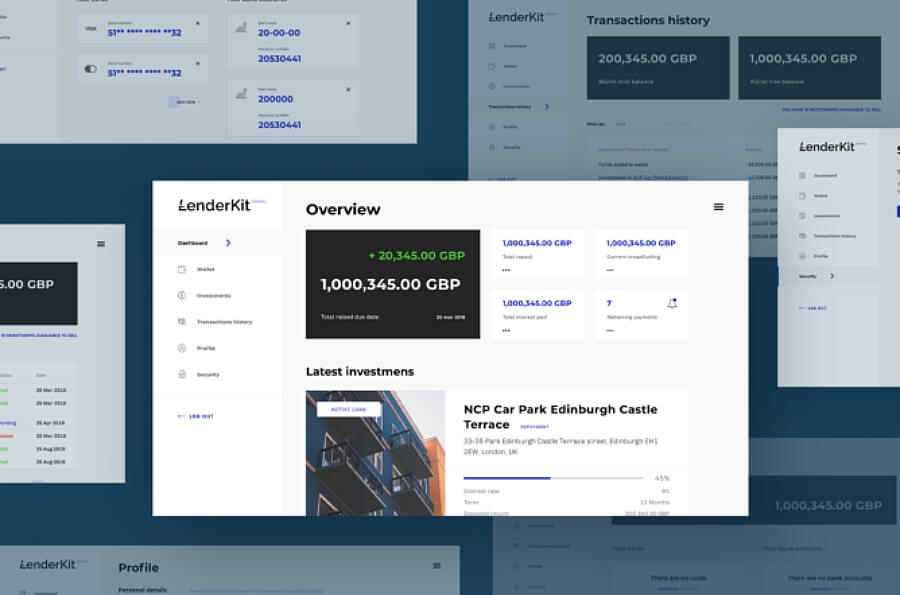 MVP Operational extends the capabilities of the Demo Prototype solution. We use Demo Prototype as the core to build a custom layer on top.
A custom layer means additional development from our side featuring either front or back-end fine-tuning of the software for your particular business operations and needs. Usually, the features include:
unique design,
APIs integration,
debt or equity-based investment flow configuration,
KYC/AML verification,
auto-investment configuration,
payment and repayment processing automation,
additional marketing pages creation,
secondary market,
theme configuration expansion.
Find more LenderKit's integrations here
Understanding the diversity of crowdfunding platforms including categorization by niche, style of investment flows, user management variations, and other business-specific flows, we estimate all projects additionally before the commitment.
MVP Operational is required when you're working with real-life audiences who are looking forward to engaging with your platform in the long run, have solid funds for further platform development, and your business is growing.
Prior business analysis which includes discovery and estimation phases is what protects the projects from failure and ensures a solid foundation for success.
See Portfolio

Of course, all results mostly depend on your business management and marketing skills, however, you can be sure that the technical side is working as required.
Custom Platform: developing custom P2P lending software
Custom development is most suitable for a P2P lending platform with a focus on personal or business loans or an equity crowdfunding solution for real estate or SME development.

Due to the specifics of these crowdfunding platform types and their potential scale and complexity, some level of customisation is certainly required. Most of the time, the platform of such magnitude would include the following features:

Debt or equity investment flows
Data protection – encryption, 2FA account protection, role-based access and management, etc
Fees and interest rates calculation modules
Interest repayment scheduling
User accounts for fundraisers, lawyers, etc.
KYC/AML verification for individuals and organisations
Pre-defined investor accreditation forms
User credit history and scoring APIs
Financial reporting and documentation flow management
What is Custom Platform and how it works?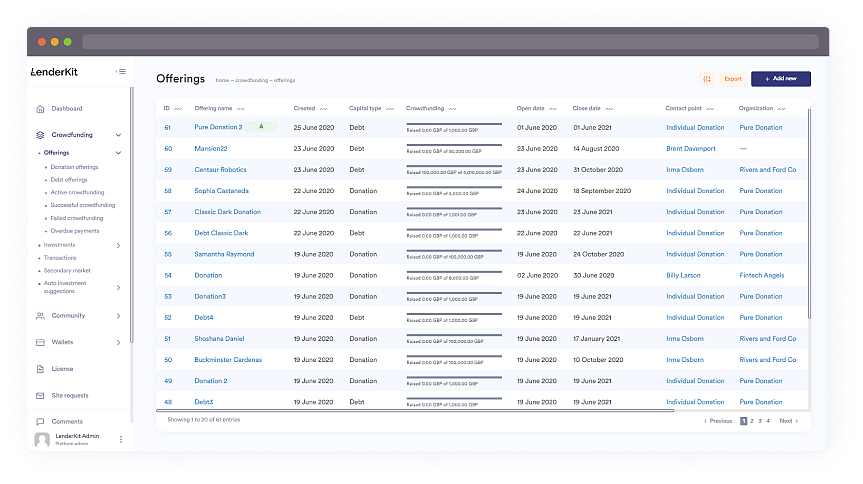 Custom Platform is a solution based on LenderKit crowdfunding software which is analysed and estimated according to requirements, business needs, and specifics. We use LenderKit's core as a foundation and develop a custom layer on top of the existing functionality. In the end, you get a crowdfunding platform that works according to your regulations and needs.

We are experienced with the FCA and SAMA, and have legal partners who can potentially provide help with SEC (Reg D. 506-B, Reg D. 506-C, Reg CF), SHARIAH, DFSA, DIFC, and SCA.

Also, if you're coming from an emerging market, we will help you formalise the software requirements and work with your legal team to develop a platform which satisfies your needs and regulatory framework objectives.

With every custom solution, we go through an extensive discovery phase before diving into the development part. At the end of the discovery stage, you can expect to get the formalised business plan, SRS document, and project estimate.

If you have your own designs, layouts, documentation, or other information that may be used to help our team understand your vision, business goals, and requirements, you can send it to us at lenderkit@justcoded.com.