Lemonway Overview: A Payment Processing Provider for Crowdfunding Platforms
Lemonway and LenderKit partner to offer crowdfunding platforms a convenient way to process money online. Lemonway has proven itself as a reliable and trusted partner for P2P lending platforms and alternative marketplaces in Europe.
What you will learn in this post:
What is Lemonway?
Lemonway, a pan-European payment processing provider, was founded in 2007 in Paris, France, and one year after, it was celebrating the victory in the National Research Competition and filing of the first mobile patent in France.
In 2010, Lemonway deployed a payment platform enabling payment account management in the European banking sector. Since then, Lemonway has been constantly adding new licenses and permissions, and now, it is known as a platform that provides an advanced payment gateway for many ventures:
Crowdfunding platforms
E-commerce websites
Marketplaces, etc.
Lemonway features and market focus
Lemonway is a payment processing provider which is suitable for different business models and target audiences. Apart from the strong focus on crowdlending, crowdinvesting and crowdequity solutions, in a more general sense, they cover B2B, B2C and C2C segments.
For B2B marketplaces, Lemonway enables financial transactions between professional sellers and buyers. It helps you to manage your platform's cash flow and ensures all the payments, from funds collection to the payments of suppliers are fully compliant.
For B2C marketplaces, whether vertical or horizontal, where your marketplace serves as an intermediary between companies listing offers or products and buyers, Lemonway provides payment solutions tailored to every platform's needs.
Finally, for C2C marketplaces, Lemonway simplifies funds transfers between individuals, manages the platform's commissions, and monitors cash flows in real-time and in compliance with the regulation.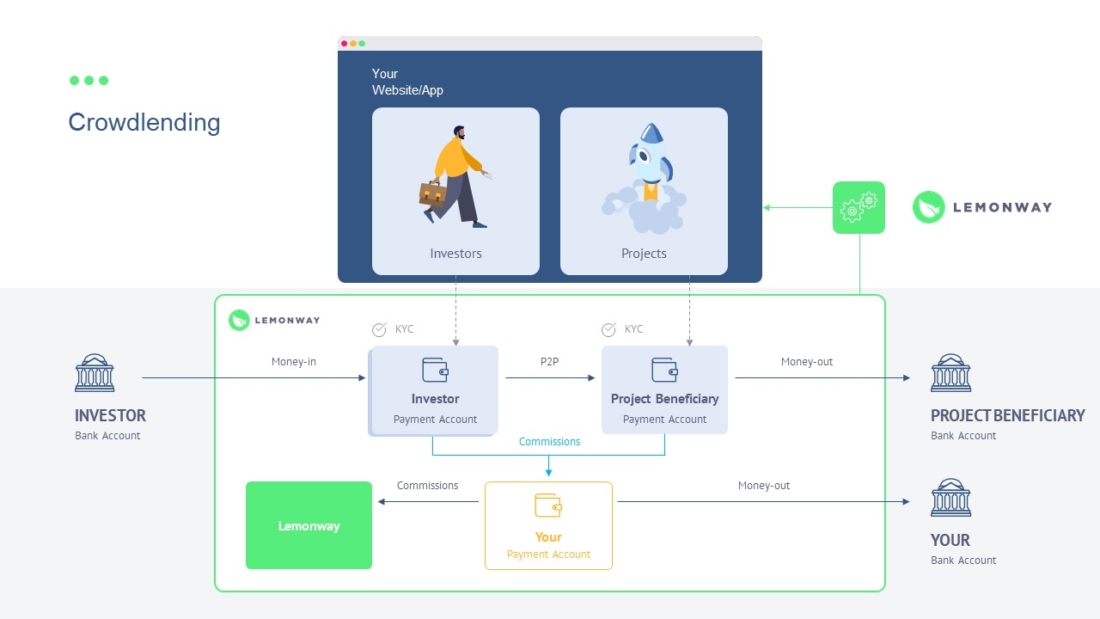 By choosing a Lemonway payment gateway you get the following benefits:
An opportunity to centralize the management of all your payment accounts and automate all the payment processes: the creation of instant payments, automation or funds collection and isolation, automation of the management of the platform's commissions.
A scalable Lemonway API for developers that enables the solution's quick and easy integration: it enables developers to add new features, test them in a sandbox environment, and upgrade the platform as soon as such a need arises.
A unified solution to prevent fraud and minimize risks: platforms dealing with users' funds have to comply with the AML/CFT requirements and are required to identify their customers.
Lemonway solutions allow you to minimize compliance risks by automating all the KYC processes. Automation of KYC processes enables user verification within a couple of minutes. It, in turn, facilitates and speeds up the registration of user accounts which means fast customer onboarding to your platform.
How to choose a payment gateway
When it comes to crowdfunding platforms, the choice of a payment gateway for crowdinvesting depends greatly on the platform's functionality and the investors' needs.
Crowdfunding platforms can process money in two ways:
Wallet-based – investors transfer money directly to the platform. In this case, the crowdfunding platform needs to have all the required permissions to manage its clients' money.
Direct – the invested money goes directly into the escrow account or the account of a custodian. This escrow or an intermediary takes care of investors' funds before they are sent to fundraisers. Lemonway is the payment processing provider that enables crowdfunding platforms to work with investors' money this way and perform regulated transactions.
Working with direct money flow is cheaper and requires less technology effort from the crowdfunding platforms.
Moreover, setting up a wallet-based money flow might be an excessive measure unless a platform needs to have a dashboard for investors where they can configure robo-advisory rules, auto-investment, etc.
Unless this is the case, using a direct money flow covers all the needs of a crowdfunding platform. Therefore, it is not surprising that many crowdfunding platforms prefer to use a Lemonway crowdfunding payment solution. With Lemonway Europe, they can count on a solution that:
Is compliant with AML/CFT standards to ensure your platform compliance with European AML/CFT requirements and protect it from frauds
Ensures instant KYC to connect you with your customers quickly and effortlessly.
Supports 14 currencies including "hard" ones such as EUR, USD, GBP, AUD to ensure investors can participate in the funding of any project.
Covers the majority of local and international payment methods such as bank cards, Sepa Credit Transfers and Direct Debits, Sofort, iDeal, and so on to make investing comfortable.
Reassures that the platform's activity is in line with PSD2 (Payment Services Directive Two), and offers other benefits that make the setting up and operating a crowdfunding platform easier.
New developments in the Lemonway services
Even though Lemonway has already become one of the leading payment processing providers, the company continues integrating new opportunities for its clients. On 16 September 2021, Lemonway platform partnered with Tink to launch a Pay By Bank solution. 
Tink is an open banking platform that allows fintech companies, banks, and startups to develop financial services. The Tink customers can benefit from using the platform in many ways:
Access aggregated financial data
Perform payments
Verify account ownership
Build their own financial tools, etc.
The partnership with Tink enabled Lemonway to add new benefits to its services. Now, end-users can integrate their bank accounts and authorize transactions easier than when using traditional payment methods. Along with the easiness of use, the solution offers:
Higher payment thresholds
Secure transactions that involve just some steps to be completed
No manual filling in of details because all payments are initiated from the bank directly
For crowdfunding platforms, this solution facilitates the investors' onboarding and prevents delays when processing and managing payments.
Tips on how you can use crowdfunding software with the Lemonway integration
LenderKit is crowdfunding software that works with both money flow options – direct and wallet-based. Lemonway is one of our allies that helps us with payment processing, KYC/AML verification, and solves the compliance challenges connected with the management of customers' funds.
We've already integrated with Lemonway, so you can save time and money when using LenderKit crowdfunding software to run your online investment business. If you'd like to learn more about our offers, reach out to our fintech strategist.