Top 5 Private Equity Software
Private equity software is used to manage the financial and operational aspects of a private equity firm. It enables firms to track and analyze investments, manage portfolios, generate reports, and monitor performance. It also automates processes such as investor onboarding, fund management, and compliance. The ultimate goal of private equity software is to help investment firms maximize returns and minimize risks.
If you are thinking about launching a private equity platform, you can do it from scratch or you can rely on a white-label private equity software. 
If your private capital raising platform is going to feature complex workflows with heavy technical requirements, then you may need to develop it from scratch. And if it is going to be a standard private equity investment platform, getting a white-label solution and customizing it for your needs is a more reasonable option.
We have selected some of the best private equity software providers and developers that provide solutions for the private investment sector.
What you will learn in this post:
eFront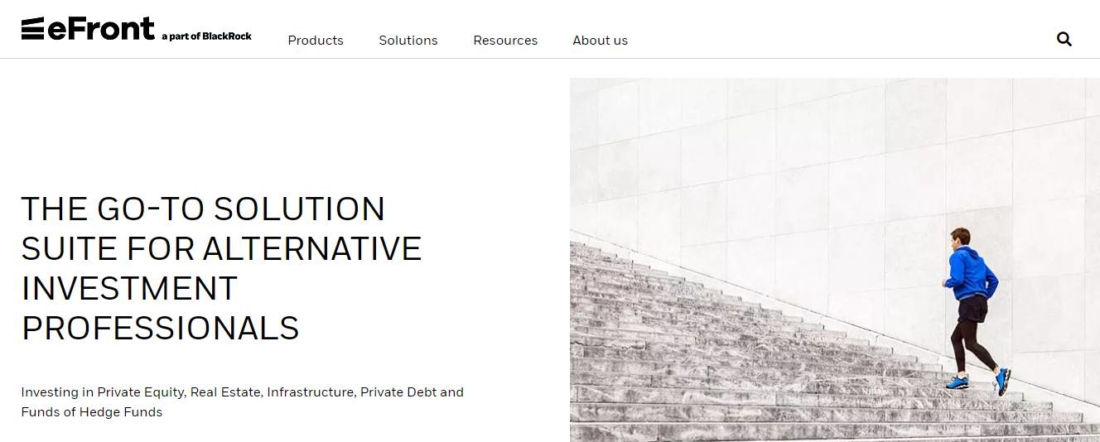 eFront is one of the leading providers of software for the management of alternative investment lifecycle. In May 2019, it was acquired by BlackRock Inc, an American multinational investment company based in New York. This acquisition was aimed at expanding the portfolio management opportunities of those BlackRock's investors who prefer alternative asset classes.
eFront offers "solutions suits for alternative investment professionals", as they advertise their services. Their software solutions can be classified by asset type, by investors, or by requirements to ensure every client finds a perfect option.
eFront private equity solutions are created to streamline and centralize the entire investment cycle. With six modular products, the software enables investment professionals to make fact-based decisions.
Dynamo Software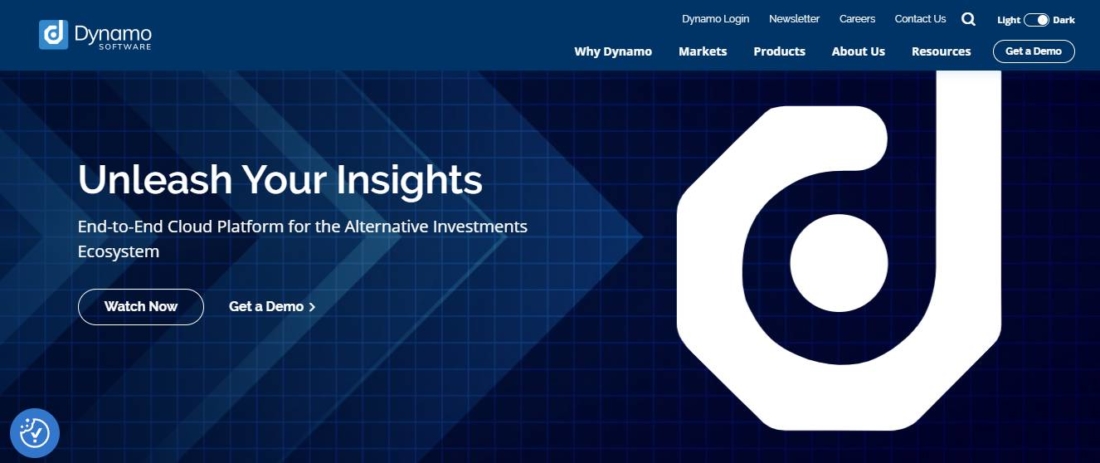 Dynamo Software is one of the major cloud providers of alternative investment management software. It offers its clients a fully configurable integrated platform designed to comply with all the needs of all participants in the alternative investment process.
The cloud-based private equity platform focuses on the front, middle, and back-office investment processes for companies that operate in the private equity sector. The clients can customize their workflows based on their needs.
Solutions for private equity alternative investments enable private equity professionals to improve outreach and track investor relations efficiently, to conduct performance monitoring of investments, and to meet requirements for fund accounting.
Along with private equity, Dynamo Software covers such sectors as venture capital, corporate development, real estate, pension funds, etc. Clients can choose among products developed for fundraising & marketing purposes, along with those that can be used to manage investors' relations, portfolio monitoring and valuation, fund accounting, and others.
WealthBlock

WealthBlock offers comprehensive investor onboarding and an investment management platform. It offers CRM, dataroom, document e-signing flow, compliance checks, automated email marketing, data analytics, and so on. The following flows are included:
Investor outreach & onboarding
Investment processing
Capital call
Payments collection
Post-raise reporting
Investor communication
The platform is API-ready and offers all the required integrations including support of a single-sign-on, 2FA, compliance management, KYC/AML verification, accreditation checks, and other important components.
For now, WealthBlock's platform supports all types of investment flows including Reg D, A+, CF, debt, and equity.
LenderKit
LenderKit specializes exclusively in solutions for alternative investment platforms. It offers private fundraising and investor management tools for online investment businesses at any stage of development.
If you are launching a crowdfunding website, pre-built layouts from LenderKit will help you to save time and money and launch your website faster.
An interactive investor portal allows fundraisers to create campaigns and investors to invest.
LenderKit private fundraising software also includes a powerful back-office that allows admins to manage full-cycle capital raising and investment activities.
The vendor covers both investment-based and non-investment-based crowdfunding models. Every solution comes with extensive out-of-the-box features that already provide your platform with the needed functionality to operate. These solutions can also be customized depending on your business needs.
LenderKit provides solutions for equity, investment, and donation flows. Each flow can be used separately or you can combine them to expand the opportunities for both fundraisers and investors.
The software integrates with the leading payment gateways in the industry such as Lemonway and NorthCapital, KYC/AML providers, filing automation and document signature providers. Clients can also request comprehensive consultations on the technical integration of third-party providers of their choice. The third-party providers are integrated via a secure API.
An investment mobile app prototype by LenderKit enables investors to communicate with a crowdfunding portal and perform almost all the actions that are available on a platform.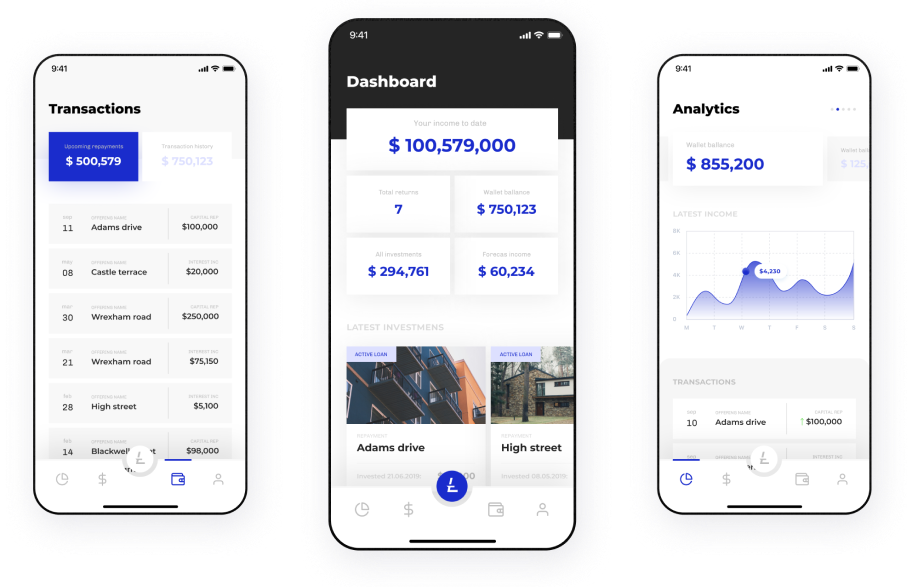 It enables investors to access the crowdfunding platform fast and easily and interact with any offerings on it. With it, investors also can:
Monitor their investments performance
View transactions
Find new investment opportunities
The mobile app can also be customized to match any brand and comply with specific business requirements.
The main benefit of LenderKit is that it specializes exclusively in the provision of solutions for crowdinvestment businesses. It allows you to assure you that all the details, including the legal ones, are considered and addressed.
Katipult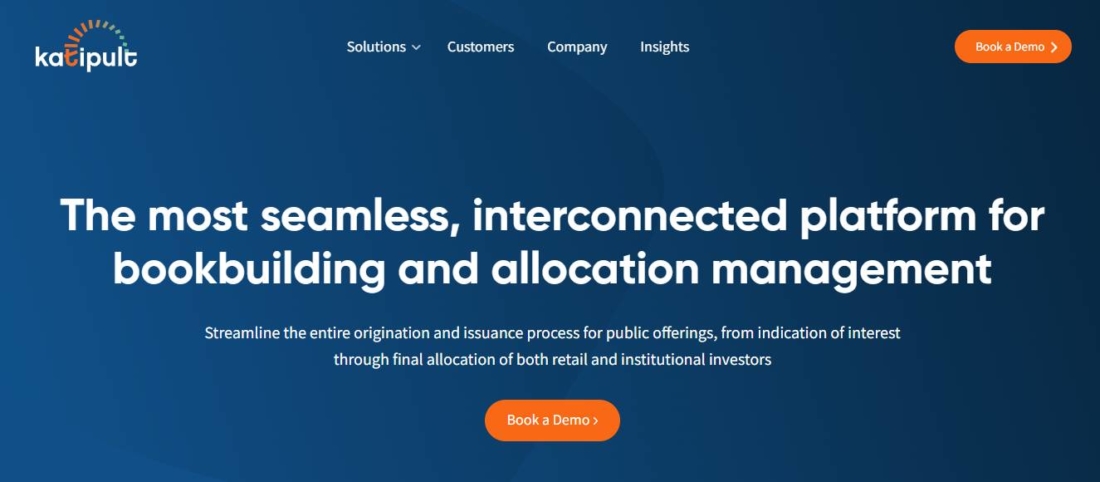 Katipult was initially a web development agency. Later, they developed the needed private equity software and shifted to the private investment sector. Now, the company offers solutions for private equity and venture capital firms.
Katipult offers the following solutions.
Private placement engine – it can be used with any Katipult-based platform to standardize workflows such as creating public or private deal rooms with the application of interactive templates, assign allocations and teams, tracking and monitoring deal activity in real-time mode, sending bulk invitations to investors, etc.
A fully integrated platform for investor account openings and renewals – it is a comprehensive investor relations software that facilitates all the related processes from form submission to real-time documentation verification.
Book building and allocation management – is used to streamline the entire process for public offerings up to the final allocation of retail and accredited investors.
Bottom Line
Without a good private equity software kit, launching and managing your alternative investment platform would be a daunting task. The variety of private equity software providers enables you to compare their offerings and choose the best option for your budget and idea.